We can't agree more with the statement: "ERP is making money since its inception".
But have you wondered why?
It is because, every organization whether small or big manages people, products, services, sales and much more. But, the way each department is managed varies from company to company.
However, to perform these basic functions hassle-free, the integrated software platform is needed that can run all the business activities from one platform and fine-tune the business process.
That's where the Enterprise Resource Planning system comes to the scenario.
But, when you search for "What is ERP", you will see different definitions on most of the scholarly articles.
It may create confusion to get detailed insights, but this blog will provide you the information you always wanted about ERP in one blog.
Let's start with the most basic question:
What Is An ERP System?
In Laymen terms,
It refers to the software used by organizations to manage day-to-day business activities such as accounting, project management, and manufacturing.
It allows tracking and monitoring of a company's resources, raw materials, inventory, and even customer relationship management. It uses the same database throughout an entire company to store various types of data.
With ERP, organizations can eliminate inefficiencies, improve customer relations and facilitate real-time collaboration.
Instead of using a bundle of different solutions together, like one app for CRM and another for tracking marketing efforts, your business can utilize an Enterprise Resource Management tool to combine all of these functionalities into one single, integrated and seamless platform.
There is no doubt of the question that, ERP today offers out-of-box solutions to streamline the internal business processes.
However, today's ERP has evolved from stages.
Do you know: Today's ERP is an outcome of nearly four decades!
Let's zero down, how ERP has evolved.
Evolution Of ERP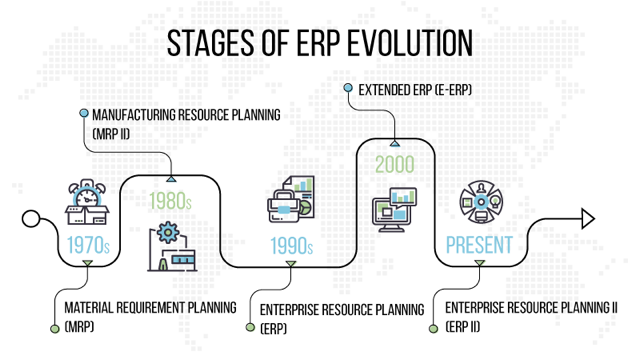 Prior to the 1960s, organizations generally relied on traditional ways of managing inventories to ensure the smooth functioning of the organizations. Popularly known as classic inventory management, this system was commonly used for order quantity, bill of material, etc. However, it had a very limited scope.
To fill the gaps, the material requirement planning (MRP) system was developed in the 1970s and involved mainly for the planning of the product requirements, maintenance of master data and bill of material across all the products within an organization.
However, this solution addressed a single task in manufacturing and was clumsy and expensive as well.
MRP II was introduced in the 1980s with an emphasis on optimizing the manufacturing process. MRP II systems would include production facilities, purchase management, capacity planning, sales and forecasting and much more. It enabled better relationships and visibility across suppliers.
However, to upgrade the system based on the customer's demand, the ERP system came into existence for streamlining manufacturing and business operations in an organization; based on the technological foundations of MRP and MRP II.
ERP solution contains a few important things that qualify it has a true ERP solution. Let's have a note of its characteristics.
Characteristics Of ERP
It consists of many distinct business modules such as financial, manufacturing, accounting, distribution, etc.
It has a common database that supports all the applications.
The Consistent Look And Feel Overall Modules
The modules are integrated and provide seamless data flow which increases operational transparency through standard interfaces.
Various Deployment Options
Various deployment options include on-premise, cloud-hosted, and hybrid.
Similar to the characteristics, there is a range of important modules integrated into most of the ERP solution for effective day-to-day activities.
Typical Components/ Common Modules of ERP
The main components of ERP are as follow:
Helps HR team to manage employee information, manage payrolls, track employee records like performance reviews, designations, job descriptions, skill matrix, attendance tracking and much more.
It can be used to track the stock of the items, track and trace the current location in the organization. It includes functionalities like stock utilization, reporting, master units, etc.
Customer Relationship Management
Helps to manage and track the detailed information of the customer like communication history, calls, meetings, details of purchases made by the customer, contract duration, etc.
It manages the flow of product items from manufacturer to customer and customer to the manufacturer.
This module keeps track of all account-related transactions like balance sheets, bank statements, payment receipts, etc. Any financial data is required for running the business is available in one click.
There are many more modules, but some of the described above is the basic one.
We have understood most of the things about ERP. Now, let's know a bit of technicality; how ERP can be deployed.
Types Of ERP
The basic difference between On-premises and Cloud-based ERP is in how the software is deployed and accessed.
This is installed locally on the company's computer and managed by its own servers.
It is hosted on the vendor's server and accessed through a web browser.
The Hybrid ERP is one that maintains on-premise software but also integrates with the cloud services.
Advantages Of Using ERP
No more issues with data, as it is spread across separate databases; all information is located in a single location
Bridges information gap across the organization
Helps to achieve competitive advantage by improving its business process
Automates tedious tasks such as compiling reports, updating inventory information, and monitoring your sales while reducing the risk of human error
Software solutions are often equipped with firewalls and restriction controls, so you can safeguard confidential data without limiting user access to other information.
Helps to make reporting easier; ERP modules can respond to the complex requests more easily
However, everything is not glory and that's why some of the businesses don't have the willingness to adopt ERP.
Disadvantages Of ERP
The success of ERP implementation depends on the skills and experience of the workforce
The upfront cost of the software alone can be high, especially for small-to-medium sized businesses.
Choosing the wrong ERP may not cater to your unique requirements
Information sharing can have an adverse effect on another department
Although there are few negative points about ERP, if used in the right way, it can definitely help to leverage your business.
Despite its popularity, there are a lot of myths and wrong notions surrounding this concept. Let's look at some of the myths.
Myths Of ERP
ERP is for big business and enterprise
ERP only benefits executives and management
One ERP fits all
Your ERP will drive your business process improvements
ERP is high priced – Only multi-national corporations can afford it
All ERP software are identical
ERP is not suitable for my industry
ERP customizations and upgrades are a nightmare
Despite its myth, ERP is a buzzing trend in the global market. To know, how it can drive growth, we have unfolded some of the trends that can help to increase speed, accuracy, and efficiency.
ERP Today – Emerging Trends Of ERP
ERP vendors look for a solution that has a user-friendly interface and is more friendly and intuitive. Attractive dashboards, easy to use ERP features and enhanced functionalities are some of the key factors that attract the workforce to opt for ERP solutions.
ERP users are demanding device-centric mobile technology to drive productivity, deeper business relationships and to have access to the relevant real-time information.
Integrating Social Media And Digital Marketing
ERP is generally focused on operational management rather than marketing. But, if sales modules are integrated with direct marketing and data gathering links across multiple social media channels, the business can become competitive.
Use Of Sensors In The Connected Device
With the internet-connected sensors, the ERP system can collect real-time data about machine performance. With this data, production can be tracked precisely and sudden mechanical breakdowns & costly downtime can be avoided.
How To Choose The Right ERP Solution?
Before you think of developing an ERP system, it is necessary to have a clear understanding of how ERP will meet your business needs.
Know what your business need
Understand the cost of ERP implementation
Check if it can streamline the workflow of your business
Identify whether you need off-the-shelf or customize ERP
Comprehend the user-friendliness of the system
The above-mentioned are some of the key aspects which can help you to choose the right ERP solution for your business.
To know more about selecting the right ERP, have a look at this blog: "There Is No Such Thing As The Best Erp"
ERP From Inside Out
Fewer errors, time-savvy, cost-friendly and automated solution is all that business needs to improve their internal processes.
With the top-notch ERP system, you can optimize your business management tasks and improve decision making. Moreover, you can even customize your system from purchase to procurement to boost productivity in your business.
Here we're ending this blog post with a hope that you may have got enough idea about, what value ERP holds in the organization.
In-case if we're missing any valuable points, please let us know in the comment section. Do share with your colleagues to know the worth of ERP in today's business world.
And if you are looking for the top-notch ERP solution, connect with us today.