The Best ERP System, Is It Really Best? Or There Is No Such Thing As "The Best ERP"
Most of the small and big enterprise owners search for, 'Which is the Best ERP system?' without considering the business type, a way of working, industrial domain, requirements, and budget.
But,
Is there any Ideal ERP that suits all the industry segments?
Is the Best ERP made as per your business requirements?
Does the Standard ERP streamline the workflow?
Or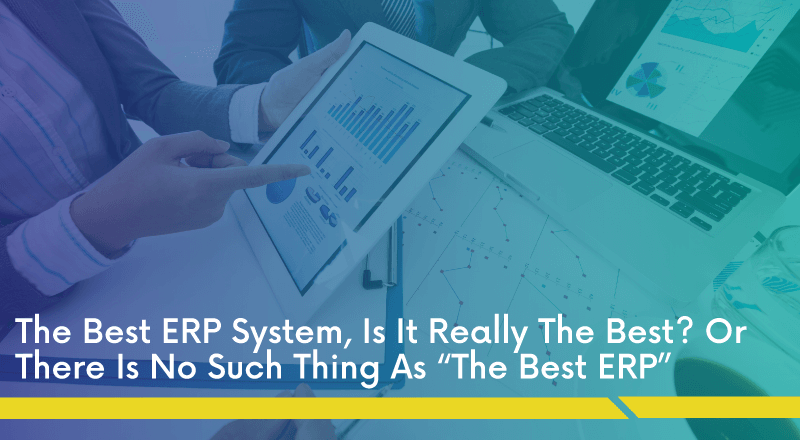 Let's discuss this matter from the basics:
Why Businesses Need An ERP System?
In the fast-moving business world, taking an informed decision is necessary!
Businesses prefer to implement an ERP system to:
Improvise the internal process
Manage overall activities of the company
Track the status of the tasks across different departments
Streamline the business processes
Get the insights into overall business performance.
However, using this as an opportunity, most of the software vendors develop and market their software stating it as the Best or Ideal ERP Software.
They claim that their ERP works for every business type and industry segments regardless of their business processes and workflow.
But, Is That Really Feasible?
Industry needs vary widely with the size and nature of the company, budget, existing systems and processes.
For instance: – The ERP serving the retail industry may fail to serve the purpose of manufacturing industry or vice-versa
Can "The Best ERP" Actually Turn Out To Be The Best?
Every business has its own requirements, its niche, and its specialty, so how your business needs can fit in pre-packaged software?
Although ERP software vendors include mobility, SaaS, analytics, cloud and other practices as per the growing trends, it is not appropriate for every type of business.
If you have a small and medium business, then you may not necessarily need complex functions at the initial stage.
If you own a large enterprise, then you may need in-trend features to grow your business but implementing them again depends on your type, size, and requirement of business
The Standard ERP System May Have Certain Limitations Like:
Not suited to handle the unique need of organization
Restricts organization's workflow
Paying for the modules which are not being used
Less suitable if there's a change in work pattern or flow
Third-party integration may turn out to be expensive
May take time in training the employees
Unable to change and upgrade ERP software as your business grows; Obsolescence is possible
So, How To Choose The Right ERP Solution For Your Business?
Choosing the ERP software is just not simply about comparing features offered by vendors but it is all about how ERP software features meet your business needs.
You Need to Consider Certain Questions Before Choosing The ERP Solution.
Do I really need ERP?
Can off-the-shelf ERP cater to all my requirements?
What ERP features are needed to support my business?
Do I need to integrate with the existing system?
Will my workflow get streamlined with standard functionality?
Do I need flexibility and scalability as well?
Will I be able to do third-party integration?
How much training will be involved?
How user-friendly is the system
These are some of the key considerations which can help you to make the informed decision about the ERP solution.
Well, to make the most of the ERP solution, how about choosing the customized ERP software that can cater to all your unique needs as per your business type, size and requirements?
Custom ERP: A Tailor-Made ERP Developed To Serve You
Custom ERP software is developed from your unique business requirements. With Custom ERP Solution, you can decide what functionalities to be included. It is developed by considering all the attributes of the organizational flows, management, strategies, and operations. It automates & streamlines business functions and ultimately improves business productivity.
Build It; Don't Buy It: Approach Taken By Tesla
Tesla carefully evaluated the pros and cons and decided to choose a custom ERP solution. Tesla CIO Jay Vijayan calculated the cost of SAP implementation in millions of dollars and time to perform all the required integrations.
After choosing the custom-built ERP, the company could achieve the same functionality within 4 months and limited budget. They chose a third-party vendor who can customize the ERP system to rationalize their business processes.
For more information, you can read the article published by the Wall Street Journal.
Advantages Of Custom ERP System
Allow you to easily adjust and integrate the modules to handle the surge
Provides complete visibility of all the operational processes across various departments of an organization
Ensures that all activities in the department are well tracked with a single reporting system
You can customize a report in a way you actually want
Present a better overview of the company's operations
Costs you less as it is developed with only the required functionalities.
Provides accuracy, insights and clear understanding of the business workflow and business processes
The Best ERP Is Overrated
The better approach of choosing an ERP is to consider the nature of the business and to look for the requirements that suit your business the best. Every business is different, and so, there's no one-size-fits-all solution! Custom ERP can streamline every aspect of the organization and ensures an efficient and reliable workflow.
To choose a suitable ERP solution for your business, you may require the guidance of the expert who is experienced and familiar in ERP development. Being a leading Custom ERP Development Company, we strive to deliver the best solution regardless of the size and domain.
To know more about us, connect with our experts today!
SPEC INDIA, as your single stop IT partner has been successfully implementing a bouquet of diverse solutions and services all over the globe, proving its mettle as an ISO 9001:2015 certified IT solutions organization. With efficient project management practices, international standards to comply, flexible engagement models and superior infrastructure, SPEC INDIA is a customer's delight. Our skilled technical resources are apt at putting thoughts in a perspective by offering value-added reads for all.