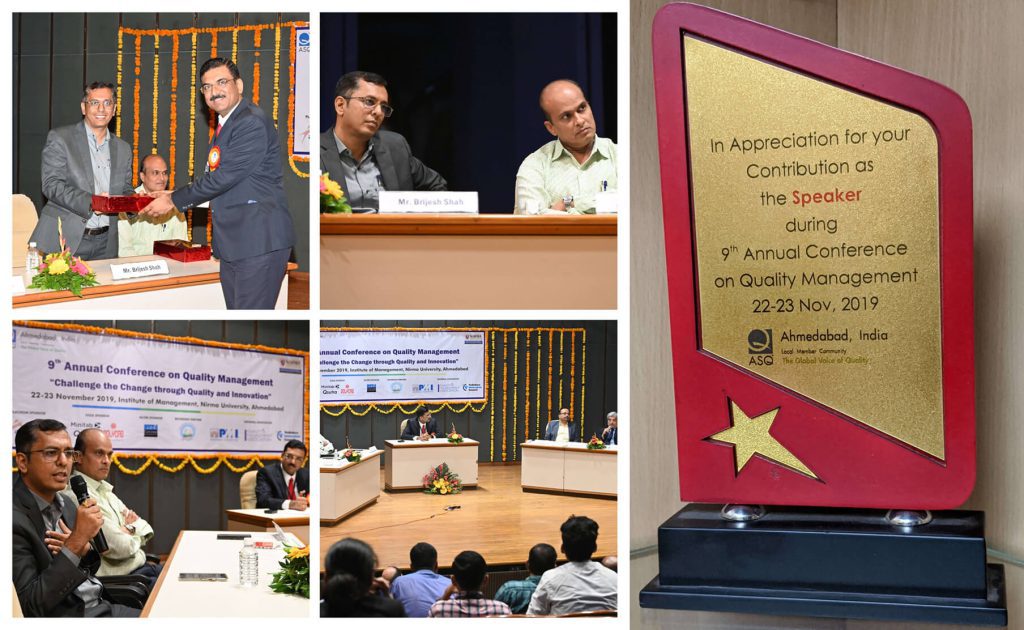 Ahmedabad, December 26, 2019
SPEC INDIA, a leading digital transformation company, glad to announce that our Agile Coach and Delivery Head Mr. Brijesh Shah was one of the panelists in ASQ-Nirma 9th Annual Quality Conference, at the Institute of Management, Nirma University, Ahmedabad.
The topic of the panel discussion was "Managing Turbulent Time Through Innovation & Quality." The American Society for Quality (ASQ), Ahmedabad Local Member Community (LMC), and Institute of Management, Nirma University together organized the 9th Annual Conference on Quality Management on 22-23rd November 2019 at Nirma University. The theme of the conference was "Challenge the Change through Quality and Innovation."
With the advancement of technology, almost every organization is going through a chaotic time. Regardless of the domain, enterprises are finding it difficult to adopt change and manage change in the best possible way.
Challenges Faced By Today's Organizations:
Volatility owing to Technology Advancement
Uncertainty owing to unavailability of Talent
Complexity owing to Policies
Ambiguity owing to Leadership
Present challenges of the VUCA (Volatility, Uncertainty, Complexity, Ambiguity) world can be addressed by putting more emphasis on innovation and quality for every industry and every business, said Mr. Shah. Developing innovative and sustainable solutions with agility and adaptability is the key to survive in this turbulent time. Also, he has suggested that organizations must embrace changes and continuously invest in skill development to drive organizations' success and better outcomes. As disruptions are short-lived and transitory, he recommended organizations to not being panic as it will create lots of unknown jobs and opportunities.
With the forward-looking and consistent mindset, Mr. Brijesh Shah assists teams in following agile practices in development. In the time of technology advancement and disruption, organizations are struggling to balance agility and sustainability. In such a scenario, his guidance helps our teams to implement secure, agile, and quality-driven strategies to reduce complexities and ambiguities that lead to effective digital transformation.
With passionate and persistent leadership, innovative minds, and quality-focused approach, SPEC INDIA helps businesses to build sustainable and innovative solutions.
We are looking forward to his consistent support and leadership!
About ASQ:
ASQ (American Society for Quality) is the world's leading community of people who are passionate about quality. It is the oldest association nearing the 70th year of growth and is the world's largest (not-for-profit) professional association with more than 80000 people and 700 companies with members in more than 140 countries. ASQ is a global community of people dedicated to quality who share the ideas and tools that make our world better.
About SPEC INDIA:
With 30+ years of experience and expertise in software development, SPEC INDIA offers best-in-class, multi-domain, and innovative solutions to worldwide clientele including startups, small businesses, enterprises, and Fortune 100 companies.