SPEC INDIA Keen to Showcase its Innovative SSBI Pentaho Plug-in @ Upcoming PCM17
Updated
September 30th, 2022
SPEC INDIA, your IT partner since three decades, has capability of servicing global clients with its endowed and skilled pool of resources in numerous technologies and domains. We have been offering Pentaho Business Intelligence Services competently to our valued clients.  We have efficaciously implemented solutions for our customers using the end to end Pentaho BI product stack.
We feel proud to be a part of the Pentaho Community Meet 2017 (PCM17), as it celebrates its 10th anniversary this November with a three day event full of presentations and networking. it-novum is hosting the event together with Penatho from November 10th to 12th 2017 at Mainz, a few miles away from the Frankfurt international airport. This worldwide community meeting is well known as a unique forum for global Pentaho users, architects, designers, product managers to meet, discuss and share the latest happenings, innovations, best practices and success stories associated with the Pentaho product stack.
Continuing our initiative in serving the developer community, our skilled team has come up with a Self Service BI plug-in component for Pentaho Community edition users, available on the Pentaho marketplace for global users and developers. This module aims to serve as a self-service dashboard module for business analysts to independently, create reusable widgets and dashboards, with enriched visualization and information along with detailed Saiku Analytics.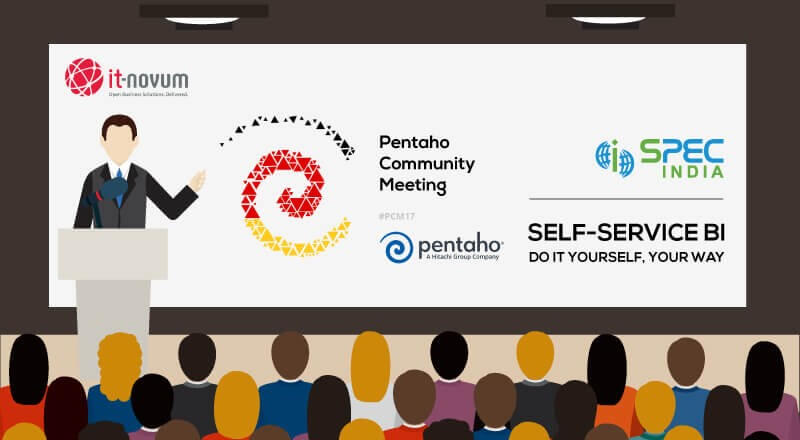 We are happy to announce that our business analyst, Mr. Pranav Lakhani has grabbed the rare opportunity of giving a technical short talk on the first day of the meeting. In the 'Hacks & Snacks' forum, he will be showcasing our Pentaho Self Service BI Solution, its innovative features and the value addition that it offers to the Pentaho global users.
SPEC INDIA congratulates Mr. Pranav Lakhani and wishes him great success at the Pentaho Community Meeting 2017.
You can download this plug-in from the Pentaho Marketplace and leverage the skills of serving your own needs yourself, without any external dependency.
Request a FREE POC to test drive our Pentaho BI Services & Solutions. We would be glad to address any IT requirement of your and arrange for a meeting, demonstration or discussion, as required.