Top Azure Competitors Popular In 2022
Updated
December 19th, 2022
Cloud computing platforms are ruling the industry segments and Microsoft Azure is a strong player in that arena. It has been a ruling name in the cloud hosting category of any business segment. Microsoft Azure has been offering a range of services that are quick, effective, and support other languages and frameworks. Industry domains like retail, manufacturing, custom software and IT services, education, etc. have been leveraging Azure.
It does have its own set of complexities and pricing issues which is where you may want to explore other Azure alternatives. It has a steep learning curve and hence may turn beneficial to those who have experience in it.
While considering the Microsoft Azure Competitors, one must check for reliability, easiness of usage, integration and deployment, quality support services, evaluation, etc. Before we have a look at the different Azure alternatives, here is a brief about Microsoft Azure.
What Is Microsoft Azure?
Microsoft Azure often referred to as Azure is a cloud computing service operated by Microsoft for application management via Microsoft-managed data centers. – Wikipedia
Powered by Microsoft, Azure is a well-known, public cloud computing platform that comprises solutions having SaaS, PaaS, and IaaS infrastructure. It is best utilized for different services like virtual computing, analytics, storage, backup, disaster recovery, etc. It is used as an effective platform to host databases in the cloud.
As a sophisticated tool for cloud computing, it offers easy creation and deployment of databases, web apps, and hosted services with different technologies involved. It gels well with SQL Server, Linux, Windows, MongoDB, and many more. It includes remotely hosted and managed versions of proprietary Microsoft technologies. It has a usage-based billing formula and is a good option for organizations moving from on-premises Windows servers to the cloud.
Key Features Of Microsoft Azure:
Enhanced flexibility and scalability
Inbuilt support for analytics
Stores data in a reliable and fast manner
Pay as you go service
Simple, secure, high performance
Disaster recovery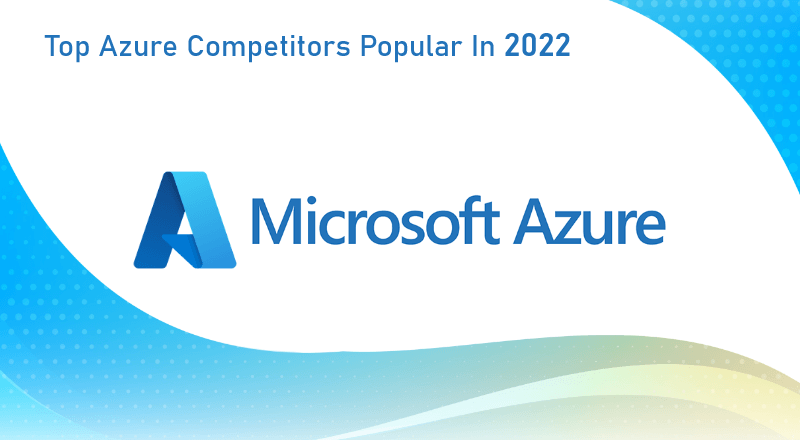 15 Best Azure Competitors And Alternatives
Amazon Web Services (AWS)
Google Cloud Platform
Oracle Cloud Infrastructure
Linode
DigitalOcean
Zoho Creator
Alibaba Cloud
LogicMonitor
Red Hat OpenShift
Tencent Cloud
DreamHost
RackSpace
Kamatera
CloudWays
HostWinds
Now let's look into the details of each Azure Alternative listed above –
Amazon Web Services (AWS):
Powered by Amazon, Amazon Web Services (AWS) is a popular cloud computing platform that provides scalable, trustworthy, and affordable services. It offers a 'pay as you use' pricing model and is free for joining. Flexible in its working, AWS has a wide range of customers and other tools to support like CloudFront CDN, EC2, RDS, SNS, etc. Amazon EC2 helps in controlling the computer resources and execute in the infrastructure offered.
Some of the salient features of AWS are its robust data and relationship management, completely managed infrastructure, flexible schema management, inbuilt data encryption, etc. The USP of AWS is that its pricing model can be updated based on user requirements and that advantage is great, especially for small businesses and startups. It has all tools that are needed to create a business model right from scratch.
Google Cloud Platform:
Another popular Azure alternative, Google Cloud Platform is a complete suite of cloud computing services that executes on Google's own interface that is being utilized for products like Google Drive, Google Search, Gmail, etc. It helps organizations meet their respective business challenges along with services like data management, AI, ML, hybrid, and multi-cloud services. It is good at data-driven cloud-native workloads. Permissions can be given roles and roles can be assigned to different user accounts.
Its state-of-the-art technology and hardware offer fast and effective output across the globe. It provides cloud web hosting and a content delivery network for websites. There are GPU servers, Compute Engines, serverless computing solutions intensive data processing competencies that put it apart. It provides on-demand services within an automated environment with broad network access. There is access to a shared pool of resources as needed.
Oracle Cloud Infrastructure:
Offered by Oracle, the Oracle Cloud Infrastructure (OCI) is a cloud-driven platform that helps in executing a range of applications in a high-performance, consistent, and accessible environment. It offers storage, network, servers, applications, and services via a worldwide network of data centers that are available on demand. OCI offers exceptional computing performance, quick storage, and networking competencies, and high-end security features with the best of compliance standards.
It supports tools related to the latest technologies like DevOps, Kubernetes, containers, microservices, etc. There is a flexible virtual network that is highly secure and available from the on-premises network. It has a short learning curve and possesses great documentation that proves to be great assistance to novices. API gateway, analytics cloud, application performance monitoring, detecting anomalies, archiving storage, service essentials, etc. are some of the key features of OCI.
Linode:
Linode cloud solutions and services are popular because of their easy management of complicated infrastructure, attractive pricing policies, comprehensive API, and detailed community support. These cloud solutions are simplistic and accessible by all users and that is the reason developers are fond of Linode. There are Linode virtual machines and tools leveraged for developing and deploying applications.
The Linode platform has deployment across multiple global centers with end-to-end services, a detailed library of resources, a next-gen network, and cutting-edge APIs. It offers good CMS and web framework support, security tools, control panel integration, appropriate storage limits, bandwidth allowance, file management, database support. All these features make Linode a desirable competitor to Azure.
DigitalOcean:
DigitalOcean is a general-purpose, modern, cloud management software that is ideal for creating and launching applications in cloud environments. It is best utilized for setting up app development frameworks and maintaining business information in a central repository. There are mainly two classes of products – Droplets and Storage. Droplets are computing servers of various sizes and configurations. Storage products have Spaces for object storage and Block storage for getting connected to Droplets.
It is CPU optimized with dedicated vCPUs, memory-optimized, storage optimized with effective cost management, billing, and provisioning. Its almost 100% uptime is its key feature that attracts customers. The cloud servers are well integrated with SSD storage and prime core processors for data interpretation through the websites. It has faster speed as compared to its peers, is oriented perfectly for users. They can access information from any location with due permission.
Zoho Creator:
Zoho Creator is a comprehensive, low-code, cloud software suite and application development software that helps users in creating customized applications. It is unique and powerful that revolutionizes the way of working. It has customizable branding, business process automation, approval process control, and flexible vendor payment options. There is a graphical interface layer, pre-defined app templates, customized workflow, modern competencies with Zoho Creator Mobile Apps.
There are features such as Zoho Creator Reports, Zoho Creator On-premises, Zoho Creator Advanced Analytics, simplistic workflow creations, inbuilt cameras and barcodes, single admin panel, security protocols, default validations, that makes it a strong contender against Azure. It offers a shortened time to market, enhanced efficiency, a lower total cost of ownership, and easy integration against platforms.
Alibaba Cloud:
Powered by the Alibaba Group, Alibaba Cloud is a competent cloud computing service that offers effective cloud services to online businesses. There is an integrated suite of cloud-based products that offer scalable and secure solutions for databases, analytics, security, networking, websites, media services, application services, and big data. The 'pay as you go' model turns it attractive for users as they have the flexibility to choose their payment models.
Alibaba Cloud includes Data Storage, Elastic Compute, Big Data, Anti-DDOS, Content Delivery Network as its salient components. Users can easily control the bandwidth and latency lying in different regions since it has its own inter-regional network. It offers a great deal of security that can be obtained from a private cloud. Mitigation of security risks and attacks can be managed with Alibaba Cloud.
LogicMonitor:
LogicMonitor is a popular SaaS-driven, cloud-based, data collaboration platform that assists its users in garnering visibility into the technologies being used, for the best user experience. Users can get a deeper insight into data, great visibility into infrastructure, effective data collaboration – all with a single platform. It is light weighted and drives digital transformation in a big way.
LogicMonitor helps stakeholders – business owners, developers, IT teams to garner in-depth views into the information to offer an effective user experience. There is effective monitoring of everything from networks to the cloud to applications. This makes the teams give more time to their own periphery of work rather than managing and monitoring infrastructure. Resolving issues and handling risks is easier done through this tool.
Red Hat OpenShift:
Red Hat OpenShift is a popular and comprehensive Kubernetes platform that offers a cloud-like experience wherever it is implemented. It is highly secure and relies on industry standards – Docker and Kubernetes. It is created for an open and hybrid cloud process, offering an effective platform for managing a variety of cloud-based arrangements – hybrid, multi-cloud, and edge-based computing. This empowers its users to innovate faster and with concentration.
It offers automatic installation, upgradation with the help of its container stack. Teams that utilize Red Hat OpenShift can create applications with ease, effectiveness, and agility. It simplifies hosting applications and development. There is total control of applications coding and naming custom domains with the developers/users. It also possesses self-service capability, a wide selection of languages, complete CI/CD services for automatic app delivery, and supports DevOps processes.
Tencent Cloud:
Tencent Cloud is a trustworthy, secure cloud computing service popular majorly in Asia. It offers secure elastic computing services through Cloud Virtual Machine. It has a single-stop video-based solution that offers live streaming, video calls, video games, video-on-demand, etc. It offers the facility for expansion or reduction in computing resources in real-time, as per the business requirements and user needs.
Pricing is done based on the resource requirements and hence turns out beneficial for users belonging to smaller business segments and startups, since it becomes affordable for them. As one of the leading cloud providers across the globe, it focuses on assisting global enterprises to perform well in their business domain.
DreamHost:
DreamHost is a full feature, fast and reliable cloud computing service that has a customized control panel – easy to use and reliable. As a competent web hosting company, it owns quick speed and efficacy in the configuration of cloud servers and deployment of the same. It owns the responsibility of effectively optimizing the servers, offering optimum infrastructure to the users.
Especially for small businesses and startup units, DreamHost offers package customization as per their requirements and then a 'pay as you use' facility. It offers disk space with SSD technology and has a lot of it to offer with big data transfer limits too. This gels well with the users and hence gets an edge over its peers. It has been helping its users through different means when technical problems are encountered. Server scaling turns quite cost-effective with DreamHost.
RackSpace:
RackSpace is a known, modern-day cloud computing service provider, offering a variety of multi-cloud solutions across data, applications, and security. As a managed unit for cloud computing, it easily manages public and private cloud deployments. It has the proficiency of managing with stalwarts like AWS, Azure, OpenStack, etc. It is a nice merger of the power of automation delivering technology and continuous service with cutting-edge tools.
It offers private, public, hybrid cloud, and multi-cloud solutions. It has instant provisioning, multiple interface options, customized SSL, access control for content protection, flexibility to have many origins, whole site delivery, and acceleration. RackSpace helps in enhancing business, increasing productivity, and offering a futuristic view.
Kamatera:
Kamatera is a performance cloud-driven solution that provides reliable, quick, and flexible solutions for different business setups including SaaS-based and startups. It always offers accessible maintenance and information. It offers fast and scalable services but in an easy and simple way. There is a trial account that users can try for the first month. Users are given server root access for the installation of operating systems and software as needed.
There are different services like block storage, cloud firewalls, cloud servers, etc. that can be availed as needed without any hindrances or shortages. Kamatera has a control panel that helps in the easy management of server configurations and installations. Because of its uncomplicated interface, users find it easy for creation, rebooting, or shutting down the server. There are pre-defined cloud hosting packages that can be worked out as needed.
CloudWays:
CloudWays is a cloud-based web hosting provider that focuses on simplicity and good performance. It handles all functionalities related to server management like application launch, server maintenance, etc. It has almost 100% uptime and excellent loading speed. It is easy to operate, and the creation of websites and apps is possible with a few clicks. Users can focus on their own creative work rather than bother much about managing server-related issues.
It has an effective partnership with known technology stalwarts like AWS, Google Cloud, Digital Ocean, etc., and uses third-party infrastructure to simplify functioning. It is considered a good alternative to Azure because of its salient features like robust security, systematic security patches, dedicated firewalls, performance-driven programs, simplistic control panels, integrated tools, inbuilt caching, auto-healing, etc.
HostWinds:
HostWinds is an effective web hosting, cloud hosting, and dedicated server solution that offers a fast speed, almost 100% uptime, and a large storage capacity. It has a 'round the clock' support team that works wonders for its users. It offers competitive performance, enriched features, and robust hosting capabilities that are rich in quality yet affordable. This tool is mainly focused on startups and small businesses.
HostWinds offers a free domain name, unlimited disk storage space and email accounts, subdomains, unmetered bandwidth, free SSL certificates, website migration and dedicated IP address, regular backup facility. There is the availability of Linux and Windows-based VPS, with managed plans and unmanaged plans, as per requirements. The hardware components that are utilized are modernized and hence there is an assurance of almost complete uptime.
Azure Competitors – The Wrap-up
The world of cloud computing is growing far and wide and there is an increasing number of alternatives that are coming up, for all technologies including Microsoft Azure.
Above are some of the top Azure competitors that can prove to be a good Azure alternative. But what really matters is the organizational requirements, budget, project timelines, infrastructure support, and project outline that helps in choosing the best alternative.
SPEC INDIA, as your single stop IT partner has been successfully implementing a bouquet of diverse solutions and services all over the globe, proving its mettle as an ISO 9001:2015 certified IT solutions organization. With efficient project management practices, international standards to comply, flexible engagement models and superior infrastructure, SPEC INDIA is a customer's delight. Our skilled technical resources are apt at putting thoughts in a perspective by offering value-added reads for all.