Azure Data Factory vs SSIS: Which is a Better ETL Tool?
As the processes of data integration and data migration take place, selecting the apt ETL (Extract-Transform-Load) tool is a vital element. Involved professionals look for the tool that offers them optimal results. Two big names in the world of ETL are Azure Data Factory (ADF) and SQL Server Integration Services (SSIS).
Both these tools are created for reading from disparate data sources and then writing and transforming data. Hence, both point towards a similar objective but have their own specialties.
The below comparison between Azure Data Factory vs SSIS is especially for those having a tough time deciding on the ETL tool. The evaluation based on different parameters, their advantages, and limitations throws light on the characteristics of each and situations in which they are better performers.
Firstly, let us go through each one of them individually with their pros and cons.
What is Azure Data Factory?
Azure Data Factory is a popular data orchestration tool and ETL tool that plays a vital role in Microsoft Azure development. It assists organizations in designing on-premises or cloud-driven solutions.
As a serverless technology, it empowers users to undergo enterprise-level data movements and transformations by transferring data through different layers. It assists in the creation and scheduling of pipelines that can collect data from disparate sources and then perform data transformation on big data.
Azure Data Factory has four main components:
Pipeline for the jobs that are to be executed.
Activity for all independent steps in a pipeline.
Datasets representing databases/files/folders as input to the ETL process
Linked Services as a connection string connecting data sources and services with authentication.
As a managed cloud-driven data integration service, it builds on the Reliable Services framework that is woven into the Microsoft Azure platform.
What is SSIS?
SSIS stands for SQL Server Integration Services, a popular platform for performing enterprise-level data transformation and integration jobs. It can be hosted on-premises in a virtual machine that is self-managed or deployed as a part of ADF in a virtual machine that Microsoft manages. It is a tool that offers joins, aggregation, splits, etc.
As a flexible and fast data warehousing tool that is leveraged for ETL, it undergoes data migration activities that can quickly transfer and transform data from one source to another. The data sources it supports are Oracle, SQL, Excel files, DB2 databases, etc. Developers can build innovative solutions without creating a single line of code.
SSIS possesses four significant components:
Control Flow that assists in arranging the order of components.
Data Flow performs the ETL process to load onto another destination.
Packages collect the control and data flow activities
Parameters that simplify the task of passing runtime values to SSIS packages.
SSIS vs ADF: Pros and Cons
Pros of SSIS:
Standardized ETL solutions for daily tasks
Capability to manage and connect data from disparate sources
User-friendly, easy to use and learn for novices
Good debugging facilities
Simple Active Directory integration for SQL Server connect
Create outbound data files and recording them to FTP
Easy to take data from servers other than MS SQL Server or Oracle
Offers self-service BI facilities
Lookup and transformation functionalities
Cons of SSIS:
Parallel execution of multiple packages
Limited flat file or Excel connection
Difficult to map destination with OLE DB command
An Interesting Portfolio: SaaS Based Applications Execution for a Global Design Company
Pros of ADF:
Offers good support for exhaustive queries
Serverless solution lessening meticulous tasks and maintenance
Seamless integration with third-party connectors
Easy to create pipelines schedules and execute SSIS/SSMS packages
Copies data from sources like JSON, Azure database, API, Azure Synapse, etc.
Usage of linked service in many pipelines
Fast, convenient with multiple connectors
Easy setup of security protocols for IP addresses
Effective monitoring with fine-tuning, automation, and flexibility
Access to multiple users from remote locations
Cons of ADF:
Less flexible as compared to other ETL tools
No debugging tools
Limited source connectors
An Interesting Portfolio: Marketing Business Analytics Solution for Financial Company
Organizations Using Them
Companies Using ADF:
KPMG, EY, GEICO, Ryder System, Lenovo Group Ltd., Blue Cross Blue Shield Association and many more
Companies Using SSIS:
Humana, Wells Fargo, KPMG, CVS Health, Uline, Guidehouse, NetSuite Inc., Red Hat Inc and many more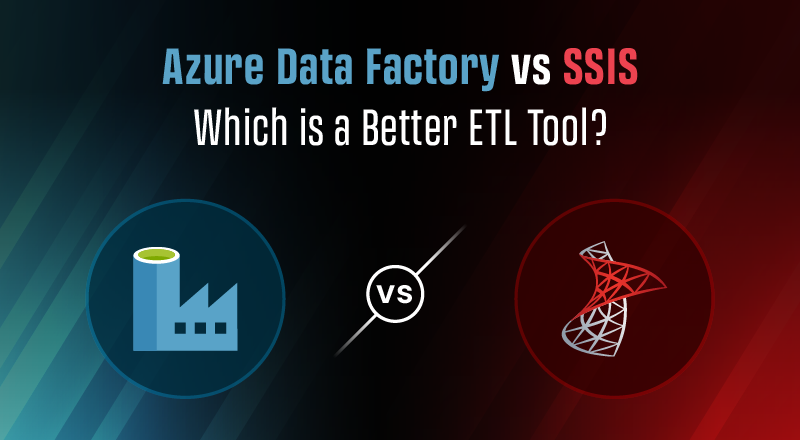 Azure Data Factory vs SSIS: The Differences
As you compare SSIS vs Azure Data Factory, we observe that both are leading, scalable, accessible, secure, and robust data integration tools that are heavily influenced by graphical user interfaces.
Both are leveraged for ETL activities that consist of disparate sources and sinks. But there are certain characteristic differences that set them apart and ease out the task of choosing the right one, Here are they:
| | | |
| --- | --- | --- |
| Parameters | Azure Data Factory (ADF) | SSIS |
| Overview | Azure's cloud ETL service for scale-out serverless data integration and data transformation | An on-premises tool for creating enterprise-level data integration and data transformation solutions |
| Azure Data Factory Vs SSIS Performance | Very fast in performance, since works with the cloud-based architecture | Very fast in performance, data transformation is done in memory buffers |
| Variety of Data | Structured and unstructured data | Structured data |
| Programming Languages | ADF does not have a programming SDK – Uses PowerShell, Python, and .NET | SSIS has a programming SDK that uses automation through C#, BIML, VB |
| Development Tools | Web browser | SQL Server development tools |
| Costing Structure | Abides by the 'pay as you go' model | Has free and paid licensed versions |
| Utilization | ETL, ELT, data movement, orchestration, Reverse ETL, streaming | ETL, ELT, data integration, data transformation, Reverse ETL |
| Database Replication | Full and incremental load | Full and incremental load |
| Addition of New Data Sources | Offers SDK for creating custom connectors | By coding custom data source elements |
| Data Connectors | Over 90+ inbuilt data connectors for data integration | Various data connectors compatible with .NET, ADO, ODBC, OLEDB, etc. |
| Developer Tools | Azure Portal, CLI, PowerShell, Visual Studio | Visual Studio, SQL Server Management Studio |
| Purchase Details | Self-service purchase via Azure portal or Microsoft sales team | Bundled along with Microsoft SQL Server |
| Version Control | Can be integrated into Azure DevOps git or GitHub, and supports branching, merging, etc. | Can be integrated with TFS and Git, supports team-based development with merging and branching |
| Velocity of Data | Streaming, real-time and batch | Batch |
| Data Flows | Makes use of Apache Spark with optimization features hence suited for bigger data sets | Best suited for small to medium data sets because the startup time is more than the runtime |
| Learning Curve | It is still evolving hence needs time to master | Since it has been around for a while, it is easy to learn |
| Support for Triggers | ADF supports scheduled batch, event-based and tumbling window triggers | SSIS supports batch triggers only but can help in developing custom triggers for data streams |
| Data Integration | Integrates with a variety of cloud-based tools and other data sources like Azure Data Lake Store etc. | Integrates with a range of connectors, though they may not be cloud-based |
| User Interface | An effective graphical user interface for designing workflows executable in the cloud or on-premises | Graphical interface with drag-and-drop components for the creation of pipelines |
| Architecture | Hosted entirely in the cloud, networks are stateless | On-premises tool that executes in the data center |
On a Concluding Note
As we go through the detailed comparison of Azure Data Factory vs SSIS, we feel that both are competent enterprise ETL tools and can be implemented as needed by organizations. There are certain helping tips that can aid in decision-making:
You can choose SSIS when
The work area is on-premises
Users already possess SQL Server 2016 or later
ETL processes are to be executed on a continual basis
You have Visual Studio and Windows development machines
You can choose ADF when
You want to choose 'pay as you use' model
Most of your activities are in the cloud
Activities are spread in different time zones
You use an operating system like iOS, other than Windows
There are certain parameters that can help in deciding which one to select from when you assess SSIS vs ADF. They could be the presence of cloud infrastructure, size of data, budget estimates, project deadlines, availability of skilled resources, and infrastructure.
With SPEC INDIA's Microsoft Azure cloud services, you can modernize your applications to Azure cloud and enjoy the benefits of reduced cost, better performance, robust security, and the ability to respond to changes faster.
We have a proficient team of Microsoft Azure developers with years of experience and skills in developing and implementing Microsoft Azure cloud solutions that cater to your business needs.
Our developers are experts in leveraging the potential of Azure cloud by building cloud-native apps, migrating existing solutions to Azure, launching new product solutions, and providing round-the-clock support and maintenance.
Reach out to our consultants to know more.
SPEC INDIA, as your single stop IT partner has been successfully implementing a bouquet of diverse solutions and services all over the globe, proving its mettle as an ISO 9001:2015 certified IT solutions organization. With efficient project management practices, international standards to comply, flexible engagement models and superior infrastructure, SPEC INDIA is a customer's delight. Our skilled technical resources are apt at putting thoughts in a perspective by offering value-added reads for all.