Top 15 Sublime Text Themes To Look For In 2023
Text editors are excellent for writing code in the expanding world of software development. While writing or editing the code, a text editor will offer the best results and enhance the quality of the software. There are numerous tools that are being executed in projects based on the services that they offer. A text editor is one tool that allows users to edit text based on requirements.
One such text editor that is highly popular is Sublime text editor which offers key features such as basic rich text editing features, managing tables, word, and character count, spell check and grammar check, multi-language support, accessibility, autosaving mode, exporting files, HTML support, etc. It helps developers in text processing and layouts, addition, or updating images with systematic collaboration.
And there are many Sublime text themes that offer a variety of user interfaces and the look and feel of screens. Before we go through the best Sublime text themes to look for, let us understand the basics of Sublime text.
What Is Sublime Text?
Sublime Text is a well-known and sophisticated text editor for code, markup, and prose. It offers a classy user interface and a variety of Sublime text themes and color schemes that make the coding experience a better one. It is considered an intelligent code editor which offers a seamless collaboration between the user interface and the Sublime themes.
Sublime Text offers a friendly user interface, and its associated Sublime themes offer a great variety of colors and other UI elements like tabs, menus, side panes, etc. It showcases features such as selecting multiple instances of the same string, syntax highlighting, easy customization options, macros, robust search capability, custom key binding, and split editing.
What Are Sublime Themes?
The best Sublime text themes offer the flexibility to apply different designs, each having its own set of color schemes and visual attractions. It all depends on the theme that is selected. Based on that, the colors, buttons, tabs, select lists, etc. will change in design and appearance.
Sublime text themes can be installed by simply finding them on sites like GitHub, and Package control. You just need to search for your selected theme and install it as per instructions. There is a theme file that has all the different UI elements and color schemes. It is in JSON format and allows users to write the rules and variables in JSON syntax. Users can choose their own themes and even personalize them leading to a completely new experience.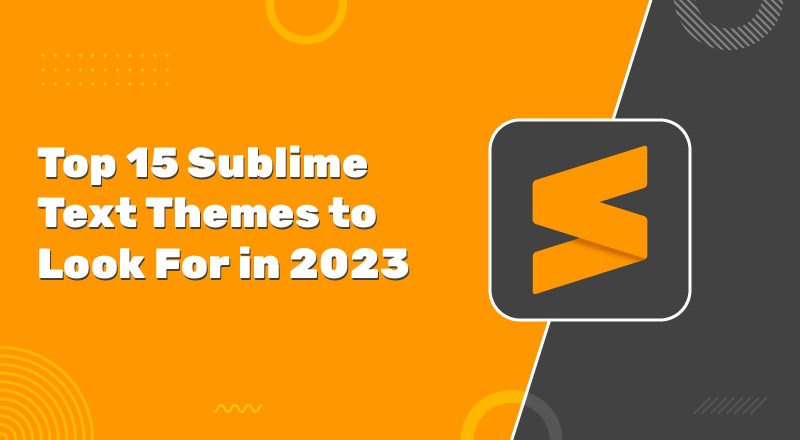 Top 15 Sublime Text Themes To Know
Ayu
Material
Dracula
Cyanide
Spacegray
Agila
Seti
Brogrammer
Soda
Gravity
One Dark
Guna
GruvBox
Afterglow
Predawn
Let's explore these popular Sublime Text Themes one by one.
Ayu:
Ayu is a modernized Sublime text theme that comes with three schemas – mirage, light, and dark. The color schemes are the same and hence it is easy to switch between the three. It is a simple theme that offers bright colors and an easily understandable theme. Separators can be displayed between tab sizes, font sizes, and UI panels through special settings.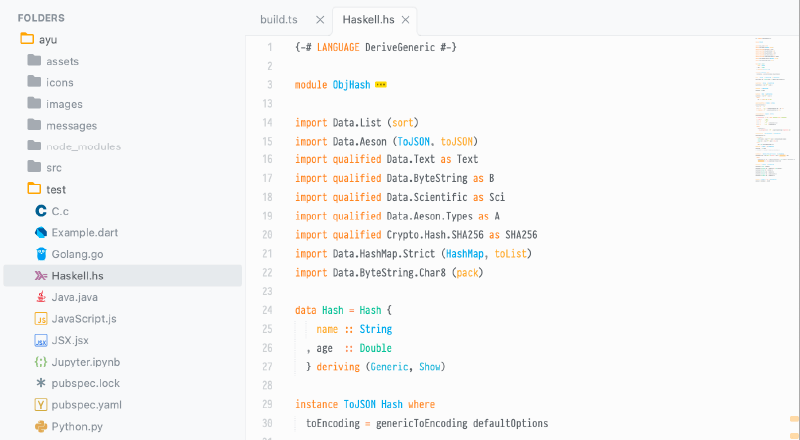 Material:
The material theme for Sublime text is a well-known theme that offers different color schemes and themes. The user interface including file icons, folders are neat and crisp, making it look space rich. There are customization features of Material, simple installation, and activation. It offers a dark theme as well as a light one. It is ideal for those who are utilizing Material Design in their projects. There is a visual configuration tool that makes options available through an inline popup.
Dracula:
Dracula is a dark, high-contrast-themed Sublime text theme that is accessible across multiple apps and terminals. It also is a theme for Atom, iTerm, Slack, Vim, Xcode, and many others. There are a variety of color schemes available, and it supports a great number of apps that enhance productivity as a part of the software development lifecycle. It is easy to expand this theme as required.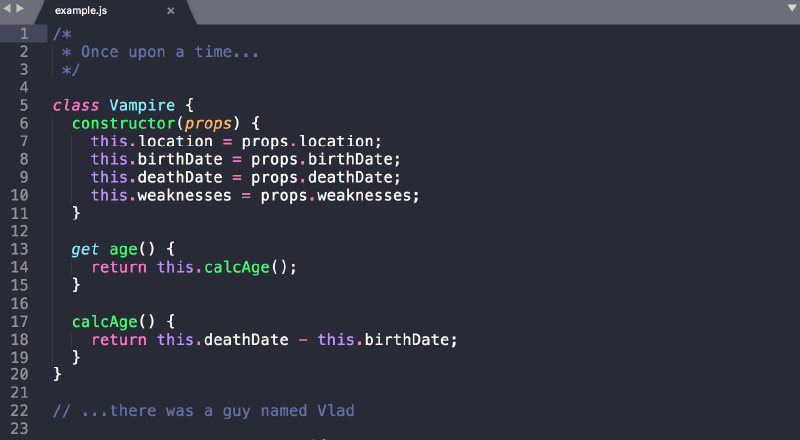 Cyanide:
Cyanide is one of the best Sublime text themes that has a functional and ultra-dark theme with a blue and white palette. It offers a high number of schemes including black, golden, purple mint, contrasted, alert, acid, etc. It offers a minimalistic touch, has a simple user interface, and is considered easy for scanning specified code bits. It includes different settings for different folder icon sizes, tab heights, and user interface contrast.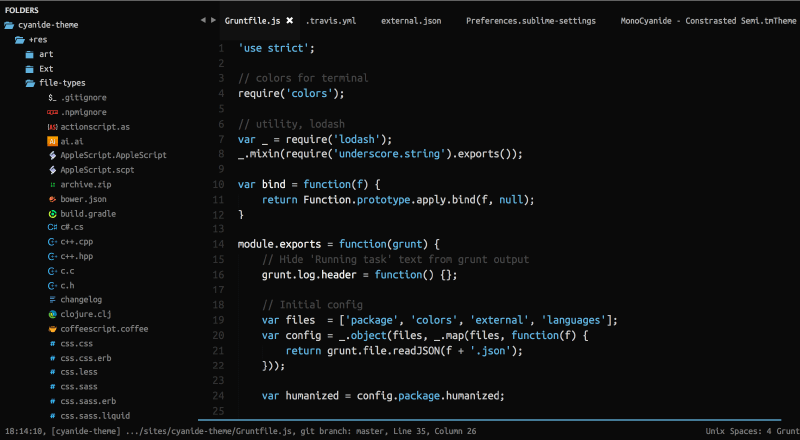 Spacegray:
Spacegray is a Sublime theme that offers soothing colors and neatness for its user interface and syntax. There are 4 classy themes of which 3 are dark and 1 is light. There is a minimalistic look accessible, and custom themes are available for fonts, tabs, and sidebars. There is a classy look to the theme which is why it is highly popular.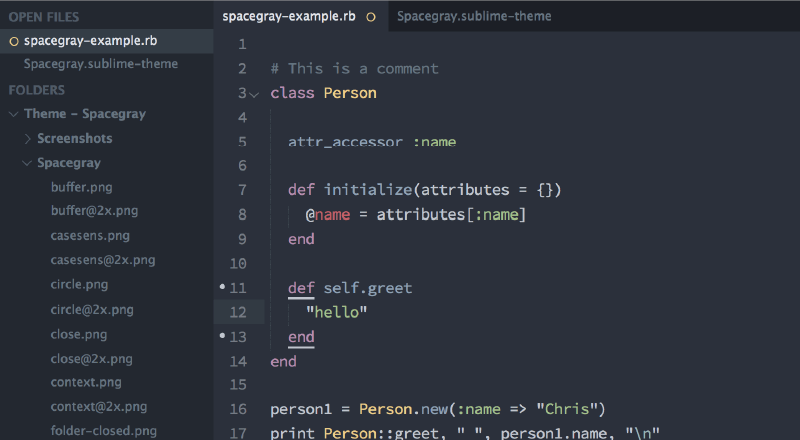 Agila:
Agila is a comprehensive theme that has 8 schemes – Origin, Dracula, Oceanic text, Monokai, Cobalt, Classic, Light, and Neon. As a leading Sublime text theme, Agila offers great scope for customization while the code is being written. Due to its varied schemes, there is a lot of facilitation while creating the user interface. It lets you leave space between folders in the file tree making it simple and effective.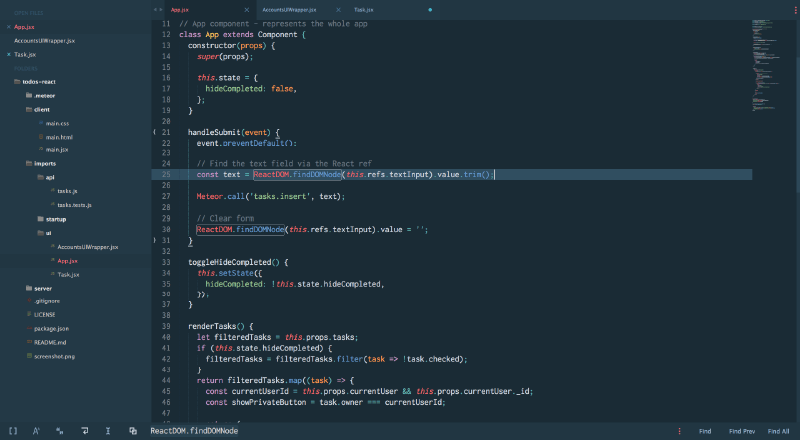 Seti:
Seti is a well-known theme for Sublime text that is ported from the Atom theme that has an analogous name. It offers simple and sleek sidebar icons like Material Theme. There is support for various blue and yellow highlighted text in the Command Palette. It also showcases the Completion Popup and the Goto window. It can be installed with either GitHub or Package Control.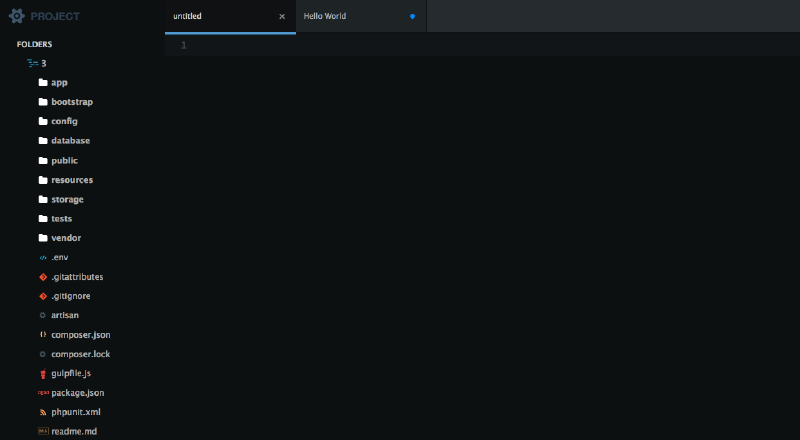 Brogrammer:
Brogrammer is a smart and flat Sublime text theme from Ken Wheeler, which is colorful and vibrant with highlights. The editor showcases smart and bold colors to make your user interface look lively. It can be installed via Package Control or GitHub. It makes use of bold colors with bright red highlights. When you are coding with this theme, the Sublime text looks confident.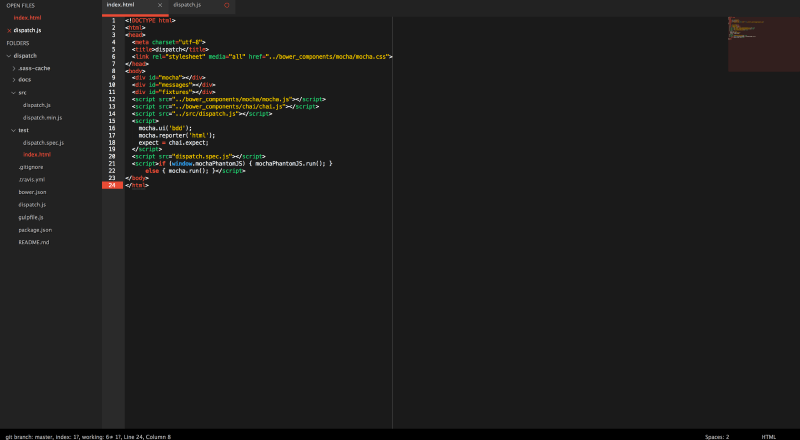 Soda:
Soda, as a Sublime text theme, comes with a dark version and a light version. It is apt for switching between the two modes, as and when required, depending upon the time of the day. It benefits from the high dpi displays and showcases alternate tab styles. It is sharp, easy to grasp, read and implement.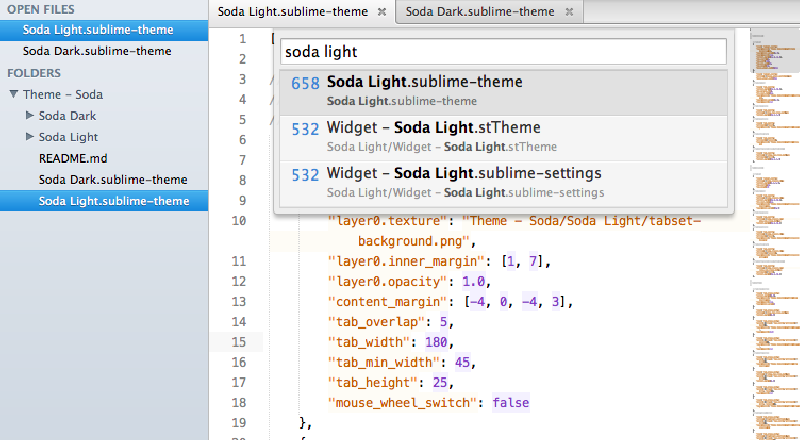 Gravity:
Gravity is a leading theme for Sublime text that carries along a few elements of El Capitan and OS X Yosemite to Sublime Text. It offers light and dark modes of display and empowers users to customize as per needs. It is perfect for Mac users and is considered simple to execute and easy to adapt.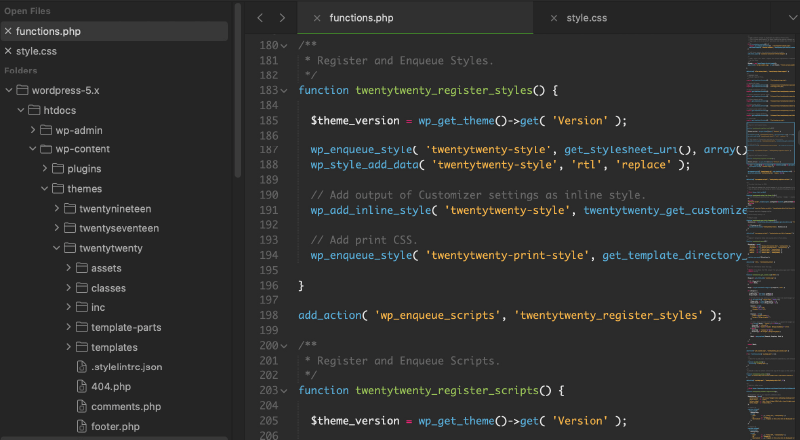 One Dark:
One Dark, as the name suggests, is a dark Sublime text theme based on the Atom One Dark UI theme. It offers simple, bright, and attractive color schemes and shades that can be of great use for developers to create a visually appealing user interface. It is ideal for developers who look for coding at night time.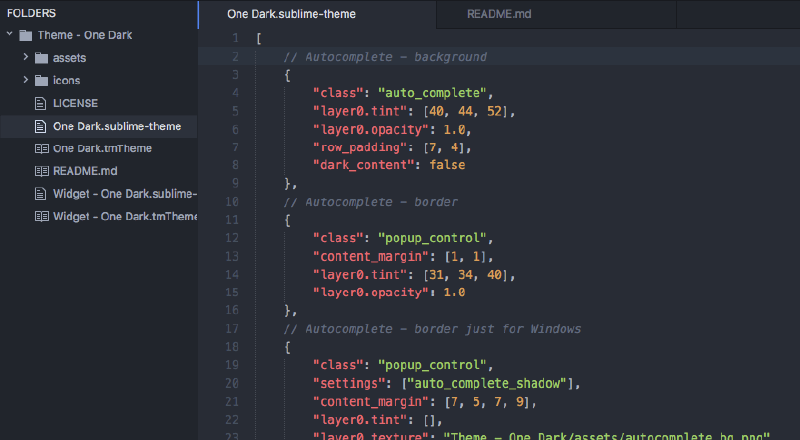 Guna:
Guna is a powerful theme for Sublime text that utilizes a wide variety of fonts, colors, and other widgets like clock, calendars, etc. There are a lot of functionalities that it offers including weather on the sidebar, tweakable theme colors, status bar labeling from its own API, etc. This theme is simple to personalize and hence highly effective for developers on a routine scale.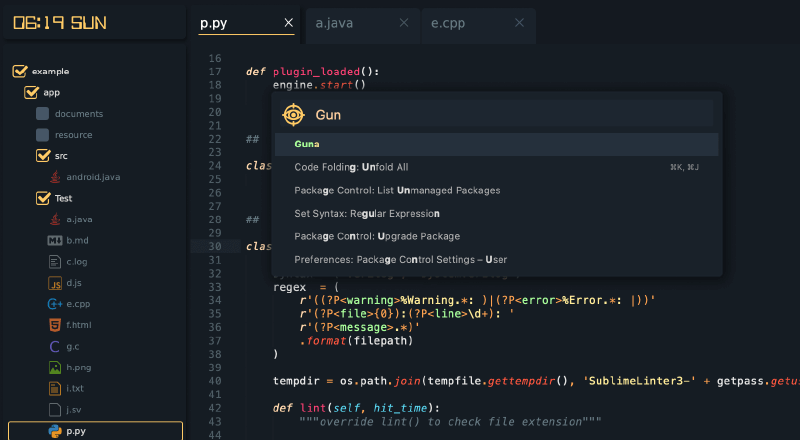 GruvBox:
GruvBox is a great option for those who are looking at a variety of colors. There are total 5 schemes of which 2 are light and 3 are dark. This theme is meant for those who prefer bright and minimal themes. It is also fit for color-blind users for differentiating the colors easily. Users can easily switch between modes and colors, depending upon usage. The color distribution is distinctive to this theme.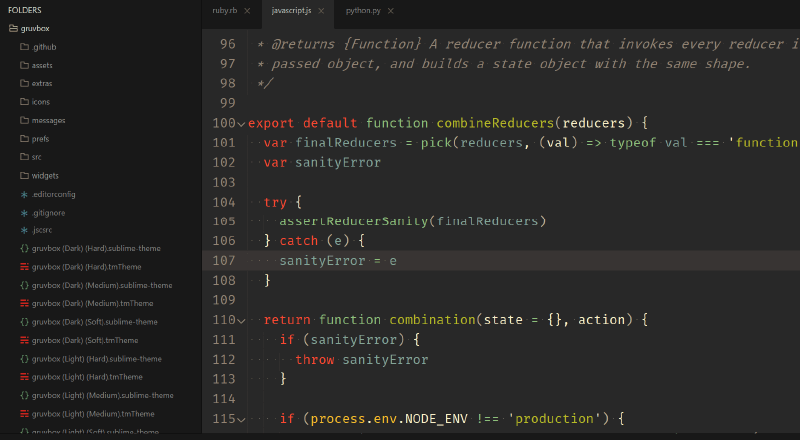 Afterglow:
Afterglow is an innovative Sublime text theme that is fit for general-purpose coding mechanisms. There are 4 dark schemes that support a white, green, and orange pattern. There are pre-installed file icons that are configured to make the editor better to use in an aesthetic manner. It adapts a minimalistic and dark look with customizable sidebar icons, tab heights, syntax markdowns, etc.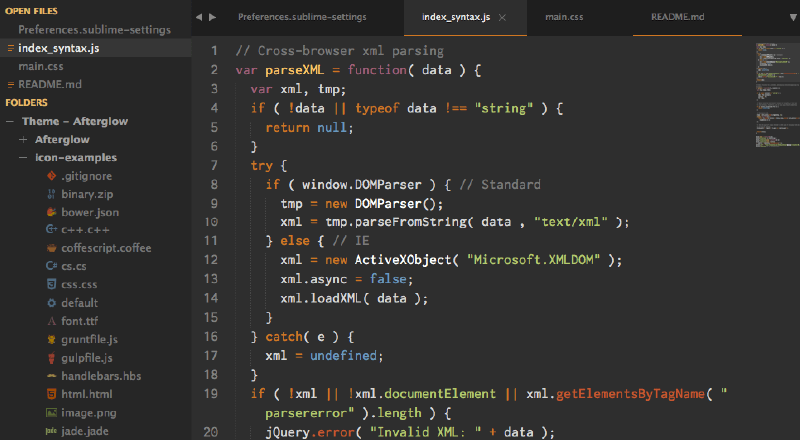 Predawn:
Predawn is a leading Sublime text theme and dark interface that has certain attractive options which can be easily configured. It offers a completely new avatar to the editor. It executes on a color palette that is more of blue, orange, and green colors. It is pleasant to the eyes and easy to use, with extra options for the configuration of tab heights. There are extensive features that it offers with support for markdown syntax.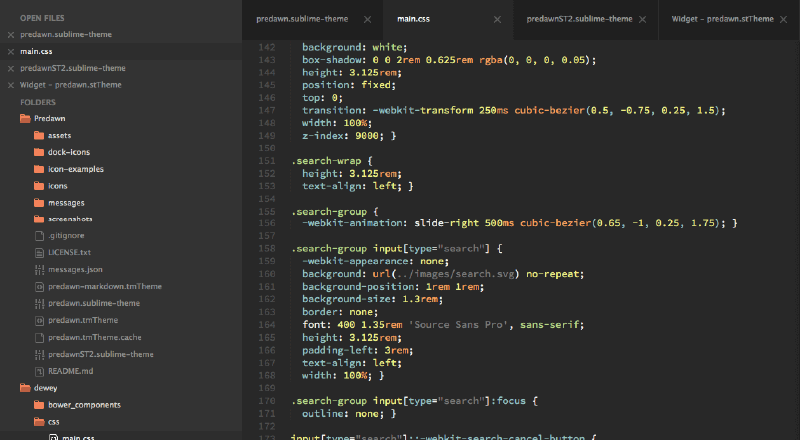 Sublime Text Themes: A Final Note
Here comes the conclusion about the exhaustive list of best Sublime text themes that can be of great importance in 2023. Of course, there are many others that can be included. It all depends upon the organization's regulations and needs.
Good Read: Best VSCode Themes: Top 15 Themes For Visual Studio Code
A Sublime text and code editor is an enriched editor that has been in continuous demand over the years and there is no looking back. As the new year rings in, the demand for these Sublime text themes is bound to increase and spread far and wide. It will be an interesting watch to see the list of themes for Sublime text grow beautifully.
SPEC INDIA, as your single stop IT partner has been successfully implementing a bouquet of diverse solutions and services all over the globe, proving its mettle as an ISO 9001:2015 certified IT solutions organization. With efficient project management practices, international standards to comply, flexible engagement models and superior infrastructure, SPEC INDIA is a customer's delight. Our skilled technical resources are apt at putting thoughts in a perspective by offering value-added reads for all.