15 Best iPad Apps for Students: Towards a Bright Future
Posted
September 22, 2023
iPad apps have the potential to transform the way students learn and study by providing access to a diverse range of educational resources, improving organization and productivity, and enhancing engagement and interactivity in the learning process.
iPad apps offer several important benefits for students, enhancing their learning experience and productivity. These apps are capable enough to handle various types of school or college work.
This blog focuses on the 15 best iPad apps for students that get the job done whether you're in undergraduate or graduate school.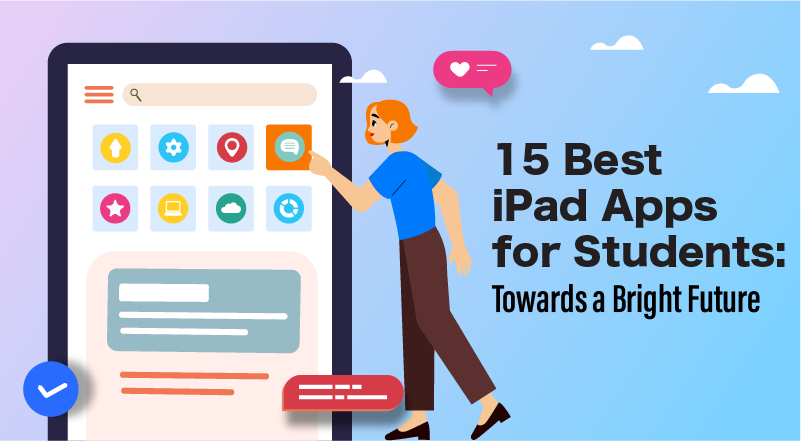 Best iPad Apps for Students To Consider
Notability
Evernote
GoodNotes
Nebo
Google Keep
Apple Notes
LiquidText
MarginNote
Noteshelf
Microsoft OneNote
Zoho Notebook
Penbook
ZoomNotes
Freeform
Whink
Now let us explore these best note taking apps for iPad individually.
Notability:
Notability, a versatile best note taking app for iPad, stands out with its support for various formats and pen styles, making it ideal for use with the Apple Pencil or stylus. Beyond handwritten notes, it offers the functionality to convert written notes into text. Among its other features are audio recording, PDF annotation, shape recognition, and iCloud syncing.
The app offers its end users extra formatting and powerful sketching tools to enable them to foster their creativity. While a free version is available, Notability is compatible with iPad, Mac, and iPhone. On the downside, it requires a paid subscription for the Plus membership and has limitations on document sizes.
Evernote:
Evernote is one of the best apps for note taking on iPad which allows end users to neatly organize their notes in custom notebooks, supporting various content types such as PDFs, sketches, photos, and audio. It's cross-platform compatibility and real-time syncing(only two devices) enhance accessibility. The fully customizable home dashboard, available with the Evernote Premium Plan, ensures tailored usage.
With structured formatting and its standout web clipper feature, it can serve as the foundation for a comprehensive productivity system. Its wide-ranging compatibility extends to iPad, Mac, Android, Windows, and iPhone. However, limitations on storage under the free plan and lack of offline access to this note taking application should be noted.
GoodNotes:
GoodNotes, a remarkable note-taking app for iPad, empowers users with custom pen styles and a rich palette of colors. It seamlessly adapts to your personal handwriting through adjustable pen sensitivity and palm recognition settings, catering to your writing nuances.
This app for note taking offers an array of pre-set note layouts and templates, enhancing organization. Compatible with iPad, iPhone, Mac, Windows, and Android devices, GoodNotes ensures widespread accessibility. However, post-trial usage incurs a one-time fee, and users should be cautious of storage-intensive file creation.
Also Read: FlickKey Keyboard Notes – Notepad iOS Application
Nebo:
Nebo is an innovative iPad note-taking app that seamlessly blends the use of handwriting and text, allowing users to interweave handwritten and typed content or transform handwriting into text. It accommodates the creation of intricate diagrams, graphs, and mathematical equations, particularly beneficial for students and professionals who favor manual note-taking.
Available across iOS, Mac, Android, and Windows devices, this best app for taking notes on iPad supports multi-device syncing and includes a dictionary, PDF conversion, and content sharing in various formats, albeit not available in the free plan. However, the app lacks templates, layouts, and other customizable formats.
Google Keep:
Google Keep offers effortless note synchronization across all devices at no extra cost. It excels by transcribing audio recordings and supporting quick notes, reminders, and checklists. With comprehensive organizational tools, notes can be effortlessly managed using labels, colors, and pins for easy access.
Apart from Apple Notes, this is one of the best free note taking apps for iPad. The app's speech-to-text functionality further enhances usability. Google Keep extends compatibility to Android, iOS, Windows, Chrome Web Store, and various other platforms, ensuring widespread accessibility for users seeking seamless and intuitive note-taking capabilities.
Apple Notes:
Apple Notes, a staple of the Mac operating system, extends its functionality to macOS, iOS, and the Web, offering seamless synchronization through iCloud. It is the best iPad app for note taking Apple users use. The app accommodates various content types, including handwritten text, sketches using the Apple Pencil, typed text, links, photos, and videos, with basic text formatting options such as checklists, lists, and headings.
However, it lacks audio recording capabilities, treats PDFs and imported files as attachments rather than integrating them, and has a limitation in terms of templates and customization options for users seeking more structured formatting.
LiquidText:
LiquidText, rather than being the best note taking app for iPad, users primarily consider it as a study and research tool. It is engineered for dissecting PDFs and documents efficiently. It boasts an infinite workspace, facilitating the compilation of multiple documents within one interface. The unique ability to manipulate documents by squeezing and expanding them enhances the comprehension of critical details during research and comparison.
Compatible with iPadOS, Windows 10, and MacOS devices, LiquidText offers versatile accessibility. However, the workspace might feel constrained at times, and due to its infinity, meticulous organization is essential to avoid misplacing or forgetting snippets within the expansive interface.
MarginNote:
MarginNote is one of the best apps for note taking on iPad which resembles LiquidText in its approach enabling the user to take editable and annotated notes which offers contextual addition to excerpts as they are separated. It introduces a flashcard review feature for efficient note review and exam preparation. The app's mind-mapping capabilities emphasize clean, organized aesthetics with precise lines and blocks.
Accessible across iPad, iPhone, and Mac platforms, MarginNote caters to a broad user base. However, its assortment of viewing modes and arrangements can potentially cause confusion, and the app's plethora of features might overwhelm users seeking a streamlined note-taking experience.
Noteshelf:
Being one of the best note taking apps for iPad, this app offers intuitive navigation complemented by robust customization features, including a customizable toolbar. Alongside audio recording capabilities, the app excels in organization, supported by Focus mode, Noteshelf AI, and advanced customization, particularly suited for extensive note-takers.
It extends compatibility across PCs, Macs, Android, Windows, iPhones, and iPads. However, the free version imposes limitations on note-taking frequency. Notably, while you can interchange notes among Apple products, the app isn't cross-platform compatible, restricting note transfers between iPad and non-Apple devices.
Microsoft OneNote:
Microsoft OneNote is widely embraced best free note taking app for iPad, caters to both keyboard-centric and handwritten notetaking on iPad. Its seamless handwriting integration obviates the need to switch modes. The distinctive Ink Color Selector stands out among its features. Offering a comprehensive free version, OneNote is the best note taking app for iPad and is one of the kind as it include the innovative Math Assistant for equation-solving.
However, backups are confined to its servers, and the free plan allows only 5GB of storage. Compatible with Mac, Android, Windows, iPhone, iPad, and even iWatch, OneNote provides a versatile note-taking solution across multiple platforms.
Zoho Notebook:
This iPad note-taking app caters to an aesthetically pleasing UI with a unique organizational approach where individual notes are termed Cards and resemble colorful sticky notes within Notebooks. Offering diverse Card types like Checklists, Audio, and Sketches, the app features Smart Cards that automatically format saved content.
However, its tools for handwriting and customization are limited to typed text. The free version lacks robust search capabilities and has constrained notecard sizes and storage. Despite these limitations, Zoho Notebook's distinctive design and card-based structure cater to visually-minded note-takers seeking an innovative approach to organization making it one of the best apps for taking notes on iPad.
Interesting Read: Headucate: Math App For Kids
Penbook:
Penbook offers an array of stunning Notebook covers and an extensive selection of over 1,000 customization options. It provides diverse page templates catering to various categories, allowing you to mix and match templates to suit your needs. While the navigation isn't the most intuitive, this best note taking app for iPad offers pre-made "Editions" to streamline Notebook creation.
Notably, Live Paper automatically timestamps new pages. However, the free version functions more like a trial, and organizational features are lacking. Compatible with Windows, iPhone, and iPad, Penbook stands as a versatile solution for visually-enhanced note-taking.
ZoomNotes:
an expansive infinite whiteboard and remarkable zoom range, simplifying tasks like mind mapping and sketchnoting. Integration with apps like Apple Reminders and Calendar enhances its utility. With the ability to annotate PDFs, DOCs, and PPTs, iCloud syncing, and split-screen functionality,
ZoomNotes is versatile across iPad, iPhone, and Mac platforms. However, the user interface is somewhat clunky, and the free version presents limited tool options. Despite this, ZoomNotes provides a valuable solution for dynamic visual note-taking and collaboration.
Freeform:
Great place to bring your ideas to life. Sketch out a project, design a mood board, or start a brainstorming session on a flexible canvas that supports almost any kind of file for brainstorming and mind-mapping
Only Works on Apple Devices
Whink:
Whink is the simplest and most powerful note-taking app. It lets you create PDFs, and add audio, shapes, and photos. It is known for its versatility and features that cater to both typed and handwritten notes, making it a useful tool for various purposes, including academics, business meetings, and personal organization.
Whink is basically designed for those note-takers who just aren't concerned much about the features. It includes notable features like Handwriting Recognition, Annotations, Audio Recording, Sync and Backup, Dark Mode, Search Functionality, etc.
Best iPad Apps for Students: The Wrap-up:
iPad apps have the potential to transform the way students learn and study by providing access to a diverse range of educational resources, improving organization and productivity, and enhancing engagement and interactivity in the learning process.
There's a multitude of iPad apps available for the students making it a a bit challenging to choose the right app. The above list of the best iPad apps for students can surely help you choose the one that suits your needs.
Looking to develop apps iPad or iPhone apps? Hire our team of iOS developers can deliver a feature-rich application that fulfills the end goal.
SPEC INDIA, as your single stop IT partner has been successfully implementing a bouquet of diverse solutions and services all over the globe, proving its mettle as an ISO 9001:2015 certified IT solutions organization. With efficient project management practices, international standards to comply, flexible engagement models and superior infrastructure, SPEC INDIA is a customer's delight. Our skilled technical resources are apt at putting thoughts in a perspective by offering value-added reads for all.