Top Digital Transformation Trends That Will Rule 2021
"Digital is 10% tech and 90% human" – Lucia Adams
Little did we know how the year 2020 would treat us. All of us have been facing a global challenge, the Covid-19 pandemic that is taking its toll on us. At such times, there is one arena that is smiling bright – "Digital Transformation".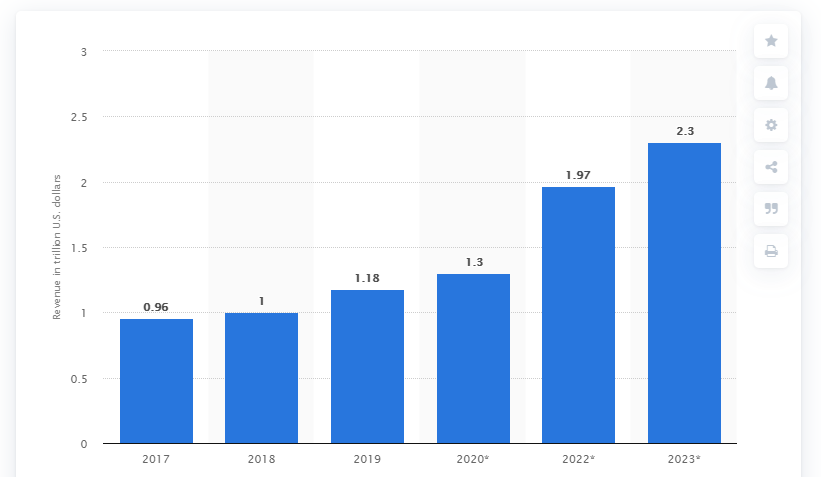 Digital transformation market revenue worldwide from 2017 to 2023 (in trillion U.S. dollars)
Digital transformation is no longer a 'should have' component, it is now an 'essential revolution' for organizations worldwide, no matter what size and segment they belong to. As we bid goodbye to 2020 and welcome 2021, digitization has shown certain eye-striking transformations, more so because of the pandemic that has struck.
Call it by force or by motivation, a huge number of global organizations have taken significant measures to enhance digitization in their working methodologies. There is a dual effect – the Covid-19 effect that has forced them to embrace the digital world and the strong wave of digitization that is already crossing over.
Good Read: Digital Transformation: Primary Accelerator Of Businesses Post COVID-19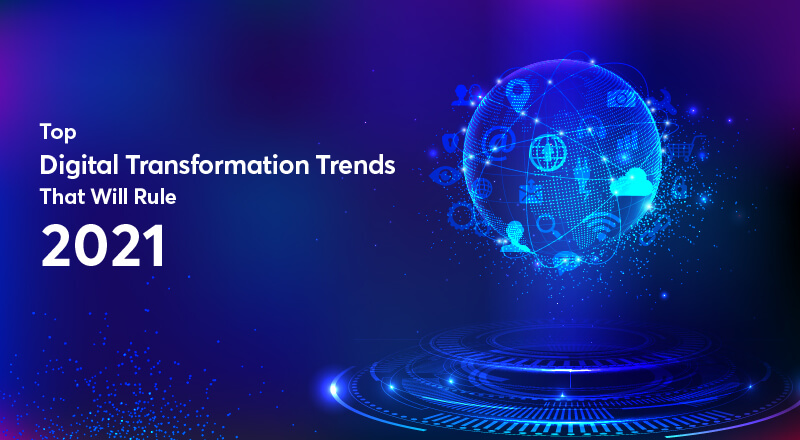 Top 12 Digital Transformation Trends For 2021
Cybersecurity
User and Data Privacy
Adaption of Hybrid Cloud Architecture
WFH, Remote Teams and Virtual Spaces – The New Normal
5G Will Be Heavily Leveraged
Folding and Unfolding Devices
Omnichannel Retailing
Artificial Intelligence
Quantum Computing
Predictive Analytics and Prescriptive Analytics
Increase in Voice Based UI and Conversations
'Everything as a Service' (XaaS)
Cybersecurity Is The Need Of The Hour:
With the new normal inclined towards high-end digitization, securing information comes at top priority. Cybersecurity has got a sudden boost this year and the new year shall see organizations focussing on it, the most.
There has been a severe rise in hacking attempts, data breaches, threats, malicious attacks, and server interventions. Because of the increase in network traffic, mobile devices, and WFH systems, the entire organizational data is at risk.
Newer and sophisticated cybersecurity algorithms, policies, strategies, and tools are bound to take preference in the next year, with the aid of AI and ML. The role of AI in cybersecurity will be sharper and effective. Technological areas like firewalls, intrusion detection, security identification, antivirus strategies, password protection policies, single sign-on, role-based access, cloud-based services, etc. will be further enhanced and novel features will be introduced.
Software and hardware stakeholders will put in all necessary efforts to embed the above features in their applications and devices to ensure a successful and hassle-free implementation.
User And Data Privacy Gains Further Importance:
With the world getting connected at an increasing speed, retaining the privacy of information is of utmost importance. With the GDPR rules and regulations supervising operations, it is more important to protect the data.
Since an increasing number of organizations are shifting their data onto the cloud, protecting such information will be on the top list. Data privacy and security domain shall garner more focus in the year to come.
The users shall be solely responsible for offering access rights for data lying on apps, the web, and other media. The pandemic related transformations shall enforce organizations to focus more on data privacy and confidentiality of information.
Enterprises Will Be Keen To Adapt The Hybrid Cloud Architecture:
Hybrid cloud, as the name suggests, has been offering the right blend of public and private cloud offerings. It signifies a diverse computing, storage, and services environment comprising of on-premises infrastructure, private cloud services, and/or a public cloud.
Enterprises have been benefitting heavily because of this hybrid nature of the cloud. Top tech giants like Google, Azure, AWS, Oracle, etc. have been investing in this technology.
Enterprises are more in look for an agile and Hybrid cloud technology that will cater to more of enterprise-specific needs like heavy bulk of data, privacy, and confidentiality of data, compliance to standards.
More so, with the pandemic, the need for such a stable and effective cloud-based architecture is felt by the enterprises. The year to come shall see enterprises adapting the hybrid cloud architecture and showcasing newer trends like serverless computing, container orchestration, etc.
WFH, Remote Teams And Virtual Spaces Shall Remain The New Normal:
Though by force, the WFH regime has struck the chord and is the new normal now. Till the pandemic does not fade away, most parts of the globe will stick to this routine. Many global organizations have announced a large part of 2021 to continue this way. Remote teams have become a necessity for the digital ecosystem.
There are many who have started their operations from office locations but with the pandemic showing increasing trends, they are bound to go back to the old regime. Smarter and effective working policies have come into existence. Technology is being leveraged to its best, thanks to brilliant minds that are not letting productivity or business suffer.
The WFH regime shall witness an increase in sales of mobile devices, network components, connectivity, IoT tools and sensors, meeting software applications, cloud-based devices, and more.
5G Will Be Heavily Noticed And Leveraged:
There has been a lot said and implemented about 5G, but its significance was not noticed that much till now. Today, with our professional lives being connected heavily through remote working, video calls, and internet connectivity, the need for a trustworthy and fast bandwidth is superlative.
There has been a tremendous increase in the usage of mobile devices, tablets, IoT sensors, etc. Be it schooling, working from home, teaching from home, all this has led to a demand for flawless connectivity which can be sufficed with 5G networks.
Big mobile giants are releasing 5G phones and the coming year shall witness many more, with affordable rates, easily available to users.
Folding And Unfolding Devices Will Hog The Limelight:
The world now wants versatile, lighter, and smaller devices that can stay connected all the while and perform all necessary functions, without having to keep multiple devices. Yes, the folding and unfolding devices are getting popular.
The coming year shall see a steep increase in the demand for such devices that will fulfill the demands of a phone, a tablet, and function as needed. These devices will change their screen sizes based on user requirements.
There will be robust notebook PCs that will gain popularity in 2021. These lightweight devices will have great 5G connectivity. Owing to these devices, the WFH regime will be easier to implement and remote teams will find it convenient to operate the business.
Tailormade Shopping Experience And Omnichannel Retailing Will Be Popular:
Customized shopping experiences will be increasingly created for customers in which the frontend and backend layers are treated separately. With the pandemic, this year saw a lot of tailormade experiences, and the year to come shall witness more.
Client loyalty, retention, and trust shall remain the prime focus, and hence, to attain more of that, retailers will go for customizing client experiences. Omnichannel retailing will be the new normal. Warehouses will be connected to frontend stores visa online services and hence the entire operational system will be more effective and profitable.
As one of the most affected trends, custom shopping experience through omnichannel retailing will be a great digital transformation move that will bring about transparency in the entire system.
Artificial Intelligence To Be The Backbone Of Most Digital Trends:
AI and ML are acting as two rock-solid foundation stones to most digital trends. As the new year unveils, the involvement of these technologies in digitizing other areas is vital. Even for finding out ways and means to treat the pandemic, experts are relying on AI and ML-based algorithms.
AI is being extensively used for forecasting business trends. ML-based algorithms collect the data and perform a detailed analysis on it to derive data-based outcomes. ML-based frameworks are getting highly popular amongst organizations.
Biometric security solutions, automated ML solutions, self-enhancing chatbots, conversational AI, a blend of AI and IoT, explainable AI are some of the forthcoming trends that the year 2021 shall witness.
Quantum Computing Is Gaining Importance:
Amidst the pandemic, one area that has provided support in finding analytical solutions is quantum computing. This technology has helped in quickly finding out answers to queries, monitoring and analyzing them, and taking appropriate actions from any data source at any given point of time.
It makes use of various algebraic procedures for creating computational algorithms that are applicable for quantum mechanics. It helps quantum systems to behave systematically and in a pre-defined manner.
The coming year shall witness more usage of quantum computing since it has the ability for transforming computation by solving certain complex issues. Enterprises, big and small, have started going in for this digital transformation. Newer digital accomplishments are coming out in this arena and hence 2021 shall offer more of this technology.
Predictive Analytics And Prescriptive Analytics Will Be Most Wanted:
The current pandemic situation has increased the want for BI technologies like Predictive Analytics and Prescriptive Analytics, to understand the growth patterns and to predict future trends. Most healthcare segments have leveraged business intelligence technologies to perform detailed analytics.
Prescriptive analytics has empowered organizations to find out the best decisions that go with the trends. The world has now realized the true potential of these technologies and the time to come has unleashed its potential to the finest.
While Predictive analytics foresees the most probable happenings in the future, Prescriptive analytics suggests further actions that can be taken to handle those situations.
There Will Be Increase In Voice-Based UI And Conversations:
The usage of voice-based conversations and user interface is on an increasing spree. Voice assistance is being opted for multiple purposes, including operations and marketing, B2B, and B2C operations.
Voice-based interaction is increasing now in industrial segments through mobile devices and other sensor-based machines. Conversational UI will be the trend of the future, for most business units.
Voice search optimization is also trending now. Users are leveraging the voice-based technology by asking queries through search engines, vocally. This has been trending in the list of SEO favorites now.
The Concept Of 'Everything as a Service' (XaaS) Is Gaining Momentum:
Everything as a Service (XaaS) is an innovative technology, a cloud computing terminology that is used for a multitude of services and applications, to access on-demand through the Internet. It includes SaaS, IaaS, PaaS, storage as a service, desktop as a service, and all major sectors as a service area.
XaaS focuses on rendering services through the cloud with virtual access to all operations. AI and IoT are major technology partners to fuel efficiency into this model of working. Even AI will be used as a service.
It is also known as Anything as a Service. As the name suggests, most service segments will get covered under this umbrella. What it needs is a robust cloud services infrastructure and trustworthy Internet connection.
A Digitized Globe Is Set To Welcome 2021
This must be one of the unique years where digital transformation has seen a sea wave of changes, thanks to the unwanted pandemic. And, as the pandemic shows no sign of stopping, 2021 shall also continue to showcase digitization as a prime trend.
Good Read: Digital Transformation Is Not Only About Technology But Also About The Mindset
However much we want the pandemic to just go away, watching the newer digitization advancements is a pride. With hope for humanity's best, we wait for the coming year to get us a Pandora's box full of digital achievements!
SPEC INDIA, as your single stop IT partner has been successfully implementing a bouquet of diverse solutions and services all over the globe, proving its mettle as an ISO 9001:2015 certified IT solutions organization. With efficient project management practices, international standards to comply, flexible engagement models and superior infrastructure, SPEC INDIA is a customer's delight. Our skilled technical resources are apt at putting thoughts in a perspective by offering value-added reads for all.