SPEC INDIA's Business Trip to USA
Posted
September 21, 2018
We are happy to announce that SPEC INDIA, one of the leading Enterprise Software Development Company is visiting the USA from 22nd September to 19th October in the states like California, Florida, Texas, Washington and New York.
This business trip to the USA aims to build new business collaboration and nurture existing clientele by developing digital ready IT-pillars to give an edge to the business. Having more than 30 years of experience in working with the range of verticals across the globe, SPEC INDIA has always been successful in delivering value-added, automated and innovative software solutions.
SPEC INDIA also Participates At Dreamforce 2018 – The world's largest non-profit technology conference
SPEC India is all set to spread its wings at the Dreamforce event 2018. Dreamforce is an annual conference hosted by Salesforce in San Francisco which brings top leaders and industry pioneers, trailblazers and thousands of IT professionals under one roof. With 2700+ sessions, this event helps to get a closure look at the latest product updates and help to enhance the current skill set.
In this event, the team will be meeting like-minded entrepreneurs to have an in-depth understanding of the business strategy, challenges and technology barriers faced by them.
We live in the era where technological expertise is given prime importance! SPEC INDIA's expertise has helped the number of clients to make the right decisions with an innovative and unique solution. Hence, we are considered one of the leading technology partners.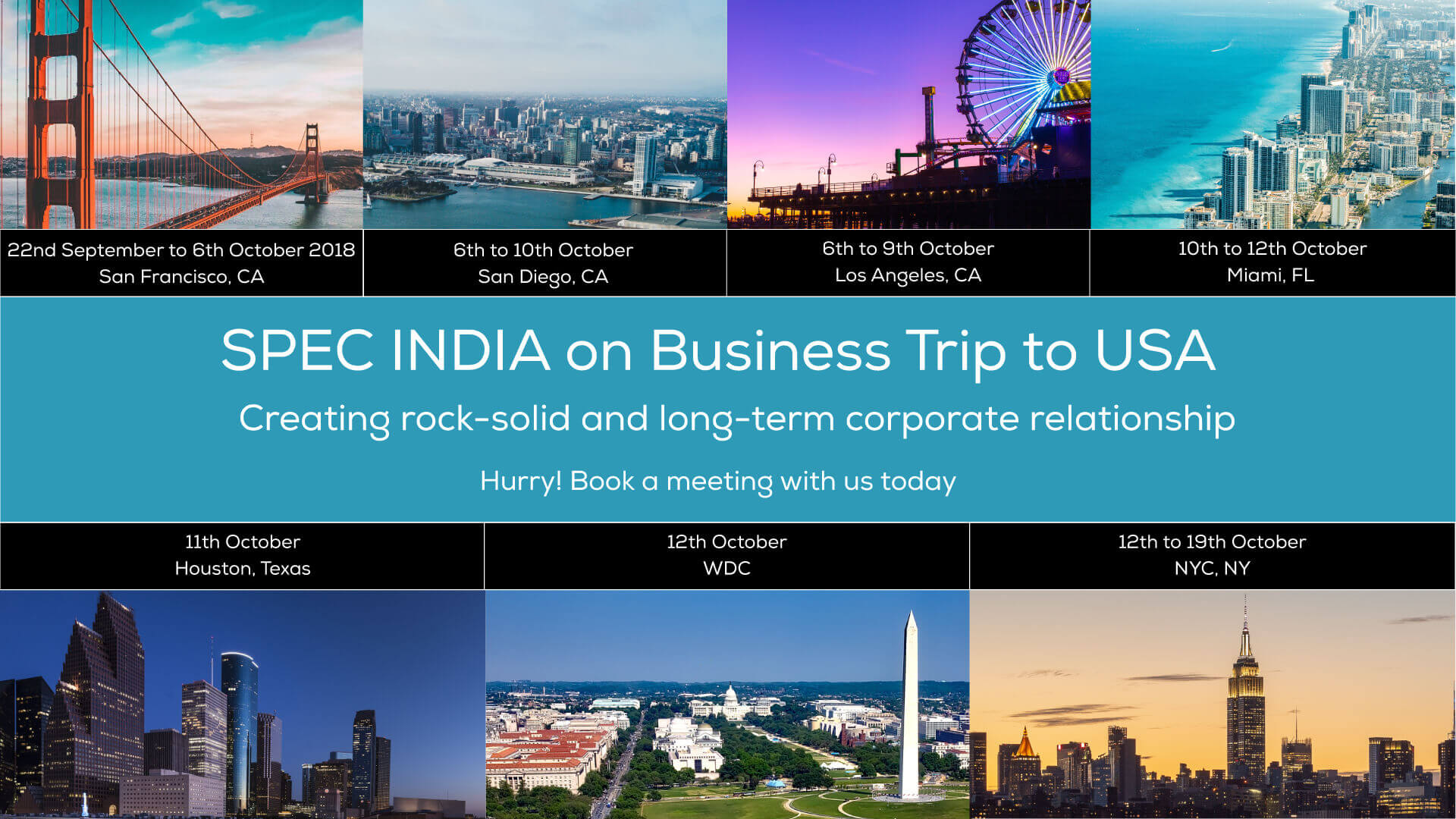 Business Trip Schedule
From 22nd September – 19th October, our schedule is as follows:
22nd September – 6th, October 2018: San Francisco, CA
6th – 10th October: San Diego, CA
6th – 9th October: Los Angeles, CA
10th – 12th October: Miami, FL
11th October: Houston, Texas
12th October: WDC
12th– 19th October: NYC, NY
SPEC INDIA is one stop solution provider can help startups and large enterprise to gain competitive advantage by leveraging the services which includes IT consulting, Enterprise Custom Software Solutions, Mobility, IoT, Business Intelligence and Data Analytics, Creative UI/UX, Salesforce, AI, Business Solutions, Custom ERP Systems, Cloud Computing, Software QA and Testing Services and much more
Discover how SPEC INDIA can help to provide the state-of-art solution to grow your business.
Let's meet over the hot cup of brewed coffee! Schedule a meeting with us.