Top 20 Doctor Appointment Apps For Effective And Timely Consultation
As said by Andrew Watson – 'Telemedicine is the natural evolution of healthcare'. As the demand for healthcare facilities has increased over the years, there have been certain hurdles that have been encountered. Inability to access healthcare facilities from faraway places, not being able to get doctor's appointments on time, irregular medical treatment – these are some of the issues that have given rise to a thorough solution under the healthcare IT solutions umbrella – the Doctor Appointment App.
Adding fuel to the fire is the pandemic that has almost compelled one and all to opt for online healthcare services rather than physically visiting doctors and clinics. Looking at the need of the hour, there have been the best online doctor consultation apps that have made things much easier. Before we investigate the most popular of them today, let us understand what an app to book a doctor's appointment is and what are its features.
Doctor Appointment App: An Overview
A doctor appointment app is a software application that is especially meant to help patients manage and schedule appointments with the doctors or plan a video call or opt for a real-time chat.
An increasing number of patients are now looking for healthcare services that offer digital competencies like online communication, remote monitoring, e-prescriptions, virtual appointments, etc. These apps are crucial for any patient while choosing a healthcare service.
It offers a great deal of flexibility, convenience, and transparency for both doctors and patients. There is less wastage of time, effective planning, and best results for any appointment. More so, during the pandemic, it has been a blessing in disguise.
Good Read: Top 12 Best Caregiver Apps To Stay Organized In 2021
Key Features Of A Doctor Appointment App
Here are certain features that an ideal doc appointment app must have:
Booking, rescheduling, and canceling appointments
Selling online medicines
Patient and doctor profile accounts
Online prescriptions, payment, and consulting
Alert, notifications, and reminders
Choosing from a panel of doctors
Sharing consultation tips and solving patient queries
Video calling facility
Emergency services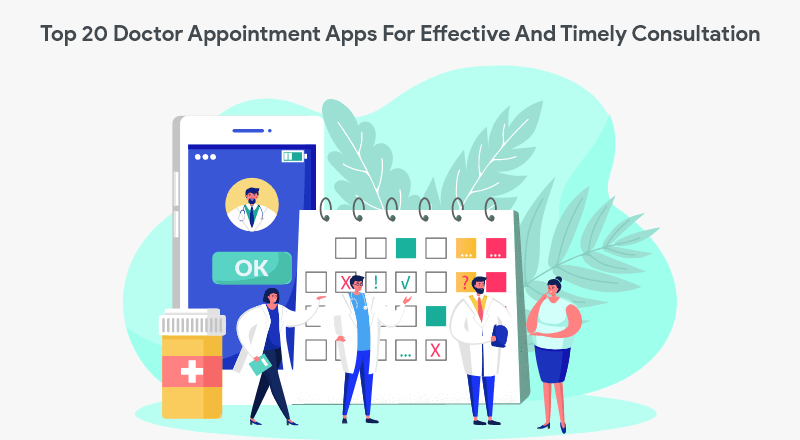 20 Best Apps For Doctor Appointments
HealthPlix SPOT
MFine
Practo
Sminq
Lybrate
Doctor on Demand
Amwell
MDLive
Talkspace
Lemonaid Health
MyHealth
Zocdoc
Teladoc
HotDoc
Oladoc
Cerebral
PlushCare
HealthTap
Maple
Doctor 24 x 7
HealthPlix SPOT:
HealthPlix SPOT is a popular app for doctors that assists in taking the practice online, enhancing patient outcomes, and saving time. It is a virtual clinic that collects payments for appointments, has online video and audio consultations, creates the online clinic in a single click, and promotes the clinic. This app allows writing prescriptions in multiple languages. It has seamless integration with AI-based digital assistance.
It offers easy patient management, sending follow-up reminders, online consultation booking, managing patient records effectively, video consultation with patients, and fast communication with patients. Engaging with a single patient or conveying information to a bulk of them can easily be done. There is quick registration of patients, who come for either online or offline consultation.
MFine:
MFine is a well-known, single app for all your healthcare needs. It helps consult any specialists online, with a call, chat, or a video call. It is an AI-powered healthcare platform that makes online doctor consultation an easy task. It has a wide network of doctors affiliated with good hospital chains. It is easily accessible and flexible, most liked by users. It offers a secure and private arrangement of information so that there is no misuse.
MFine is a mobile health platform that offers on-demand healthcare facilities to patients through branded hospitals. It is integrated with AI-based services to offer better doctor productivity and quality of service. Patients can avail best of consultation within the least time along with prescription and further course of action.
Practo:
Practo has been a popular doc booking app that offers online video consultation, booking doctor's appointments after choosing the specialist needed, getting digital prescriptions, etc. It provides all information about doctors such as experience, qualification, consulting fees, timings, etc. It is ideal for those who look for specialized doctors for different ailments.
As a patient-focused, flexible app, it offers free service to doctors and patients, alike. Patients can ask any type of health-related query and get expert answers from the doctors. It is easy to connect with the best of doctors in a short while. It is completely safe and secure as far as consultation goes. You can even have a free doctor chat with a follow-up.
Sminq:
Booking appointments online with doctors through Sminq is quite easy. You can avail of last-minute bookings with specialized doctors. The live status of your waiting can be remotely monitored. You can even get notifications once the queue progresses. It is ideal for patients for whom time is a critical factor.
Sminq offers a transparent view of patient information. It eliminates the frustration that patients face while waiting for their turn. The app manages the doctor's schedules and their effect on the appointments fixed with the patients. It also informs the patients about their scheduled time.
Lybrate:
Lybrate is an online platform that connects doctors and patients seamlessly. It offers an effective way to connect with doctors, sitting at home and at your own convenient time. It helps doctors to grow their professional network, create a better online reputation and offer the best of patient care.
It helps patients get in touch instantly with doctors on the panel and get their answers in no time. All critical patient information is passed on to the doctors so that a better cure is achieved. It assists doctors in recording and searching for necessary prescriptions and other information. Payment reminders, appointment schedules are sent to patients through alerts and reminders.
Doctor On Demand:
As a known telemedicine software, Doctor on Demand supports healthcare activities bigtime. There are experienced doctors and administrators to help patients round the clock. Booking an appointment and managing it is a crucial part of this app and that helps the patients to reach out to the doctor easily. Through its management of patient information and documents, it also helps doctors understand the ailment and cure it accordingly.
Live video is the mode by which doctors connect with patients. There are different categories of healthcare that the doctors attend to. There is no requirement for wating with faster access to doctors at a pre-defined time. It offers total virtual care including necessary lab reports or tests, which can be viewed with the doctor.
Amwell:
Amwell has been a good doctor appointment app that establishes a good connection with doctors. It is said to have helped lessen the waiting time of patients by about 70%. There are multiple facilities that are taken care of, including emergency care. There is an attractive technological solution that makes patients feel comfortable.
Amwell is highly secure and showcases EHR integration, telemedicine carts, etc. It makes it easy for patients to talk to their doctors, sitting at their homes. It has been enabling and connecting providers to offer better, affordable, good-quality healthcare. There is face-to-face consultation with board-certified physicians/specialists.
MDLive:
MDLive has been a well-known doctor appointment app that is competent to arrange for a virtual doctor visit with the flexibility of choosing your media, location, specialty, mode of payment, etc. As a simplistic and fast mode of healthcare, it has been contributing big time to the world of digitization.
It offers good quality care, with an equal focus on security and accuracy. There is a direct connection with pharmacy stores for patients to avail medicines and other necessities. Doctors are accessible round-the-clock. It offers online and on-demand healthcare services through certified doctors and therapists.
Talkspace:
Talkspace offers accessibility to licensed therapists and doctors through online mediums. You can communicate your schedule, select from thousands of experts, start online therapy, access it as a mobile app on as a website. It focuses on digital behavioral technology that looks at stress and anxiety cases, overall.
There is an effective messaging portal through which patients and doctors can keep in regular contact, no matter what location and time is. There is prescription management, mental stress therapy, personalized treatment, etc. There is good synergy with popular health and insurance plans.
Lemonaid Health:
Lemonaid Health helps offer great personalized healthcare services at an affordable price. There is an entire medical team that offers support as and when patients need it. It is an online doctor's portal with a good medicine delivery app. It looks at different areas like birth control, anxiety, erectile dysfunction, hair loss, asthma, etc.
There is an online questionnaire through which patients communicate with their doctors. Doctors offer their reviews through the app. The clinical team has a wide variety of specialists who are registered and offer good healthcare at an affordable price. It follows modern clinical protocols and guidelines. It provides a great patient experience with the best clinical care.
MyHealth:
MyHealth is a popular healthcare portal that provides the convenience of booking appointments, medications, and different tests. Patients can easily and flexibly interact with the doctor they choose to. It also has a provision to inform the doctor about all result proceedings.
For doctors, it is easy to sort and compare data of patients and thereby plan for their schedules and further treatment. Unique patient ids are generated which can be referred to, during appointments, laboratory tests, imaging reports, etc. The different healthcare options that it offers are effective for patients and doctors alike.
Zocdoc:
Zocdoc offers valuable healthcare through top-rated primary care doctors. There is the shortest waiting time and is one of the easiest and fastest ways for booking and tracking appointments. It has been in use by some of the top health systems. Finding on-demand doctors at the convenience of your time has been its key forte.
It offers a HIPAA-compliant video consulting solution that makes it highly convenient for patients to interact freely with doctors. It empowers patients to take their own decisions based on their own needs, taking it forward to taking appropriate appointments. It also helps in finding the best doctors based on your insurance parameters.
Teladoc:
Teladoc has been an ideal virtual care app that offers the best technology to connect and trust. As a telehealthcare provider, it gives completely responsible assistance to patients by connecting them to the correct doctor. It offers good support with insurance organizations. It has been popular in the field of virtual medical care.
It collaborates well with companies like Microsoft and Vivo to offer the best of features. It, not only helps patients who are sick, it also assists in maintaining a healthy lifestyle and better health. It has an integrated system that enables and empowers complete healthcare ranging from wellness to acute illness care.
HotDoc:
HotDoc has been a popular patient engagement platform that helps in finding and booking your preferred choice of healthcare experts. You can easily book appointments and check the availability of doctors. There will be reminders generated for upcoming appointments. Observing the queue is also possible. Email notifications can also be generated.
You can also book multiple appointments that can be covered during a single visit. It could be an online or offline visit. There are a variety of parameters that can help in deciding the visit schedules. Further appointments can also be taken, in advance to avoid delay later. It also takes care of recalls, check-in, new patient registration, repeats apart from bookings.
Oladoc:
With Oladoc, patients can search for doctors based on their need, hospital, service, etc. they can choose the healthcare specialist depending upon fees, rating, or experience. Booking an appointment is easy and can be done within minutes. For doctors, it is very easy to create patient records and view them from any place. They can manage their schedules smoothly.
It brings healthcare to your fingertips. You can get instant appointments with doctors or planned ones with regular notifications and reminders. There is increased engagement between the doctor and the patients with lesser costs involved. It offers transparent patient reviews, ratings, and feedback.
Cerebral:
As the name suggests, this doctor appointment app is mainly towards handling the mental issues that patients face such as depression, anxiety, insomnia. It offers expert advice for the good emotional wellbeing of patients. There are counseling sessions, prescriber visits, and relevant prescriptions that are offered by doctors.
There is a provision for regular assessments, delivery of medications that can be included in the package. Monthly medication can be mailed, monthly chat with the counselor can be arranged, reviews and ratings can be given. Medical experts, through this app, are all set to offer personalized mental healthcare.
PlushCare:
PlushCare is a popular doctor booking app that provides instant appointments when needed, with the desired choice of medical experts. Instant diagnosis and prescription are possible since doctors are available round the clock. Services offers are good quality ones since doctors and medical advisors have years of experience in their designated field.
Video conferencing, chatting and online interaction are well embedded through the apps. There is a direct connect with the nearest pharmacy section from where medicines can be picked up. Emergencies can be well managed understanding the criticality of time. There are day-to-day issues that can be understood and attended to.
HealthTap:
HealthTap offers a suite of connected health apps that offer good quality healthcare and understand the seriousness of the situation. There is a library that can offer answers to many health-related queries through online mode or through mobile devices. There is an immediate connection with doctors through different media.
Healthcare services through this app are affordable and caters to insurance needs also. It is present in almost all states of the USA and hence connecting to a needed medical expert while traveling is also easy to manage. Any emergency can easily be managed by using this app.
Maple:
Maple has been a healthcare application with an efficient panel of doctors who offer the best online services. It is a virtual healthcare app that also provides prescriptions. The expert panel of specialists possess trustworthy licenses and competencies like offering the best of advice to patients based on their circumstances.
With this app, it is easy to reach out to a healthcare specialist or doctor, anywhere, anytime. There are online consultations available for many kinds of treatments and advice. As a virtual care platform, it is easy for patients to avail digital prescriptions, instant medical facilities, proper guidance from experts, and cost-effective solutions.
Doctor 24×7:
Doctor 24×7 is an effective app that connects patients with the best of doctors on video and offers replies to all queries. There is quick prescription accessibility, proper medical advice, and delivery of medicines. Doctor consultation is quick and available 24×7. It offers unlimited doctor consultations.
It is convenient, quick, and flexible. There is a Connect Now feature that connects patients with the first available doctor. Doctors are available from good cities and have a secure network. The advice that you get from doctors is stored in an electronic form and shared through different media.
Good Read: Top 20 Popular Telemedicine Apps Offering Best Of Healthcare
Till Later
In the healthcare industry, a variety of healthcare IT services and solutions have been assisting hospitals, clinics, pharma companies, laboratories bigtime. These solutions have proven instrumental in enhancing the productivity and profitability of this industry. And the doctor appointment app is a major ingredient in achieving a smooth and effective operation within the healthcare segment.
SPEC INDIA, as your single stop IT partner has been successfully implementing a bouquet of diverse solutions and services all over the globe, proving its mettle as an ISO 9001:2015 certified IT solutions organization. With efficient project management practices, international standards to comply, flexible engagement models and superior infrastructure, SPEC INDIA is a customer's delight. Our skilled technical resources are apt at putting thoughts in a perspective by offering value-added reads for all.