Top 20 Popular Telemedicine Apps Offering Best Of Healthcare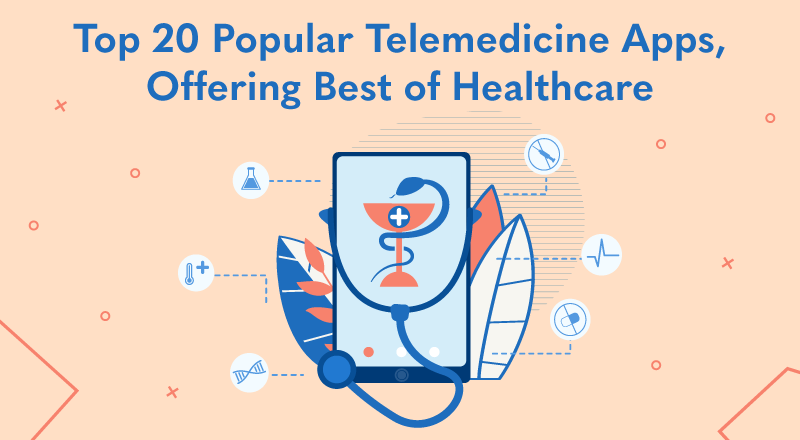 "Telemedicine is the natural evolution of healthcare" – Andrew Watson
Bridging the gap between medicinal facilities and remotely distant citizens is what modern-day technology – Telemedicine focuses on. Making a complete healthcare solution available to remote areas is a tough task, eased by Telemedicine. Doctors, nurses, administrators, medicinal practitioners, and all stakeholders involved are leveraging the potential of this innovative style of treating patients.
Some of the routine issues that people face, regarding availing healthcare facilities are-
Patients living far away or in rural areas are unable to avail instant medical treatment
Not able to meet the doctor or get regular medical treatment on a frequent basis
Restricted coverage to specialized medical treatments
That is where Telemedicine app development comes into the picture and helps, at its best.
Here are some of the proven statistics that showcase the increasing popularity and potential of Telemedicine apps, all around the globe.
Telemedicine is a big business; by 2025, it is projected to exceed $64.1 billion in the U.S.
From 2017 to 2023 the global telemedicine market is projected to grow at a compound annual growth rate of 16.8%
About 74% of patients are comfortable with communicating with their doctors using technology instead of seeing them in person
Telemedicine App Development – An Introduction
Telemedicine can be explained in the following manner:
A modern way to care for patients with the help of skilled knowledge and communication technologies like video conferencing, calls, text/chat using mobile devices or computers
Use of telecommunications technology to deliver healthcare to patients in real-time
Remote monitoring, real-time interaction, and store, and forward mechanism
A seamless interface between software, hardware, and a communication channel thinning the gap between two locations
It has been regularly used in the areas of dermatology, pediatrics, radiology, chronic diseases, mental health, emergency situations, disaster management, ICU, ambulance management, and more.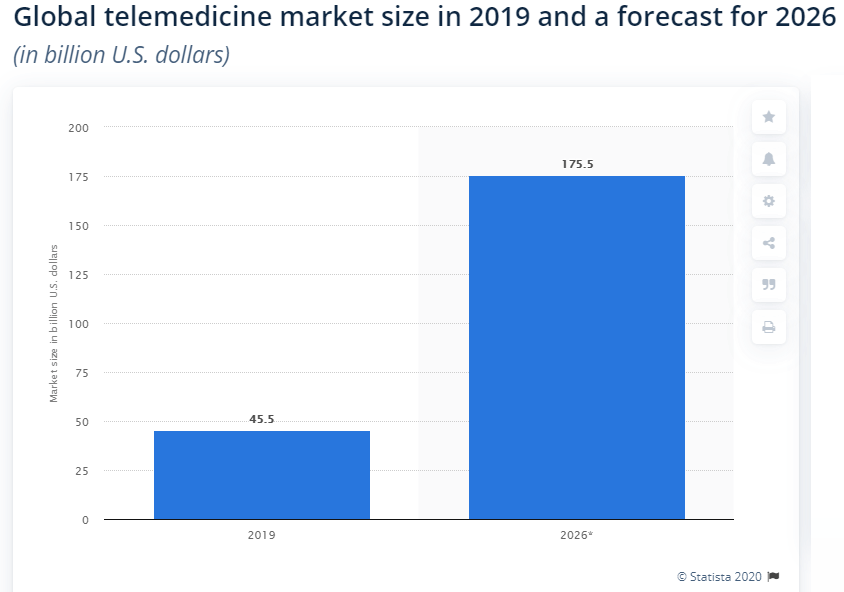 There are many benefits that the world is experiencing, after the invention of Telemedicine, here are a few:
Enhanced availability of healthcare facilities
Superior quality of care
Lessens healthcare expenses
Enhances patient happiness and commitment
Increases stakeholder satisfaction
"Telemedicine will become the core methodology of healthcare delivery in the future. That is where we are going to get the efficiencies, we need to provide affordable care." – Yulun Wang
Best Telemedicine Apps To Look For
Here are the 20 best telemedicine apps that have proven to be highly successful in attaining the objective of offering the best of healthcare to patients.
Doctor on Demand
Amwell
MDLive
Talkspace
Lemonaid Health
PlushCare
LiveHealth Online
Teladoc
Babylon Health
Maple
HealthTap
Dialogue
First Opinion
Simple Contacts
Pager
Doxy.me
AMC Health
Express Care Virtual
K Health Primary Care
Cigna Telehealth Connection
Lets' get an overview of each of these telemedicine apps to understand them better.
Doctor on Demand is a popular telemedicine software that believes in supporting healthcare wherever you are. They have an experienced panel of certified physicians and psychiatrists who are available on your schedule. Accessible 24 x 7, this application connects with the doctors via a live video. With a reasonable fee structure, this application has been a trusted name in the world of healthcare to provide the best of services and consultation. It investigates a variety of health categories like behavioral health, urgent care, preventive health, and chronic care. No need to keep waiting in waiting rooms, quick access to doctors on pre-defined time schedules, available insurance schemes are some of the key features of Doctor on Demand.
Amwell is a great application that facilitates your connection with your desired doctors, from the comfort of your home, not compromising on any health benefit. It is said to have reduced the patient's waiting time by almost 70%, making it a hot favorite. This app offers a variety of health plans and nursing facilities that can be availed online, covering from urgent care to acute care. It offers a pleasant experience for patients with the best of workflows for providers. Highly secure, availability of many insurance plans, EHR integration, telemedicine carts, and kiosks are the main highlights of this app.
MDLive is a popular telemedicine application that arranges for a virtual doctor visit, at your convenience making use of any digital media like desktop, laptop, tablet, or mobile phone. It makes healthcare simple, convenient, and fast. Affordable with great quality care, revolutionizing remote healthcare, 15+ years of experience with doctors, secure access to data, connect with local pharmacy stores are the main features that MDLive showcases and are reasons enough to make it a popular application in the world of telemedicine.
Talkspace is a very helpful online therapist application that comprises high-value therapists who deal with cases of stress, anxiety, teen and couple therapy, prescription management, personalized treatment. It offers an excellent messaging system wherein you can be in touch with your therapist anytime, from anywhere. The organization has excellent collaboration with popular health plans and educational organizations to make this service affordable and quality-oriented.
Lemonaid Health is an online doctor's office and medicine delivery application that comprises a panel of expert doctors and a great care regime. It offers healthcare facilities like birth control, erectile dysfunction, anxiety, depression, acne, hair loss, UTI, cold sore, asthma, and many more. It coordinates with the patients with an online questionnaire, doctor's review, and free medicine delivery.
PlushCare offers exceptional virtual primary healthcare services, right from the comfort of your home. The panel of doctors is experienced with over 15+ years of medical background and hence the service offered is of enriched quality. Technically, they offer a simplistic way to connect through video chatting and conferencing. It offers a direct connection with the nearest pharmacy store for a quick pick-up. It handles urgent medical issues, ongoing medical conditions, and everyday care issues.
LiveHealth Online is a useful telemedicine application that offers expert advice, relevant treatment plans, and needed medical prescriptions. A panel of board-certified doctors is always there to help, offer expert advice and help patients manage themselves from their home front. This application handles health-related problems pertaining to allergy, psychiatry, psychology, and medical issues.
Teladoc offers the right care when the patient needs it the most. It is a US-based telehealth provider that offers its patients reasonable and suitable access to round-the-clock medical assistance. It offers supreme guidance by expert doctors and has a good collaboration with insurance companies to make things easier for patients to manage. As a globalized leader in virtual medical care, Teladoc has been garnering a lot of rave reviews from its patients.
Babylon Health is an affordable and accessible application that offers a range of healthcare services. It has high-end technical assistance like a symptom checker that is AI-oriented and offers expert medical assistance. It offers Babylon Monitor that takes utmost care of the patient's well-being. The major mission of this application is to provide accessible and affordable health services to a large community online.
Maple is a popular healthcare application that has an expert panel of online doctors, virtual health, and prescriptions, provider. Based in Canada, it has a great network of specialists with authentic licenses and experience. It offers virtual capabilities like medical prescriptions, sick notes to whoever concerned, and the right guidance to the medical issues.
HealthTap offers personalized medical information and guidance, round-the-clock, from your mobile device. Our AI-powered devices like a symptom checker help us coming to conclusions. There are access care guidelines, questions, and answers that can help in understanding the medical condition better. The online panel of doctors can fill in prescriptions, order lab tests, and guide you further to other relevant specialists if needed.
Dialogue application offers a holistic approach to virtual healthcare services. It offers online and progressive healthcare facilities through mobile devices. It retains talent, reduces absenteeism, and reduces expenses related to healthcare. It helps people in getting proactive, happy, and have a great work–life balance. There are facilities like medical team follow-ups, specialist referrals, prescription renewals, live chatting with nurses, and diversified experience in a single panel of doctors.
First Opinion is a popular telemedicine application that offers easy access to doctors in a few minutes. It offers services that make you feel satisfied from your home premises and at the same time, offers you excellent medical services that make you feel as if you are in the right hands in a medical center. There are facilities that solve all your queries, make you approach the right doctor, and offer the right kind of treatment, with manageable expenses.
Simple Contacts is a well-known eye telemedicine company that offers quality contacts from various brands. There is a simple mechanism to purchase contact lenses and get your desired prescriptions online from an expert panel of doctors. They offer 24 x 7 support and provide prescription renewals from the application.
Pager is a popular healthcare application that brings patients and their care team together in a single chat to make smarter & faster decisions. It offers virtual care, care coordination, ancillary services, and medical administration facilities. It provides a higher engagement ratio with patients thereby, offering them healthier and happier lives.
Doxy.me is a secure and simple telemedicine application that lets you deal with your medical issues with the perfect medicinal practitioner, from your comfort zone. It is an easy-to-use app, for both doctors and patients. It complies with HIPAA standards and is a free-to-use app. Accessible from everywhere, it is trusted by doctors and patients alike. It does not need an account or download; it can merely be accessible from any browser with a camera and microphone.
AMC Health offers remote patient monitoring services, takes care of all chronic needs, with a better user experience. It offers AI and BI-driven algorithms with a wholesome view, to offer patients and doctors advanced analytics to make better decisions and gather insightful information. They perform disease monitoring, outcome assessment and understand the complications that arise in medical conditions. This app empowers patients, increases healthcare access, and supports chronic care management.
Express Care Virtual is a leading telemedicine software application that provides best-in-class virtual health assistance, through digital media. It leverages the expertise of medical doctors who are board-certified and licensed. It offers premium services, sitting at the comfort of your home, which includes diagnosis and treatment plans, skin and nails, common ailments, respiratory, gastrointestinal, wellness and women, etc.
K Health Primary Care, also known as K health, is a popular healthcare software solution that offers smarter health information and uses cutting-edge AI to solve immediate queries and offer primary healthcare in minutes. The nature of this service is personalized, conversational, and highly secure. It also handles issues of anxiety and depression management along with other prime categories like mental fatigue, abdominal pain, headache, chronic disease, cold, and flu, etc.
Cigna Telehealth Connection
Cigna Telehealth Connection has been offering healthcare services for years, Cigna is a global health company and now with telehealth services, it has been offering personal and trustworthy care to its patients. It offers a facility to search for a doctor, dentist, or medical practitioner in your nearby area and leverage the telehealth facility to ask for further treatment. It delivers high-quality consultations and optimum patient care using advanced technology.
Telemedicine App Development – Customized Telemedicine Apps, Just for You!
A different perspective, an innovative way of looking at meeting exact healthcare requirements, abiding by all major healthcare norms, rules, and regulations – the creation, customization, development, and implementation of telemedicine applications/software is a bright area in the field of healthcare software development.
What makes it different from readymade products is the flexibility to adapt to what exactly is the requirement in the healthcare sector. It does not force users to change their way of working. Rather, it changes the software application based on needs.
Of course, it does require an experienced and single-stop IT solution provider to understand the intricacies of the healthcare industry, telemedicine, telehealth and create the best possible healthcare software solutions for the client, especially a telemedicine app software application.
The need for it is going to exponentially grow to make it easy for patients to get treated with ease and low cost. It is still picking up momentum and hence is being underrated. Wait till it explodes and shows its true potential! It is different, experience it to understand its goodness!
SPEC INDIA, as your single stop IT partner has been successfully implementing a bouquet of diverse solutions and services all over the globe, proving its mettle as an ISO 9001:2015 certified IT solutions organization. With efficient project management practices, international standards to comply, flexible engagement models and superior infrastructure, SPEC INDIA is a customer's delight. Our skilled technical resources are apt at putting thoughts in a perspective by offering value-added reads for all.