Telemedicine: What Is It, Pros And Cons, Examples
Updated
September 20th, 2023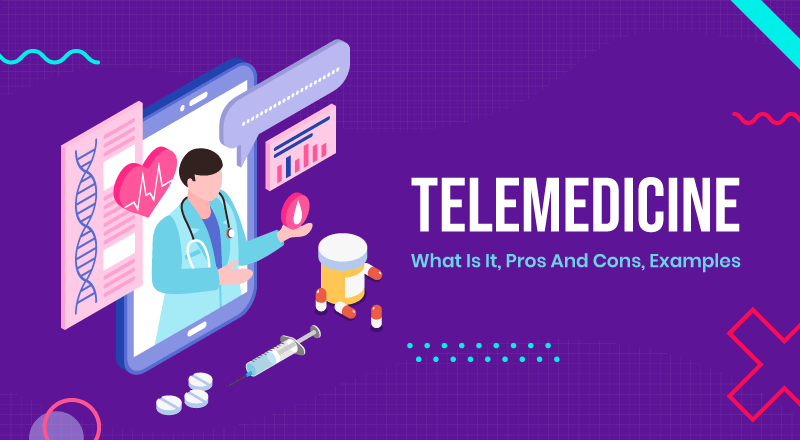 We are almost relying on digital for communicating, collaborating, and conducting major business functions in this coronavirus pandemic. In every field, the ability to adapt virtual considered as 'essential' rather than any 'backup' plan. From eLearning to eHealth and from virtual offices to online events, technology has helped everyone to achieve better accessibility, speed, and efficiency.
Technology is proven indispensable for the majority of the fields including healthcare. There are more advanced, accessible, and accurate solutions that help health professionals, governments, hospitals, researchers, and doctors to study, diagnose, and access better resources and services.
Like education, better healthcare is every human's right, and both developed and developing countries are making every effort to make it affordable, accessible, and cost-effective.
Technology plays a huge role here. It has also played a very significant role against COVID-19 by enabling remote options as well as effective communication.
Recognizing the role of technology in the healthcare industry, here, we will be talking about Telemedicine which has greater benefits and potential to transform how healthcare services will be delivered.
What Is Telemedicine?
Telemedicine refers to the use of telecommunications technology to deliver healthcare to patients in real-time. It can be delivered through video conferencing, audio communication, text/chat, or using healthcare apps.
How Telemedicine Works?
Using telecommunication technology, physicians and patients can discuss issues/symptoms
Share information (visuals, screen, and text) in real-time
Remotely consult doctors and get a diagnosis
Capture or see readings from medical devices
Get a prescription for primary treatment
Educate patients, consultants, or healthcare professionals
Who Can Use Telemedicine Technique?
Doctors
Supervisors
Patients
Consultants
Healthcare Professionals
History Of Telemedicine: Healing From A Distance
The World Health Organization (WHO) describes telemedicine as "Healing from a distance."
This refers to the freedom of getting treatment without stepping out from your home to visit a doctor.
The first application of Telemedicine applied in 1905 by a Dutch physician as mentioned in this book, titled History of Telemedicine: Evolution, Context, and Transformation, by Gary William Shannon And Rashid Bashshur.
According to the book or several other resources over the web, the transmission of radiographic images started in the 1950s in the United States. With the never-ending changes in technology and advances in the healthcare industry, telemedicine observed concurrent evolutions over time.
What Are The Types Of Telemedicine?
There are three types of telemedicine delivered to patients and these are:
It involves the use of technological healthcare devices to monitor the health and very useful in the management of chronic conditions such as heart disease, diabetics, asthma, and many more. It is also known as 'telemonitoring' that allows health professionals to monitor patients' activities and conditions remotely.
This is more like medical advice, anytime, anywhere without visiting a doctor in-person. Real-time video calls, phone calls, or texts can be used for consulting, discussing issues, seeking primary advice, follow-up meetings, or checking conditions of chronic illness. There are special apps for this purpose where patients and providers use secure software to see and hear each other. This method is very popular for accessing rapid primary healthcare.
In this type of Telemedicine service, all the history, diagnosis, images, tests, and videos are stored and forwarded to healthcare providers who use this information to treat patients after a period of time. This is often useful for rural areas where patients need a specialist or advanced health care at another location and this information can be shared with them. This can save a lot of time and cost.
Fun Fact: Telemedicine first started on landline telephones.
Pros And Cons Of Telemedicine
Benefits Of Telemedicine For Patients:
Telemedicine, at its primary level, is an alternative to in-person visits and offers benefits to both, patients and providers.
With the help of Telemedicine, patients don't need to travel and visit the doctor personally. This saves a lot of time, cost, and patients can get early access to better healthcare regardless of where they are.
Many telemedicine apps are HIPAA compliant and emphasize patients' privacy through secure channels, one-to-one conversations, and reliable medical services.
No-Risk Of Exposure To Any Contagion
The use of telecommunication technology to treat patients reduces the risk of exposure to any contagious diseases and thereby, limiting the spread of infectious diseases when applied at a large scale or in situations like a global pandemic.
More Convenient And Cost-effective Healthcare
This model removes geographical barriers and allows access to convenient, cost-effective, and better healthcare for everyone. For patients who have mobility issues or suffering from chronic diseases where regular monitoring is important, telemedicine is very beneficial as they can access healthcare services without stepping outside of their homes.
Benefits Of Telemedicine For Providers:
Better Outcomes And Quality Healthcare
It makes it easier for the providers and physicians to deliver better healthcare as patients can connect with their consultants more frequently and discuss any issue/advice. Primary doctors can also easily contact specialists or suggest expert consultants on their health conditions. They can easily follow-ups, resulting in a faster, better, and convenient healthcare system.
Increased Patient-Doctor Engagement
With the advancement in technology and hyper-connected environment, today's patients anticipate better care faster and telemedicine offers the same. Healthcare providers and patients can connect more often, more questions can be asked and answered, resulting in a stronger bond between them.
Offers Job Satisfaction Of Providers
Meeting patients becomes easy with the use of telemedicine and providers can enjoy work-life balance and spend more time offering the best services.
Some Of The Disadvantages Of Telemedicine:
Telemedicine has several obvious benefits to healthcare providers and patients as well. But, as a coin has two sides, Telemedicine has some cons also.
As it is majorly dependent on technology, it can cause troubles and interrupt treatment in situations like bad weather, lack of electricity/power, and technical constraint.
Not Suitable For All Treatments:
It is great for regular checkups and primary consultation but in some cases like a physical checkup, an injury or throat infection, or anything where objects and primary actual observation is needed, Telemedicine is not sufficient. In such cases, you will require to visit a doctor.
Technical & Equipment Training:
Physicians, medical staff, health care professionals, and practitioners all are required to be trained on new systems, equipment, and IT requirements. There will be an increased cost of hiring IT staff and purchasing equipment.
The global telemedicine market is valued at USD 87.41 billion in 2022 which is expected to grow significantly in the coming years, reaching a value of USD 286.22 billion by 2030.
The popularity of telemedicine is growing day-by-day and insurance companies are thinking to include this type of service in their plans. There are many telemedicine apps available in the market.
Some Of The Famous Telemedicine Applications:
Doctor On Demand
MDLIVE
Doxy.me
Lemonaid
PlushCare
LiveHealth
Telemedicine vs Telehealth: What is The Different Between Telehealth And Telemedicine?
Telehealth and Telemedicine – these modern healthcare approaches have played a significant role in the time of the COVID-19 pandemic. Entire states and cities were under strict lockdown and travel restrictions were enforced worldwide to stop transmission of this deadly disease. Corona has adversely affected healthcare and innovative solutions are needed to deliver better healthcare services. Telehealth, in this respect, has the potential to become an alternative to healthcare where distance is a concern.
These terms are often used interchangeably and have subtle differences between them.
Telehealth and Telemedicine – both terms are used in a similar perspective sometimes. Though, Telehealth used in a wider and broad sense as it covers all health-related technologies and services to provide better-quality healthcare to the patients. On the other hand, Telemedicine is used in a limited sense and refers to the use of telecommunication technologies to deliver remote healthcare services such as consultation, remote diagnosis, and monitoring.
Telehealth vs Telemedicine:
| | | |
| --- | --- | --- |
| Parameters | Telehealth | Telemedicine |
| Definition | Umbrella term that covers healthcare services, telemedicine, administration, health education, and research | Provision of healthcare service using information and communication technologies (ICT) (remote clinical services) |
| Scope | All-encompassing and broader | Narrower than telehealth |
| Examples | Remote health sessions, health education for professionals, wireless medical adherence, remote patient monitoring | Remote monitoring and consultation, remote video conference, remote management of patients' conditions, diagnosis, tele treatment |
| Specific Use | Technologies for overall well-being and better healthcare services | Use of technologies for illness and chronic conditions, counseling, home health care, and remote medication |
| Service Focus | Clinical/non-clinical services | Only clinical services |
| Types/Methods | Live video conferencing, Remote Patient Monitoring(RPM), Mobile Health(mHealth), Asynchronous video(store-and-forward) | Store-and-forward, remote monitoring, and real-time interactive services |
| Key differentiator | Not all telehealth is telemedicine | All telemedicine is telehealth |
Frequently Asked Questions:
How to bill for telemedicine?
These services are billed using CPT codes and HCPCS codes. According to India's New Telemedicine Practice Guidelines, telemedicine consultation should be treated in the same way as in-person consultation from a fee perspective.
What is a telemedicine visit?
Instead of an in-person visit, a telemedicine visit is the use of video or telephone communications to offer clinical services to the patients.
What are examples of telemedicine?
Medical imaging, video consultations, remote medical diagnosis and evaluations, tele-treatment, and medication management are some of examples of telemedicine.
What is asynchronous telemedicine?
Asynchronous telemedicine refers to the store-and-forward technique where information such as medical history, reports, images are collected by a physician and sent ahead for specialized treatment.
Is telemedicine covered by insurance?
Yes, it is covered by the health insurance policy under OPD expenses provided your policy covers OPD expenses.
Have You Tried It?
Telemedicine doesn't mean you will never visit the doctor again. This can be used primarily or in chronic conditions when you have to go for regular checkups. In the first place, it's affordable, easy, and accessible and streamlines the services for both providers and patients.
Whether patients have a busy schedule, staying in remote areas, or not having enough time for checkups and monitoring, telemedicine can help improve patients' health and well-being.
SPEC INDIA, as your single stop IT partner has been successfully implementing a bouquet of diverse solutions and services all over the globe, proving its mettle as an ISO 9001:2015 certified IT solutions organization. With efficient project management practices, international standards to comply, flexible engagement models and superior infrastructure, SPEC INDIA is a customer's delight. Our skilled technical resources are apt at putting thoughts in a perspective by offering value-added reads for all.