Telehealth App Development – A Comprehensive Guide For New Age Healthcare
Updated
September 20th, 2023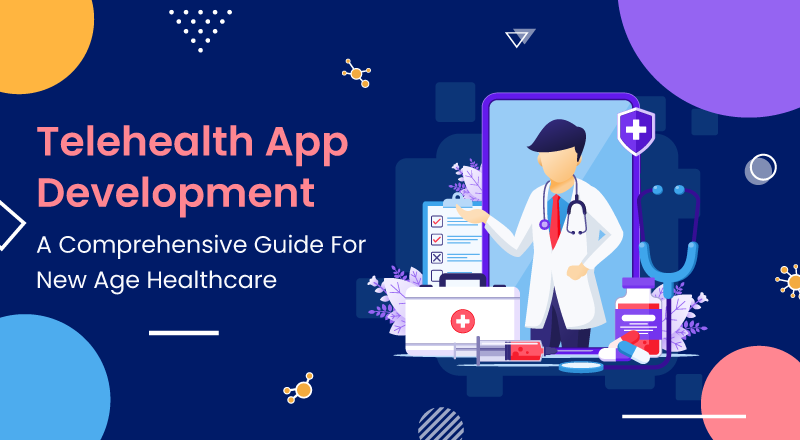 "Telehealth leaves us with no excuse not to find the help we need – for body and soul – no matter where in the world we are." – Eric J Hall
In the era of healthcare getting prime importance, have you heard of:
A robotic surgery happening remotely
Doctors discussing complicated cases through video calls
Online communication between a medical practitioner and a patient
Physiotherapy happening through digitally monitored techniques
Tests/reports forwarded between specialists for further opinion
Home-based monitoring of patient's healthcare data
Virtual appointments, patient portal
These are the latest happenings in the world of healthcare and the sole technology that is the backbone behind these modern-day activities is Telehealth.
As the name showcases, Telehealth is the integrated merger of technology with healthcare.
Telehealth has taken the healthcare segment by storm. Physical distance is no longer a must for healthcare services to be offered smoothly and effectively. The digital world is winning over and digital health services are being offered irrespective of where the stakeholders are stationed physically.
Telehealth – An Overview
Telehealth involves the use of telecommunications and virtual technology to deliver health care outside of traditional healthcare facilities. – WHO
Telehealth is considered the most modernized and fundamental way to offer the best healthcare services to the globe, especially to those who are physically distant and are unable to avail of services at the physical site.
There are certain in-built features that are always instrumental in making Telehealth a success:
Comprehensive and virtual patient and practitioner functionalities
Assistance for low bandwidth and sluggish internet connections
Automatic scheduling of appointments with patients and doctors
Remote enablement with patients
Creating and sending prescriptions online
Complying security features with HIPAA
Seamless integration with other healthcare software
Instant guidance from professionals for perfect diagnosis, care, and treatment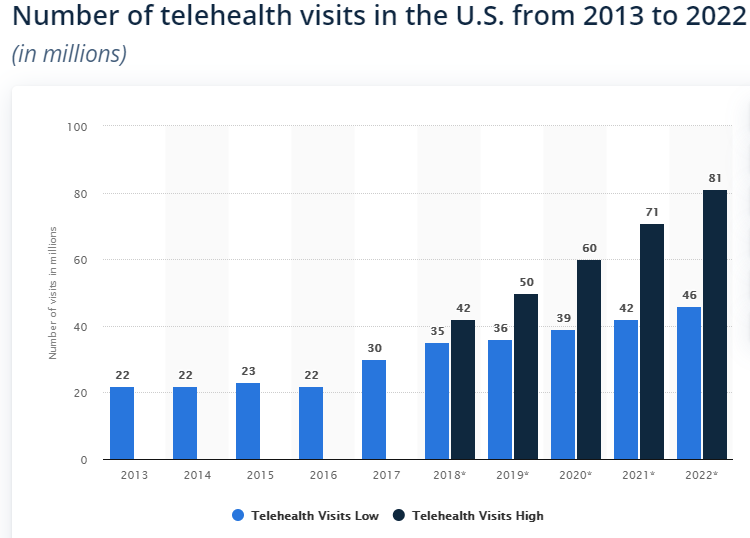 Proven Statistics
Why Is Telehealth Essential Today?
Healthcare is an extremely critical and important segment of our lives.
Under ideal situations, there must not be anyone who is deprived of any medical facility – clinical or non-clinical, only because they are far off, or they do not have the requisite infrastructure to avail these services.
Telehealth is the answer to these hurdles.
Be it less transport, rural background, fewer mobile services, lack of budget, or restricted staff – Telehealth can take care of it all.
There are many patients who can't avail of these healthcare facilities only because of their physical distancing.
Telehealth is the solution for them all. It is a must in today's world where healthcare needs to percolate in every section of society and being physically present isn't a must.
Key Advantages Of Telehealth To the Healthcare Industry
Reduction In Demand For Crowded Facilities
Telehealth has been quite instrumental in reaching out to distant places and patients. The bridge between medical practitioners and patients has reduced drastically.
No longer is the need to crowd places to visit the doctors or seek advice from them or show reports or ask for some queries.
Implementation of Telehealth has helped in offering patients, the information/service/treatment they need without having to move to places, thereby reducing the crowd factor.
Enhances Healthcare Access And Consequences
Especially for patients suffering from chronic illness and for those who are susceptible, Telehealth comes as a boon to help them access distant healthcare facilities – clinical and non-clinical.
It comes up as an instant service, encouraging them to avail themselves the best of facilities in the vicinity of their homes, without moving out of their premises.
Increases Cost Effectiveness And Makes Healthcare Robust
Making healthcare available to patients, who are physically distant from the medical premises is what Telehealth promotes. This has a big effect on saving costs involved, on both ends – the healthcare providers and the patients both can effectively reduce their expenses and time, Faraway communication lowers the number of visits hence lessening the overall expenses and time involved.
Lesser Need For Physical Infrastructure
It is as simple as this. As health-related facilities go online, the virtual world is busier and there is less need for the physical infrastructure to be set up.
If things are being managed from farther proximity, why would there be a need to create a huge infrastructure, build clinics or hospitals, use resources like water/electricity, etc.? All these can be avoided by indulging in online healthcare services. What better than this could happen?
Reduces Stress And Increases Patient Satisfaction
Often patients tend to avoid experiencing the trauma of a hospital background and get stressed about staying there for long. In cases where the remedy or solution can be suggested from a distance, the patient is sure to feel relaxed, better and experience a lot of satisfaction.
Restricts Contagions And Infections
As telehealth provides care to patients in their homes and communities, patients with infections or contagions need not travel to clinics/ hospitals. Thus, reducing the spread of infections and diseases.
Offers Medical Education And Administrative Meetings
Not only for patients, but these Telehealth services also prove to be highly beneficial for other healthcare stakeholders like doctors, administrators, insurance agents, nursing staff, etc.
Even for internal meetings, training sessions, administrative sessions, etc., these distant healthcare facilities can be availed virtually, without any hassle. The only thing which is truly needed is good Internet speed and seamless collaboration.
Highly Secure And Convenient
It is a tad tough to believe that this is possible, but it is true. These medical and non-medical Telehealth services prove to be highly secure, convenient, and easy for patients and other stakeholders.
Since it rubs off most of the physical input in terms of infrastructure management, resource management, and administrative hassles, it becomes easy to manage and maintain processes.
Easy Sharing Of Documents
With the Store and Forward mechanism, all documents can be easily uploaded on digital media.
It becomes easy to share these across doctors and patients, while the online appointment is going on. Documents like CAT Scans, X-rays, Blood reports, Videos, Photos, MRIs, etc. can even be transmitted prior to the appointment so that the doctor can even have a look at it and advice accordingly.
Setting Up Prescription And Appointment Reminders
Telehealth apps have a distinct feature of setting up reminders, alerts, and notifications that can help them remember their medicine schedules, appointments with doctors, prescriptions, and other relevant information that is useful to patients.
Even doctors and other stakeholders can make use of this feature and avail of desired notifications/reminders as required.
Usage Of Wearables And Other Automatic Monitoring Devices
For monitoring and recording health parameters like blood pressure, oxygen level, blood glucose levels, and other statistics, wearable devices are a great help and they can easily transmit this data to the needed device. This transfer of information helps big time while doing any kind of health monitoring session with doctors.
Challenges Of Telehealth
As with any happening technology, even Telehealth has its own set of hurdles to clear, for a perfect seamless implementation. Of course, there are solutions too, and hence not an issue. Here are the challenges Telehealth faces on its way:
Limited access to broadband connectivity
Adaptation of changed healthcare processes by stakeholders
Following rules & regulations governed by different states
Security and privacy of patient data
Limited medical care exposure
Advanced research needed for further Telehealth analytics
Telehealth & Telemedicine – A Quick Comparison
Both sound so similar but aren't. Telehealth is a superset of Telemedicine, both of which have E-Health as their superset. Telehealth refers to a much broader scope of healthcare services as compared to Telemedicine. It consists of both – clinical and non-clinical healthcare services whereas Telemedicine looks at the clinical side only.
All services included under Telemedicine are a part of Telehealth but the vice-versa isn't true. Both aim at offering the best healthcare services to remote areas/patients/stakeholders, but the functionalities involved in both differ.
Telehealth aims to offer administrative, educational, and training functionalities apart from clinical and non-clinical healthcare services. Telemedicine aims to offer traditional clinical diagnosis and monitoring.
Telemedicine is older in age as compared to Telehealth. It came much before Telehealth popped in. but, with the advent of technology and rising demands, Telehealth came into the picture and embedded all of Telehealth within its periphery plus much more.
Today, both hold their own special places amongst the healthcare fraternity and are going great guns.
Telehealth App Development
Looking at the benefits and features Telehealth brings along; Telehealth app development has been a prime area of focus for IT service providers. Developers are bringing creativity and intelligence into the Healthcare IT solutions that they are developing.
A variety of cutting-edge technologies are being leveraged while building classy Telehealth apps. AI, cloud-based technologies, IoT, Blockchain, Business Intelligence, Big Data, etc. are some of them.
Key Features Of Any Telehealth Application:
Personalized dashboard and analytics
Tracking of medicines, schedules, reports, appointments, etc.
Secure and private chatrooms
In-app calls, chats, and cloud-based storage
Alerts, notifications, reminders, scheduling, and appointment management
On-demand mobile/web application features
Online medical prescriptions
Compliance with HIPAA rules and regulations
Billing software, online payment integration, and medical device integration
Telehealth App Development: Wrapping It Up
As we witness major changes in the world of healthcare, Telehealth has taken a prime role in increasing the effectiveness of healthcare IT solutions and embedding technology within healthcare.
An increasing number of organizations are experiencing the goodness of Telehealth and are indulging in the various service offerings that come along with it.
As time goes by, the world of healthcare shall see a sea wave of change, and the fusion of technology with traditional healthcare processes will be inevitable. It shall be a treat to watch!
SPEC INDIA, as your single stop IT partner has been successfully implementing a bouquet of diverse solutions and services all over the globe, proving its mettle as an ISO 9001:2015 certified IT solutions organization. With efficient project management practices, international standards to comply, flexible engagement models and superior infrastructure, SPEC INDIA is a customer's delight. Our skilled technical resources are apt at putting thoughts in a perspective by offering value-added reads for all.