32 Years And A Long Way to Go, Thank You All – CEO SPEAK on the Foundation Day
"As we commemorate the 32-year-old journey of SPEC INDIA, it is with great pride and honor, I emphasize to say that SPEC INDIA is all about people and values, dedicated to the ultimate standard of quality and service."
SPEC INDIA is an entity of its people, for its people & by its people.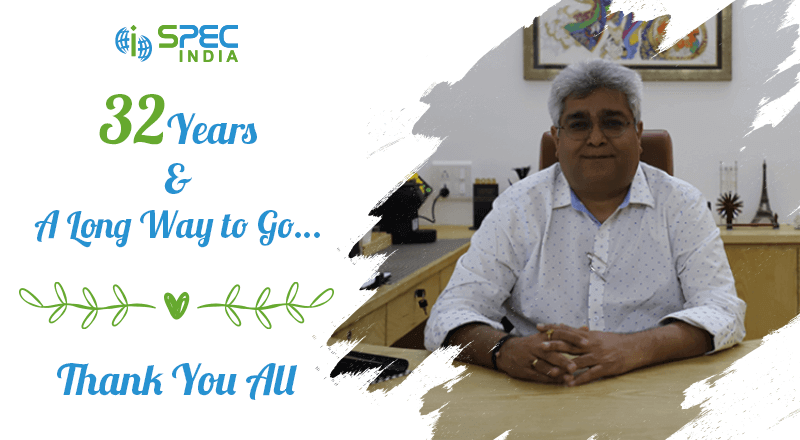 Our successful and sustained journey of 32 years would not have been possible without the sincere contribution of our task force – our colleagues, our esteemed customers, our vendors and all those who have supported directly or indirectly.
Today, on our foundation day, I would not like to miss this opportunity of showing my heartfelt gratitude towards you all, who have made this happen.
Thank You Dear SPECalites – You Are Our Strength!
It is your endearing effort, hard work, sincerity and innovative spirit that has helped SPEC INDIA climb the ladders of success. It is you, who has time and again, proved to be the front face of our organization, for our customers, offering them what they really want.
Thank You Dear Women Squad – You Are Our 'Women in Tech'
You, our women power, are an integral part of our journey. Your valuable contribution has inspired us all to respect and chase our dreams, with a spirit of equality.
Thank You Esteemed Customers – You Are Our Motivation!
You have been our direct source of motivation, offering us multifaceted opportunities to serve you the best of IT solutions and services. Your time, efforts and intelligence have helped us transform your ideas into reality. Together, we will continue to deliver success.
The Best Is Yet To Come!
With your persistent support, we promise you consistent software services, sustained success, heightened achievements in the world of IT and cutting-edge technological advancements.
Our alliance with Fortune 100 companies, startups and SMEs across the globe and our millennial age taskforce will persist to offer impetus to businesses transforming them digitally to match the pace of technology and client prospects.
Looking forward to our continued and happy association! Let the good times go on!"
With best wishes and warm regards,
Mr. Milind Shroff, CEO, SPEC INDIA