Unlimited Fun with Limitations – Ganesh Utsav Celebration @ SPEC INDIA
Posted
September 18, 2021
"A new sunrise, a new start, let's take the blessing of the divine Lord and celebrate Ganeshotsav"
After a prolonged wait, SPEC INDIA was blooming with joy and enthusiasm. The celebration of Ganesh Utsav happened with a lot of delight, adhering to all strict norms related to the pandemic.
The Ganesh festival, also called Ganeshotsav or Ganesh Utsav, has been one of the most popular Hindu festivals in India. SPEC INDIA has been celebrating it since years, worshipping the Lord for 10 days, with SPECalities enjoying the festival in full swing.
We welcomed Lord Ganesh on the 10th of September 2021 amidst a pious and joyous atmosphere. All these 10 days, different groups performed aarti and offered prasad to the Lord. Teams were divided in such a way that no social norms were violated. All team members took responsibility to maintain a social distance.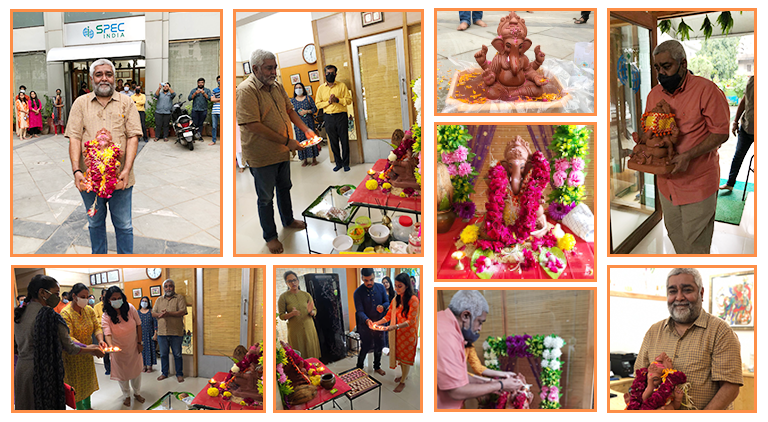 Everyone enjoyed the festival with much devotion and after a long time, a feeling of togetherness and festivity was in the air. On the last day, a musical procession was carried out in which the idol of Lord Ganesh was immersed in our office premises. This eco-friendly idol has seeds inside, which will now further grow as a plant.
We pray to God Ganesh to keep the world safe from any calamity and make us all live a life full of happiness and good health. We look forward to many more celebrations together since life @ SPEC INDIA is all about people and being together.