What Is Digital Transformation? Explained In 200 Words
Digital transformation refers to integration of digital technology in all areas including personal, professional, industrial, commercial, and individual, fundamentally changing the way of communication and collaboration.
It's continuously reshaping every industry, enabling the usage of technologies at the core of every business model.
It's not only about 'going paperless' but establishing the speed of change, innovation-driven development, and customer-centric strategies to match your customers' pace to enhance products, processes, and decision-making.
According to IDG, 89% of organizations have adopted or have plans to adopt a digital-first strategy.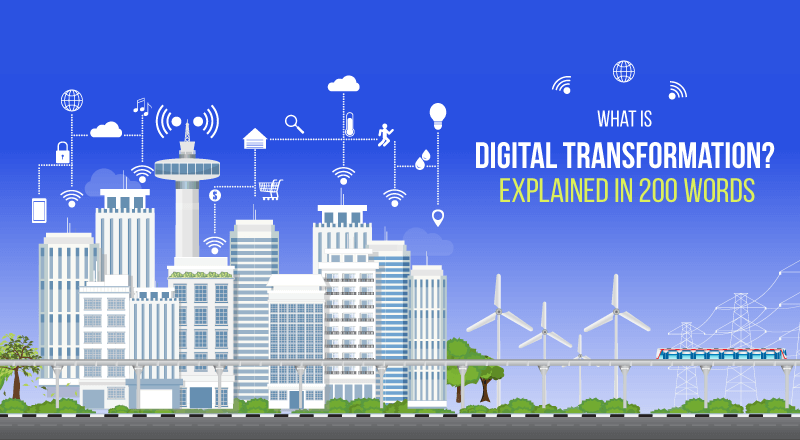 Key Technologies:
Mobile
Connected device – IoT
Cloud
Big data
AI
Analytics
AR/VR
Concepts like industry 4.0, digital disruption, and the digital revolution highlight the integration of tech in infrastructure, processes, and business strategies. Adaptability and innovation remain as strategic factor of transformation.
It's interpreted in a broader sense than digitization and digitalization.
It aims towards better ecosystems, culture, and collaboration that further create possibilities and opportunities using modern technology.
It has revolutionized every industry like retail, entertainment, manufacturing, education, healthcare, hospitality, energy & utilities, etc. It's an ongoing journey and will continue to transform models, processes, businesses, and lives of people in this hyper-connected era.
A Good Read: Digitization, Digitalization, and Digital Transformation
SPEC INDIA, as your single stop IT partner has been successfully implementing a bouquet of diverse solutions and services all over the globe, proving its mettle as an ISO 9001:2015 certified IT solutions organization. With efficient project management practices, international standards to comply, flexible engagement models and superior infrastructure, SPEC INDIA is a customer's delight. Our skilled technical resources are apt at putting thoughts in a perspective by offering value-added reads for all.