Digitization – Digitalization – Digital Transformation: Clearing the Doubts
Many articles, blog post, comments have been written about these three terms; then why another one?
The reason is simple to get a clear understanding!
Many people say they want to digitize their business. But how can you digitize your entire business?
By automating everything?
By connecting the unconnected devices?
By replacing humans with robots?
Well No! You cannot digitize the entire business. Here the word used is in the wrong sense. You can digitize the tasks, digitalize the process and implement the digital transformation to streamline the business.
Generally, 3Ds (Digitization, Digitalization, and Digital Transformation) are used interchangeably which creates confusion.
Each term holds a different meaning. However it looks the same, but they are different.
Let's dive in deeper to understand the meaning of each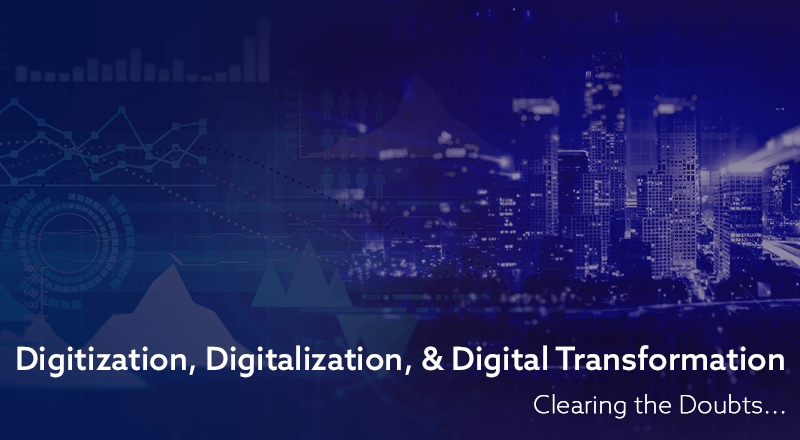 Digitization: The Beginning Of The Digital Age
Everything started with digitization. Before two decades, business processes were analog – information was presented physically.
And now with Digitization, a stream of information is converted into digital pieces where the information is organized into bits.
In simple terms, digitization means converting something non-digital into a digital representation to be used by computer systems to avoid manual tasks.
For instance:
Typing in Excel Spreadsheet from on-paper notes
Scanning paper document and converting in a digital document like PDF
The electronic version of a book (e-book) from the paper form
But, why it holds so much importance?
Old documents may get lost or misplaced, but if the content is digitized anyone can access it from anywhere.
The reason why digitization plays such an important role in the business world is the fact that it makes work much faster, smoother, and efficient.
With all the data and information being stored on digital media and devices, it can be made available worldwide.
Digitalization: Streamlining The Business Process
"Digitization' and 'digitalization' are two conceptual terms that are closely associated and often used interchangeably in a broad range of literature," – explain J. Scott Brennen, Doctoral Candidate in Communication, both at the University of North Carolina School of Media and Journalism.
Where Digitization is concerned with converting, digitalization focuses on the automation of various business processes and operations.
Digitalization is the process of using digital technologies on digitized data to simplify and automates business operations.
For instance:
Uploading the documents to the cloud and anyone can access it anytime anywhere
Use of Google sheets to avoid tedious tasks of Excel and sharing with the several users
Making use of Business Intelligence tools to create reports in clicks
Digitalization makes it easier to process and share information across the network.
Digitalization with the use of digitization improves revenues, increases process efficiency, optimizes business results and creates a digital culture and data transparency.
Digital Transformation: Transformation Of The Business Activities And Competencies
Digital Transformation is the process of using digital technologies to improve processes, productivity, and culture and customer experiences.
It is not something that enterprises can implement as projects, but it is a mindset to move towards the customer-driven strategic business. It depends on people how well they are groomed up to adopt a digital transformation journey.
When Adobe decided to migrate from a physical server to the cloud model, the company needed its employees to focus on the needs of the customer.
Thus, to achieve that, the company focused on understanding the customer intent and providing a personalized experience at every touchpoint. They developed data-driven-operating-model to understand the health of the business.
The true value of digital transformation is to eliminate the manual business process and make the employees more productive.
Companies that follow digital transformation practices are said to be more agile, customer-centric, and data-driven.
For instance:
Migrating the data from Google Sheet to Mobile app in order to get the insight faster and improve customer experience
Streaming online songs, movies, series and providing offers and recommendations based on the individual's interest
Digital Transformation is not just about implementing digital technologies or automating into the existing process but modifying the business model in a way to provide more customer value.
Digitization vs Digitalization vs Digital Transformation – Quick Difference
| | | |
| --- | --- | --- |
| Digitization | Digitalization | Digital Transformation |
| Conversion of information from analog to digital format | Processing/Automating the data to simplify operations | Improving  the process for the great customer experience |
| Scanning of the photograph to create a digital file | Collecting and Analyzing data to mitigate risk and improve efficiency | Implementing data analysis tools that collect all the performance data and is able to predict the most appropriate times for preventive maintenance |
| Human touch is required in each process | Partially automated | Everything automated from registration to content delivery |
How Combining 3D's (Digitization, Digitalization, and Digital Transformation) Can Impact Your Business?
Allows you to evaluate the production process and helps you to identify the problems and challenges accurately
Helps in managing the cost and creates a new business model and revenue sources
Improves communication, generates a closer bond with the customers.
With the best digital communication strategy, business internationalization can become easy
It just not optimizes the internal business process but helps to stay competitive
All the above benefits are valuable; as they can strengthen your company's hold in the market and help you to give an edge to the business.
Wrapping it up
"Digitalization is integrated with Digitization"
"Digitization is necessary for digitalization"
"Without digital information, No Big data-based solution possible"
From the above post, it can be rightly concluded that: Each one is necessary to simplify the business process and be productive.
We are already living in the world of the digital age and over time there will be more innovations and terminologies to learn, understand and implement in the business.
What are your thoughts? Are you Digitizing, Digitalizing, or implementing Digital Transformation?
Let us know in the comment section, which process you are implementing in the business.
Hope this blog has cleared the confusion between three similar terminologies – Digitization, Digitalization, and Digital Transformation.
SPEC INDIA, as your single stop IT partner has been successfully implementing a bouquet of diverse solutions and services all over the globe, proving its mettle as an ISO 9001:2015 certified IT solutions organization. With efficient project management practices, international standards to comply, flexible engagement models and superior infrastructure, SPEC INDIA is a customer's delight. Our skilled technical resources are apt at putting thoughts in a perspective by offering value-added reads for all.