Top 14 Business Intelligence Trends For 2021
"Business Intelligence is not just about turning data into information, rather organizations need that data to impact how their business operates and responds to the changing marketplace." – Gerald Cohen
Business Intelligence (BI) – a technology well leveraged by most industries across the globe, has been trending high last year and this year is no different. As the different arms of BI unfold – Cloud BI, Self-service BI, Mobile BI, Embedded BI, etc., its popularity and acceptance are growing strong. Popular business intelligence tools like Power BI, Tableau BI, Pentaho BI are revolutionizing the world of BI, benefiting the industry segments big time.
Owing to the pandemic, a need to adapt business intelligence analytics has been increasingly felt, especially for organizations having huge bulk of data. It has become an indispensable ingredient to many, irrespective of the size and segment of the business. Also, business intelligence jobs are on an increasing spree with a higher need for skilled resources like business intelligence consultants and business intelligence analysts.
Business Intelligence And Analytics – An Overview
Business Intelligence It is all about getting the right information to the right people at the right time in the right format via its visually appealing business intelligence dashboards and reports. It focuses on applications, procedures, and technologies that pertain to collecting, integrating, and analyzing data for varied sizes and nature.
Business intelligence software is driven by data and utilized as major information systems that offer a predictive analysis of business data collected through data warehouses and data marts. It makes the most of software solutions and services to transform data into insightful information that can be leveraged towards a successful business output.
Key Benefits Of Business Intelligence
Effective integration with varied data sources
Increasing functioning efficacy
Revenue maximization and better decision making
Better customer experience
Interactive visually appealing dashboards/reports
Faster and precise reporting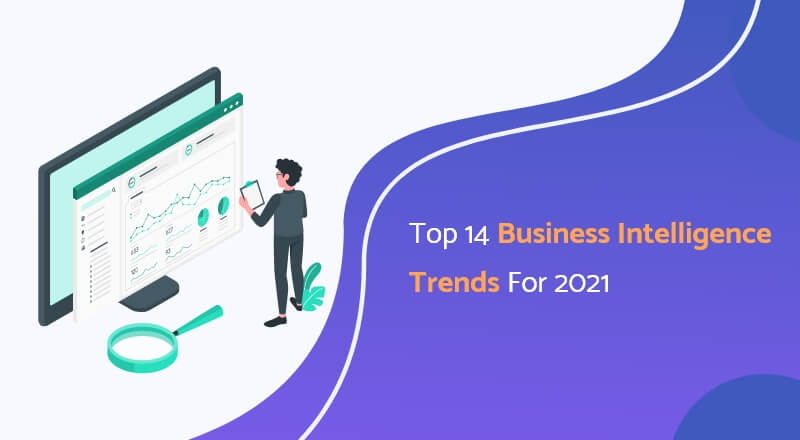 Business Intelligence Trends For 2021
Business Intelligence with AI is trending high
SaaS BI gathers more demand owing to the WFH regime
Security of data garners more importance than before
Augmented analytics continues its demand curve
Embedded analytics is the leading Tech for the year
Data discovery and Data visualization stay strong
Mobile BI continues its popularity growth
Collaborative BI is catching up on demand
Self-service BI increases its demand curve
Robotic Process Automation (RPA) is rapidly growing
Significance of data quality management increases
Predictive and Prescriptive analytics continue to fulfill BI aspirations
Natural Language Processing and Voice-Based assistance get more coverage
Cloud-Based BI is giving great results
Business Intelligence With AI Is Trending High:
Machine Learning and Artificial Intelligence in business are revolutionizing the way the interaction between analytics and data happens, keeping intact all necessary security actions. With BI, organizations are now no longer watching static lists or reports. They are leveraging in-depth dashboards and reports that can help them analyze information to a higher extent. AI-based algorithms are upsurging the usage of BI by offering detailed information about trends, patterns, defects, errors, futuristic opportunities, etc.
This year shall see AI supporting BI in a big way by analyzing information in an automated way based on its effective algorithms and the parameters you choose. This shall save time and effort for the organization, extracting the best of information automatically. Real-time data analytics is the key trend today and with IoT indulging in almost all industries, AI has lots to offer in terms of predictive analytics and handling huge bulk of information.
Soon, we shall see AI justifying its decisions in an intelligent way, by operationalizing business procedures and interpreting information to maximize business revenue. The way the pandemic has hit the world, AI has been instrumental in identifying a lot of newer information, especially in the healthcare segment. ML algorithms are also proving highly beneficial in handling the pandemic crisis.
SaaS BI Gathers More Demand Owing To WFH Regime:
The pandemic has forced almost all to work from home (WFH). This has led to an increase in the demand for managing data analytics in our own way with tools and technologies that are easily available. Organizations have been leveraging SaaS BI for a flexible environment. For remote teams to get the best of their business procedures, SaaS BI is turning out to be beneficial.
SaaS BI has helped users avail the best of data analytics facilities sitting at their own work premises, mostly home. It has maintained the process of business operations, without any hindrance in the daily working. Users can garner all desired dashboards/reports remotely, in the format they want, and whenever needed.
Security Of Data Garners More Importance Than Before:
Thanks to rules and regulations worldwide, like GDPR, data, and security have started getting higher prominence than before. Organizations are now treating data security as a primary matter of concern and there are increased efforts to adhere to all needed aspects. As such, BI is all about harnessing the power of data and hence the trend towards the protection of data involved in BI systems is increasing of late.
With BI spreading its arms around every corner, data collection and analysis is getting a wider reach. As deep as the data goes, higher is the need for its security, especially because there is a lot of user confidential information that is involved. And there are increasing cases of malicious attacks and cybercrimes happening. The year shall see newer technologies to keep the bulk of data safe and secure.
Augmented Analytics Continues Its Demand Curve:
Being one of the top trends last year, augmented analytics continues its reign this year too. With BI and data analytics getting interwoven with AI and ML techniques, augmented analytics is getting a higher response. It is making BI more comprehensible to all and users who do not have an IT background can also utilize the data analytics features.
Augmented analytics, with its AI features, can establish a relationship between the wide range of data and the major metrics that are being worked upon. Even voice-based assistance is getting increasingly popular for better management of BI dashboards and reports. BI technologies are getting a better usage ratio because of augmented analytics.
Embedded Analytics Is The Leading Tech For The Year:
Embedded Analytics is the fusion of analytical competencies within business procedures, in the form of various outputs like dashboards, reports, and self-service assessment. It focuses on instilling reporting and analytic abilities in transactional business applications. There is a seamless integration within the analytic foundation created, BI solutions implemented, and the reporting tools.
Today's modern-day business solutions are depending upon Embedded BI in a big way. The year shall see more organizations using Embedded BI within their services and solutions. It is sure to give its users the power and competence to work with integrated data components from within the applications. It lessens the workload on the analytical teams, offering users a great way to garner results as they wish to, without disturbing the entire solution setup, with complete scalability and data security.
Data Discovery And Data Visualization Stay Strong:
Though these processes are old, they continue to remain gold for BI projects. Data discovery tools have been doing great by generating a variety of findings that yield immense value. There are newer organizations who are willing to adapt to BI and its associated army, especially due to the least IT skills needed to drill down the data. Data discovery has led to the extraction of varied patterns, trends, and insights that have not been seen before. These discoveries have led to better management and decision making.
Data visualization has been the eye of the entire BI project. It acts as the camera through which users are viewing all the required data through dashboards/interactive reports. It has been helping business owners to take important decisions through detailed insight into huge heaps of information, in a systematic and understandable manner. With newer outputs like pivot tables, heat maps, and geographical maps, it also helps in spotting the anomalies or outliers that could cause a problem in the business operations.
Mobile BI Continues Its Popularity Growth:
Mobile BI has been influencing the usage of BI on mobile devices for a while now, but there have been challenges faced in terms of a responsive layout for dashboards. With the new year coming, there have been multiple efforts to offer an undisturbed BI layout on mobile devices. Now that going mobile is the only way out, developers have found out ways and means by which a BI application can be utilized to its best through mobile devices.
Mobile BI is not only showcasing dashboards and reports; it is also all set to receive data-driven alerts and notifications on mobile devices. The coming year shall witness newer developments in the arena of Mobile BI.
Collaborative BI Is Catching Up On-Demand:
As the name suggests, Collaborative BI is all about a good fusion of BI tools and social media integration. As such, in BI projects, there must be a detailed interaction between all levels of the taskforce. Collaborative BI helps in generating information that can be shared with a specific audience at the desired time.
Alerts can be generated, automated dashboards/reports can be shared individually, in groups, or on social media. This technique of BI offers great help in tracking the progress of events, connecting systems and users spread out, judging the team performance, and coming to detailed decisions, as needed.
Self-Service BI Increases Its Demand Curve:
Do it yourself, your way is the mantra behind self-service BI. It has been the throbbing pulse of the BI arena, wherein users are given the liberty of extract their desired dashboards/reports in their way, themselves at their self-desired time. There are self-service BI plugins that assist end-users in independently, extracting the data and creating desired reports with the least help from the technical department.
With the work from home regime going strong due to the pandemic, the need for such self-service BI facilities is sure to see an upsurge in demand. Users are wanting to explore the huge bulk of information themselves, without having to disturb the IT department.
Robotic Process Automation (RPA) Is Rapidly Growing:
BI has been utilizing the goodness of Robotic Process Automation in a big way and there will be more of it, this year. RPA has been one of the fastest-growing technologies which facilitate business taskforce to perform automation of their work, with the least coding skills. This helps BI projects to function efficiently, without depending much on the resources involved.
Most of the data science activities will be taken over by RPA and hence will yield enhanced productivity, greater efficacy, and increased usage of BI and analytics by end-users.
Significance Of Data Quality Management Increases:
The backlash of poor data quality and its implications is now felt by businesses. Hence, the need for good management of the quality of data has increased and hence the process of Data Quality Management (DQM) is very much in demand. Organizations are now realizing the importance of the same.
DQM is a consolidated procedure in which there is a balanced and useful merger of technology, resources, methods, and culture. It ensures that the data being delivered is useful, good quality, and accurate. It has been enforcing data standardization and the year shall see more utilization of DQM in all BI projects. Business owners are leveraging their potential to come up with trustworthy business decisions that help bring the best of results.
Predictive And Prescriptive Analytics Continue To Fulfil BI Aspirations:
Considered as important arms of BI for some time now, Predictive and Prescriptive analytics have maintained their requirement in the IT world and continue to remain as one of the hottest trends for the year. With Big Data turning out to be of great importance for organizations of all sizes and segments, these analytics techniques are growing in demand.
Predictive Analytics has been answering questions ranging from what happened, why did it happen, what is happening now and what might happen in the future. As the bulk of data increases across organizations with a variety of structures and nature, the need for Predictive analytics is on a rise. Different industries are leveraging it in their own ways to get the best prediction for their future business outcomes. An artificial neural network is helping big time in garnering the best out of BI and its associated technologies. Prescriptive analytics, moving a step ahead, search for data prescribed to make certain decision making, based on techniques like simulation, neural networks, machine learning, etc.
Natural Language Processing And Voice-Based Assistance Gets More Coverage:
Natural Language Processing (NLP), also known as conversational analytics, has been increasing in demand in almost all business domains and continues to do so. It has helped users to get comfortable with difficult systems and digital techniques. Owing to this, BI has become easily accessible to users, especially those who are not comfortable with technological systems.
Different varieties of NLP like natural language generation, speech recognition, machine translation, machine learning, and semantic search are getting higher focus. Voice-based assistance is gaining more importance and this has helped BI in analyzing data in a comprehensive and fast manner. Businesses can now record language and convert it into valuable information. This way, digital assistance is simplifying work for BI users.
Even data-based storytelling is being used to interpret data in a better and understandable manner. Data storytelling has encouraged analysts to convey the data aspects in unique ways, such that it is easily perceived by the users.
Cloud-Based BI Is Giving Great Results:
Cloud BI has been trending high with cloud-based services becoming the bright future of IT. BI has been associating with cloud-dependent computing and enjoying its benefits. The cloud has brought along speed, complication, risk-taking, and budget all under control, whatsoever maybe the size of the project.
Disparate data sources related to BI projects are moving to the cloud. Cloud service providers like AWS, Azure, Google Cloud, etc. are offering the best of services that any business intelligence solution can get, to handle the huge bulk of data. BI technologies like Power BI, Pentaho, Tableau, etc. are enjoying the flexibility received from the cloud to get the best insightful information from their data sources. The year shall see more seamless integration between the cloud and BI systems.
Good Read: Top Business Intelligence & Analytics Trends 2020
On A Parting Note:
Business Intelligence and Analytics seem like a magic wand that converts all types of structured/unstructured data into accurate, valuable information that can help businesses go great guns. As observed from the trends this year, BI shall gain higher importance associating with other major technologies, which shall act as a catalyst in showcasing BI as one of the most wanted technologies.
Organizations worldwide, are sure to harness the power of business intelligence reporting, predictive analytics, prescriptive analytics, descriptive analytics and enjoy its fruits!
SPEC INDIA, as your single stop IT partner has been successfully implementing a bouquet of diverse solutions and services all over the globe, proving its mettle as an ISO 9001:2015 certified IT solutions organization. With efficient project management practices, international standards to comply, flexible engagement models and superior infrastructure, SPEC INDIA is a customer's delight. Our skilled technical resources are apt at putting thoughts in a perspective by offering value-added reads for all.