Top Cloud Computing Trends For 2021
"The cloud services companies of all sizes…The cloud is for everyone. The cloud is a democracy." – Marc Benioff
The power of the cloud has been experienced by all. Organizations are now unleashing the potential of cloud computing to the maximum. The salient features that the cloud-based services possess, showcase a great deal of productivity and profitability in business.
Newer technologies, advancements, and innovations have been associating with the cloud, to make it a lucrative arena. Businesses are keen to invest in this technology to garner increased scalability, cost-efficacy, and business stability. Especially, during pandemic times, the need for a robust cloud environment has been felt more. Cloud has proven to be a fundamental strength for IT solutions and services that have transformed the pandemic times. Be it telehealth, telemedicine, home delivery services, contact tracing, etc., cloud-based services have played an important role.
Cloud Computing – An Overview
Cloud computing is the on-demand availability of computer system resources, especially data storage (cloud storage) and computing power, without direct active management by the user. – Wikipedia
Cloud computing focuses on data access and storage over the cloud through the internet, rather than relying on hard drives or servers. It executes workloads in a remote manner over the internet in the service provider's data center. It delivers on-demand computing services like applications, processing power, storage, etc. as needed, with flexible pricing models, making it easy, convenient, and secure for users.
Key Features Of Cloud Computing
Large network access
Easy maintenance and management of assets
An on-demand self-servicing pattern of working
Accessibility and flexibility
Pay-as-you-go pricing model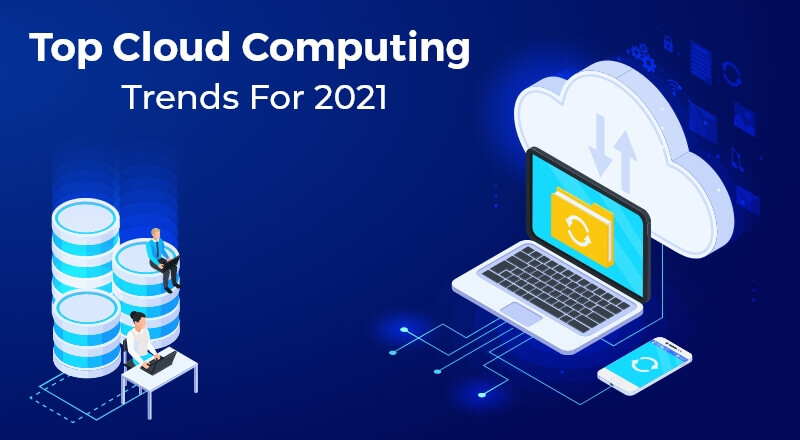 Cloud Computing Trends For 2021
The year is surely making the most of the cloud, so says the trends in cloud computing for 2021. Here are the major trends that showcase the increasing worth of the cloud:
Edge computing the new normal
AR will enhance user understanding of cloud-related activities
Joint cloud and multi-cloud technology will gain prominence
Automation of cloud orchestration systems and optimization shall rise
Data governance, privacy of data, and cloud migration will be more significant
Cloud services will join hands with IoT and Big Data for a better experience
AI will give a great impetus to cloud-based services
FaaS will dominate the cloud arena
Security aspect in multi/hybrid cloud will gain more importance
Hybrid cloud computing is in demand
Cloud-based gaming will be seen more than before
Virtual cloud desktops will be used progressively
Blockchain technology integrating with cloud computing
The cloud-native approach is getting popular
Edge Computing The New Normal:
With IoT devices and those connected to the Internet, adding in heaps and bounds, it is difficult for the cloud alone to handle. Edge computing is the new way of processing the data at the point of origin – the edge, instead of doing it in the cloud or data centers. Different varieties of edge devices like routers, sensor-based devices, etc. are like data centers that are used for effective processing, storage, and communication of important information.
There are major service providers who are utilizing the power of edge computing across multiple networks. Organizations are leaning towards the network edge to thin the lines between the central cloud system and the end-users. Edge computing environments are highly scalable and available instantly as needed and hence they are used as a service.
AR Will Enhance User Understanding Of Cloud-related Activities:
As the cloud-based services grow in demand, the user base is expanding, and hence training them effectively is a must. Augmented reality, the modern-day concept of showcasing information in an understanding and attractive manner, is the key to this and the year shall witness AR leverage its potential in making the users understand concepts of the cloud faster. There is an increasing number of AR tools that will offer detailed training and advice to cloud users to deliver the best of results. Even training to working from home personnel can be done efficiently with AR tools and that keeps the taskforce safe, secure, and yet well informed.
Joint Cloud And Multi-cloud Technology Will Gain Prominence:
Technology giants who are handling cloud technology have started partnering to speed the process of go-to-market and make the most of each other's USPs. It is an alliance between tech service providers that will facilitate joint clients in their migration capabilities and execute their application processes across different cloud platforms. Oracle and Microsoft have established a joint rapport that leverages the competencies of both and offers the best of both worlds.
Automation Of Cloud Orchestration Systems And Optimization Shall Rise:
Cloud orchestration refers to arranging and coordinating automation of activities through a consistent procedure, followed by the cloud-based platforms. Cloud orchestration and optimization will continue to be automated to effectively manage the complications attached with interconnected services spread out between different applications. There are many organizations that need to maintain many services from an identified cloud provider and hence the need for automated management of cloud becomes essential and shall continue its prominence in this year.
Data Governance, Privacy Of Data, And Cloud Migration Will Be More Significant:
With increasing storage and access to information, there has been a need to regularize standards and security aspects, to avoid misuse of data. This year shall see more embedded standards, security controls, data privacy norms, and data governance in projects. Organizations shall embrace cloud migration along with these protocols. Cloud-based computing will integrate the data protection and privacy protocols seamlessly within the process. There are modern-day data governance tools that are being implemented in today's business procedures and hence cloud computing areas will see more control over private information sharing.
Cloud Services Will Join Hands With IoT And Big Data For A Better Experience:
Big Data and IoT have their own loyalty community and are big names in the world of technology. Today, cloud computing is associating with IoT and Big Data to offer a much better, personalized, and technically superior experience. Data shall get more relevance and thereby, business performance, insight into the future trends, productivity, and profitability will get a boost. IoT and Big Data need no introduction as they are proven technologies individually and now with the cloud combining with them, there shall be great leverage to multiple gains in all the three technical arenas, with organizations benefiting big time.
AI Will Give A Great Impetus To Cloud-based Services:
AI has left no stone unturned in assisting technology to reach greater heights and better business procedures. AI getting into the cloud-based architecture leads to many advantages such as higher efficiency, insightful information, cost savings, etc. AI adds value to the entire cloud computing process that is being adopted by multiple industries across the globe. The benefits of AI like the creation of advanced procedures, automation of repetitive activities, streamlining of workloads, etc. can be well felt by the cloud environment. Machine learning, along with AI also plays a key role in keeping the cloud servers in complete working condition. AI and ML algorithms help in ensuring proper management and monitoring of various aspects like network, power utilization, environment access, downtime, etc.
FaaS Will Dominate The Cloud Arena
FaaS is a vital component of cloud-based computing and is trending high. Function as a Service is a component of serverless computing and focuses on storage components, API, and gateway components. It helps programmers in saving coding time and create code in a fast manner. Organizations are increasingly using the FaaS model of working since it assists developers in maintaining a planned distance from taking up complicated infrastructure.
Security Aspect In Multi/Hybrid Cloud Will Gain More Importance:
With multiple combinations of the cloud talking to each other, what is of prime importance is maintaining the security of all involved infrastructure majorly the data and network being shared. That is where thorough security protocols must be defined and followed. The year shall witness newer ways and technologies to support a complete security system in place. There must be central authentication maintaining user-level control across different cloud systems. Robust DDoS protection mechanisms and firewalls must be installed appropriately. Users involved must be professionally trained on how best to follow these protocols and thereby, take care of the security aspect themselves.
Hybrid Cloud Computing Is In Demand:
Hybrid cloud computing comprises the best of both – public and private cloud computing. Organizations now are opting for the hybrid model, rather than choosing between either one. This year shall see multiple advantages being leveraged by organizations with respect to the hybrid model – great speed, enhanced security control, increased scalability, and agility, etc.
Cloud-based Gaming Will Be Seen More Than Before:
Gaming through the cloud has started but will gain speed this year. Cloud gaming will garner more importance by offering newer means to avail entertainment. There will be access to different libraries of games that can be availed through technical giants like Sony, Google, Microsoft, etc. This will also save on the hardware spend and there will be increased access by users through the cloud infrastructure. Cloud gaming will increase access to gaming portals easily, effectively, and securely.
Virtual Cloud Desktops Will Be Used Progressively:
Also known as desktop-as-a-service, virtual cloud desktops will offer an effective way of cloud computing that will be flexible, cost-friendly, and can be availed through different subscriptions. It ensures that all users are on the same plane and get equal and synchronized information. There will be more security as devices will be monitored centrally and there will be enriched.
Blockchain Technology Integrating With Cloud Computing:
Blockchain is a chain of blocks where blocks are cryptographically secured to each other in time-stamped, immutable series, called a chain. It is like a public ledger of digital information and a secure network on top of the internet. While the cloud-based services connect with Blockchain technology, it assists businesses in understanding the products in a detailed manner with their properties. Adaption of blockchain for cloud deployment and other services is bound to see a wide increase this year.
The Cloud-native Approach Is Getting Popular:
The cloud-native approach will be increasingly used and implemented as the global scenario undergoes a change. Even cloud-native security aspects will gain more relevance with this and there will be an increasing number of security concerns, threats, risks that will be raised. DevOps has already reserved its place on the top segment in terms of leading the project and not with security as a prime important factor, DevSecOps will also grow majorly during the year.
As We Unleash Top Trends In Cloud Computing
The cloud is here to steal the show. Cloud-based services, cloud development and deployment, latest cloud technologies like Azure, AWS, and Google Cloud are capturing a major part of the IT market, in terms of cloud computing trends. Seamless integration of the cloud with other leading technologies is sure to enthrall the globe in 2021 and we shall enjoy its fruits.
SPEC INDIA, as your single stop IT partner has been successfully implementing a bouquet of diverse solutions and services all over the globe, proving its mettle as an ISO 9001:2015 certified IT solutions organization. With efficient project management practices, international standards to comply, flexible engagement models and superior infrastructure, SPEC INDIA is a customer's delight. Our skilled technical resources are apt at putting thoughts in a perspective by offering value-added reads for all.