Long-Term Partnership With Incredible Customer Support By SPEC INDIA
Modern businesses these days require digital transformation through innovative software solutions that help brands to grow and achieve their goals and objectives.
When it comes to customized software, mobile & web applications, enterprise-based software, BI(Business Intelligence), etc. SPEC India, having around 35 years of experience in software development, can help. They have successfully delivered over 3000 projects around the globe.
SPEC INDIA is a renowned software development company that offers various IT services, including custom software development, business intelligence services, enterprise software development, technology consulting, web development, legacy application modernization, software testing & QA services, PHP development, mobile app development, product engineering the dedicated development team and WordPress development.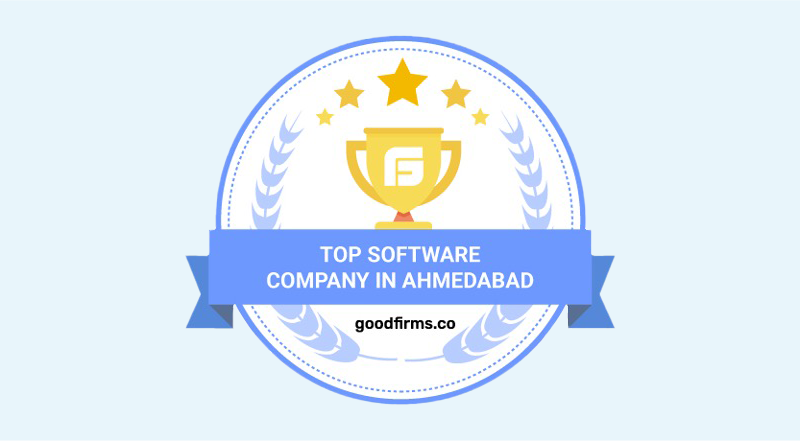 They possess highly experienced and skilled IT professionals who are well-versed in designing, developing, and implementing impactful strategies for full-cycle software development utilizing powerful technologies, including cloud, AI, automation, IoT, etc.
SPEC INDIA's team helped Fortune 500 companies and startups with innovative onshore and offshore business development.
All these things helped SPEC INDIA achieve a prominent position in the list of top software companies in Ahmedabad by GoodFirms. This article offers a complete information about this company that provides a broad range of excellent software solutions globally.
A Can-Do Attitude
SPEC INDIA is an ISO 9001 & 27001 certified company that offers excellent custom software development, mobile app development, and business intelligence. The company was established in 1987 with headquarters in Ahmedabad, India.
They help market leaders, startups, and enterprises with their digital transformation goals. Their team is committed to digital transformation through innovation and cutting-edge technologies that leverage businesses worldwide.
They have all the abilities and capabilities to overcome complex challenges by implementing modern technology, flexible models, time-tested delivery methods, attention to detail approach with quality assurance, and result-oriented software development solutions.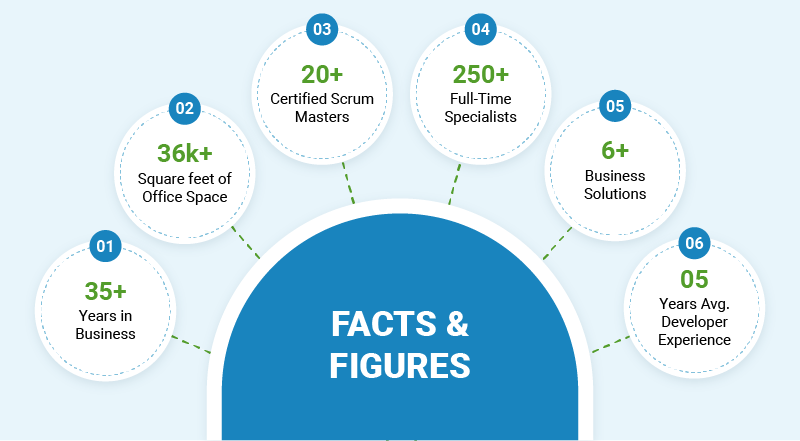 Top Three Software Development Services by SPEC INDIA
1. Custom software development
2. Business Intelligence services
3. Mobile app development
Custom Software Development
SPEC INDIA's team identifies the client's business requirements and develops the software with a comprehensive approach that drives quality and cost-effectiveness. Their highly experienced developers focus on leveraging their client's businesses through bespoke solutions that improve the ROI and brand value.
Mobile App Development
Their dedicated mobile app development team has worked on many projects and completed them successfully for their clients globally. SPEC INDIA's UI/UX designers are skilled and sophisticated in providing modern technology-based mobile applications with various platforms, including iOS, Android, cross-platform, Hybrid, PWA, and custom mobile app development.
BI (Business Intelligence Services)
The company offers an efficient suite of business intelligence and analytic services that helps SMBs and startups to large enterprises. They transform their business models that increase efficiency with accurate, strategic, and tactical business decisions.
The below-mentioned client reviews prove that SPEC INDIA has all the abilities and capabilities to deliver excellent and reliable result-oriented software solutions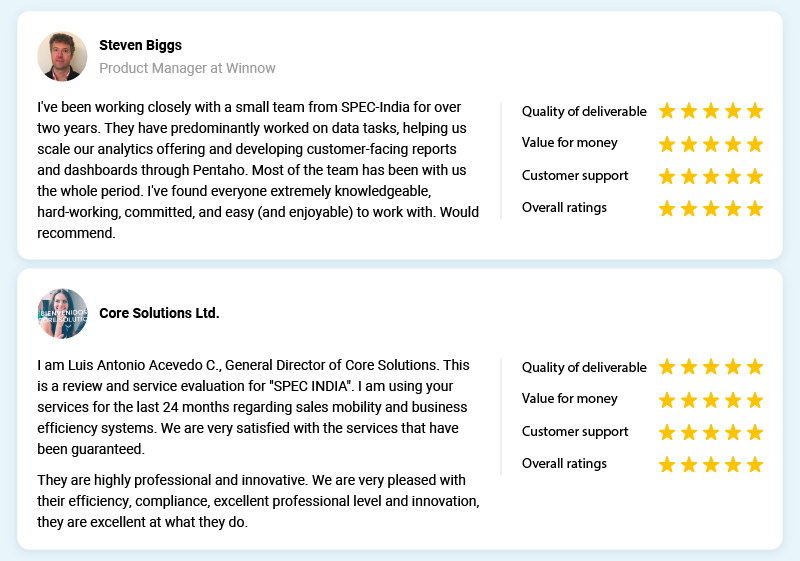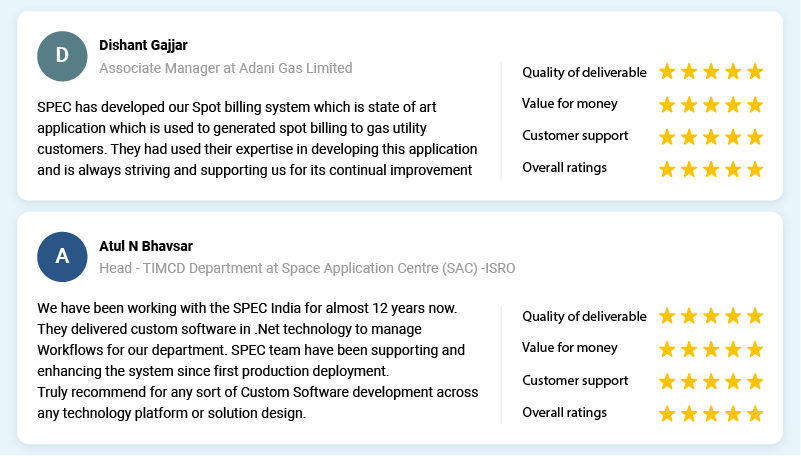 SPEC INDIA's Clientele Consists of Famous Brands From India & Abroad
The company has worked with diverse industries and clients. Their dedicated team helps clients achieve significant brand value by providing outstanding software solutions.
Clientele: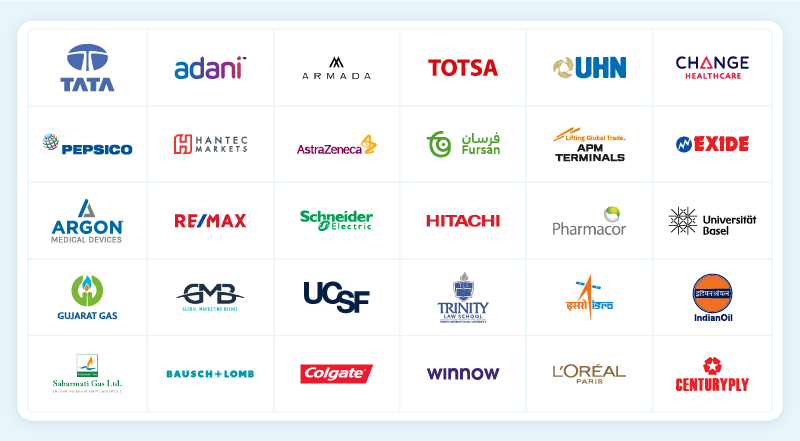 Why Does GoodFirms Mention SPEC INDIA As Ahmedabad's Most Innovative Software Solutions Provider?
The company offers various IT services with exceptional customer support, making them more competitive. They help global brands with digital transformation and innovative solutions. The team's approach is customer-centric to deliver excellent results and gain their trust and confidence, which makes them the most in-demand organization.
SPEC INDIA aims to create a sustainable digital experience for all sizes and shapes of businesses using cutting-edge technologies, creative ideas, and unmatched skills. They have years of experience in the IT industry and all the capabilities to overcome digital transformation challenges.
Moreover, the team has passionate and skillful members committed to producing value-driven results beyond the client's expectations. SPEC INDIA is a most supportive company that treats employees as important assets and helps them by nurturing their talent and enhancing their professional careers.
"SPEC" INDIA Stands For
S – Sustain and develop business growth
P – Provide efficient solutions and services
E – Enhance the team's professional abilities and capabilities
C – Committed to consistency in delivering top-notch software solutions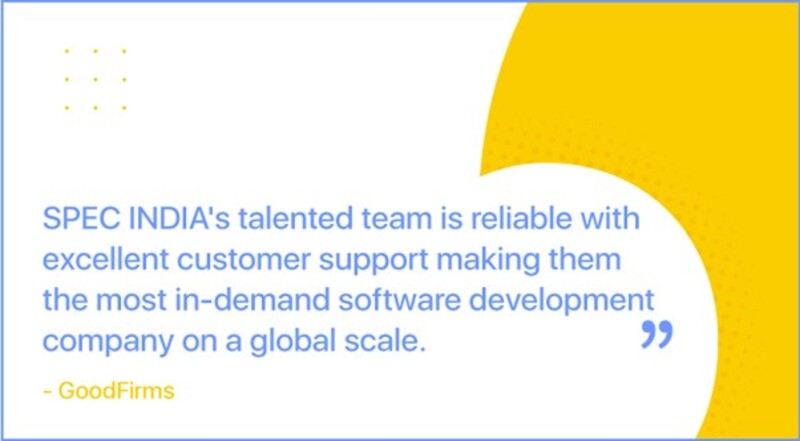 Conclusion
In this most competitive digital world, it is essential to provide customers with the most technologically advanced software products and services that help them achieve their true potential and complete satisfaction. Therefore, SPEC INDIA would be the perfect choice for increasing your brand values and ROI – return on investment.
About GoodFirms
GoodFirms is a B2B research, review, and listing platform helping businesses accelerate their digital journey and maximize modern technology's value. The company connects service providers with service seekers through a comprehensive and thoroughly researched fact-based list of the best services and solutions. Recognized as the most reliable source for the B2B market, GoodFirms has world-class experience with partners across the globe.
SPEC INDIA, as your single stop IT partner has been successfully implementing a bouquet of diverse solutions and services all over the globe, proving its mettle as an ISO 9001:2015 certified IT solutions organization. With efficient project management practices, international standards to comply, flexible engagement models and superior infrastructure, SPEC INDIA is a customer's delight. Our skilled technical resources are apt at putting thoughts in a perspective by offering value-added reads for all.