The Ganesh Utsav At SPEC INDIA Begins with Devotion and Delight
Updated
September 28th, 2022
As we all enjoy a breath of fresh air in the normal 'Work from Office' setup, we @ SPEC INDIA are elated to welcome Lord Ganesh and mark the beginning of the 10-day Ganesh festival. The Lord is worshipped as the God of wisdom, good luck, intellect, and fortune.
Ganeshotsav, also called 'Ganesh Utsav' or 'Ganesh festival' or 'Ganesh Chauth,' is celebrated pan India with excitement and admiration. SPEC INDIA has been celebrating this festival on a regular basis for years and this year is no different. We welcomed Lord Ganesh into our office premises with folded hands, on 31st August 2022, the first day of the festival.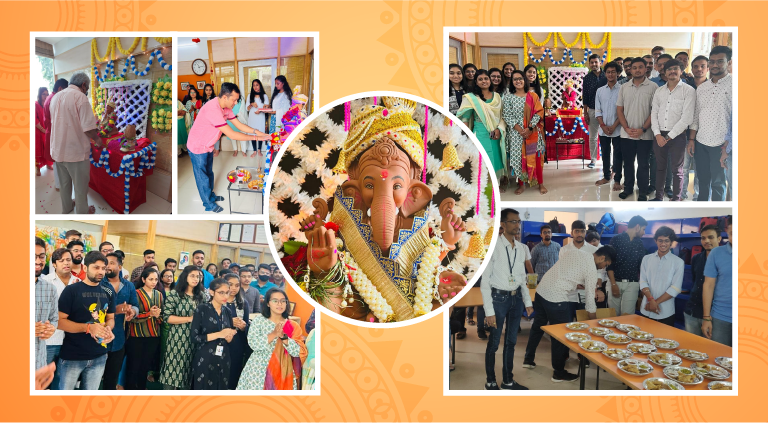 Respecting the awareness for environment friendliness, we got an eco-friendly Ganesh idol. All the SPECalites welcomed the Lord by conducting a colorful and musical procession. The entire area was decorated with flowers, and it looked so vibrant.
The religious Aarti was performed by our CEO, Mr. Milind Shroff and Prasad was offered to the Lord, after which the entire taskforce enjoyed the Prasad, followed by snacks and beverages. Everyone was happy and excited to feel the festivity in the air, which will continue for the next 10 days.
Festivals are meant to unite us all, strengthening our bonds for a better work environment. We look forward to celebrating the Ganesh festival wholeheartedly. Each day, there will be an Aarti in the morning and the evening with different teams offering Prasad to the Lord. Excitement is in the air!
We await the celebration of many such festivals soon since life @ SPEC INDIA is all about working and celebrating together with sincerity and pleasure.
Happy Ganesh Chaturthi to all! May the mentor, protector and remover of obstacles enlighten your lives!