Mobile App Development Trends 2020 – A Peek Into The Future
"Apps are expected to generate $189 Billion US dollars in revenue by 2020." – Statista
This is a clear-cut representation of the fact that mobile apps were, are and will always be the face of modernization and technology advancement. Mobile apps are an integral part of our lives – be it personal or professional. And, there is a lot that has happened in year 2019 and a lot more that has been trending for the coming year 2020.
Take a glance at the below-proven statistics, don't they self-pronounce the ever-increasing popularity of mobile application development?
As we approach the new year, it is exciting to see how mobile app development will influence businesses belonging to the different categories, size, and sector. Key trends have suggested that mobile applications have a great future and their integration with the latest technological trends is the highlight.
Major Mobile App Development Trends For 2020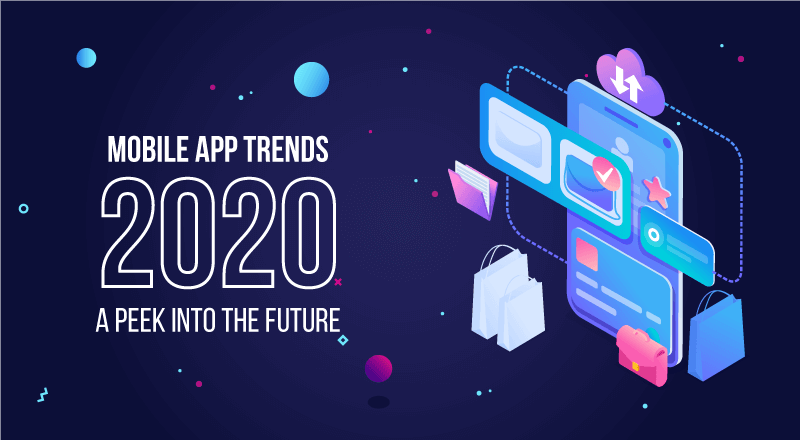 Chatbots Will Show Prominence
The presence of chatbots has just shown its emergence. This year saw chatbots getting familiar with organizations and the coming year shall see much more of chatbots embedded in apps. Since it is fast and accurate, chatbots are the ideal way to have an enhanced UI / UX with the customer, while implementing mobile apps.
Currently, there are about 2.2 million apps in the Google Play Store and about 2 million in the Apple app store. But very few of them have embedded chatbots in their apps. The year 2020 shall surely see an upsurge in this ratio. Organizations have now realized the worth of chatbots in mobile apps and hence areas like retail shopping, food hubs, taxi services, etc. will implement more bots. Clients will see their queries getting solved faster, without human customer support and intervention. The two tech giants in this arena – Google Assistant and Apple's Siri will portray newer features to make their user's life easier and smarter.
Enhanced Integration Of Wearable Apps
The wearable is undoubted, a part and parcel of our daily lives – be it smartwatches, trackers, fitness bands and smart rings. The time to come shall witness novel additions to the technology that will encourage the increasing number of users to avail of the benefits of wearables.
Not only users, developers, and designers will also leverage this technology to offer a variety of designs and features that have not yet been seen. The digital experience that will be offered will be a step ahead of what is available today. Till now, there have been many apps that do not support the wearable technology. Developers will think of ways and means to offer seamless integration between mobile apps and wearable devices, along with lesser dependency on the smartphone.
IoT Driven Mobile Apps Will Be In Vogue
IoT is the face of future technologies and developers are keenly interested in working towards the integration of IoT with mobile apps. It's predicted that IoT will be a major requirement in mobile apps. Big names like Google and Amazon have leveraged the complete potential of this technology and Google's initiative to acquire Fitbit is yet another example of the same.
Industries like supply chain, retail, healthcare, etc. are coming to face the integration with real-life devices rather than depending upon sci-fi. Users will be able to control non-IT devices through remotes or applications. IoT enabled mobile apps are the trend for the coming year and there is no looking back.
AR And VR Will See An Upsurge In Mobile App Development
AR and VR were two hi-tech arenas which were a delight for gaming apps but no longer! These two big technologies are spreading their wings to offer much more and the coming year shall be a witness to that. Apple and Google have already started unleashing the potential of AR and VR into innovative directions that shall soon show up. Google is set to come up with a new AR feature for Google maps that will offer users real-time directions from their camera phones.
Integrating AR and VR into mobile apps shall soon pick up the pace and is one of the hottest trends for the year to come. Areas like marketing, advertising, healthcare, manufacturing shall be positively affected by the confluence of AR, VR and mobile apps.
Mobile Wallets Will Drive Purchasing In 2020
Mobile wallets have already started becoming a preferred choice of payment for users today. Users are swiftly moving towards smart watches and hence mobile wallets like Apple Pay, Google Wallet shall be on an upsurge in the year 2020.
Users shall depend heavily on mobile wallets for securing their payments in a flexible and suitable manner. M-commerce is the trend today and tomorrow – a step ahead of e-commerce. Even Blockchain technology is about to enter the mobile payments arena and offer higher security mobile apps. Organizations today look for enhanced techniques to ensure that money transactions and payments are faster, more secure and convenient. And that is what the year 2020 shall offer with mobile wallets getting smarter.
Mobile Application Security To Get More Focus
Cybersecurity has yet not been given its due importance and that is the reason many incidents happened with big giants that shouldn't have. Businesses are now quite cautious about embedding security features right from the beginning into mobile apps, to ensure complete privacy, security and data protection.
Almost all tech giants, including Google and Apple, have increased their focus towards the security quotient and are coming up with newer advancements that shall ensure upright security. The security-first approach is going to take prominence in the year 2020.
Beacons With Mobile Apps Will Go Far And Wide
Beacons have always been the favorite technology, especially for the retail segment. Beacon based apps, notifications, alerts, promotions have been giving a huge rise to business performances. With technology advancing, beacon-enabled airports, automated personal beacons, mobile payment beacons will be around the corner, in the coming year.
The sharing of information will become smoother and safer. Industries like hotels, healthcare, museums, etc. will adapt beacons for their progress. Location-based technology, proximity marketing, personalized virtual tours, AI enabled chips, automated machine learning, beacon treasure hunting will gain prominence in the year 2020. Merging with IoT will bring a larger impact for beacons.
Instant Apps Will be Welcomed In 2020
Instant apps or native mobile apps have been popular because of its user-friendly, convenient, website like functionalities and small size architecture. Because they can be accessed instantly without any downloads, native apps have bee rising in popularity. Not only end-users, but these apps have also been quite raging amongst developers because they have a better conversion ratio than regular mobile apps.
With users going in for an enhanced UX and shorter waiting time, the year 2020 will surely see more of instant apps.
Demand For On-demand Apps Will Increase
Uber, Airbnb, Booking.com, Peapod, Zomato, Swiggy, Instacart, Rinse, Postmates – these are all on-demand platforms. On-demand apps are the face of the future. You can now ask for what you want through these on-demand apps, and it will be fulfilled. On-demand apps are experiencing exponential growth in acceptance and the year to come shall see more.
On-demand apps offer its clients ease, happiness, and flexibility. For e.g., Uber uses on-demand, location-based apps to offer on-demand taxi services in a secure and cost-effective way and Airbnb offers on-demand hospitality services across the globe. The power of on-demand apps is gaining momentum for a better tomorrow.
Cloud Computing Integration Will Pick Up Pace
Cloud is no longer a futuristic move. It is already popular and will increase its spread in 2020. Cloud-based services are playing a significant role in developing mobile apps – be it iOS, Android or any other.
Today's cloud computing integration services are assisting mobile apps to store a huge amount of data effectively and undergo complicated tasks with the utmost security and cost-effectiveness. There would be an increased collaboration, productivity, storage capacity, user holding, restructuring of operations once cloud computing plays a role in mobile app development. And that is what the coming year will showcase!
Cloud platforms like Dropbox, AWS, etc. have empowered apps to run directly on the cloud. The year to come shall see quantum computing, hybrid cloud solutions, and development of cloud services, as this technology rules over the mobile world.
Enterprise Mobile Management (EMM) And Application Performance Management (APM) Will Gain Popularity
In any enterprise mobile app development procedure, there are two big names i.e. enterprise mobile management and application performance management. EMM has empowered businesses to enable mobile devices with the utmost security. The coming year shall witness newer trends in EMM that shall ensure complex level app security and maintenance of mobile devices.
APM, as mobile metrics, is all set to boost the complete performance of the apps. It is increasingly being used by QA teams, to test the app performance process.
Impact Of 5G Technology Will Be Powerful
5G technology is one of the hottest trends for 2020, in the mobile app development domain. Majorly, owing to the high speed that is almost 100 times faster than the 4G network, the 5G network will witness a boom in business performance. There will be multiple shifts from 4G services to 5G wireless networks, globally.
5G, in the year 2020, will also cater to increased data security, speed, 3D gaming, AR and more. 5G capable chips will be launched by huge organizations. App developers will also upgrade their design and development skills to match up to expectations set by the 5G network.
AI Will Make Mobile Apps Smarter And Effective
AI with mobile apps isn't new now; it has brought in a lot of savings in time, efforts and costs for mobile app developers. AI is coming up with newer trends that will empower mobile apps to perform better and bring in increased user satisfaction.
AI is getting integrated into the company's native apps. The year 2020 shall witness novel trends like AI-enabled chips, automated machine learning, AI automated DevOps, interoperability among neural networks. AI shall be leveraged by virtual personal assistants, IoT, cybersecurity and intelligent apps.
We Observe Mobile App Development Trend Higher And Higher
Observing all these mobile app development trends, it seems the mobile industry is going to soar new highs in the year 2020. There will be newer tech developments, newer challenges and a lot to wait for. Understanding these trends and analyzing them, with the help of an ideal IT solution and service provider, would surely help, prior to taking a big plunge into implementation.
After all, mobile apps are set to bring the world closer and bind us together. It is way more than just building apps, it is building a successful business!
SPEC INDIA, as your single stop IT partner has been successfully implementing a bouquet of diverse solutions and services all over the globe, proving its mettle as an ISO 9001:2015 certified IT solutions organization. With efficient project management practices, international standards to comply, flexible engagement models and superior infrastructure, SPEC INDIA is a customer's delight. Our skilled technical resources are apt at putting thoughts in a perspective by offering value-added reads for all.