SPEC INDIA – All Set To Achieve ISO 27001 Certification In Line With GDPR Compliance
As a single stop IT partner, SPEC INDIA has been spreading its wings in the Europe region, with increasing clientele leveraging the IT services and solutions offered. Our sustained business growth offered to a diversity of customers, especially in this geography, has been through accelerated and cost-effective software development solutions.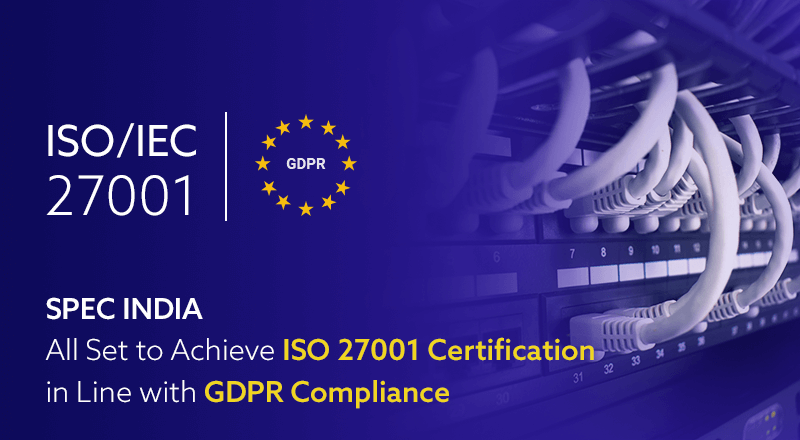 Our client's privacy and security is our prime forte and hence, to abide by the GDPR standards are highly significant for us. According to the EU GDPR, organizations must follow suitable rules, measures and procedures to guard the personal data they have.
As such, there is no external organization or certification that helps to comply with the GDPR rules and regulations. ISO 27001, as the international norm for information security, offers an apt and cost-effective starting point to fulfill both – the technical and operational requirements to diminish chances of a data breach and compliance with the GDPR norms. Organizations that achieve the ISO 27001 certification are supposed to be on the right path to comply with GDPR standards.
With a focus to comply to GDPR rules and regulations, we @ SPEC INDIA have geared up for achieving ISO 27001 certification in this year. We aim to get the certification by the last quarter of 2019.
Key Highlights Of ISO 27001 Certification
The ISO/IEC 27000 family of standards assists organizations to keep information assets protected.
Here Are Certain Key Organizational Benefits That ISO 27001 Brings Along:
Fulfilling needed measures for GDPR data security compliance
Security of all personal and corporate information
Lessen, manage and monitor risks and data security warnings
An air of alertness regarding information security within the organization
A Peep Into How ISO 27001 Can Help To Achieve GDPR Compliance
Handling people, processes and technology
Encryption of data
Risk calculation
Business endurance
Testing and assessments
We plan to accomplish our organizational vision with the active participation of our senior leaders, quality team and management. Along with ISO 27001 certification, our focus on complying to GDPR norms is well-planned and firm. As an ISO 9001:2015 company we ensure process-driven approaches in all our delivery & quality assurance practices and testing; ensuring quality at the helm of every project.