Top 10 Salesforce Competitors Popular For CRM Implementation
Salesforce CRM has undoubtedly, been a popular global leader in the CRM software category. It occupies the numero uno position in the CRM marketplace. Multiple organizations, belonging to varied sizes and segments have been leveraging Salesforce to attain the best results.
Salesforce is perfect for organizations with huge infrastructure, budget, and data storage capabilities. But what about organizations that need a different setup? How would business segments with a smaller size operate? Will they be able to work effectively with the heavy feature load and costing that Salesforce offers? Setting up Salesforce with its exhaustive features and heavy pricing model isn't feasible for all. There could be complexities and hurdles that may not prove beneficial for businesses.
Just the way, there is an alternative to everything in life, Salesforce CRM also has its own chunk of competitors who fit the bill for many. The list of Salesforce competitors is a big one, with their own set of features to shine. Before we understand why analyzing these alternatives of Salesforce is necessary, let us quickly understand Salesforce first.
Salesforce – An Overview
Salesforce CRM – World's #1 CRM. Single Source of Truth. Fast Time to Value. Scalable and Flexible. Trailblazer Success and Community.
Salesforce is a popular American cloud-based CRM organization that empowers organizations to make the most of cloud technology for the best of collaboration between customers, partners, and prospects. The Salesforce CRM comprises of different sectional compartments like Sales Cloud, Commerce Cloud, IoT Cloud, Analytics Cloud, etc.
You could connect with your clients, create meaningful relationships, come up with innovative ideas, solve issues with ease and speed, attain maximum revenue, and go to market with lightning speed. As an integrated CRM solution, Salesforce offers a unified and shared view of customers to the whole organization with a personalized and flexible experience for clients.
Salesforce CRM Features:
Increased client dependability, satisfaction, and retention
Getting and closing more leads with speed
Contact and opportunity management
Monitoring and managing a business from anywhere, anytime
Detailed reporting and analytics
Workflow creation
Also Read: What Does A Salesforce Developer Do? Roles, Responsibilities, Skills And More
Why Explore Competitors To Salesforce?
Salesforce has been a true CRM leader, no doubt about that. But it is huge and may not be approachable or feasible for small and medium-sized businesses. Some may not be able to afford the pricing models of Salesforce, some may not fit the workflow requirements that it offers. And that is where the need for analyzing Salesforce alternatives comes into the picture.
Sometimes, organizations don't need too much. They may want to go for an alternative to Salesforce that may offer limited functionalities that suit their business model and budget. They may need a more personalized focus on different ways and means to improve customer satisfaction. These businesses ask for individual focus on their functional needs to enhance client satisfaction and grab maximum market revenue.
At such times, analysis of the leading competitors of Salesforce can be of great significance.
Salesforce Alternatives: Key Points To Consider Before Making A Choice
As we explore the Salesforce top competitors, it is important to understand what to look for in the Salesforce competitor. Each business, in its own sense, has a unique way of working and needs a different customer relationship management strategy. Hence, the following are the factors that must be kept in mind while choosing the best Salesforce alternative for your organization:
Reporting and analytics – data-driven decision-making for the apt strategy development, a quick analysis of information in an intuitive manner
Customization – Personalizing communications and marketing campaigns for a better client experience
Client Support – Maintaining relations with existing customers and working towards attracting more prospect
Simplicity and Ease of Use – Lesser learning curve, limited features that suit your business model
Implementation Assistance – Comprehensive support while setting up the solution, training, and implementation
Inbuilt Tools – Collaboration tools, task management tools, notifications, alerts, and project tracking tools
Free plans or trials for a kick start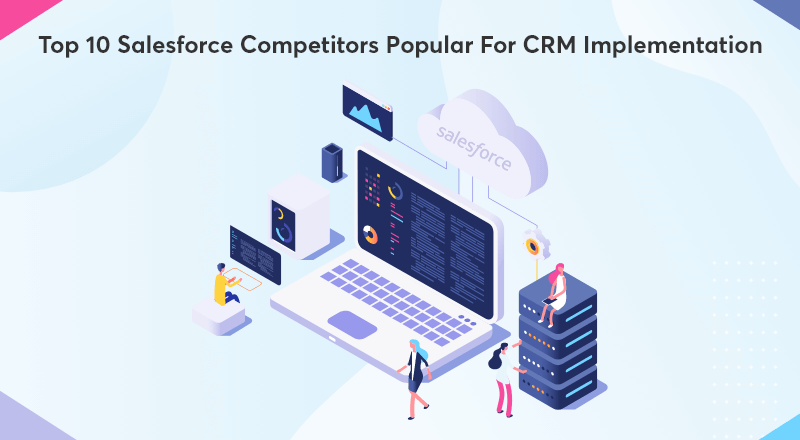 Top Salesforce Competitors To Choose From, For Your CRM Needs
Zoho CRM
Freshworks CRM
HubSpot
Sugar CRM
Zendesk
Pipedrive
Keap
Bitrix24
Vtiger
Nimble CRM
Zoho CRM:
Zoho CRM is one of the foremost contenders for Salesforce alternatives. It is a popular CRM software that assists in creating long-lasting client relations with its salient features. It offers tailor-made solutions for all types of businesses, especially SMBs. The list of comprehensive features that it offers is affordable and accurate. There is complete documentation available online which helps easy setup and learning. Zoho offers great integration capabilities with other chat and project management software solutions and technologies.
Key Features:
Committed mobile apps and dashboard with AI capabilities
Notes addition, tag organization, group creation
Sales activity gamification
Marketing automation
Monthly billing cycle
Flexible, cheaper, easier to learn with the least dependency on the IT department
Freshworks CRM:
Freshworks CRM is a leading online CRM software solution that has effective modules like the sales module, marketing module, etc. for the best customer relationship management. It is considered an apt Salesforce competitor because of its competence to serve businesses of all sizes and segments. It is an effortless-to-use software in which there is not much need for intensive training. Its feature depth functionalities attract businesses since it comes out as an affordable and effective tool.
Key Features:
Pipeline management
Customizing of roles, fields, and modules
Task and workflow automation
Seamless integration with its marketplace, APIs
Email consolidation and inbuilt phone facility
Contract management tools
HubSpot:
HubSpot is a robust, easily usable, powerful CRM tool that comprises of different functionalities that are ideal for managing customers and effective working of teams. It helps in maximizing revenue, increasing sales, saving on time and efforts, and engaging in conversation intelligence and sales analytics. It offers different marketing tools, email services, and forms to increase customer traffic and sustain already existing customers. There are content management functionalities that allow website creation for clients.
Key Features:
Reporting dashboards
Data automation and workflow extensions
Simple, easy to use, and implement
Conversion of emails to templates
Two-way sync option for all calls, emails, meetings, etc.
Predictive lead scoring
Sugar CRM:
Sugar CRM is an open-source, customizable CRM platform that is suited for huge businesses that showcase a variety of functionalities. It is considered one of the ideal alternatives to Salesforce. It operates with ease amidst different mobile devices and tablets. It is easily integrable with your current IT environment through either SaaS or on-premises infrastructure. It is apt for SMBs, marketing agencies, sales teams, and customer service departments.
Key Features:
Customizable, flexible, and stylish
An intensive list of features and hence for bigger operations
Detailed documentation, webinars, guides
Effective customer service focus
Multichannel marketing with AI capabilities
Powerful dashboards and customer support tools
Zendesk:
Zendesk is a leading Sales CRM tool that is well known for its robust API features and hence is best suited as one of the Salesforce top competitors. Zendesk is fit for small businesses, startups, developers, client support, and eCommerce functionalities. It offers great integration capabilities, a set of APIs, and SDKs to offer developers the best of full stack experience. It converts the data into different reports that offer insightful information. It helps in increasing the productivity levels and processes involved in the organization.
Key Features:
Email automation, tracking, and notifications
Personalized experience through AI-enabled bots
Live chat, messaging, and voice feature
Creation of own apps with Zendesk Apps framework
Pre-designed dashboards for a detailed evaluation of sales data
Data driven solutions with complete analytics
Pipedrive:
Pipedrive is one of the preferred choices amongst the Salesforce competitors lists. It is multi-purpose and simple, something that suits all types of businesses – startups, SMBs, and large businesses. It provides an effective automatic system that facilitates sending and receiving emails and manages tasks. Based on the SaaS model, this tool offers CRM competencies for various activities like lead management, communication tracking, AI-based sales monitoring, etc. It helps in the maximization of sales with the availability of the best features.
Key Features:
Customization of chatbots
Easy data migration or import from different data sources
Good support for audio recording and geo-targeting
Easy management of leads and communications
Robust security policies
Intuitive, simple, flexible dashboards
Keap
Keap is a favored choice for CRM systems since it is easy to manage and offers automated functionalities in a flexible manner. It offers complete functionalities related to sales, marketing, and eCommerce. It is considered best for business segments that have their technology knowledge upright. It offers supreme client support facilities with live demos, training schedules, and thorough documentation. There is a personalized approach for all interactions among stakeholders.
Key Features:
Sales pipeline management
Insightful reporting and analytics
Cost-effective, simple, and scalable across different channels
Quick implementation procedure with a stringent focus on KPIs
Round-the-clock customer support and chat service
Customization of reminders, notifications, email automation
Bitrix24:
Bitrix24 is a popular CRM tool that offers different functionalities pertaining to projects, tasks, and documents in a unified environment. Its key USP lies in the variety of Gantt charts, and Kanban boards that it offers to portray data in desired formats. It can cater to several users, customers, and sales channels and automate processes like email generation, social media marketing, etc. It is a SaaS-based and self-hosted solution that operates seamlessly for any type and size of business. It helps big time in daily task management and monitoring.
Key Features:
Automation of sales funnels and management of communications
Seamless working of campaigns and integration with email channels
Easy synchronization with email portals and calendars
Contact centers with multiple channels
Document builder
Visual web builder interface
Vtiger:
Vtiger is a comprehensive CRM solution that encompasses different communication mechanisms. It is considered good for small business segments since it is apt for smaller business workflows and insightful. It is free to use and permits up to 10 users. It makes use of SMS as its primary communication media. There are a lot of salient features that showcase the goodness of Vtiger – tailormade reports, pipeline management, etc. Communications are streamlined and more organized in sales and marketing activities.
Key Features:
Faster, effective, and secure sales activities
Insightful sales reports and dashboard
Simplified and coordinated communication
Robust automated features for better efficacy
Affordable and easily accessible for small business users
Pipeline management
Nimble CRM:
Nimble CRM is a great Salesforce alternative and a SaaS-based platform that is ideal for smaller tasks and small business units. This tool easily collects, sorts, and monitors information in an effective manner. It has a good range of sales and marketing processes though not elaborate, but sufficient for small businesses. There is a single pricing plan that works best for all and there are no further confusions in terms of which plan to enjoy. Nimble CRM facilitates its users by letting them work freely in a physical environment through mobile apps or within web browsers.
Key Features:
Easy management of sales pipelines
Calendar appointment and task scheduling
Leveraging sales intelligence through reports
Deal forecasting and contact breakdown
Easily works with other software like Google Apps, Office 365, etc.
Ideal for startups, small and large businesses, Gmail/Outlook users, etc.
Detailed contact profiling and marketing campaigns
Salesforce Competitors – Wrapping It Up
As the Salesforce Competitors List goes on and on, there are increasing number of options that businesses can choose from, while selecting their Salesforce competitors. The parameters that we have mentioned above play an important role in deciding the best Salesforce alternative for your business. It is finally the organization's call to choose their alternative to Salesforce.
Salesforce has been a CRM leader and there is no looking back. But as we say – 'Change is the only constant', the above list of competitors to Salesforce is an interesting one and an increasing number of business units are leveraging them all. CRM is all set to spread its wings amongst almost all industry segments and business domains, thanks to Salesforce and the competitors of Salesforce!
SPEC INDIA, as your single stop IT partner has been successfully implementing a bouquet of diverse solutions and services all over the globe, proving its mettle as an ISO 9001:2015 certified IT solutions organization. With efficient project management practices, international standards to comply, flexible engagement models and superior infrastructure, SPEC INDIA is a customer's delight. Our skilled technical resources are apt at putting thoughts in a perspective by offering value-added reads for all.