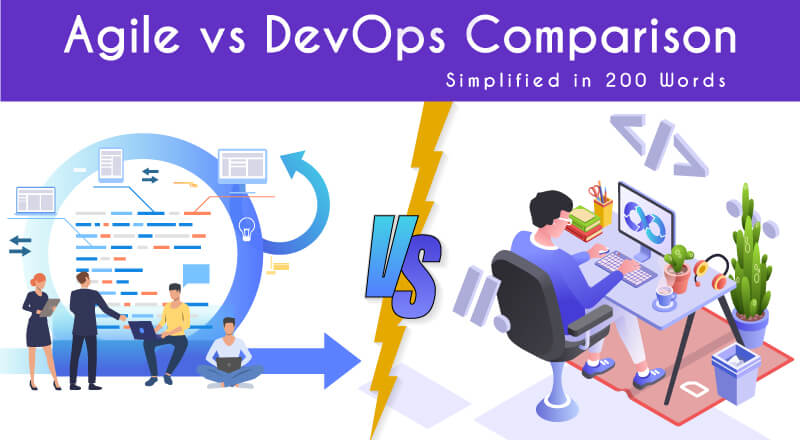 Agile and DevOps are two different software development methodologies having a similar goal – to build software faster with maximum efficiency.
Agile is an approach to software development for developing high-quality software frequently in an iterative manner.
DevOps is considered as a logical continuation of the Agile journey. DevOps represents a work culture to bridge a gap between development and operations teams to shorten the development time and build high-quality software.
Key Differences:
| | | |
| --- | --- | --- |
| Methodology | Agile | DevOps |
| Key Practices | Scrum, Kanban | CI, CD, CT |
| Target areas | Development | Development and Operations |
| Focus | Iterations, quality, and speed | Collaboration, integration, and speed |
| Scope | Specific | Unlimited |
| Role | Scrum Master, Product Owner | DevOps Architect, DevOps Engineer |
Similarities:
Both designed to improve quality and increase business productivity
Promotes shared responsibilities
Customer-focused development
Faster software delivery and flexibility
While Devops targets more deployment and collaboration, agile mainly focuses on project management to develop software faster.
Agile makes development cycles more efficient and DevOps enables 'Continuous Everything' culture.
Agile-backed DevOps is popular among organizations to leverage Agile's faster development and DevOps's faster deployment to build software.
Both can work together to maintain software quality and speed.
Agile enables DevOps culture to innovate and deploy faster.
A Good Read: Agile or DevOps?