What Is Business Intelligence Dashboards? Simplified In 200 Words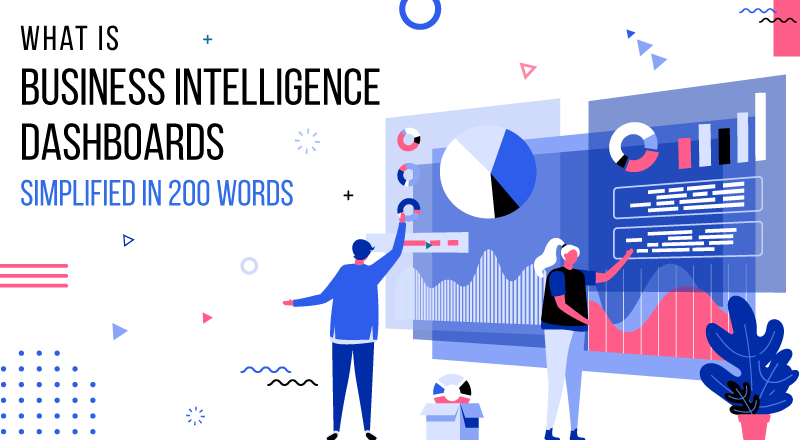 A Business Intelligence Dashboard is a data visualization tool that shows on a sole screen the prominence of business analytics metrics, key performance indicators and vital data points for an organization, department, team or procedure.
Dashboards empower businesses to identify and analyse positive trends related to a wealth of business activities while isolating and correcting negative trends for improved organizational efficiency.
Dashboards improves efficiency by serving up real-time data, allowing you to make informed, accurate decisions that will catalyse your success.
The central and transportable nature of BI dashboards offer access and analyse invaluable business insights from an assembly of devices round the clock.
Features
Customizable interface and competence to extract real-time data
Fuelled by business questions
Focus on presenting operational and analytical data
Automates data collection
Presents interactive data visualization
Purpose
To assist business users take better-informed choices by facilitating them collect, combine, analyse and visualize their data, importantly.
Streamlining a complex analysis of enormous amount of data, to avoid losing out on any trend or pattern.
Based on the area of use, Dashboards could be strategic, analytical and operational. Depending upon area of work, dashboards could be marketing, sales and executive.
SPEC INDIA, as your single stop IT partner has been successfully implementing a bouquet of diverse solutions and services all over the globe, proving its mettle as an ISO 9001:2015 certified IT solutions organization. With efficient project management practices, international standards to comply, flexible engagement models and superior infrastructure, SPEC INDIA is a customer's delight. Our skilled technical resources are apt at putting thoughts in a perspective by offering value-added reads for all.