Best 15 AIOps Tools: A List Of Top AIOps Tools
A few years ago, Gartner, a global research and advisory firm, predicted that traditional IT management procedures will see a major change in the coming years. The present IT environment is data-driven, distributed, and constantly changing. Organizations felt a strong need to advance their IT ecosystems to be able to cope up with today's dynamic, fast, and hybrid environments.
It is quite impossible to manage the volume, velocity, and variety of data with traditional practices in today's IT background. Gartner coined the term "AIOps" to define the use of AI and machine learning in IT operations. Since then, AIOps has become a buzzword in the tech industry and organizations are taking the help of Machine Learning and Artificial Intelligence (AI) to improve IT operations.
According to Gartner, large enterprises' exclusive use of AIOps and digital experience monitoring tools to monitor applications and infrastructure will rise from 5% in 2018 t0 30% in 2023.
Let's see what AIOps is and the top AIOps tools available in the market.
What Is AIOps?
The full form of AIOps is Artificial Intelligence for IT Operations.
Gartner defines AIOps as the application of machine learning (ML) and data science to IT operations problems.
Put simply, AIOps combines big data and artificial intelligence to automate and enhance IT operations that include performance monitoring, process automation, dependency management, anomaly detection, event correlation, IT service management, and analysis.
"IT operations are challenged by the rapid growth in data volumes generated by IT infrastructure and applications that must be captured, analyzed, and acted on,"

-Padraig Byrne, Senior Director Analyst at Gartner.
AIOps is a broad term and gives IT Teams a real-time holistic view of the entire IT infrastructure. With the use of AI and machine learning, AIOps not only simplifies IT operations but also predicts issues that are unforeseen, resulting in proactive management of digital services. The concept is being explored by IT Ops teams and the marketplace of AIOps is still evolving. But, even today, many AIOps platforms are available in the market.
Let's talk about popular AIOps tools that help analyze a large volume of data quickly along with early and proactive identification of issues. This helps IT operations management accelerate problem resolution and improve overall performance and availability.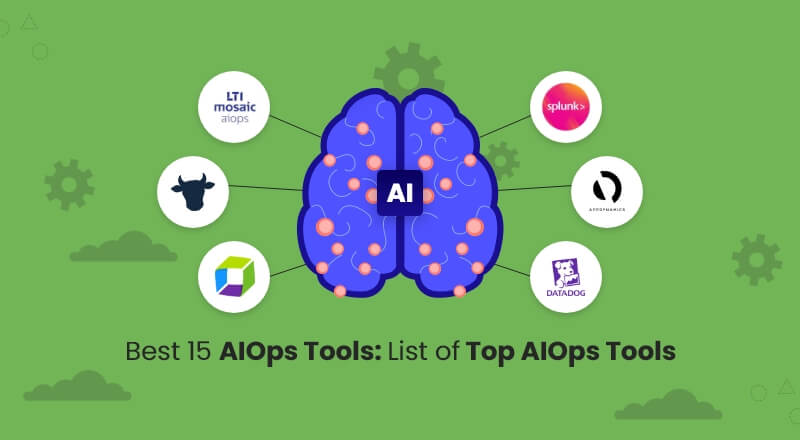 Popular AIOps Tools: Here Are The Top 15 AIOps Platforms
Splunk
Moogsoft
Datadog
Instana
Dynatrace
AppDynamics
BigPanda
PagerDuty
LogicMonitor
Mosaic AIOps
ScienceLogic
Zenoss
Watson AIOps
Netreo
OpsRamp
Let's explore each one by one.
Splunk:
Splunk is an American technology company based in San Francisco, California. Splunk is one of the leaders in the AIOps tools market and popular for its analytics and infrastructure monitoring. It offers a range of software products and services that are widely used in searching, monitoring, and analyzing machine-generated data. They have established themselves as a leader in application performance monitoring (APM), security analytics, compliance, infrastructure monitoring, and AIOps.
Splunk has a broad range of capabilities that continue to evolve in AIOps.
It has been ranked No. 1 in Gartner's report, Market Share Analysis: ITOM, Performance Analysis Software, 2019.
It is one of the representative vendors in Gartner's Market Guide for AIOps Platforms as a Domain-Agnostic AIOps platform.
Splunk is a leading AIOps platform that offers end-to-end service management, advanced analytics, predictive management, and complete visibility of the cloud platform
Moogsoft:
Moogsoft is a popular AIOps platform offering services that help streamline IT operations. Moogsoft is known for its monitoring tools that allow teams to prioritize incidents, ensure uptime, and quickly address issues, resulting in increased agility and reduced risks.
Real-time AI algorithms of Moogsoft AIOps help ITOps and DevOps teams focus on real and urgent issues rather than noisy alerts. It lets you create a virtual Network Operations Center (NOC) using the Moogsoft Situation Room to collaborate in a central place. With the help of AI, it correlates important alerts and combines them into actionable situations. It is also called MOM – Managers of Managers.
AIOps helps eliminate human errors and automate the entire resolution workflow so that team can provide continuous service assurance across entire organizations.
Founded in 2012 and based in San Franciso, Moogsoft is a top AIOps platform with different monitoring and controlling tools.
Datadog:
Datadog is a monitoring and security platform for cloud applications. This SaaS-based AIOps platform offers end-to-end traces and monitoring of servers, databases, tools, and services. It ensures availability, best user experience, and 360-degree observability of your applications, infrastructure, and systems.
See inside any stack, any app, at any scale, anywhere – this line sums up what Datadog offers to the organization.
It is widely used by organizations of all sizes to automate infrastructure monitoring, application performance monitoring, and log management. At present, the company supports over 350 integrations out-of-the-box. It is one of the successful and well-known AIOps tools.
Instana:
Instana is a fully automated Application Performance Management (APM) solution. In November 2020, IBM announced an agreement to acquire Instana as a part of their investments in big data and AI platforms.
It is a German-American software firm that provides solutions to manage microservices and cloud-native applications. It enables IT and DevOps teams to identify and resolve issues in no time by tracing each request and ingesting all key metrics.
Instana offers complete enterprise observability that includes APM (application performance monitoring), website monitoring, cloud and infrastructure monitoring, and microservice monitoring.
Dynatrace:
Dynatrace is a top player in cloud monitoring. It is an American technology company providing AI-based solutions to monitor and optimize application performance, operations, infrastructure, and experience.
In 2021, Gartner named Dynatrace a leader in APM for the 11th consecutive time in its Magic Quadrant for Application Performance Monitoring.
It has achieved many industry recognitions that include the #1 observability platform by G2, the best overall AI-based analytics company by The AI Breakthrough Awards, and one of the top companies for digital performance management by Constellation Shortlist.
Many companies use Dynatrace to modernize and optimize cloud operations, increase productivity, and deliver the finest digital experience.
AppDynamics:
Gartner named AppDynamics a leader in the 2021 Magic Quadrant for APM for the 9th time. AppDynamics is a leading APM and ITOA (IT operations analytics) company based in San Francisco. It is acquired by Cisco in 2017.
AppDynamics is a very popular APM solution that manages the performance and availability of applications across cloud computing environments. It offers end-to-end visibility and real-time monitoring that help prioritize what's important so that decisions and actions can be taken immediately.
It is used by the world's renowned brands and many large-scale enterprises to manage their IT environments. Core products of AppDynamics use AI/ML to help get complete visibility of the entire business domain and reduce the overhead of IT operations that are responsible to run the business.
BigPanda:
We can say that AIOps is the next-gen of ITops. BigPanda offers event correlation and automation solutions that are powered by AIOps. It is domain-agnostic AIOps that help IT and DevOps teams to continuously deliver better by preventing outages and detecting issues that impact performance.
It was founded in 2012. As more and more organizations are moving to cloud, AI-based solution like BigPanda helps manage IT environments by using ML to spot problems and identify root cause in real-time. It automates manual actions of incident response and correlates data from monitoring, topology, and change tools into actionable insights.
PagerDuty:
PagerDuty is an American cloud computing company popular for its SaaS incident response platform. With the use of machine learning and automation, it helps prevent downtime and identify issues and opportunities in real-time. This software integrates seamlessly with applications like Slack, AWS, Zendesk, Atlassian, New Relic, and much more.
This real-time incident reporting software is used by thousands of world-famous brands worldwide that include Scribd, Vodafone, Zoom, Dropbox, BlaBlaCar, Trustpilot, The Telegraph, DataDog, Evernote, yelp, IBM cloud, and many others.
LogicMonitor:
More visibility means more opportunities and reduced risks. LogicMonitor is a fully automated, cloud-based infrastructure monitoring platform to manage IT operations.
With more than 2000 pre-configured integrations, it offers full visibility of on-premise servers, cloud, and network monitoring – everything in a unified platform. It is equipped with AI-powered capabilities and an automated alert mechanism, making it easier to minimize disruptions and driving innovation and agility with AIOps.
Mosaic AIOps:
Mosaic AIOps by Larsen & Toubro Infotech is an AI-led enterprise IT ops platform. It offers enhanced asset monitoring, improved visibility, simplified operations, and automated detection and remediation.
You can manage your IT landscape easily and effectively with Mosaic AIOps that supports proactive operational intelligence. This helps achieve higher uptime and flawless performance for the end-users.
ScienceLogic:
Headquartered in Virginia, United States, ScienceLogic is a software and service vendor offering IT management and monitoring solutions for IT operations. It was founded in 2003 by David Link, Christopher Cordray, Richard Chart.
The company's flagship product, SL1, is an AIOps platform that provides teams with actionable insights to analyze, detect, and resolve issues more quickly and efficiently. It monitors on-premises and cloud-based IT assets to achieve context, visibility, and action across all technologies, data centers, or clouds.
The customer base of ScienceLogic includes popular companies such as Cisco, Liberty, Kellogg's, and many others.
In Q4 of 2020, ScienceLogic was named an AIOps leader in The Forrester Wave: Artificial Intelligence for IT Operations Category.
Zenoss:
Zenoss is the first SaaS-based intelligent IT operations management platform. It enables IT, teams, to gain complete visibility in today's multi-cloud, most complex, dynamic, and modern IT environments. It is named a leader in the Forrester Wave: Intelligent Application and Service Monitoring, Q2 2019.
You name it, Zenoss monitor it. This enterprise-level, full-stack IT monitoring tool provides cloud monitoring, server monitoring, network, storage, container monitoring, application, software-defined networking, infrastructure monitoring, and much more.
It is used by prestigious and global organizations like Citizens Bank, HBO, NASA, VMWare, Cognizant, BBC, Johns Hopkins University, Boston University, U.S Air Force.
Zenoss is also recognized in 2021 Gartner's Market Guide for AIOps Platforms.
Using Zenoss, teams can get reliable, actionable insights from the most comprehensive dataset using machine learning and advanced analytics.
Watson AIOps:
IT leaders indicate that the costliest aspects of downtime are: 53% lost revenue due to unplanned downtime, 47% lost productivity, and 41% negative impact on corporate reputation. Relying on AIOps to manage your IT environment not only reduces cost but also helps in proactive risk management and rapid resolution.
IBM Cloud Pak for Watson AIOps is an AIOps solution that helps IT teams to set up fully automated, observable, and end-to-end IT operations environments. By deploying AI across IT ops, it helps anticipate issues before they occur and help in proactive management. This AIOps solution from IBM can be used for anomaly detection, automated workflows, quick incident resolution, and event management.
Netreo:
Netreo provides teams with the best enterprise-level performance and availability monitoring for networks, applications, and infrastructures.
This full-stack monitoring software allows users to automate and monitor everything across the enterprise in a single dashboard. Netreo can be used by network administrators, system administrators, IT directors, and managers to get complete visibility into their IT ecosystems.
It's very easy to use and enables organizations to leverage AIOps to make intelligent, real-time, and effective decisions.
OpsRamp:
Forrester Wave: Artificial Intelligence for IT Operations, Q4, 2020 report lists OpsRamp as a strong performer among 11 software vendors.
OpsRamp is AIOps powered IT Operations Management software company offering advanced analytics, event management, alert correlation, and rapid resolution. It is used by many popular brands worldwide such as Dolby, Motorola, Epsilon, GreenPages, NEC, NTTDATA, and many more.
This ITOM platform is built to discover, monitor, manage, and automate the world's complex hybrid IT environments. It allows your team to have a complete picture of hybrid infrastructure to proactively manage incidents, automate tasks, and simplify IT operations.
Configurable, transparent, and a wide range of integrations offered by OpsRamp make it easier for the teams to get a holistic view of the entire IT environment.
Top 15 AIOps Platforms: Meet The Demand Of Today's Dynamic IT Environments
By using modern technologies such as machine learning and artificial intelligence, AIOps enables companies to analyze a large volume of data to make powerful decisions. The ultimate goal of AIOps is to improve IT operations, reduce downtime, and mitigate risks.
It can be integrated well with other software such as monitoring, security, logging, and operations management systems. The abovementioned list is not sufficient as there are many tools in the market with diverse categories in this AIOps space.
We hope that this article provides detailed information on the best AIOps platforms available in the market. If you know any good AIOps tool which is not on this list, you can simply add via comments below!
AIOps is the future of IT operations, isn't it?
SPEC INDIA, as your single stop IT partner has been successfully implementing a bouquet of diverse solutions and services all over the globe, proving its mettle as an ISO 9001:2015 certified IT solutions organization. With efficient project management practices, international standards to comply, flexible engagement models and superior infrastructure, SPEC INDIA is a customer's delight. Our skilled technical resources are apt at putting thoughts in a perspective by offering value-added reads for all.