Beacons At Airport: The Next Big Thing In The Airlines Industry
Travel and tourism industry has grown leaps and bounds since the last decade. Being, one of the largest industries, it is always known for adopting innovative technologies to simplify the process and to deliver great customer experience.
And when it comes to the airport (aviation industry), it is providing efficient operations and personalized experience by implementing modern solutions and one of them is Beacon technology.
Beacon technology has the potential to transform curb- to- gate- to- destination passenger experience while increasing the revenue streams.
What Is Beacon Technology?
Beacons are a small wireless device that sends Bluetooth low energy (BLE) signals to the nearby mobile device. It interacts with a mobile application installed on the device and triggers specific actions such as displaying a contextually relevant message on the phone, sends coupons of nearby stores, etc.
So, in an airport environment, these small BLE devices are connected with smartphones and associated mobile app which helps in indoor way-finding, tracking the movements, predicting & serving traveler's need, and much more.
But, Why Did The Need For Beacons At Airport Arise?
Airports have to deal with a number of challenges such as predicting capacity demand, providing enhanced travel experience, improving the operational process, improving staff productivity, ensuring safety and security and much more.
Moreover, passenger numbers continue to rise with each passing year and managing check-in, boarding, security; baggage, etc. without missing their flight is a stressful process.
So, to streamline the process and increase the interactive engagement, beacon technology comes to rescue. It makes the travel easy by connecting with a traveler and delivers personalized proximity information in a better way.
How Beacon Technology Can Be Beneficial To The Airports?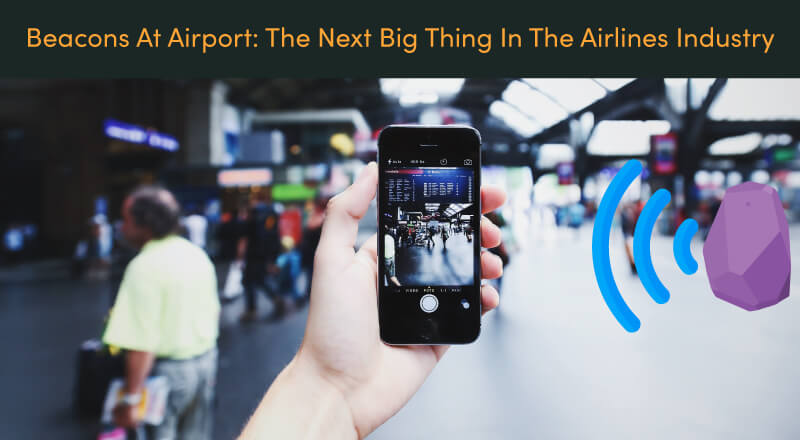 Deployment of a beacon at the airport can eliminate the stress of check-in, security, & baggage management and passengers can have more time to enjoy the lounges, cafes and other airport privileges.
Let's Zero Down Some Of Its Use-Cases:
Provides Real-Time Information
Airports can use the beacon technology and associated mobile app to deliver the personalized airport information at their fingertips, be it updates on flight delays, gate changes or baggage collection.
For instance: If there is any change in the gate when passengers are busy with other stuff, a beacon would ping the respective mobile app with the quick push –notification about the gate information in real-time.
Beacons can save time and energy by helping visitors to find relevant and real-time information quickly and providing new information based on the location as they walk-around.
Helps With The Indoor-Navigation
Airports are massive and confusing. Passengers who have connecting flights may have to rush for a bus to reach another terminal. And when passengers are running late, locating the easiest route of the bus or terminal is a bit tedious.
In such a scenario, if beacons are deployed, it can help to find the route of bus location, gate and terminals easily with the help of indoor-navigation.
Apart from this, indoor-navigation enables passengers to search quickly for nearby airport vendors and services such as restaurants, lounges, shops, ATM locations or family restrooms.
Provides Accurate Result By Gathering Heat-Map
Heat-map helps to understand the user-behavior of the passengers.
Beacons installed at the airport can track the movements of the passengers throughout the airport (where they dwell the longest, which airlines is generally preferred etc.) and generates the data which helps to identify the need of the visitors.
For instance: If there is a long queue at boarding, beacons can ping the airport authority to allocate the additional resources at the busy location. This results in reduced wait times.
Moreover, the data generated through beacon helps to build predictive models, and enable to plan the better layouts (retail, dining and entertainment layouts in line with passenger's interests) to provide a better experience.
Sends Personalized Promotional Offers
Depending on the visitor's airline profile, the beacon can trigger contextually relevant messages, personalized deal (eg: restaurant discounts, Wi-Fi passes, upgrades, etc.) to the passengers who are nearby. Influencing customers with the current offers and vouchers helps to drive customer engagement, increase sales or build brand loyalty.
For instance: If travelers arrive early, the beacon can send information about the dining options, along with the coupons for 10% off on the meals.
Hassle-Free Baggage Management
With the help of beacon, airlines can even track the luggage of the passengers. When the passengers arrive, each passenger's luggage can be tagged with airline beacon. Through the respective airline app, the passenger will receive the message, that their baggage has been safely loaded on the flight.
If beacons are deployed near the baggage claim section, they no more have to look out for the electronic board to find at which carousel baggage will arrive. A beacon will trigger the message to the arriving passengers about the carousel and will also inform them about how long they will need to wait.
Moreover, if the luggage goes missing, it can be tracked with the beacon. The beacon solution will drastically reduce baggage loss, increase efficiency and ensure customer confidence.
Real-Time Examples Of The Airports That Are Already Deploying Beacons
Following are the few examples of the airlines and airport who are implementing beacon technology at the airport.
Miami International Airport
Miami International Airport deployed more than 500 Bluetooth data beacons throughout the terminals. MIA airport official app helps to improve passenger experiences by providing personalized updates, directions, offers based on the location. Passengers are able to scan their boarding passes and receive navigation guides which include estimated walk times, real-time flight updates, suggestions of nearby shopping and dining based on the profile.
Virgin Atlantic At Heathrow Airport
Virgin Atlantic airlines provide an electronic boarding pass to the premium passengers who have installed iPhone's Passbook app. Upper-Class passenger heading towards the private security channel would find their boarding pass loaded automatically.
Passengers are able to receive messages and personalized notifications from the beacons. Passengers using the service will receive special offers, such as commission-free currency exchange. These will be the initial few to gain the first-hand experience of iBeacon technology.
JFK airport at New York has deployed iBeacon technology in its Terminal 4 with the goal of providing convenient flying experience by displaying actual wait times at major queues. The beacon also helps in resource allocation to segregate the crowd at the terminal. This functionality offers relevant and timely information to tens of thousands of travelers each day.
Beacons At Airport: How It Can Be A Turning-Point For Airlines Industry?
Beacons at Airport offers myriad of benefits. Some of them are listed below:
Serves as an effective advertising tool
Boost the power of personalization
Increases app-engagement and retention
Enhance the travel experience by reducing the wait-times
Reduces bottlenecks and track the flow effectively
Connects with a customer at the right time
Increases the revenue stream
Mobile and beacon technology can create a connected experience and engage passengers from a single touch point. As it provides an individual approach to every single passenger, it can build up a more personal relationship.
Beacon technology can help in closing the information gaps between airlines and passengers while keeping the guest digitally connected.
Concerns To Look For
Many gates are shared by different airlines. It is not practical for each airline using the same gate to deploy its own beacon.
Beacons are connected with mobile apps, so information can be used to determine a person's location which may result in data privacy issues.
Installation is complex which may lead to more cost.
Smart Technology, Smarter Airports
Right from check-in to the collection of baggage at the arrival, the beacon can offer incredible customer experience. Not only it generates analytics to provide a great experience, but also helps the airport to boost efficiency and profitability.
It provides a win-win situation for both airport and passengers:
The airport can gain valuable insights into passengers, which ultimately helps to achieve business goals through a single piece of technology
Passengers can enjoy more engaging, seamless, and personalized experiences through their ever-present mobile devices.
It has the ability to communicate with the travelers at the right place & at the right time and has the potential to redefine the travel experience.
We hope you have enjoyed the post. We are welcoming your thoughts on How beacons can revolutionize various industries.
If you are looking for Beacons Application Development, get in touch with us.
SPEC INDIA, as your single stop IT partner has been successfully implementing a bouquet of diverse solutions and services all over the globe, proving its mettle as an ISO 9001:2015 certified IT solutions organization. With efficient project management practices, international standards to comply, flexible engagement models and superior infrastructure, SPEC INDIA is a customer's delight. Our skilled technical resources are apt at putting thoughts in a perspective by offering value-added reads for all.