Top 9 Figma Alternatives Ideal for UI/UX Designers
Posted
September 21, 2023
In the world of software development, UI/UX design services form the core of any application, and design tools act as the arms for creating innovative and effective designs. Powered by Adobe, Figma is one such popular design tool that has been a preferred choice by designers for prototyping, interface designing, logo designing, web graphics, website creation, etc.
There are other Figma alternatives that also offer good design capabilities and can be thought of, as design tools. Let us go through some of the popular Figma competitors that have been leveraged by designers, for efficiently creating software prototypes and wireframes. But before that, let us have an overview of Figma.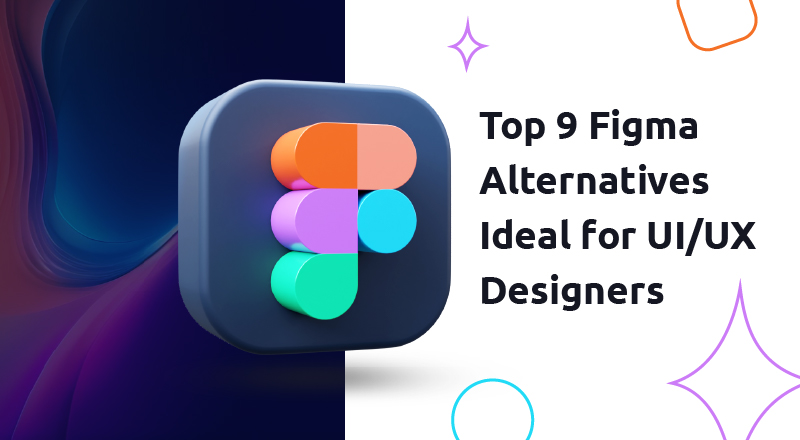 What is Figma?
Figma is an all-in-one design platform and a leading collaborative design tool for building meaningful products. As an effective UI/UX tool, it has made website and digital content designing an easy and productive task by creating prototypes directly in the browsers without having to export them first.
It is accessible directly from mobile devices and hence offers faster performance. Being a collaborative tool, it facilitates the sharing of files with its unique functionalities and features. It also offers organizing the content hierarchy of blogs.
Features of Figma
Ideal for collaborating on designs with other team members
Shared assets and libraries for enhancing designing
Creation of interactive, no-code prototypes
Usability of web version directly from browser
Easy export to a range of different formats
Document sharing, storage, and management
Robust Vector design tools
Design translation into code faster with Dev Mode
9 Figma Alternatives That Are Highly Popular
InVision
Penpot
Adobe XD
Sketch
UXPin
Moqups
Siter
Bubble
Lunacy
InVision:
InVision is one of the preferred alternatives to Figma which is well-known for its simplicity and customization capabilities. It offers web designing, prototyping, prototype testing, cloud-based services, animation, and design.
There are pre-defined custom templates it offers, and it integrates well with other design tools. It provides robust security features for data encryption. It seamlessly facilitates team members to collaborate with their team members through a workspace, in real-time.
Penpot:
Penpot is a popular, open-source, Figma free alternative that provides web designing with cross-domain collaboration. It is a web-based prototyping platform that is independent of operating systems. There is a wide library of templates that designers can choose from.
It is highly compatible with other vector design tools. Since it operates with open web standards, it is easily accessible and executes on most browsers without installation. It empowers multiple users for simultaneous collaboration.
Adobe XD:
Adobe XD is a leading designing tool that offers optimum collaboration and is cross-compatible with many other Adobe software. As one of the alternatives to Figma, it is ideal for users who are known to Photoshop. It offers tools for animation and video rendering and has an active community.
It is easy to grasp with attractive visual content, prototypes, and concept mapping features. There are many free plug-ins that can enhance designs a level further. It creates micro-interactions with its impressive motion effects.
Sketch:
Sketch is a comprehensive and popular Figma alternative that possesses a wide range of collaborative design tools for the creation of static designs, artboards, prototypes, animated interactions, etc. Users can easily share their ideas, store files, manage teams, and garner feedback from them.
It is a cross-compatible, vector-based tool suitable for Mac users. It gels well with tools like Illustrator, Adobe Photoshop, etc. It offers around 700+ extensions with which users can augment their functionality and create more designs.
UXPin:
UXPin is a powerful web designing tool that can create effective mind maps, prototypes, and other exciting visual functionalities. It is ideal for businesses of all sizes and users can share their prototypes with teams for review, with ease.
Data such as names, images, etc. can be auto-generated for testing prototypes with this tool. It creates reliable interfaces by eliminating the communication blocks and lessening silos. There are built-in features that can help in testing prototypes against WCAG standards.
Moqups:
Moqups is one of the known Figma competitors that is a cloud-driven graphic editing software tool for creating mock-ups and prototypes. It is known for its simplicity since it is cloud-based, and projects are available from anywhere, anytime.
It facilitates collaboration between cross-functional teams. There is a multifunctional drag-and-drop playground with all the components needed for designing, planning, prototyping, and collaboration.
Siter:
Siter is a prevalent alternative to Figma, which is completely web-based and facilitates the creation of projects easily without the need for any coding skills. With ample technical support, it offers other insightful design tools like shortcuts and editors.
Users can add custom code for execution once it is published and can import/edit SVG vectors or create them with curves. It is feasible to organize groups and layers after locking, moving, or hiding them.
Bubble:
Bubble is an in-demand Figma alternative that is well-appreciated across the globe and is a no-code platform. It encourages designers to articulate new ideas and transfer them into actual projects with the help of a dev tool and not much of coding.
There is a drag-and-drop editor with a strong customization panel and JavaScript plug-ins that can help in extending the projects. There are tools apt for developing multi-user, interactive apps for mobile web browsers and desktops.
Lunacy:
Lunacy is a Figma free alternative, a collaborative design software tool that allows users to create designs without any Internet connection. As a cross-platform vector graphics editor and prototyping tool, it offers access to multiple free and resizable components.
It stores .sketch files in online and offline modes as a native Windows app. Sharing a design with teammates and editing it together is possible with this tool. Designing in real-time is also feasible along with viewing of live comments and exchanges by others.
Figma Alternatives: The Conclusion
As you choose your preferred Figma alternative, there are certain criteria that can help you make the right choice – organizational goals, user preferences, market competition, costing and finance, team expertise, and resource availability. These parameters can be of great assistance in choosing one of the capable Figma alternatives.
Also, here are some of the best practices you can follow to garner optimum results out of the preferred alternative to Figma, that you select:
Design and build templates for different elements
Make the most of all features of the chosen design system
Keep all components and templates in an organized manner
Define proper rules and regulations for better team coordination
Be sure to accept feedback and attend to them
Keep proper documentation
Leverage the power of the Cloud
Test unanimously and rigorously
SPEC INDIA's team of design experts possess over a decade of expertise in responsive web design, product design, brand identity, and maintenance with an extensive focus on user-friendliness and value addition.
From startups to instituted enterprises and from simple logos to complete brand maintenance, we facilitate clients to thrive with affordable, interactive, and eye-catching modern designs.
As a proficient UI UX design company, we offer wide-ranging UI/UX services that incorporate branding, responsive web design, mobile app design, user experience consulting, and promotional designs using modern tools and technologies. Hire our UI/UX designers to incorporate trendy designs and create the best designs that match your expectations.
Avail our UI/UX design services and experience a new-age design world.
SPEC INDIA, as your single stop IT partner has been successfully implementing a bouquet of diverse solutions and services all over the globe, proving its mettle as an ISO 9001:2015 certified IT solutions organization. With efficient project management practices, international standards to comply, flexible engagement models and superior infrastructure, SPEC INDIA is a customer's delight. Our skilled technical resources are apt at putting thoughts in a perspective by offering value-added reads for all.