IoT: Separating Myths From Reality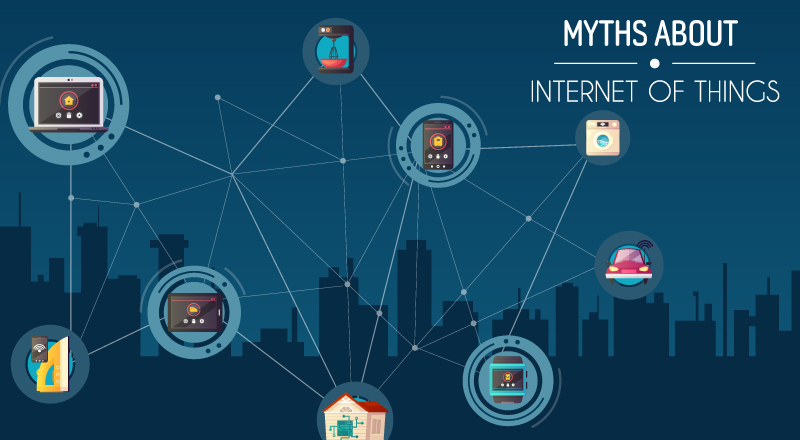 "A Portland couple claimed that Amazon's Echo, a smart speaker randomly recorded a conversation and sent it to someone in their contact list, and Amazon confirmed the same."
Apart from security concerns, the Internet Of Things Solutions has faced a set of serious troubles in recent years. Many questions have been raised on the potential of IoT in recent days.
According to new survey data by Cisco, one-third of all completed IoT development projects were not considered a success.
A number of IoT companies are closed as they could not meet the expectations. (Check the list here)
On the other side:
In 2020, the IoT market is forecast to reach 457.29 billion U.S. dollars, according to Statista.
The Industrial Internet of Things (IIoT) market is predicted to reach $123B in 2021, gaining a CAGR of 7.3% by 2020.
IDC's report on IoT predicts that worldwide technology spending on the Internet of Things to reach $1.2T in 2022, with a skyrocketing CAGR of 13.6% during the 2017-2022 forecast period.
The number of cellular IoT connection is expected to reach 3.5B in 2023, attaining a CAGR of 30%, according to Ericcson.
We have been hearing above-mentioned predictions and failure stories of IoT implementation since industries started adopting it. Predictions represent IoT as 'disruptive' technology that can transform the communication and automation, while, reality, on the other side, says something different.
So, we decided to research more on this and identify the reasons behind these failures. Despite the so-called IoT hype, we are surprised to see that it isn't performing up to the expectations. There are some myths of IoT and we are trying to debunk those, presenting clear, unbiased, and current picture of IoT. Also, there are some actual barriers to effective implementation of IoT across industry verticals.
Internet Of Things: Overhyped Or Underdeveloped?
Nearly every industry will be affected by the IoT
IoT will transform the way we live and work
'Internet of Things' will drive the digital transformation
'Internet of Things' is the next big thing after mobile
IoT is powering the fourth industrial revolution
The web is already flooded with such articles, creating hype around IoT and its implementation. But, behind the scene, the picture is different.
'Internet of Things' is a broad concept that represents 'connected' and 'automated' environment in the home, offices, industries, plants, vehicles with the help of embedded systems, network, control systems, and automation technologies.
In short, the Internet of Things is all about more connected objects and things over the internet, enabling faster communication and automation up to a certain extent. A growing number of IoT devices such as smart home appliances, smart vehicles, and wearable technology are saying a lot about the growth of this technology over recent years.
But, the transition to IoT is very slow. We are not able to see any concrete change IoT has promised to bring into the industry. The end-to-end adoption of IoT still requires specification of when and where IoT devices can be profitable.
Why We Are Not Able To See Any 'Game-Changer' Aspects Of IoT?
IoT is thought to be converted everything into 'smart' – smart home, smart factory, smart cities, smart agriculture, smart manufacturing, smart healthcare, and so on.
Cloud and IoT, AI and IoT are some of the combinations organizations have tried and tested to observe the change. But, what we can say is, IoT is still in its initial stage.
Myths Surrounding IoT: What Are The Misconceptions About IoT?
IoT is all about turning on and off your light through a smartphone
Reality: This is just a small feature of IoT where you can control electrical energy using your smartphone. This is a part of a smart home where devices are interconnected over the internet, allowing you to manage appliances through sensor-based technology to save energy.
IoT 'automates' everything
Reality: This is partially true. The context of this statement lies in the core advantage of IoT which is eliminating the repetitive process and enabling machine-to-machine communication to perform the task.  It does automate the process but, in complex procedures, there's always a need for human involvement because machines can't match human intelligence and emotions.
IoT is all about electronics
Reality: IoT needs the combination of software and hardware that together form a connected environment and make communication speedier than ever. IoT is about making a fundamental shift in almost everything through the interconnected environment which consists of motion sensors, real-time analytics, wireless networks, and embedded devices.
Clearly, IoT devices need storage, computational power, and faster transmission of messages between devices. There are many companies who have implemented IoT-enabled manufacture plant to speed up the delivery and reduce operational cost. Apart from manufacturing, IoT is being used in transportation, retail, energy management, asset management, health care, supply chain, farming, and so on. When implemented right, IoT can supercharge businesses to better serve their customers.
Privacy And Security Are Solved Problems In IoT
Reality: We consider privacy and the internet would never sail in the same boat. But, at present, security is considered as a key factor in digital transformation. In the past, IoT devices faced a lot of privacy and security issues but, awareness and enhancement have changed the picture. Due to the fact that IoT devices deal with data and track all the details to make real-time communication possible, Internet of Things devices are vulnerable to security breaches and often considered as insecure and unreliable.
Over the years, IoT has overcome security challenges but it still needs robust solution and skills to improve security considering every possible viewpoint – system architecture, networks, and data management.
Current Barriers To Effective IoT Adoption:
IoT is more than smart home, automated processes, and wireless networks. Apart from myths, here are some real barriers that are affecting IoT implementation and making it difficult to adopt IoT-enabled architecture in organizations.
IoT still needs clarity at some point as automation is not the only goal
It needs a collaborative approach rather than one-company-does-it-all
Need to train employees to understand the newest workflow and tech models that can reinvent the way they're working
Organizations need to undergo a fundamental change in business models and strategies
Data privacy and protection are considered as one of the key barriers to IoT adoption
IoT implementation is not cost-effective, require a higher cost to implement and maintain
IoT is still in progressive mode and adoption is very slow and that's the reason behind very fewer success stories and information regarding IoT
Ambiguous and ever-changing business workflows lead to issues in IoT adoption
Areas Where IoT Can Be Used Optimum:
Undoubtedly, IoT is considered to have a big impact on how people plan, produce, and sell their products or services. But it has a long way to go. Here are some areas where organizations can unlock the potential of this technology to streamline operations:
Asset management and tracking
Supply chain management
Financial analysis and decision-making
Retail
Manufacturing and product optimization
For example, Harley-Davidson, popular American motorcycle manufacturer, invested in IoT to streamline production and they're observing tangible benefits from it. They are using various devices that can measure performance and monitor the process of different manufacturing equipment.
Amazon, on the other side, implemented IoT-enabled system that improves warehouse efficiency and helps reduce operational costs.
Caterpillar, an equipment manufacturer company, is using embedded systems and sensors to improve efficiency and to deliver superior customer experience.
Certainly, IoT can help businesses improve productivity and increase ROI when implemented with a clear vision and right skill set.
Above examples show the great potential of IoT, but, implementation of IoT requires everything clear right from the beginning like – clear business requirements, need for devices, provision of the network, security aspects, and most importantly financial steadiness to face the consequences of IoT adoption.
Calling It A Conclusion:
Above presented views are based on our curiosity and research on IoT. To present you with the clear picture of this technology, we have applied filters of overhyped market scenarios and predictions. IoT technology has the potential to transform the world but still require many improvements and identification of actual need for automation in business processes.
The adoption of IoT is very slow observing the trend and the current situation. We hope to see a bigger impact of IoT services And IoT solutions to improve productivity and efficiency in the upcoming years.
SPEC INDIA, as your single stop IT partner has been successfully implementing a bouquet of diverse solutions and services all over the globe, proving its mettle as an ISO 9001:2015 certified IT solutions organization. With efficient project management practices, international standards to comply, flexible engagement models and superior infrastructure, SPEC INDIA is a customer's delight. Our skilled technical resources are apt at putting thoughts in a perspective by offering value-added reads for all.