On Demand Grocery Delivery Apps – A Retailer's Guide For Online Grocery Services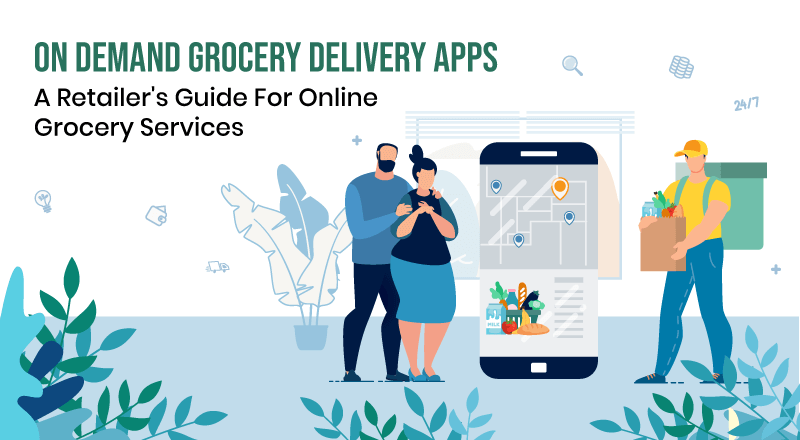 "What was the first thing that crossed your mind when you heard the news of a nationwide lockdown amid the COVID-19 outbreak – Grocery, right?"
Undoubtedly, we all must have run for shopping life-saving essentials. Nobody would have bought a new car or a new flat. Thus, it explains that life without luxury is possible but without food, grocery, or milk is unimaginable.
Apart from panic buying, there were many other things that we have gone through, i.e., standing in a queue, waiting for our turn, and maintaining social distance. For many people, this quick conventional way seemed to be the absolute and the easiest way.
On the other hand, there were hordes of people who started leveraging technology, i.e., using mobile applications to order groceries. Yes, the surge in demand for groceries was not only limited to traditional shopping but has sprouted up in mobile apps as well.
As per the recent study, Walmart grocery app tops the chart in the highest number of downloads, surpassing Amazon on April 5, 2020.
Along with Walmart, mobile apps like BigBasket or Grofers – An Indian online grocery supplier have witnessed a sudden increase in orders. So, what do you think of the habits after COVID-19? Do you think people will come back to normalcy or will people inculcate new habits?
It is pretty sure that post the pandemic, there will be many new changes in lifestyle. And that will ensure dependency on the on-demand grocery delivery app as it is to be believed the safest medium of shopping.
Let's understand in-depth how online grocery application could be in demand in the coming years.
On demand grocery delivery app development has been exponentially growing across the globe. It is the only vertical that will never see a downfall unless something hypothetically replaces food.
Well food, shelter, and clothing will always remain the most essential things in the world. Grocery applications are going to be widely used by the population. In a study, it shows that the US alone could have more than 30,000 million users by the end of 2022.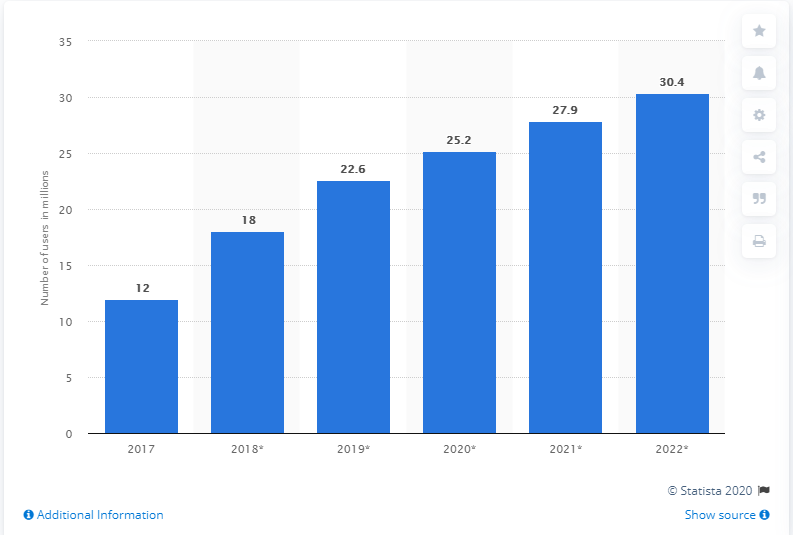 Before understanding the nitty-gritty of online grocery application.
FAQs to predict the demand Of on-demand grocery delivery app:
Why would people prefer online grocery applications?
As said earlier, technology drives the world on the path of making lives easier, availability of goods & services with few clicks, saving time & efforts, and most importantly replacing the conventional way of shopping.
Mobile Grocery applications lure customers with its USPs, i.e., convenience, agile & timely delivery, affordability, and quality products. These are a few factors that play a vital role in mounting up the demand for grocery apps.
Who primarily would be users of on-demand grocery delivery app?
Here millennials, young adults, and urban households are the majority of contributors behind the success of the grocery applications. Also, they seem to be early adopters of the new-age technology.
Mobile devices and apps have made people dependent on technology, which is a good habit if the time is invested in worthy applications. In the busy world, people are conscious about time and they want to minimize the time as much as possible to focus on more productive tasks.
How will people transform more towards online grocery apps post  COVID-19?
It is obvious that people are going to adapt to new changes in their lifestyles post the pandemic. And the outbreak has taught, what is essential and what are avoidables. People will not profusely spend their time buying groceries using traditional methods, instead, mobile apps will become their helping hand.
Hence, it is the right time to build one such grocery application that can be a one-stop solution for all the requirements of the users. This is the right opportunity to attract millions of users to the application.
As you have gone through the questions mentioned above, let's understand how the vertical works:
"Mobile Grocery Application is a vertical that comprises buyers, grocery stores, admins, and executives. The main aim is to facilitate grocery provisions to the order placer within the stipulated time and at affordable rates."
List Of Popular On-demand Grocery Applications
Walmart
Amazon
Grofers
Bigbasket
Kroger
Grocer Pal
Grocery iQ
Our Groceries
Flipp
MealBoard
Big Oven
ZopNow
Nature's Basket
OnDoor
BigMart
There are big names in the lists of grocery apps, but it is important to know what features are required to build mobile grocery applications.
Key Features Of Online Grocery Mobile Applications:
It is obvious that people's perspective towards online shopping would entirely change post COVID-19. And that is the reason there will be a large group of people diverting towards tech-enabled mobile apps.
On-demand grocery apps would be expected to have a huge number of users in the coming years. This led to storing information, for which a sign up is mandatory in the applications.
It could be either social media integration or with the help of email. Social media login would help the newbies to not face any hindrance in the first interaction with the app.
Instead of login in with the help of email or mobile number, which will require OTP, social media will be quite an easy way to register to the app.
Groceries are not only a basket of one or two products, but there are numerous items that add flavor to your recipe. And that is the reason, it is important to integrate search option in the app for easy finding of products
It will not only allow the users to find their preferred products but also enhance the customer experience. Searching features may help in optimizing the taste and preferences of the users. You can leverage it by showing the same or similar products to the user for quick selection next time when they interact with the app.
Building an app that works according to the convenience of users would be highly acceptable in the market. It is important that you keep a close watch on how a better user experience you can deliver.
Customers should be allowed to set the scheduled delivery of the groceries. GPS integration plays a vital role in allowing users to know the exact location of the delivery executive. Also, the user can set the delivery by considering the availability at the place.
Payment Gateway Integration:
COVID-19 has taught us to not touch and maintain social distancing. This very implies in case of payment for the groceries. As digitalization is a trend, integrating digital payments could leave a positive impact on the mind of customers.
Reward Zone: "Who would not like to save money or get rewarded?"
A customer who is entitled to an offer, discount, reward, or coupon would be more than happy to receive it. These are few amazing and alluring ways to attract the customers to your grocery application.
Grocery apps would be having a majority of female stakeholders, and rewarding them occasionally is a perfect way to grab attention.
Reminders & Push Notifications:
An application should not be a virtual software but it should be so advanced that it can act as a helping hand. Yes, if you build an app by including various cognitive technologies that could enable unmatched experience, then your grocery app would stand out differently from others.
Integrating BigData or Machine Learning would monitor the user's journey, taste, and preferences. You can use the data to prepare a list of products that are often used and send them reminders.
Push Notifications & Reminders will help them to know when they are running out of groceries, and when to place an order. This relieves their headache of preparing a list of essentials and placing orders every time.
Asking for feedback or suggestions is the most decent way to communicate and gain the attention of users. The suggestions could be in ratings, reviews, or any other means that could help you to improvise.
Also, if the user will rate the app, there are high chances of the app mounting up the chart and being visible to the majority of the grocery app finders.
Admins have to manage the availability of the products. If there is a shortage of the product, then it is the admin's responsibility to cater to the user's requests.
There are different types of On-demand grocery applications in the market, out of which grocery chain or aggregator app would be the right fit for the product management feature.
Customer Query Resolving:
There will be many queries from the customer's side that needs to be resolved within time, and for that a special chat feature should be enabled in the application. It will enhance the customer experience and will have a high engagement ratio
Admins have to manage payment received from the users. There is a secure way of managing digital payments which not only ensure agile delivery, but also safety against malware threats.
Detailed Information & Trend:
BigData And Artificial Intelligence integration in the mobile grocery application could fetch out vital pieces of information. It will help in analyzing the customer experience, user journey patterns, categories with high & low sales, and many more things.
You can fix the loopholes to deliver hassle-free performance to the users. The insights could solidify the bond between you and your customers.
Acceptance/Rejection of Order:
There should be a separate interface for the delivery executive wherein he/she will be able to manage the upcoming requests. The acceptance/rejection of the requests would be in the hands of executives.
The executive would be able to track the grocery delivery location with the help of GPS integration. Also, it will help them to quickly deliver the grocery to the users.
Communicating with admin or customer can build trust, loyalty, and satisfaction to either party. This will not only enhance the experience but will also grant relief to the mind of the users.
Also, amid the outbreak, you can plan your deliverables by abiding with the government rules and regulation that includes maintaining social distancing, accepting digital payments, without touch delivery, and many more things.
The customer needs constant updates about their groceries or products. The delivery executive will be able to confirm the status of the picking and dropping off the items. This will ensure the safe delivery of the groceries at the right location.
These were the essential features of mobile grocery applications. Now, let's see what type of grocery app could benefit app owners across the globe.
Type Of On-demand Grocery Apps
One of the best examples of this type is – Walmart. There is a single store that manages orders, requests, payments, users, and many more things. It handles the customers in a very sophisticated way. The chain connects aggregators and single stores apps to facilitate the provisioning of groceries.
Building an app that consists of multiple stores for providing groceries at an economical rate is called aggregators' app. It will show users various super and departmental stores that have tied up with the applications.
Users will be able to buy certain groceries, avail the payment method and easily checkout the window by placing an order. The process will be smooth and convenient.
It is a place where sellers can list their stores or grocery products and buyers would place an order for a particular grocery item. The marketplace owner will facilitate a delivery executive to deliver the grocery from the seller to the buyer.
For the transaction taken place, a marketplace owner will charge commission and that will be his/her way of generating income. Also, the marketplace can use different types of ways to lure the customer by offering attractive deals, discounts, rewards, and coupons.
Customized Grocery Mobile Apps:
The personalized apps would give more freedom to the users. The personalization could be in of ways such as:
Listing of products
Setting alarms for reminding orders
Ensuring quality check with barcode scanner
Track their spending
Advantages Of On-Demand Grocery Delivery Applications
Online Shopping Experience:
On-demand mobile grocery apps let you experience the new-age technology with ease and comfort at your couch. You can order groceries round the clock without any hassle.
As you have seen the outbreak of the pandemic, it is very much predictable that there will be a shift in the way of shopping. People will be more active towards online deals and that's where the peak of grocery apps will be seen.
On-demand app – the name itself explains the real-time purchase of groceries with just a few clicks. Obviously, the app will save a lot of time for users by facilitating shopping on mobile devices.
The application contains various categories through which a user will be able to simplify the shopping.
On-demand apps are built considering affordability as a priority. Nobody would want to purchase groceries at a higher rate than normal. On-demand apps will be providing various discounts, offers, rewards, and many other benefits to the users that will help them save a lot of money on their spendings.
Purchase Anywhere & Anytime:
Unlike brick & mortar, mobile grocery apps don't have restrictions on buying essentials. Users can place orders either from their workplace or domicile and receive orders wherever they want.
There should be an eagle's eye on spendings as if you go over budget, it may hamper your monthly spending and savings. The on-demand grocery app constantly lets you know the total cost of the products you add to the cart.
While shopping the conventional way, you may be tempted to buy more than required, which could massively hit your budget.
Price & Product Comparison:
Yes, you read it right! Mobile grocery apps would allow you to compare prices and products from different stores and supermarkets. You can see what other stores are charging for the same product and could select the most affordable from the wide range of product sellers.
It becomes important to know both the benefits and pitfalls of online grocery apps. So let's see what risks are involved in mobile grocery apps.
Pitfalls/Limitations Of On-Demand Online Grocery Applications
As there is an increase in online activity, payment frauds are also increasing daily. Safety and security should be prioritized while doing online transactions.
Similarly, mobile grocery apps include payment gateway integration that will allow users to pay through their plastic cards. The app might store the information and with any malware attack, the data can be at stake.
App owners have to be extra cautious while building apps and have to integrate the safest mode of payment gateway into the app.
Lack Of Touch & Feel Experience:
Many users might not be regular users as they would be more interested in touch and feel the experience. This becomes a major shortfall for app owners as the traditional concept of buying would be more preferable still by a group of sections in the society.
Timely Delivery May Not Be Possible:
Another pitfall that could deter online shopping is the timely delivery of groceries. Usually, people expect to have groceries right at the time of payment and would expect the same with the online shopping.
Understandably, mobile apps might take time in delivery but a delay in delivery than usual would detest the online shopping experience. This leaves a negative impact on the mind of customers and would result in losing a customer.
Online shopping is strictly not a better option for a group of buyers who are expecting or have a habit of bargaining. Mobile grocery apps would offer discounts and coupons but do not allow bargaining.
Return/Refund Process Can Be A Hassle:
This is another hindrance to online shopping that a customer might face. If the customers want to return the grocery, then he/she has to go through a long process.
Scammy Website or Applications:
As a customer, you should be extra cautious while shopping online as there are chances that you might land into a wrong or scammy website or application that may deliver the worst experience.
Every coin has two sides and as we have seen how mobile grocery apps can benefit and also fall short in some aspects, this is the right time as an app owner to build a robust mobile application. An app that can cater to the grocery needs of users without any hassle.
Epilogue
Every business has its own peak and low period, and for on demand grocery delivery app development, this pandemic is a peak period. There will be a majority of the users opting for mobile apps to order groceries and continue to adapt to this habit.
Now, it depends upon you what type of grocery app development, would you prefer. Be it marketplace that comes with both risk and opportunity for gaining more and more customers or aggregator apps that have fewer risks. The idea should be simple and unique with more enticing features.
SPEC INDIA, as your single stop IT partner has been successfully implementing a bouquet of diverse solutions and services all over the globe, proving its mettle as an ISO 9001:2015 certified IT solutions organization. With efficient project management practices, international standards to comply, flexible engagement models and superior infrastructure, SPEC INDIA is a customer's delight. Our skilled technical resources are apt at putting thoughts in a perspective by offering value-added reads for all.