Pentaho ETL Development Services Offer Data a Structured and Innovative Output
Business Intelligence is one of the most popular and indispensable technologies being implemented in almost all industries, all over the globe. With the growing bulk of data in every corner of the industry domain, the need for handling and managing that data is inevitable. Pentaho has been a global leader in the world of BI with a large user community that is happily implementing this wonderful technology.
Pentaho has always attempted to bridge the gap between its users and the technology.  It has been setting trends amongst the various business analytics tools. With a stringent focus on helping organizations extract the best value from their heaps of data, Pentaho BI has been instrumental in giving the best of revenue, productivity, and profitability to organizations. The latest version of Pentaho – 8.0 has emphasized on moving beyond big data to transformation.
With multiple activities being involved with data, one of the first important activities that Pentaho does, with full efficiency and effectiveness is the data integration process – Extraction, Transformation and Load of data. Pentaho ETL Development involves Extraction – E, Transformation – T, Load – L was better known as ETL as a trilogy of processes that are necessary to move raw data from its disparate sources to either data warehouse or a database.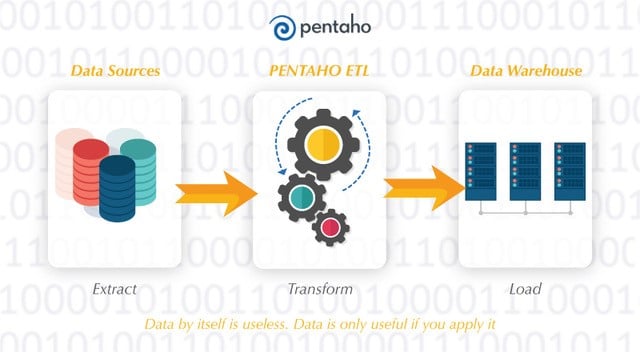 Key Basics of Extraction, Transformation, Loading and How It Works
Pentaho ETL development services focus on the entire process of format, prepare, transfer and load data from a range of data sources onto a proper data warehouse. When organizations work with databases, it is requisite to observe data, format it, and properly load it into data storage systems. ETL are three different activities but are conjoined to form a single process that, in a unified manner, facilitates data preparation and management. Here is an overview of what individually, each process functions as:
This functionality reads data from multiple data sources and extracts the required set of data from it. The basic function of this process is to recover necessary data with optimum use of resources. Extraction of data must be done in such a way that it does not disturb the data sources, their performance, and functioning.
This process involved filtration, cleansing, and preparation of the data that is extracted, with the help of lookup tables, to convert it into the required format. There could be various data combinations that are possible to perform this step. Actions such as authentication of records, the refutation of data and integration of data. After converting data, it can be either sorted, filtered, cleared, standardized, translated or verified for its consistency of data sources.
As an outcome of the entire ETL process, the loading procedures take care of writing the data output – data that is gained after extraction and transformation to a secure data repository, the data warehouse. There are various ways to doing it – many tools go in for physical insertion of each record as a new row in the database table whereas many of them link the processes for each record from the main source.
When Is It Beneficial to Use Pentaho ETL Development Services?
There are certain situations which emphasize on the usage of ETL tools and prove to be useful.
ETL is the pertinent choice
If there are multiple data sources to be integrated
If the data sources are in a varied format
If the process needs a continuous run in terms of hours
If there are pre-built data warehouses existing
7 Basic Reasons Why Pentaho ETL Development Is A Must for Business Growth
ETL Garners Meaningful Patterns & Insights
After the entire ETL process, the output is a set of meaningful patterns and insights that can surely help the businesses make best of decisions and garner the best of output from the heaps of information. It adds value to the data in terms of its authentication, usage, and functioning.
ETL Transforms Assorted Data into A Standardized Format
ETL brings together data from different sources into one place analyses them and transforms them into a format that is unified, standardized and secure. Because of this, the heaps of data that organizations have gets to better use for them and offers them a lot of advantages in terms of meaningful information that can help them visualize further insights for their business.
ETL Helps Derive Business Intelligence from Data
Once the entire process is worked upon, the data that is available is of rich usage to data scientists and data analysts for analysis and business intelligence. Since the data is standardized and valued, a variety of BI activities can be performed upon it for further data visualization, warehousing and reports/dashboards can be extracted based on that.
ETL Is Swift and Simple to Use
As compared to other peer tactics of data management, ETL has proven its worth in terms of simplicity, speed and security. Because of the involvement of graphical interfaces, ETL fastens the procedure of plotting tables and columns amongst source and target databases.
ETL Includes Readily Usable Components
ETL tools contain ready-to-use components namely sorting, merging, filtering, reformatting and aggregating of data. Some of the tools have a seamless integration with BI components hence becoming highly usable for end users.
ETL Handles Complex Transformation with Ease
ETL possesses competence for transforming huge bulks of data with simplicity and authenticity. ETL tools help in simplifying the task by offering different methods of calculation, integration and data manipulation.
ETL Provides Maximized Return on Investment
Implementation of ETL tools saves big time on cost, time and energy thereby helping organizations maximize on their RoI factor.
We @ SPEC INDIA have specialized Pentaho consultants offering Pentaho services including consulting, development, integration, dashboard design, analytics & reporting & other Pentaho ETL development services. Our Pentaho BI Consulting team provides wide-ranging end-to-end solutions, which would encompass data integration, data cleansing, data consolidation and visualization using the Pentaho product stack.
As a contribution to the Pentaho community, we have successfully launched a Self Service BI solution, in the form of a plug-in for Pentaho Community edition users on the Pentaho marketplace for global users and developers. This innovative and enriched plug-in aims to serve as a dashboard module for a business analyst to independently, create reusable widgets/dashboards and is sure to benefit the community with its visually appealing features, dashboards and Pentaho reporting.
SPEC INDIA, as your single stop IT partner has been successfully implementing a bouquet of diverse solutions and services all over the globe, proving its mettle as an ISO 9001:2015 certified IT solutions organization. With efficient project management practices, international standards to comply, flexible engagement models and superior infrastructure, SPEC INDIA is a customer's delight. Our skilled technical resources are apt at putting thoughts in a perspective by offering value-added reads for all.