Pentaho vs Talend: A Head To Head Comparison
Updated
December 7th, 2022
"Without a systematic way to start and keep data clean, bad data will happen." – Donato Diorio
Data has been the crux of all businesses, all industry segments, be it any size, segment, or geography. With technology penetrating all domains, there is unimaginable data getting generated which can yield great results, if handled properly. Not all data is clean or usable or secure. It must be made usable and secure. Duplicate data must be removed, errors must be rectified, private and confidential information must be protected, data must be aligned to make it appropriate for analysis and decision making.
For the best use of data, comes in the processes of ETL and Data Integration. ETL – Extraction, Transformation, and Loading is a trilogy of processes that collects varied source data from heterogeneous databases and transforms them into disparate data warehouses. These processes help in transforming the unstructured data into valuable, structured information. Two popular names in the world of data integration are Pentaho and Talend. Both have been the favorite of many, owing to their salient features.
Before we move on comparing both, let us quickly look at an overview of both.
What Is Pentaho?
Pentaho is business intelligence (BI) software that provides data integration, OLAP services, reporting, information dashboards, data mining, and extract, transform, load (ETL) capabilities – Wikipedia
Originally launched by Pentaho Corporation and currently owned by Hitachi Vantara, Pentaho has been a leading business intelligence and data integration platform. It offers both – an enterprise edition and a community edition.
Pentaho Data Integration (PDI), known as Pentaho Kettle, is the constituent of the Pentaho suite and offers ETL abilities. It is utilized for data migration, data cleansing, real-time ETL, and data warehousing. Pentaho ETL offers ease of use, no-code graphical interfaces, speed, performance, easy collaborations, and modern tools – these few things make PDI well-known and widely-used.
Key Features Of Pentaho:
Low integration time
Great community support round the clock
Scalable and can attend to a huge bulk of data
Great pricing model
Wide variety of data sources, visualizations
Major Benefits Of Pentaho:
Lesser infrastructural cost
User friendly and easy to learn
One-stop solution to all data integration needs
Highly customizable
Can be extended and embedded at multiple places
Organizations Using Pentaho:
JPMorgan Chase
Jnit Technologies
Bank of America
Voice Communications
Kier Group PLC
Aptara and more
Pentaho Alternatives:
Talend Data Integration
Informatica PowerCenter
Apache NiFi
Microsoft SQL
Google BigQuery
IBM InfoSphere DataStage
Cleo Integration Cloud
PieSync
Good Read: What Is ETL Developer? Roles, Responsibilities, Skills, And More
What Is Talend?
Talend is a cloud data integration leader that offers clean, complete, uncompromised data for everyone. It helps you transform your data from a liability into an opportunity. – Talend.com
Founded in 2005, Talend is an open-source software integration platform that assists in effortlessly converting this data into business insights. It offers data integration and data management solutions.
Talend Open Studio is an Eclipse-based developer tool that can create and execute different ETL jobs. There is no requirement of writing any code since it automatically creates the Java code for it. The Talend ETL tool comprises Talend Data Fabric – the only platform that merges governance and data integration to offer highly secure and trustworthy data with ease.
Key Features Of Talend:
Faster development and deployment
Cost-effective and has a great community support
Pre-built widgets for database integration
Offers all requirements under a single solution
Provides integration project support
Talend Benefits:
Ease of use
Reduces data handling time
Highly dependable
Simple learning curve
Strong data integration tools
Organizations Using Talend:
Wells Fargo
Unitedhealth Group
Johnson & Johnson
Accor
Bayer Pharmaceuticals
Calor Gas
DTN
Domino's Pizza
Talend Alternatives:
Informatica PowerCenter
StarfishETL
Dell Boomi
Pentaho Data Integration
MuleSoft Anypoint Platform
Jitterbit
Zapier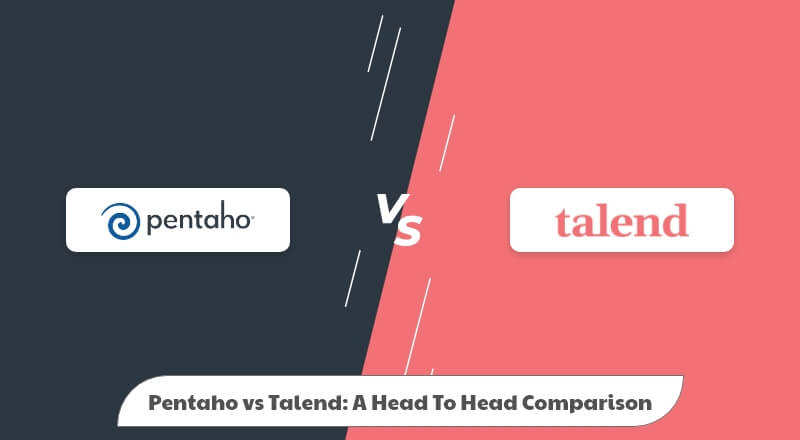 Pentaho vs Talend – A Comprehensive Comparison
As we look upon two of the most popular data integration and ETL tools, here is a direct comparison between the two – Talend vs Pentaho ETL, based on various parameters.
Firstly, here are some of the key features and benefits that both – Pentaho and Talend have in common, making them both the most sought-after data integration and ETL tools:
Similarities:
Robust, dependable, and user-friendly open-source tools
Can be integrated into Java code
Using a comprehensive and user-friendly IDE
Equipped with great documentation and community support
Just like no two technologies are the same, Pentaho and Talend have their own set of distinct characteristics and dissimilarities, here are they:
| | | |
| --- | --- | --- |
| Parameters | Pentaho | Talend |
| Nature of Tool | The commercial open-source data integration tool | The open-source data integration tool |
| Data Quality | Partnership with leading data quality solution organizations and has its own firewall to ensure the security of data | Talend cloud services offer various tools like pattern manager, data profiler to ensure data quality |
| Data Integration | Possesses excellent data integration capabilities, includes migration from the database to the application | Enhances data integration efficacy with easy graphical development |
| Files Storage | Stores file in XML format. Users can store files in personal systems or in centralized databases. | Talend operates at the file system level. Users can store files in the personal system. |
| Connectivity | Wide range of connectivity to vast databases | Limited connectivity to concurrent databases |
| Extent of Support | Targets USA, UK, Asia Pacific regions | Targets more in the USA regions |
| Speed | Pentaho is almost twice faster compared to Talend | Talend is slower as compared to Pentaho |
| GUI | Pentaho Kettle GUI is quite modernized and easy to understand | Talend GUI is a little tough to grasp |
| Approach | Meta driven multi-threaded approach | Single threading code-generating approach |
| Deployment | Needs an independent Java engine to execute on a separate machine | The Java and Perl file can execute independently on any machine |
| Documentation | Supports online documentation | Documentation is in PDF format |
| Support for Platforms | Supports web-based platforms | Supports web-based platforms and iPhone apps |
| Client Segment | Mostly consists of small, medium, and large businesses | Mostly consists of small and medium businesses |
Frequently Asked Questions (FAQ)
Yes, Pentaho is an ETL tool apart from being a popular BI tool with other capabilities such as data integration, reporting, and analytics.
Is Pentaho easy to learn?
Yes, Pentaho is easy to learn since it simple, intuitive and has good community support.
Yes, Talend is one of the leading data integration and ETL tools in the business scenario.
Is Talend Open Studio free?
Talend Open Studio is a free-to-download software that can easily be utilized for data integration.
Is Pentaho still Open source?
Pentaho is now a subsidiary of Hitachi Vantara and it is an open-source platform for data integration and analytics.
Yes, Pentaho Kettle is free of charge.
What is Talend data fabric?
Talend data fabric is a comprehensive data integration platform that combines data integration, integrity, and governance in a single, unified platform.
What is Pentaho Data Integration?
Pentaho Data Integration is a part of the Pentaho Open Source BI Suite and is considered best for data integration and ETL jobs.
Talend Cloud is a comprehensive data integration and management platform, for business and IT to work collectively to provide trusted data all through the organization.
On A Final Note
After the detailed comparison, we can conclude that both have their own set of pros and cons and both are good, robust, user friendly, and trustworthy. Based on the organizational objectives and requirements, a choice between the two can be made. Choose either, it is sure to go great guns. Let the world of data be benefited by Pentaho and Talend – the two big names in the world of data integration and ETL!
SPEC INDIA, as your single stop IT partner has been successfully implementing a bouquet of diverse solutions and services all over the globe, proving its mettle as an ISO 9001:2015 certified IT solutions organization. With efficient project management practices, international standards to comply, flexible engagement models and superior infrastructure, SPEC INDIA is a customer's delight. Our skilled technical resources are apt at putting thoughts in a perspective by offering value-added reads for all.