The $30.8 Billion Figure Of Alibaba's Singles' Day Festival: Why It Is Worth Discussing?
The Chinese conglomerate continues to set benchmarks for the e-commerce companies across the world. Alibaba's Singles' Day, world's largest shopping festival observed a tremendous response globally despite several hurdles such as China-United States trade dispute, cut-throat competition, and tech-dominant environment.
In Numbers: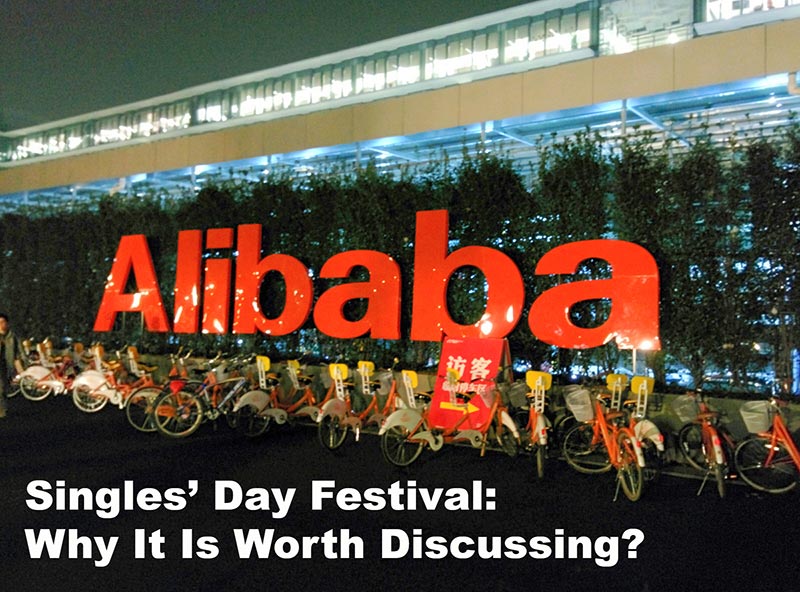 Alibaba's Singles' Day 2018: Ten Years of Global Shopping Festival and It's Just Beginning
November 11, the historic date in the eCommerce industry is celebrated as the world's biggest one-day shopping festival in China and across the globe. Although it is quite similar to Black Friday and Cyber Monday in the USA, this much-hyped shopping festival generated higher revenue than both days combined together.
The company discounts a range of products across its online sales platform and physical stores which includes Taobao marketplace, Hema supermarkets, Tmall store for brands, AliExpress international service, and Lazada in Southeast Asia. Also, some of the largest companies in China used television entertainment spectacle featuring Cirque du Soleil and Mariah Carey to grow their business.
The sale covers most-demanded electronic items like smartphones, TVs and other items like beauty, clothing, furniture, health products and more.
Do You Know?
Founded in 1999, Alibaba is one of the top 10 most valuable and biggest companies in the world. You will be amazed to know that Alibaba is the world's largest retailer with the 9th highest global brand value across the globe.
The 11.11 shopping festival began in 2009 with participation from just 27 merchants and this time, 180,000 brands and 200,000 offline interactive stores participated in this global shopping spree.
The below-mentioned graph depicts the growth of Alibaba from 2013 till 2018.
Let's see what retail giant went through to get the enormous success.
Look Back At Singles' Day: How This Retail Giant Has Grown Since 2009
| | | |
| --- | --- | --- |
| Year | Timeline | Sales |
| 2009 | Jack Ma came up with an idea of creating a shopping celebration | 52 million yuan ($7.5 million) |
| 2010 | Developed tmall.com to support Taobao Mall where companies from China and abroad can sell directly to consumers | 936 million yuan ($135 million) |
| 2011 | Significantly lost awareness of 'Singles' Day' | 5.2 billion yuan ($750 million) |
| 2012 | Taobao was removed from the market due to the issue of pirated or copyright-infringing goods | 19.1 billion yuan ($2.7 billion) |
| 2013 | Jonathan Lu became CEO at Alibaba but stepped aside 2 years later and Daniel Zhang takes over | 35 billion yuan ($5 billion) |
| 2014 | The company went public in September by releasing in the largest IPO ever | 57.1 billion yuan ($8.2 billion) |
| 2015 | Singles' Day online shopping event was celebrated in Beijing | 91.2 billion yuan ($13.1 billion) |
| 2016 | Singles' Day was celebrated in Shenzhen | 120.7 billion yuan $17.4 billion) |
| 2017 | Alibaba made shopathon part of its strategy to connect online shopping with brick-and-mortar stores throughout  China | 168.2 billion yuan ($24.2 billion) |
| 2018 | The company goes global and includes sales from Lazda and the southeast Asian online shopping mall | 213.5 billion yuan ($30.7 billion) |
Despite Trade Disputes, Singles' Day Is A Symbol Of Progressive eCommerce Sector
Reduced cross-border investment and joint ventures with the U.S. can create negative impressions of ongoing trade, but China's focus on its domestic market is something that every retailer eyes on. Sales were 27% higher than the previous year.
" The US-China trade war will not derail the rise of China's middle-class consumers, who are estimated to double to 600 million in the next 10 to 15 years and will power long-term upgrading of consumption spending."
– Alibaba's executive vice-chairman Joe Tsai
How They Have Surpassed The Expectations And Achieved Record-Breaking Sales?
What Enabled The Magic of Double 11?
How They Made It Possible?
We are trying to decode the 'success factors' behind this new record set by Alibaba in the eCommerce industry.
A Key Strategy of Omnipresence: A Lucrative Mixture of Offline And Online Sales
Aiming to leverage both, online and offline to appeal the local as well global customers, this time Alibaba's main strategy was to leverage offline sales along with digital capabilities.
While the world is running after the 'digital-only' way in the eCommerce industry, Alibaba's secret was to make this festival more accessible to small businesses and vendors. The malls, department stores, and supermarkets across China have participated in this festival to make it a huge success.
"Digital commerce is essential but brick-and-mortar (physical) stores play a bigger role in attracting local customers which ultimately contributes a bigger ratio in the success of any omnichannel sales channel."
It was not just about eCommerce and sales, media channels, well-known logistic companies, and a huge number of organizations become part of these festivities on November 11th.
Immersive Experiences And Modern Technologies To Take A Lead: The Era of 'New Retail'
As technology is changing our lives in a fraction of seconds, the key strategy is reaping the benefits of modern innovations such as virtual reality and augmented reality to get the attention of customers.
Here are some key highlights of technologies used in Singles' Day celebration:
Instant language translation using AI(Artificial Intelligence) tool that translates from English to Indonesian, Thai, and Vietnamese, and vice-versa
Facilitates conversion in English, Chinese, Spanish, Arabic, Turkish, Russian, and French
Artificial Intelligence(AI)–powered customer service chatbot
Special digital inclusion called 'Smart Touch' for visually impaired shoppers
Use of IoT(Internet of Things) and Blockchain technology to verify the purchases
Pop-up stores with AR(Augmented Reality) and VR (Virtual Reality) shopping experiences
Predictable electric consumption and power usage of data centers through machine learning
Interactive treasure hunts and immersive augmented reality games to earn credit points and prizes
Strong integrations with brands – offline and online, product launches, and smart logistics strategies
Data, insights, cloud computing, and artificial intelligence to boost sales
A Global Shopping Phenomenon With Demographically-Targeted Marketing Strategy
That's incredible, here's how:
Alibaba is a global trade platform with the tight incorporation of brands, stores, and retail chains
It offers free membership to attract more retailers and customers
Lower prices along with quality products to capture the attention of users
As China is the largest internet market, Alibaba Group is leveraging digital ways to attract customers
A long-term, stable relationship between suppliers and buyers locally and internationally
Encourages customers by gifts, credit points, free gifts, discounts, promotions, lucky draw, and games
Strong mobile marketing strategy by offering coupons in the apps to promote the purchase
Strategic planning to create excitement and engagement for today's hyper-connected customers
Marketing gimmicks that appeal young shoppers with a fresh approach
Creates a funny, engaging, entertaining and interactive shopping experience
So, what are the key takeaways for you?
Things Retailers Can Learn From Alibaba's Strategy
Blur the lines between online-offline commerce
Provide omnichannel customer experience for more flexibility, convenience, and to increase the standards of your service level.
Lure your customers by providing great deals and discounts
Customers often get attracted by the higher rate of discounts. Taobao Marketplace and Tmall provided 50% or more for that one-day.
Make sure the technology you are using is well-supported
Run infrastructure tests of your channels well before D-day. Alibaba was able to process 710 million payments – 85,900 transactions/second in 24 hours.
Make a strong mobile presence
Boost your online sales on D-day with the help of a strong mobile website/app to ease the buying process.
Offer free gifts and incentives for the first time consumers
Focus on your customers and provide them with some incentives/ reward points to increase the loyalty.
Provide early-bird discounts
Early bird discounts always catch attraction! It provides just another reason to kick off sales in just a few hours when the sale begins.
Make the most of Social Media Platforms
Leverage the popular social media platforms, run contest, polls, communicate, reach them through paid ads.
Triple 11 Event: What's Next?
This time, Alibaba organized 10th Singles' Day celebration and created a history.
With the advancement of technologies, the eCommerce industry continues to grow and indicates no points of its declination. So, in the upcoming year, we are anticipating higher records and profitable trade across the world with the 11th year celebration of this global shopping festival.
SPEC INDIA, as your single stop IT partner has been successfully implementing a bouquet of diverse solutions and services all over the globe, proving its mettle as an ISO 9001:2015 certified IT solutions organization. With efficient project management practices, international standards to comply, flexible engagement models and superior infrastructure, SPEC INDIA is a customer's delight. Our skilled technical resources are apt at putting thoughts in a perspective by offering value-added reads for all.