Thinning the Lines Between DevOps and Full Stack Development
DevOps and Full Stack Development, Two big skilled technologies, both trending heavily in the IT scenario, both having the same fundamental principle of offering best of agility and flexibility to organizations. Both popular and cutting-edge ways of developing software solutions have carved a niche for themselves, but it has always been a question if they are independent, dependent on each other, best complementing each other or opposite in nature. Let us explore what significance they hold in a developer's life and its impact on the software cycle.
The very first similarity we can observe is the mode in which they both perceive technology, and how they are interpreted in enterprises today. Both, DevOps engineers and Full Stack developers demand a lot of value and respect in the organizations in their own way. With each one having its own set of benefits, features and USPs, they are both in demand but do organizations understand their similarity and how good would they be together? To understand that, firstly, we need to grasp what their individual concepts are.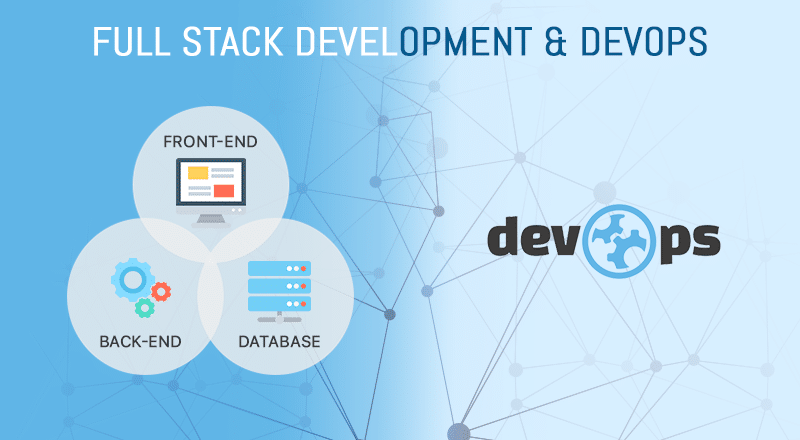 DevOps Consulting Services – Bridging the Gap Between Development and Operations
As one of the most modern concepts in the IT world, DevOps consulting service providers circle around thinning the gap between the development and operation teams. From the waterfall approach to agile to DevOps, there has been a total cultural and technological shift witnessed. With increasing complexity, enhanced customer expectations, faster agility, it is a must that the developers interact closely with the operation teams to get the best out of the work collaboration. This is a sure shot way to achieve a full proof and secure product, with maximized scalability and robustness. Considered almost as similar as the Agile way of project execution, DevOps offers added advantages like higher agility, faster time to market, assured stability, decreased failure ratio, swifter recovery time, augmented efficiency rate and increased resilience.
Assuring seamless synchronization between the two teams, DevOps development companies adopt this style of operation ensuring a fast-paced development process with the development and operation teams working in close collaboration with each other, with maximum positive effect on customer satisfaction level. There is a lot in offering with related to DevOps being leveraged the maximum. There are the latest technological areas like Continuous Integration, Continuous Development and tools such as Puppet, Jenkins, Chef etc. that are unleashing the potential of DevOps.
Full Stack Development – A Comprehensive Approach to Software
Within the blink of an eye, technologies are changing. The arena of software development is witnessing instant replacement of technologies every other day. In such an era, one style of development that is in vogue is Full Stack Development Services– the latest techno mantra today that assumes a complete package of software knowledge including the frontend, backend, and database. Incorporating all the relevant layers of a software solution, this development approach has proven to be fast in results, cost-effective and secure for organizations looking for an all-inclusive software solution. If you look at the future of web applications brightening with MEAN stack development, you will find the fundamental technological base of Full Stack Development.
As for full stack development skills, it isn't compulsory for the developers to know each nuance of the technology involved. What is important it the sufficient knowledge about the entire family of tools involved so that they can attend to errors and problems instantly, lessening the time for development to a large extent. These full stack developers possess sufficient skills to manage and monitor overall development activities, lessening the chance of getting more resources involved.
DevOps and Full Stack Development – Their Synergy With Each Other
As we look at what they are, both these modern and innovative technologies share a similar pattern of thought and objective to attain increased agility and flexibility while developing software solutions. They both focus on developers garnering a more generalized knowledge base to adopt a wider segment of roles and responsibilities thereby, perfecting the entire process and needing lesser resources. With technology widening its arms all over, the usage of both these stalwarts into each other's work domain is increasing and proving beneficial to organizations, this is how it works:
Full Stack Developers are making use of DevOps tools in their projects. When it comes to deployment and automation, virtualization and containers, most of the DevOps tools are used
Increasing number of developers are keen to learn and utilize the different methods of continuous integration, configuration management, container deployment etc.
Organizations are asking for a combination of both skill sets – someone knowing the technicalities of technologies as well as project execution, a mix of both
Both technologies are making an equal amount of revenue in the enterprise world today, emphasizing the point that both are in vogue
Developers themselves have realized that they need to upgrade their skill set from being a mere development person to someone who is well versed with technologies that go beyond development, including deployment, configuration, containerization, infrastructure etc.
There is a lot happening between these technological ways of working. It would be interesting to see how they intersect with each other, over a period, benefiting the IT world and especially touching the lives of the developers to a large extent.
SPEC INDIA, as your single stop IT partner has been successfully implementing a bouquet of diverse solutions and services all over the globe, proving its mettle as an ISO 9001:2015 certified IT solutions organization. With efficient project management practices, international standards to comply, flexible engagement models and superior infrastructure, SPEC INDIA is a customer's delight. Our skilled technical resources are apt at putting thoughts in a perspective by offering value-added reads for all.