Upcoming Mobile App Development Trends 2019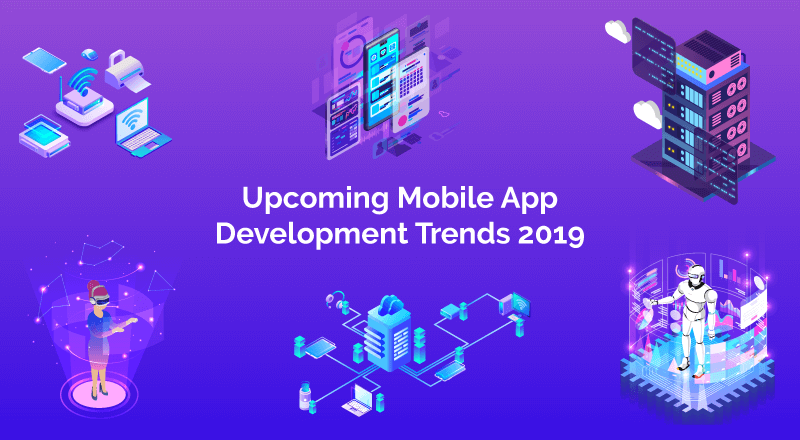 "Future is Mobile Computing – smartphones and tablets are just elements of it. The industry is on the verge of a whole new paradigm." – Thorstein Heins
2018 has witnessed the world bound by mobile apps and the presence of mobile computing everywhere so far. There is no doubt on the fact that mobile devices and apps are an indispensable ingredient of our personal as well as professional lives. Just have a look at the below-proven statistics, don't they self-proclaim the increasing popularity of mobile application development?
As the year 2019 approaches, it is interesting to witness how mobile apps will influence businesses belonging to the different genre, size, and segment. Trends doing rounds in the IT circuit showcase that there is no looking back for mobile applications.
"In today's modern world, people are either asleep or connected." -Janice H. Reinold
Why is it Important to Analyse and Understand Mobile Development Trends for the Coming Year?
Trends for the coming year are doing the rounds on a fast scale hence it becomes necessary to study these trends well in advance. Let us have a quick peep at certain solid reasons why watching trends surely pays:
Trends are indicative of client preferences – the current ones as well as future ones
Trends have a way to increase productivity and profitability in business
You can make the necessary changes to your business workflow based on trends
There can be relevant actions planned in the year to stay abreast with upcoming moves
Risks can be assumed, estimated and assessed well in advance along with mitigation strategies
You can stay a step ahead of the rest if you observe trends carefully and closely
"In my opinion, the future of mobile is the future of everything." – Matt Galligan
Key Technological Trends for Mobile App Development in 2019
Internet of Things Will Collaborate Closely with Mobile App Development
IoT has already spread its wings all over the globe, into personal as well as professional lives. Be it different industry segments like eCommerce, construction, healthcare, education, shipping & logistics, transportation and many more, Internet of Things is carving a niche for itself. Mobile devices and IoT devices are sure to collaborate seamlessly in the coming year.
This will empower users to have a better experience and control of the gadgets through a unified application. IoT connected devices are sure to see an upsurge in demand across industries and homes, with devices talking to each other with minimal human intervention.
Key Statistics
The number of internet connected "things" already exceeded our population back in 2008. By 2020 this number is expected to reach 50 billion. A whopping $19 trillion is anticipated as cost-savings and profits from this investment.
Challenges Involved
Testing IoT apps in the technical environment is a challenge in itself. Generating all possible conditions of IoT app through mobile devices is almost not possible, which is why there are loopholes that may get created
Performance could be an issue if all technical parameters aren't ascertained properly
AR & VR Will Offer New Dimensions to the Physical and Digital World
AR and VR haven't ceased to amaze the audience and looking at the way they are integrating with mobile apps, the coming year is sure to show wonders. Especially in gaming apps and social media apps, the trending AR and VR technology is proving its mettle strongly. Mobile apps with AR – VR technology are becoming highly interactive and have become successful in engaging the users. Campaigning on social media wasn't better before and sees a bright future in the coming year.
AR and VR have changed the way business operates, users communicate and technology drives success. They have started influencing mobile strategies heavily with devices that showcase unique user interface and experience. Mobile app developers are keenly building user experiences as never before, digitally merging the physical world, as if it is real.
Key Statistics
Challenges Involved
Inexpressive content is one of the major drawbacks of the AR – VR technology being showcased through mobile apps
Seamless streaming of the entire AR – VR content within stipulated cost guidelines isn't always feasible and hence comes up as a tough task to achieve
Machine Learning & AI Together Will Offer Novel Standards for Mobile Apps
Both AI and machine learning have been a techie's favorite, no wonder why! Getting real-time information and detailed analytics, at the tip of a finger is now possible with these cutting-edge technologies. And now with mobile apps imbibing these advancements, there is a lot you can expect. AI-powered mobile apps like Siri, Prima, Google Now and many more are ruling the market and there are many more coming up in the next year. AI with machine learning is all set to offer various services like data analysis, language and voice translation, geolocation etc. Technology giants are trying their best to bring up mobile apps based on AI and machine learning.
Key Statistics
Challenges Involved
With an increasing number of creative ideas, it may not be possible to fulfill each one of them with technical fulfillment
Finding people with technical competence and knowledge is difficult
Chatbots Are the Face of the Future
A quick way to interact with your customers, chatbots are now indispensable to almost all your mobile apps. As a virtual assistant, they bypass the human interaction to a large extent and hence sees a bright future in the coming year. Chatbots are showcasing seamless connection with AR – VR advancements and thereby, offering organizations an edge above the rest. Chatbot interactions on mobile apps have been instrumental in taking client relationships to another level altogether.
Connecting with people, sending personalized messages/ notifications/alerts/reports, offering digital services, act as virtual assistants in mobile apps, extending CRM beyond a defined level are some of the many advantages the globe is enjoying with Chatbots and looks forward to more.
Key Statistics
More than 50 percent increase is observed in the number of enterprises using chatbots in 2018
Challenges Involved
Managing and monitoring the disparate ways of messaging that users follow is a cumbersome job
Adhering to the limitations of natural language processing is inevitable since it does not deal with all situations.
Wearable Mobile Apps Are Getting Better and Bigger
With the wearable technology is widely accepted all over the world, newer and better ideas are cropping up by tech giants and the wearables are getting better. Its acceptance around the globe is increasing with customer base getting wider. These wearable apps serve multiple purposes at a time – enhancing your personality and smartness, monitoring health parameters, checking on your physical workout sessions, making your homes smarter, managing your lifestyle and more. 2019 is sure to witness an upswing in a variety of wearable apps and devices to satisfy a wider range of clientele.
Key Statistics
The sale of smartwatches by 2021 will be 81 million units
Challenges Involved
With mass production of wearables and apps, there is a compromise on quality parameters which is most likely to affect customer satisfaction
Customers still hesitate to invest in wearables due to data security and privacy reasons
Application Performance Management (APM) & Enterprise Mobile Management (EMM) Stays Stronger
As a step to avoid slow down of the applications, APM offers mobile metrics that got integrated into Google. With mobile apps increasing, utilization of APM is also on an increasing spree and directly contributes to augmenting quality and performance of apps. Widely used by testers during performance testing, APM has a happening year ahead.
Mobility, being the key focus area, EMM has a lot to offer in 2019. With an intent to streamline business workflows, EMM offers app security, financial monitoring, application maintenance and much more. The year ahead will witness increasing usage of APM and EMM by enterprises belonging to different industry segments.
Key Statistics
Challenges Involved
Maintaining timelines and accuracy needed for APM is tough to get
Offering a streamlined and secure user experience and mobile strategy for all users alike becomes a challenge in itself
Cloud Management Apps Will No Longer Be Dispensable
The cloud is gaining importance and is sure to become an indispensable ingredient in the success story of any business. Cloud management apps are the in thing today and shall continue to write their success path in the coming year. Being a safe, secure, handy storage place for apps, cloud computing and integration solutions will help organizations expand their infrastructure without having to worry about space and management of the environment. Cloud apps will encompass various areas of social media, video streaming, online storage, gaming etc. and will witness a revolutionary trend in 2019.
Key Statistics
Challenges Involved
Cloud computing is affordable but managing costs involved in the infrastructure and data transfer could be a hurdle
Catering to downtime in cloud-based infrastructure remains an unsolved issue especially during time critical projects
Beacons Witness an Enhanced Makeover in the Coming Year
Beacons will now not be limited to only stores and malls but will see an expanded usage across airports, payment zones and even for personalized usage. The coming year will leverage the potential of this wonderful technology – small in size, big in profits. There will be a variety of mobile apps based on beacons technology that will unleash its potential to the finest. The world will witness more usage of beacons, the Bluetooth technology, and its integration through mobile based applications.
Key Statistics
Challenges Involved
Not all use Bluetooth, hence spreading the usage of beacons becomes a little difficult in absence of this technology
Deploying beacons all over the physical areas gets challenging since there could be places which could get left out
Accelerated Mobile Pages (AMP) Will Fasten Mobile App Usage
AMP assists in speedy performance and quick loading of pages, just as a smaller variant of HTML pages. Like SEO in performance, it helps the web apps and websites to improvise their performance and get a better ranking, increased visitor traffic, and presence.
Key Statistics
In two years we've seen the project grow from a few launch partners to over 25 million website domains that have published more than 4 billion AMP pages
Challenges Involved
AMP needs to learn some of the custom HTML and adhere to the guideline of Google AMP Specifications
On-Demand Apps Are Changing the Face of Business
Catering to all that you want, On Demand apps are the apt mediators between the user and the service provider for a wide range of services. There is an increase in its popularity and usage in this year and since it has been successful, the coming year shall witness more of it. On Demand, apps are being used successfully in a variety of industry segments, in organizations of different sizes. Millennials make up nearly half of the on-demand consumers.
Nearly all from food, taxi, medicines, movie tickets, to groceries, are booked through on-demand apps. More and more industrialists are realizing the potential in different businesses and customers are enjoying its benefits that on-demand economy is bringing.
Key Statistics
Challenges Involved
Demand is a very huge terminology with no fixed definition and hence matching each customer's demand to its fullest is a challenge for on-demand apps
There are a lot of on-demand startups who have plunged into business are yet to prove their success story. It is not as easy as it looks
Enterprise Apps See an Upsurge in Acceptance and Implementation
For the B2B community, mobile applications are a blessing and its acceptance is increasing multifold. The coming year is sure to witness a range of mobile apps being used by enterprises worldwide, in their daily working. The enterprise mobility market is seeing radical changes with innovations entering every other day and proving their worth.
Because of technological advancements like AR, VR, AI, machine learning, demand for mobile apps is increasing exponentially. Enhanced mobile experience along with maximized RoI, increased productivity and profitability are guaranteed outputs owing to the enterprise mobile app revolution.
Key Statistics
55% of respondents claim that improving the communication across their organization is easier when using enterprise mobile apps
The global enterprise mobility market is predicted to bring in $240 billion in revenue in 2020
Challenges Involved
Gathering right kind of team of app developers or implementing a pioneering platform is challenging
Security is a major concern during enterprise mobile application development because there is a lot at stake in terms of data breaches and cyber-attacks
Mobile Payment Gateways are the Chosen Mode of Payment Now
Users today are now choosing the mobile mode of payment over other methods. Though slow but steady, this payment option is gaining momentum amongst users all over. mCommerce has also paved its way to success over eCommerce and mobile is the frontend now for all. Offering a great mobile app experience is now a significant task for service providers, in which offers a seamless payment experience is vital. Various payment gateways like Amazon Pay, PayPal, Google Pay, Apple Pay etc. are increasingly getting popular and there will be many more in the coming year.
Key Statistics
Challenges Involved
As e-commerce increases its spread, chances for deceitful misappropriation of payment networks and data theft grow right alongside
Ensuring card data security is most important since customers put in ample trust on the payment gateway offering their financial information
Instant Apps & Its Popularity is Soaring High
As native mobile apps, instant apps have seen increasing popularity since the last two years and is looking for more. You don't need to download/install these apps and they are extremely user-friendly, flexible and compact sized. It saves big time on memory and time both. 2019 is sure to welcome this new trend of mobile apps with open arms since it is the technology of today.
Key Statistics
Top apps that contain Android Instant Apps are H&M, Jabong, World War Rising, Glassdoor, BBVA Spain, Zalando Lounge, Final Fantasy XV, GPS Tools, and many others
Challenges Involved
Security is a risk since the data that is being shared could be tracked and hence needs stringent measures
Since they are relatively new, Instant apps have yet to prove their robustness
2019 and Beyond…
In the enterprise mobile app development industry, there is so much coming your way, each day. To anticipate what the coming year shall bring along is a tough task. Hope this article helps you visualize the advancement of mobile apps and its severe influence on the globe. For mobile app development companies, there is so much to look for and benefit from the technological happenings in the arena of mobile applications. Keeping a watch on the up-to-the-minute mobile happenings is a wise thing to do!
SPEC INDIA, as your single stop IT partner has been successfully implementing a bouquet of diverse solutions and services all over the globe, proving its mettle as an ISO 9001:2015 certified IT solutions organization. With efficient project management practices, international standards to comply, flexible engagement models and superior infrastructure, SPEC INDIA is a customer's delight. Our skilled technical resources are apt at putting thoughts in a perspective by offering value-added reads for all.