Quarterly Newsletter October 2020

As Your IT Partner We have The Right SPEC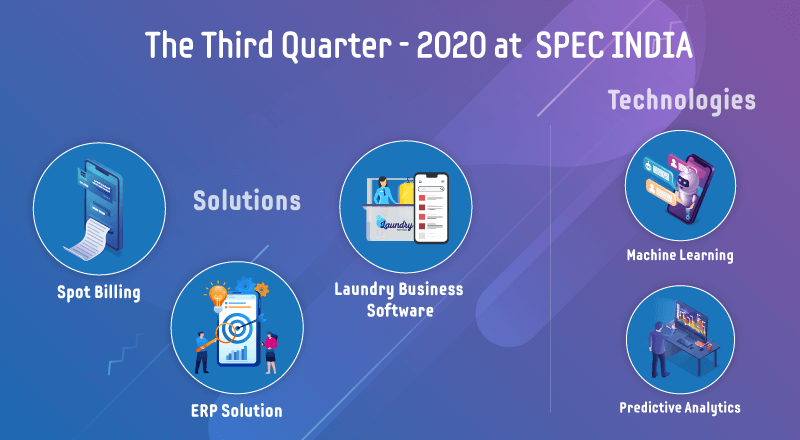 As the pandemic continues to show its supremacy, the globe is struggling to perform at its best under the pre-defined norms of social distancing, work from home regime and other restrictions. With 2020 approaching its end, there has been a wave of digitally driven services and solutions that have been successfully adapted by many industries, worldwide, to cater to their day-to-day workings.
Amidst the different way of working, we @ SPEC INDIA developed and implemented a mobile-based on-demand laundry application for India's five-star laundry service provider. This application serves as an efficient and convenient portal to take care of the entire laundry process with in-built features like placing orders, pickup, delivery, online payment, secure access to information etc.
Yet another feather in our cap has been the successful implementation of full-fledged ERP solution for a manufacturing and retail enterprise in Africa. The cloud based, scalable, customizable, and integrated Mobile ERP system focusses on important modules such as Accounts, HR, Production, Sales and Distribution, Purchase, POS, Advertising, Fixed Assets, Transportation etc. This solution offers easy installation, mobile readiness, interactive UI/UX, high-level security, geo-fencing, intelligent dashboards/reports and much more.
Catering to the contact less billing requirement by the utility sector, our skilled taskforce has effectively rolled out the spot billing software solution, with a successful user acceptance testing (UAT). This spot billing / invoice system is utilized for billing procedure for a range of utility firms like gas distribution, electricity etc. The solution encapsulates meter reading values and issues spot billing with third party integration.
Our taskforce has been exhibiting expertise in Machine Learning based data analytics and how data helps with important insights and decision making. We have been understanding, in depth, about the various opportunities and challenges that Machine Learning offers, applying it to other cutting-edge technologies and how best it applies to important sectors like financial, government, healthcare, retail etc.
We have been gaining momentum in the arena of Predictive analytics and how this modern-day technology is reshaping various industry segments with its key features, especially in the Covid-19 times. Our team has been delving deep into Sentiment analysis, patter discovery, customer-churn analysis and how the deadly combination of Predictive analytics and AI has been driving innovation across.