What Is ETL? Understand In 200 Words
Extract, Transform and Load – ETL, forms the fundamental process behind any kind of data management.
ETL – Extraction, Transformation and Loading, is a trilogy of processes that collects varied source data from heterogeneous databases and transforms them into disparate data warehouses.
Extract:
Reads data from multiple data sources and extracts required set of data
Recovers necessary data with optimum usage of resources
Should not disturb data sources, performance and functioning
Transform:
Filtration, cleansing and preparation of data extracted, with lookup tables
Authentication of records, refutation and integration of data
Data to be sorted, filtered, cleared, standardized, translated or verified for consistency
Load:
Writing data output, after extraction and transformation to a data warehouse
Either physical insertion of record as a new row in database table or link processes for each record from the main source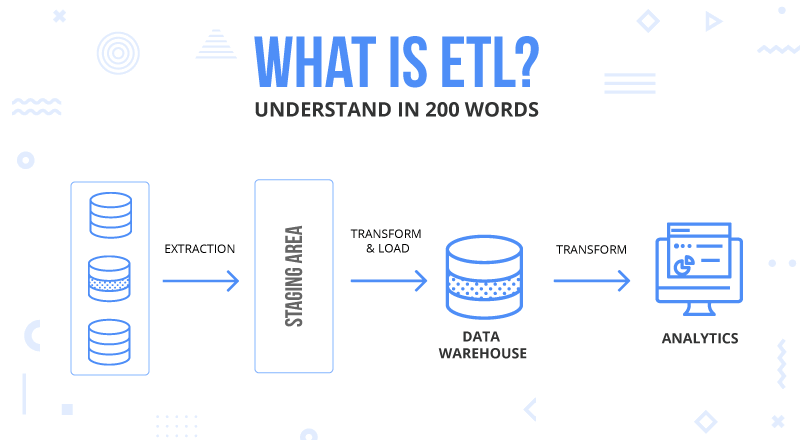 Benefits
Brings out meaningful patterns & insights
Converts assorted data into a consistent format
Aids derive business intelligence from data
Contains readily usable components
Effortlessly manages complex transformation
Offers maximized RoI
Future of ETL
Unified data management architecture
Data lakes
ETL and cloud
Machine learning with data integration
A Good Read: Pentaho ETL Development
SPEC INDIA, as your single stop IT partner has been successfully implementing a bouquet of diverse solutions and services all over the globe, proving its mettle as an ISO 9001:2015 certified IT solutions organization. With efficient project management practices, international standards to comply, flexible engagement models and superior infrastructure, SPEC INDIA is a customer's delight. Our skilled technical resources are apt at putting thoughts in a perspective by offering value-added reads for all.