#10YearChallenge In Technology And Software Development
Imagine our lives without Social Media. Can you?
We've become opinion-oriented and more outspoken in the society which is hyper-connected and obsessed by brands. Social media can't be separated from our lives and we can't deny this fact.
Lately, you might have observed yourself using a 10YearChallange hashtag on any social media platforms or at least heard about it.
"A fundamental approach to life transformation is using social media for therapy; it forces you to have an opinion, provides intellectual stimulation, increases awareness, boosts self-confidence, and offers the possibility of hope."
― Germany Kent
The 10YearChallange trend made us thought about the technology revolution over the past 10 years. As being a global software development company working with wide-ranging domains and services, we have been noticing noteworthy changes in trends and technologies closely.
We thought to look back to the years and observe how far we have reached in this digital journey.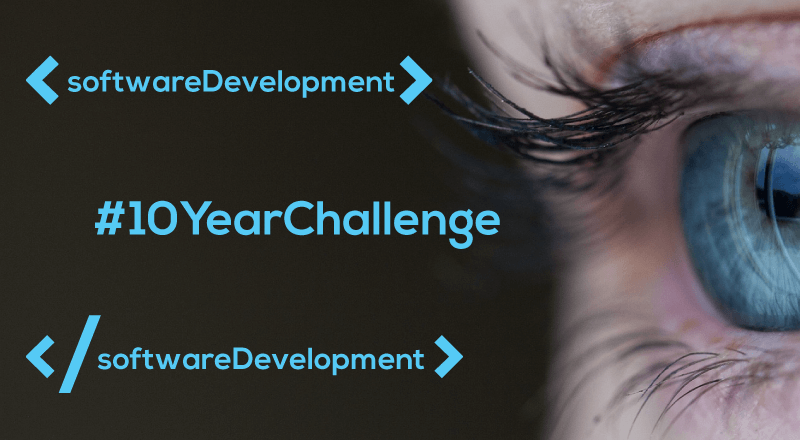 10 Year Challenge In Technology: Journey From Digital To Disruptive Tech
What We Went Through?
From mobile to mobility
From waterfall to DevOps
From cash to cryptocurrencies
From TV to online streaming
From supply-driven to on-demand models
From offline stores to omnichannel presence
From taxi to Uber
The list is infinite. Right from our mindsets, approaches, frameworks, technologies, platforms, models, and programming languages – everything has been changed.
2009 To 2019: #10YearChallenge In Technology In Less Than 10 Minutes
Mobile To Mobility:
'Mobile To Mobility' journey indicates the fastest growth by proving it's potential to connect with the whole world at just a few fingertips. We have observed the ride from travel and gaming apps to 'everything-is-on-app' era.
2009
2019
Smartphones took off

(July 2008, Apple launched its App Store)

(October 2008, Google Play)

Number of smartphone users in the world is expected to pass five billion marks by 2019
Apps were gaining popularity
AR/VR to up your mobile-first strategy
The rise of 3G mobile networks
The rollout of 5G Networks
Few apps in the app store and Google Play store
More than 2 million apps in December 2018
Generic and limited scope for mobile experience
Hyper-personalized and connected mobile experience
Changes In Software Development Over The 10 Years:
Worldwide IT spending is estimated to total $3.8 trillion in 2019, an increase of 3.2 percent from expected spending of $3.7 trillion in 2018, according to the latest forecast by Gartner.
If we talk about the past 10 years, there are many concepts and frameworks that didn't exist and there are those who have transformed the landscape of IT.
What Changed And What Not?
2009
2019
No separation of codes and less attention to the structure
Libraries and frameworks are separated by front-end/back-end
Mobile app development was taking baby steps
PWA and SPAs are taking center stage
No concept existed like full-stack development
Full-stack development is famous among the developer's community
Less focus on reusability and speed
Reusability of code is playing a vital role in cost-saving, time-saving
Open source software was facing issues for proper support and implementation
Open source software is popular among the developers with support from the largest community
Cloud computing was at its initial stage
Cloud has already changed the way software is developed and deployed
In 2009, the cloud was being experimented
The rise of cloud service and cloud infrastructure like AWS, Microsoft Azure, Google
AR/VR was nowhere into the picture
AR/VR and immersive experience are taking mobile app development by the storm
Artificial Intelligence was on its experimental stage
Virtual assistance and AI chatbots are helping business in serving the customer better
Machine learning was being used for solving specific problems
Machines are capable of doing repetitive and autonomous tasks
Big data and business intelligence wasn't considered as significant concepts
Business intelligence tools and big data are being leveraged by the organizations in the better decision-making process
'Internet of Things' was born
'Internet of Things' is implemented and evolved to a greater extent
Modern web APIs were not introduced
Application level APIs made app developing faster and easier
A rise of manual software testing and increased demand for software testers
Because of DevOps and NoOps, developers are being asked to test their own apps;

The rise of Intelligent, AI-powered test automation tools

Client-server web apps were popular
The exceptional popularity of mobile apps over time, consumer-centric apps, and progressive web apps
Online payment and digital wallets were not considered as safe options
Fintech grew and incorporated in almost all the sectors with extremely-faster and safest digital wallets
The Journey Of Programming Languages:
2009
2019
Popular programming languages:

Java

C

C++

VB

PHP

Popular programming languages:

Python

Java

JavaScript

PHP

Swift

C++/C#

JavaScript usage was limited
JavaScript ranks as one of the top programming languages
Swift wasn't introduced
Swift is a powerful programming language for building apps on iOS
Java was popular and widely-used
Kotlin is an emerging language for Android having the potential to replace Java
C# and C were on the rise
C# and .Net Platform still considered as a reliable combination to build apps
PHP was a preferable option for web apps
PHP has evolved to a greater extent with modern features and frameworks
The rise of programming languages for mobile devices
Cross-platform, hybrid, and native apps are popular
Significant fewer examples, support, and learning resources for developers
A huge number of examples, online learning resources, and examples available with great support from developers' community
Software Development Methodologies/Approach:
Tech enthusiasts, entrepreneurs, and developers' community have been experiencing a massive shift in developing software.
In 2009:
Traditional software development models like Waterfall, Iterative, Spiral, V-Model were used.
In 2019:
2018 was a year of Enterprise DevOps.
Removing the loopholes in traditional software development models, Agile and DevOps models are focusing on agility in the development process without compromising on quality.
The DevOps market would reach a size of $8,763.8 million by 2023, growing at a CAGR of 18% during 2017-2023, according to Kbv Research DevOps Global Report.
Do you have any plans to adopt in DevOps in your organization? Ask our DevOps experts
Now, it's a time to look back at the things that didn't exist before 10 years
10 Revolutionary Tech Products/Concepts That Didn't Exist 10 Years Ago
Uber(On-demand)
Bitcoin(Cryptocurrencies)
Instagram(social media)
Spotify(music streaming)
Airbnb(sharing economy)
Slack(team-collaboration tool)
Map Apps(Easy Navigation)
WhatsApp(Widely-used free messaging platform)
DevOps(CI/CD Principles for faster development)
If we want to describe this change in one line, we can say that,
This transformation indicates our journey from process to people.
10 years ago, processes were focused element and consumers were given less attention. Things have changed drastically. With the dominance of digital-driven ways to work, customers are given maximum attention.
#10YearChallenge: Where Do You Stand?
Certainly, 10YearChallenge is not a point of comparison of what went wrong and right. This should be represented as a positive mindset that can foster a sense of improvement.
It's our journey that indicates how far we've come. Whether you ignore or embrace, the digital presence of your business is must in this digital-first era.
Looking for enhancement and betterment through the use of modern technologies is a way forward. If you've already embraced the digital journey, then this is a high time you consider enhancing your digital presence.
What are Your thoughts? Let us know in Comments Below.
SPEC INDIA, as your single stop IT partner has been successfully implementing a bouquet of diverse solutions and services all over the globe, proving its mettle as an ISO 9001:2015 certified IT solutions organization. With efficient project management practices, international standards to comply, flexible engagement models and superior infrastructure, SPEC INDIA is a customer's delight. Our skilled technical resources are apt at putting thoughts in a perspective by offering value-added reads for all.