Top 10 AWS Migration Tools To Simplify AWS Migration
Moving data to the cloud is the new normal. Organizations, worldwide, have opted for cloud-based computing for their businesses to grow seamlessly and effectively. Shifting huge amounts of data and your software solutions to the cloud isn't an easy task, it needs a lot of time, expertise, and effort to do so. Cloud migration is what would be needed with data encryption, quick transferring speed, and regular monitoring.
When it comes to cloud computing, AWS is a popular choice. AWS data migration service is best done through popular AWS migration tools that can make the entire migration process a smooth and effective one. The transfer to the cloud environment will be fast and secure with the AWS cloud migration tools, quickening cloud implementation and modernization.
Before we move onto the list of popular AWS migration tools, let us quickly understand what AWS migration means and the advantages it brings along.
What Is AWS Migration?
AWS migration is the transfer of data from your current hosting facility to Amazon's cloud infrastructure. Your existing facility could be an on-premises environment or a public/private cloud setup. Amazon Web Services is a leading IaaS cloud platform for years and AWS migration indicates the moving of various components like websites, databases, virtual servers, applications, physical storage, data centers, etc.
An ideal AWS migration tool is a software or a service that helps in all related functionalities to data migration such as transferring data, application configuration, creating a connection between elements, and storage types, and thinning the gap between the current system and the cloud.
Here are the major reasons why implementation of AWS migration tools can help in the smooth functioning of the AWS data migration service:
Savings on the cost of infrastructure
Better infrastructure management
Reduced unplanned downtime
Lesser security upheavals
Mature and full proof data migration
Accelerated time to business gains
Business agility, operational flexibility, and productivity
Sustainability with large server capacity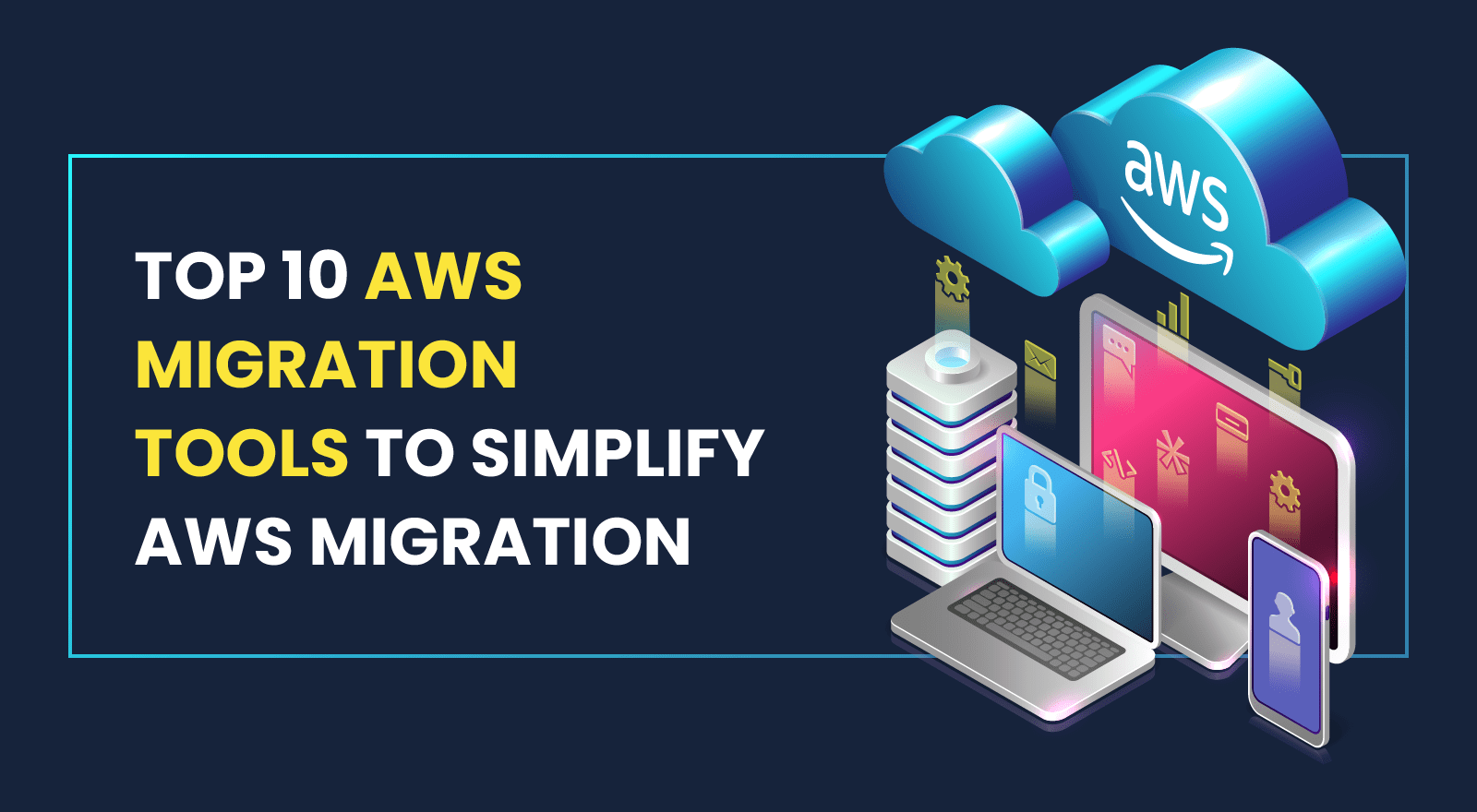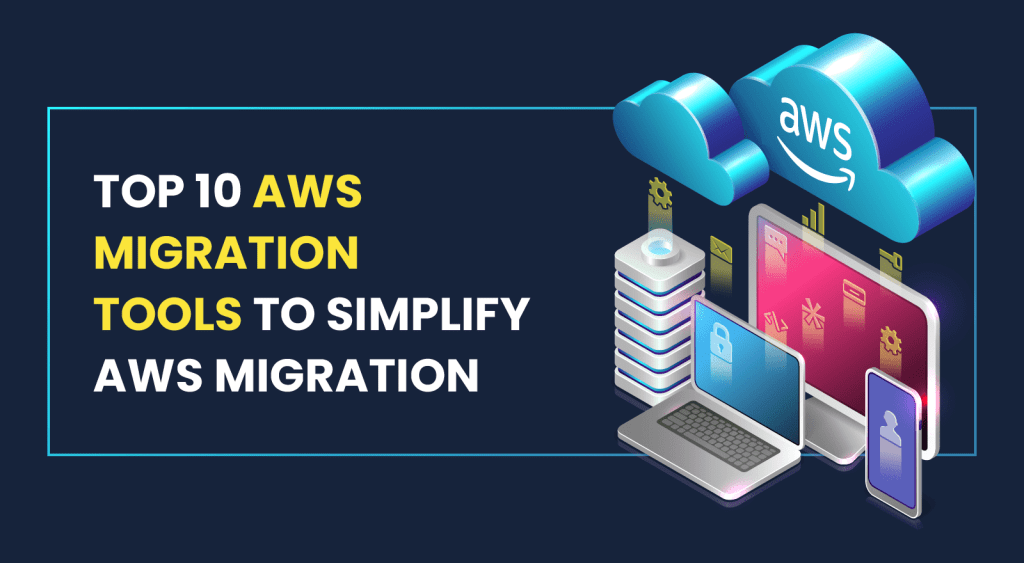 CloudEndure
AWS Migration Hub
AWS Cloud Adoption Readiness Tool (CART)
Dynatrace
AWS Migration Acceleration Program (MAP)
AWS Marketplace
AppDynamics
VMWare Cloud on AWS
TSO Logic
BMC Discovery
CloudEndure:
AWS CloudEndure is a popular AWS migration tool that creates a business continuity software system for disaster recovery, constant backup, and live migration. It empowers organizations for a fast and easy transfer from their current data centers or cloud centers to AWS. It offers to streamline, fasten, and automate the entire migration process with rehosting of many machines with smooth handling of compatibility.
CloudEndure offers automated conversion of the source infrastructure to the AWS framework. It ensures no performance hassle while executing natively on AWS. It is considered ideal for lift and shift migrations to AWS, the reason being it empowers workloads for a native run-on AWS. Further reconfiguration can be performed after migration and execution on the cloud.
AWS Migration Hub:
AWS Migration Hub is a single-stop destination for migrating to the cloud. It fastens and simplifies the entire process with AWS. It is like an application in the AWS Management Console to monitor other tools and track the entire infrastructure status of servers, databases, etc. The types of tools that are integrated herewith are AWS Discovery tools, AWS Migration tools, and AWS migration programs.
It provides a variety of key metrics and development for different applications. There is centralized tracking, enhanced visibility, and flexibility to migrate available through this tool. It is considered an ideal dashboard to track the progress of migration and it assists AWS users in collecting and managing data depending on the resources to get a clear-cut view.
AWS Cloud Adoption Readiness Tool (CART):
The AWS Cloud Adoption Readiness tool is a popular migration tool that assists in offering an in-depth view to check if you are ready to migrate and further course of action for the best results. A detailed assessment is done to check if all related resources like the task force, processes, activities, etc. are ready or not. A report gets generated for all major areas with suggestions for enhancement. Basically, it is a cloud assessment tool.
AWS CART is considered a preferred migration tool since it offers a self-guided checklist that checks the level of readiness of the organizations prior to the transition to the cloud. It is accessible in different languages and is considered suitable for businesses of all sizes – be it startups, small or medium ones, or conglomerates.
Dynatrace:
Dynatrace is a modernized and comprehensive AWS partner that offers an AI-enabled analytics solution to monitor cloud infrastructure, find solutions for problems related to user experiences on different devices and analyze app performance. As a robust and AIOps tool, it automates cloud monitoring with faster output and embedded intelligence. It offers a great deal of automation to AWS infrastructure management.
Dynatrace is considered a popular migration tool that simplifies cloud complexity via automation, AI, cloud-driven app-based security, and observability – all put together in a unified platform. It offers a digital experience that automates DevSecOps and offers seamless integration with all popular cloud technologies.
AWS Migration Acceleration Program (MAP):
AWS MAP is a training methodology that is prepared by AWS to assist users in successfully implementing their cloud strategy and migration program with appropriate assistance and best of business efficiency. It offers readiness evaluation, a proper AWS migration plan, detailed training, and constant assistance thereafter. This modern-day approach is aimed toward huge business units that have large-scale migration requirements.
AWS MAP is divided into different phases in which firstly an assessment of procedures is done based on the competencies, then a systematic effort is made to prepare a plan, and finally, offer complete support to undergo all migration efforts and get a successful output. The tool helps in the identification of any type of loopholes in the plan and deals with it timely.
AWS Marketplace:
AWS Marketplace is more like a digital catalog and online software store through which users can search, buy, and deploy third-party data, software, and services for execution of their solutions on AWS and execution of business. There is software available for each phase of the entire migration procedure among the multiple options that are accessible through different software vendors after they undergo a curation procedure.
It offers complete data protection, detailed configuration analysis, and network-based security solutions. The multiple software listings include different sections like networking, storage, security, machine learning, databases, BI etc. Users have the flexibility to launch pre-configured software after selecting their desired choice.
AppDynamics:
AppDynamics is a popular, robust, intuitive Application Performance Management platform that operates with an on-premises model of working. As an APM platform, it works well with different environments for business performance monitoring – SaaS, on-premises, private, and hybrid with various AWS monitoring elements. It offers an effective observability platform for cloud monitoring and brings great business results by synchronizing the application with your own business needs.
There is complete support for all native technologies of AWS like S3, RDS, EC2, etc. Detailed insight into the utilization of resources is done with ease through automated topology maps generation for an app migration. It supports automatic scaling of resources to safeguard that all apps get much-needed resources during heavy load times.
VMWare Cloud On AWS:
A close collaboration between VMware and AWS, this leading AWS migration tool gets VMware's enterprise-level Software-Defined Data Center (SDDC) software to the AWS cloud for the best of availability to AWS services. It helps users execute production apps with the relevant cloud infrastructure and AWS services. It enables multiple vSphere virtualized applications for relocation in a couple of days.
There is a heavy networking throughput with lesser latency for easy data migration to the cloud with the best disaster recovery and app modernization. It is scalable, cost-effective, and ideal for those who have the know-how of VMware. It enables the remote workforce and offers infrastructure risk mitigation.
TSO Logic:
TSO Logic is a leading AWS migration tool that provides a variety of analytics and algorithms for users to study their data center environments before moving to the cloud. Users can enhance performance with cost-effective solutions and revolutionize their environments into optimum states. The TSO Logic-based system offers compiled data about the software and hardware components, infrastructure, etc.
It collects a huge amount of data from different cloud infrastructures for further analysis of patterns, cloud workloads, utilization, costing, sizing automatic computation of data, etc. TSO Logic offers predictive analytics capabilities to make sure all applications are running in the most deserving location with the apt software and with cost-effectiveness.
BMC Discovery:
BMC Discovery is a popular, Saas-driven, data center discovery solution and dependency modeling system that offers detailed discovery into data configuration, and data center inventory with instantaneous prominence into the software and hardware portions. It provides an effective mapping between the applications and IT infrastructure. It is a comprehensive tool that creates, executes, and manages all AWS cloud tools and services.
BMC Discovery offers salient features such as cost analysis, dynamic view of the data center environment, pre-migration plan and roadmap, AWS DevOps, automatic security testing and workflows, cloud services, and their relationships. Owing to these features, it helps in showcasing how this multi-cloud setup empowers the overall business growth.
AWS Migration Tools: Summing It Up
There is a lot happening in the world of AWS migration and the above-listed popular AWS data migration tools play a pivotal role in enhancing the AWS cloud and data migration services. The cloud has brought a revolution today and is powered by the giant Amazon, AWS cloud services offer exception migration services. Of course, there are other parameters based on which you could decide which tool to use. Whichsoever, you choose, it is like choosing the better of the best!
SPEC INDIA, as your single stop IT partner has been successfully implementing a bouquet of diverse solutions and services all over the globe, proving its mettle as an ISO 9001:2015 certified IT solutions organization. With efficient project management practices, international standards to comply, flexible engagement models and superior infrastructure, SPEC INDIA is a customer's delight. Our skilled technical resources are apt at putting thoughts in a perspective by offering value-added reads for all.