Azure Synapse vs Snowflake: Two Popular ETL Tools Being Compared
Organizations have now learned to deal with data and the way data is growing globally, there is a tremendous need for effective data platforms for management and monitoring of the volumes of data.
Statista estimates that the total amount of data created, captured, copied, and consumed globally is forecast to increase rapidly, reaching 64.2 zettabytes in 2020. Over the next five years up to 2025, global data creation is projected to grow to more than 180 zettabytes.
The new-age data must be extracted, analyzed, and used in the finest way possible. Utilizing the modern-day cloud is one big solution. And that is where the two popular cloud data warehousing options come into the picture – Snowflake and Azure Synapse.
Azure Synapse vs Snowflake is a debatable comparison that has been popular for a long because both are market leaders and have their own attributes to showcase, despite having certain similarities. Both provide massively parallel processing for better distribution of data computation across nodes in the cloud.
Before we go on to compare Snowflake vs Synapse and understand their conflicts and connections, let us go through their individual facets of information, their key features, alternatives, organizations using them, pros, and cons, etc.
What is Azure Synapse?
Azure Synapse Analytics is a limitless analytics service that brings together data integration, enterprise data warehousing, and big data analytics. It gives you the freedom to query data on your terms, using either serverless or dedicated options—at scale. Azure Synapse brings these worlds together with a unified experience to ingest, explore, prepare, transform, manage, and serve data for immediate BI and machine learning needs.
There is T-SQL-focused analytics that makes use of SQL pools for getting the information and storing data as needed. There could be big data warehouses and the SQL Server family provides the required setup. The serverless model provides data lake queries with logical data warehouses.
Insightful information can be obtained via various data streams that possess big data and other programming languages. There is an effective user experience with adherence to rules and regulations to keep customer information intact and safe.
Azure Synapse Features:
Successful advancement of pipelines and ETL/ELT procedures
Merges big data analytics, data integration, and enterprise data warehousing in an integrated space
Simple integration through Apache Spark, SQL engine, and languages such as Python, .NET, etc.
Real-time responsive data security with row-based and column-based protocols
Cloud-based data options for structured and unstructured data
Data discovery of relational and non-relational data with SQL
Compatible with many languages with valuable storage of information
Receptive data engine with enhanced query services
What is Snowflake?
Snowflake is a fully managed service that's simple to use but can power a near-unlimited number of concurrent workloads. It is your solution for data warehousing, data lakes, data engineering, data science, data application development, and securely sharing and consuming shared data.
Snowflake has been a well-known data warehousing and analytical cloud-based software that provides direct availability of storage and data analytics. It is based on Microsoft Azure and AWS infrastructure.
It is considered scalable for data science opportunities, has easy processing of larger data sets, and performs easy analytics. There is good performance and speed with optimum performance be it any kind of workload. It needs no maintenance and has enhanced ETL and data ingestion capabilities. It provides simple SQL and UI features with data sharing and Elastic Compute features.
Snowflake Features:
Total execution on the cloud infrastructure provided by Azure, AWS, and Google Cloud
Effective security mechanisms like network policy management via restriction of IP address, authentication methods, encryption, two-factor authentication, etc.
Straightforward data sharing with Snowflake and other users via reader accounts
Easy scalability of resources when there is a massive demand for data being stacked or lesser demand
Good support for structured and semi-structured data in the cloud with automated data parsing and extraction as required
Multi-layered and shared data structure with individual compute and storage assets
No extra software or maintenance needed because of SaaS-based automated method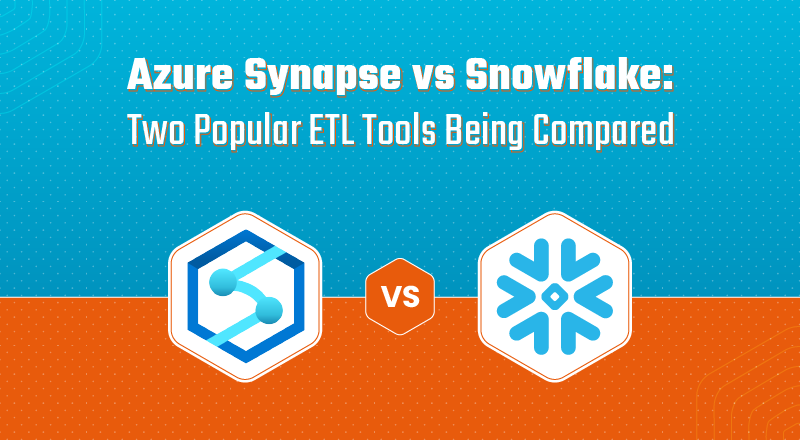 Azure Synapse vs Snowflake: Possible Alternatives
Azure Synapse Alternatives –
Databricks Lakehouse Platform
Google Cloud BigQuery
G2 Deals
Cloudera
Dremia
IBM DB2
RStudio
Snowflake
Amazon RedShift
MongoDB
Snowflake Alternatives –
Microsoft, Google
Amazon Web Services
IBM
Alibaba Cloud
Teradata
Cloudera
Oracle
Salesforce
SingleStore
MongoDB
Databricks
SAP
Snowflake vs Azure Synapse: Organizations Using Them
Companies Using Synapse –
Elanco, Humana, GlaxoSmithKline, Arrow Electronics, Merck, Bank of America, LaCrosse Footwear, Willis Towers Watson US, NGL Energy Partners LP, Usend, Yotta, Nomad, etc.
Companies Using Snowflake –
Primer, Deliveroo, Instacart, AB180, Postclick, Rent the Runway, Square, OmniPlatform, Warner Music Group, Anthem, Capital One, Kraft, Sainsbury, AWS, Fundbox, Logitech, etc.
Snowflake Pros and Cons:
Pros: 
Scalability of virtual warehouse to fit in extra compute resources
Combination of semi-structured and structured data for direct loading into a database
Multi-cluster architecture to avoid failure and delays
Seamless sharing of data owing to effective architecture
Cross-cloud deployment competencies
High-performance queries across a wide spectrum of data types
Cons:
Tough to use for novices
May not be ideal for certain online database cases
Turns up pricey for some organizations
Azure Synapse Pros and Cons
Pros:
Compatibility with scripting languages like Python, Scala, Java, SQL, R, etc.
Effective analytical solutions with less project development time
High-quality data security and fraud detection
Fast and effective delivery of insights from all data sources
Personalized user experience with efficient data storage
Parallel processing technology for managing workloads
Cons:
Job scheduling capabilities are difficult to cope with
The longer learning curve for novices
Smooth third-party integration is challenging
Snowflake vs Synapse: Key Integrations
Snowflake Integrations – 
Domo, Recurly, Improvado, PopSQL, Peekdata, Immuta, Hevo, WordPress, Google Cloud Platform, Azure, Datadog, etc.
Synapse Integrations – 
Azure Data Factory, Python, SQL, Synapse Spark, Databricks, Alteryx, Fivetran, Power BI, Snowflake, etc.
Azure Synapse vs Snowflake Similarities
Massive Parallel processing (MPP) to distribute the data analysis across multiple nodes in the cloud
Cloud-based data warehousing platforms
Diverse computational and storage competencies
Easy scalability of resources
Creation of warehouses with relational SQL databases
Availability through various data visualization tools
Support for extracting and parsing semi-structured files
Automatic encryption of data at rest for role-based access control
Offer security via multi-factor authentication and VPN connections
Azure Synapse vs Snowflake: A Detailed Comparison
| | | |
| --- | --- | --- |
| Parameters | Azure Synapse | Snowflake |
| Overview | Synapse is created to execute as an analytics layer on top of Azure Data Lake. It integrates seamlessly with other Azure services like Azure DevOps, GitHub, Power BI, etc. | Snowflake is created to execute traditional business intelligence workloads. It is designed simplistically and offers unlimited scalability with instant value addition. |
| Architecture | Supports MPP. Leverages scale-out architecture distribution of computational processing of data across multiple nodes. | Supports MPP in hybrid mode. Keeps compute, storage, and cloud services separate to optimize. |
| Supported Languages | Java, C#, PHP | Python, JavaScript |
| In-Memory Competency | Yes | No |
| Partitioning | Sharding, horizontally | Micro Partitioning |
| Scale Compute | Makes use of a complicated Data Warehouse Unit to scale compute | Makes use of 't-shirt' sizes corresponding to the quantity of Virtual Machines |
| Security Features | Provides enterprise-level security through a single pricing tier, billed per client, per unit | Provides high security for dedicated compute support at a higher price level |
| XML Support | No | Yes |
| Coupling | Couples a compute instance to a unified database | Couples a compute instance to any database or data set |
| Query Support | Supports cross-database queries in some cases. Offers trigger-based file loads. | Supports cross-database queries always. Offers SnowPipes creation. |
| Support for Cloud Platforms | Executes on the Azure Cloud Platform | Executes on Azure, AWS, Google Cloud platform, etc. |
| Data Sharing | Shares data via complementary 'Azure Data Sharing' service | Data sharing is inbuilt in the Snowflake technology itself |
| API Support | JDBC, .NET, ODBC | JDBC, CLI, ODBC |
| Indexing | Automatic data indexing with data partitioning on disk | Automatic data indexing with 'perform by default' concept |
| Secondary Index | Yes | No |
| Ease of Use | Synapse is a tad difficult to operate for novices | Snowflake is easy to use even for novices |
| Pricing Model | Constant usage, costing model per hour | Variable usage, costing model per second |
| Service Type | Platform as a Service (PaaS) | Software as a Service (SaaS) |
| Scalability | Scalable only in terms of certain features | Supports auto-scaling and hence more scalable |
| Role of Administrators | Administrators are needed for monitoring critical services | Automatic monitoring hence no need for administrators |
| Data Integration | Tightly integrated SQL engine and Apache Spark | Usage of ETL/ELT concept in data integration |
| Integration with AI and ML | AI/ML integration with Azure Machine Learning and Power BI | AI integration with Driverless AI and automated ML |
Summing It Up:
There is no ETL tool or cloud-based data platform that can perform all activities. As we compare Azure Synapse vs Snowflake, there are some things better in one and some better in the other. Hence, the dilemma of choosing one always persists.
Good Read: Snowflake vs Redshift: Revolutionizing Cloud-based Data Warehousing
Synapse is a preferred choice when there are larger business setups with a .NET or Azure environment. It can be leveraged as a centralized data source for business intelligence systems like Power BI, Qlik, etc. It offers an integrated experience for all BI and ML requirements.
Snowflake is a chosen option when there are smaller business setups or enterprises looking for a different stack or a different cloud. It can be leveraged for multiple use cases like data marts with modeled data, data lakes with raw data, operational data store with staged data, etc.
Overall, on comparing Snowflake vs Azure Synapse, both are popular and effective solutions so when it is time to choose between the two, the decision-making should be done based on different parameters like the business requirements, project details, deadlines, budgets, available infrastructure, and resources, etc.
SPEC INDIA, as your single stop IT partner has been successfully implementing a bouquet of diverse solutions and services all over the globe, proving its mettle as an ISO 9001:2015 certified IT solutions organization. With efficient project management practices, international standards to comply, flexible engagement models and superior infrastructure, SPEC INDIA is a customer's delight. Our skilled technical resources are apt at putting thoughts in a perspective by offering value-added reads for all.