BI Analytics Jackpot for Holiday Season – It's the Most Wonderful Time of the Year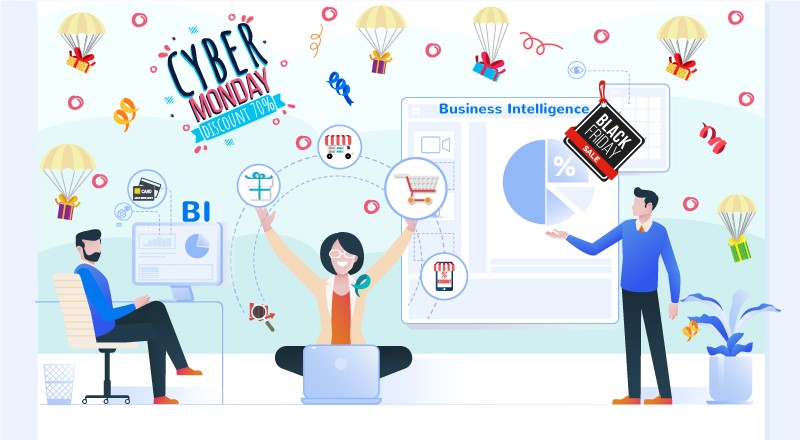 Here comes the holiday season, the most wonderful time of the year, across the globe!!! Be it any part of the world, there are festivities brightening up lives and shopping is at its increasing best. As the world awaits the new year to begin, the shopping bugs are all set free to explore. At this stage, real-time business intelligence analytics is the key to an effective and booming holiday season. Why and how so is interesting to see! BI assists organizations to save on time, increase sales and productivity at the peak time of holiday rush. You can leverage the potential of this wonderful technology and make the most of it.
The Black Friday & Cyber Monday Is Here – BI Analytics Turns Data into Actionable Insights
As Thanksgiving comes nearer, Black Friday marks the start of the festive season followed by Cyber Monday. It is a big shopping time for enthusiasts and business owners are keen to garner maximum returns out of it. Organizations are trying their best to attract increased sales through a variety of marketing campaign, email traffic, newsletters, promotions, personal preferences of customers etc. At such times, the one technology that can help lots is business intelligence.
Some of the key measures and metrics that are offered by BI are:
Knowing how reliable your website's performance is, irrespective of spurts in traffic
Measuring uptime and time pages take to load
Analyzing the number of orders received as well as the orders returned by customers and why
Average earning per sale apart from the number of orders received
Conversion ratio from visitors to actual customers
Business intelligence analytics turns out to be highly influential in garnering the best of sales and customer traffic during peak season. It helps business owners in setting the right set of goals, assigning roles and responsibilities and showcasing a clear picture of all necessary and insightful data. This will help stakeholders in working out on their marketing and promotional strategies as well as build a scalable, robust and competent solution.
Challenges Faced by Business Owners During Festive Season
Customers expect a smooth mode of operation throughout the year and especially during holiday season. Whereas, for business owners, during rush hours, it is a big challenge to offer the best of services in terms of quality, navigation, price, timely delivery and security
Thinning the gap between online and in-store information is a tough job since the data between the two may not necessarily be integrated real-time
Personalizing customer experience is yet another hurdle to clear. Though one of the most important factors, there are poor experiences customers face
Retailers find it tough to leverage the data available for marketing and advertising, to its best
Offering real-time discounts/promotions/offers to customers is usually difficult as they tend to get delayed
Acting according to geography, location and weather is a challenge, for the business owners
10 Key Ways to Make the Most of BI Analytics During Holiday Season
Speed Up Actions and Reactions at Peak Time
You may be good, you may have the best of products but what really matters during a rush season is how fast can you react and act to offer the best of products to a widespread clientele. And that is where business intelligence helps by offering much-needed information at the right time. Yes, you need to analyze what turns best for your business and design your BI solution accordingly but once that is done, rest is left to the solution. Saving big on time, business analytics offer real-time KPIs, alerts and notifications, system stability parameters, risk assessment areas that can give customers a seamless holiday season.
Observe Historical Information
With BI, you can delve into your past and prepared for the future. Analyzing and observing your historical information through BI tools is a must to understand futuristic trends and patterns. You can know how your holiday sales have been faring since the last few years, what are the reasons for the goods and the bad, what are the areas of improvement, which geographies are popular, what are the trends customers are looking for and so on.
Utilize Supply Chain & Logistics Data
Yet another critical area of operations during the holiday season is supply chain & logistics. If that works well, half of your work is done. And BI solutions and services work best to do that for you. Supply chain & logistics information like sales forecasts, customer demands, adjusting sales channels, transportation mechanisms, stock taking, profit monitoring, merchandising patterns etc. can be extracted with ease and security.
Analyze Social Media Information In-depth
After all, in today's tech-savvy world, social media is the key to all types of information. BI can help you dig deeper into the world of data through social media channels and analyze the patterns being formed. You can get a detailed insight into customer preferences, hot selling items, return trends, online behaviors, geographical patterns, domain forecasts and much more.
Manage Margins with Predictive Analytics
During the holiday season, it is vital to understand how to manage and monitor financial margins based on past information and future trends. As a key BI mechanism, Predictive Analytics plays a huge role in helping retailers work on their margins to garner maximum sales and increase business multi-fold.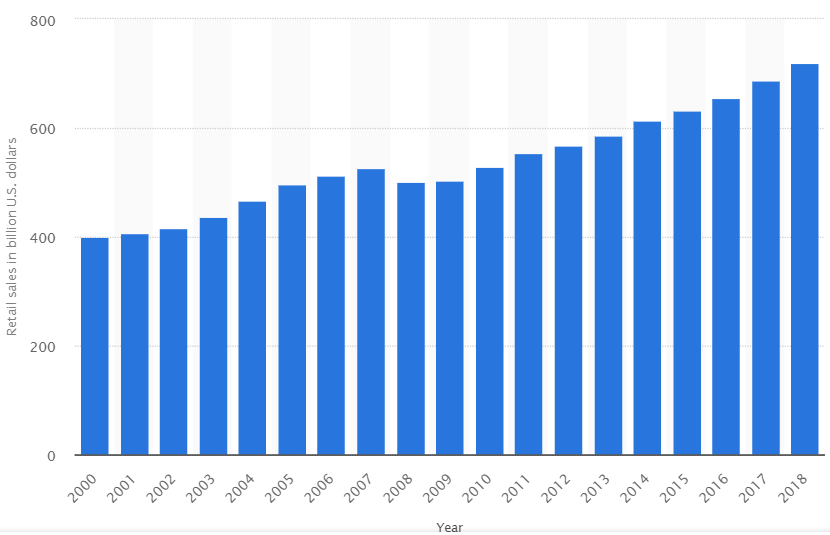 Image Credit:- Holiday retail sales in the United States from 2000 to 2018 (in billion U.S. dollars)
Shape Your Marketing Strategy With BI
BI helps in shaping your marketing and advertising strategies in an effective manner by merging combinations of customer preference, geographies, and product data. It offers a variety of patterns through visually appealing dashboards/reports that can showcase trends in marketing.
Personalizing Customer Information
Gone are those days when it wasn't important to know what customers want, have had in the past and could need in the future. Today, the customer is the king and that is where BI assists by laying down before you, all needed statistics that offer customer personalization at its best.
Enhancing In-store Dealing
With the latest technologies like the Internet of Things and proximity marketing, BI can help in offering a better in-store experience. It can showcase related discount schemes, promotional offers, alerts, and notifications related to needed item etc. at a single click and thereby offer a pleasing experience to customers and visitors alike.
Maintaining Optimum Inventory Levels
However good your customer rapport is and however increased are your sales figures, if you don't maintain your inventory levels well, it is not possible to maintain your customer list as well. With BI dashboards and reports, you can, in advance, have a detailed look at your inventory levels and refurbish them timely to avoid any kind of delay in shipment. This keeps clients happy and satisfied bang on time.
Offering Higher Priority to Value Than Price
In this fiercely competitive world, it is important to give more focus on value rather than price. Quality stands priority and that is where BI solutions help, in offering great quality products to customers rather than just dumping them in bulk. Statistics that BI offers help in understanding and analyzing product quality in a much better manner, leading to a focussed customer approach.
It surely is the best time of the year!!! Holiday mood around, shopping at its best and a cutting-edge technology acting as a catalyst to the shopping spree. It is interesting to see how Business Intelligence Services can turn tables around, when it comes to increasing sales figures, customer satisfaction, marketing campaign success, managing risks in advance and increasing profitability. Smartness is the key, when it comes to BI & Big Data. Happy Holidays to All, Leverage the Potential of the BI Experience!!!
SPEC INDIA, as your single stop IT partner has been successfully implementing a bouquet of diverse solutions and services all over the globe, proving its mettle as an ISO 9001:2015 certified IT solutions organization. With efficient project management practices, international standards to comply, flexible engagement models and superior infrastructure, SPEC INDIA is a customer's delight. Our skilled technical resources are apt at putting thoughts in a perspective by offering value-added reads for all.