Top 12 Business Analytics Tools For Intuitive Data Evaluation
"Information is the oil of the 21st century, and analytics is the combustion engine." – Peter Sondergaard
Looking at the size and volume of data the business world is generating, it is imperative to have effective and robust business analytics tools that can leverage this voluminous data and extract the best insights from it.
Be it any software solution – ERP, CRM, SCM, etc., there is ample information being communicated within systems and there is no looking back. It is increasing exponentially at an accelerated speed.
Business Intelligence and tools for business analytics are the best way to collect data, analyze them and offer real-time insight into them, for the best business decisions and futuristic actions.
What Is Business Analytics?
Business analytics focuses on a set of processes, technologies, and regulations to solve business issues with the help of statistical models, data analytics, and other appropriate methods of quantification.
There is a cyclic way of exploring the data that depends on statistical analytics and offers the best decision-making for the organization by getting valuable information from all involved systems and business software.
The leading business analytic software takes in historical data and analyzes that for trends and patterns detection, finding the main cause behind happening errors. These analytic tools for business make use of different approaches like predictive analytics, prescriptive analytics, diagnostic analytics, descriptive analytics, data mining, etc. for making smart and data-based decisions.
Business analytics tools consist of components like data mining, data aggregation, text mining, sequence identification, forecasting, optimization, data visualization, etc.
As we understand the importance of using effective analytic tools for business, here are some of the major characteristics that these tools must portray, to offer the best results:
Data exploration, blending, wrangling, management, and preparation
Insightful interface with real-time analytics
Scalability in data analytics
Effective support for third-party integration and types of analytics
Readily usable perceptions
Easily sharable analytics
Complete version control and security
Streamlined operations
Personalized customer experience
Risk mitigation and control
Ability to take informed business decisions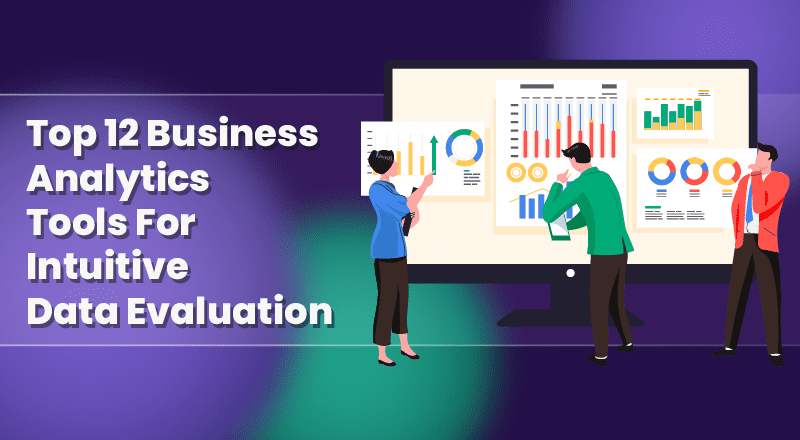 In the world ruled by data, here are the top business analytics tools that have been instrumental in getting the best efficacy and RoI:
QlikView
Power BI
Tableau
Sisense
TIBCO Spotfire
Pentaho
Dundas BI
Splunk
RapidMiner
MicroStrategy
Oracle Analytics Cloud
Google Analytics
QlikView:
QlikView is a leading tool for business analytics, thanks to its salient features like in-memory processing, fast delivery of reports, and patented technology. Created by Qlik, this tool is a fast one that is easy for deployment and learning.
It facilitates users for visualization of data relationships through related colors and automatic data association. There is no need for advanced programming knowledge, just the fundamental know-how of SQL and VB Script would be good enough.
QlikView is an ideal tool for startups and small organizations. As a data discovery and customer insight tool, it has been a gen-next software that empowers users for free data exploration on any device through robust searches and visualizations.
Power BI:
Driven by Microsoft, Power BI is a popular analytical tool that manages real-time and stored information for garnering the best of business intelligence. It manages data on-premises and through the cloud.
It offers a platform to gather, analyze, and envision data through appealing visualization and collaborative reports, encouraging businesses to increase profitability and discover perceptions.
Power BI offers live dashboards, Data Analysis Expressions (DAX), data grouping, AutoML, augmented data analytics, and data connection to a variety of sources. It does not need any development of coding expertise since it has a simple interface.
Tableau:
Tableau is a robust, comprehensive, secure, and scalable BI and analytics platform offering organizations the best of data strategies. It has dynamic and modernized competencies for unstructured text analysis.
Tableau offers statistical tools that perform insightful analysis of social media networks and predictive analytics. Tableau offers a suite of products that enable the accumulation of data, detailed analysis, and improved visualization to make data-driven assessments.
Tableau is secure, reliable, and powerful since it makes use of data algorithms. Users can easily connect, share, and collaborate with the help of a unified platform. It offers simple connectivity with different data sources and is mobile and cloud-ready.
Sisense:
Sisense is one of the leading tools in the analytics arena. It empowers users for easy transformation of unstructured text into insightful information since it integrates dynamic text analytical functionalities.
It is a comprehensive data analytics tool that offers data discovery and analytics to all stakeholders through a scalable infrastructure. Sisense makes use of open-source language for a variety of computations and lets users gain visualization into complicated information.
Sisense helps users take data-based decisions leading to accurate and futuristic forecasting. It offers predictive analytics with machine learning, data exploration, a user-friendly interface, full stack data analytics, embedded analytics, and easy sharing of findings.
Spotfire:
Spotfire, powered by TIBCO, is considered one of the modern tools for business analytics. It empowers users to execute business analytical reports spread over different intervals of time. It is scalable in nature and holds the capability to perform analysis of text-based unstructured data.
It offers good support for streaming analytics with information coming from chatbots, IoT devices, etc. Users can view basic metrics from any kind of mobile device with drill-down functionality.
Spotfire offers good connect to external web applications through a JavaScript API. With this, users can embed visualizations and dashboards. It combines geographical information to offer a comprehensive picture. There are many connectivity options that are pre-designed.
Pentaho:
Pentaho has been a world leader in the field of business intelligence and analytics. It assists users in garnering insights to get the best of business decisions and data management. There are dashboards, data modeling, reporting, visualization, etc.
This innovative BI software helps users in integrating data from various resources, performing real-time analysis, and offers results in an interesting way, improving the decision-making procedure across the organization.
Pentaho offers benefits to users such as fast and flexible procedures, competence for integration of all data types, real-time data ingestion from IoT devices, lesser coding, and a better learning curve.
Dundas BI:
Dundas BI uses the R programming language to offer the best analytics and BI solutions. It offers trend forecasting, automatic analytics, and dashboard capabilities for data visualization, and easily usable drag and drop features.
It is an enterprise-level BI software that uses data visualizations connected to various metric sets. It is flexible, comprehensive, and streamlines the whole analytical process, allowing users to indulge in browser-based dashboards and reports.
Dundas BI offers a good variety of themes, styles, and visualizations. Users can create personal and professional customizable dashboard views. These views are interactive and hence come out alluring for users to understand what the data conveys.
Splunk:
Splunk is a known business analytics tool that is known to search, monitor, and analyze machine-generated data. It captures and indexes a relation between the real-time data obtained from disparate sources.
It is an affordable analytics tool that is fit for businesses of sizes and segments. There are attractive features such as plug-ins, dashboards, alerts, and notifications, data ingestion and indexing, and data models.
Splunk is majorly used to monitor and search through Big Data with proper indexing and correlation of information. It offers easy availability to data for better analysis and problem solving for different issues.
RapidMiner:
RapidMiner is a robust tool that is apt for predictive and advanced analytics including data mining and machine learning. It needs no prior learning of any programming language. It can access multiple types of data sources like Excel, Access, Teradata, etc.
It helps users in controlling the formats and sets for better analytics. It provides improved UI with real-time visibility, lessens problems by offering results, generates graphs, alerts, and dashboards, and embeds AI into data strategies.
Splunk showcases features such as faster development, creation of real-time data apps, the quick generation of RoI, detailed reporting through real-time architecture, and search and analytics for users of all types.
MicroStrategy:
MicroStrategy is known to integrate the best analytical competencies for an in-depth understanding of unstructured data. It provides data discovery, visualization, flat files, web services, etc. by combining different tools and techniques.
It helps in the creation of advanced statistical analytics using different methods like classification, clustering, etc. for data aggregation from multiple databases. Users can get a transparent picture of their organization helping them take important business decisions.
MicroStrategy offers predictive analytics, fastened insight into the information, and integration with other tools like Tableau, Qlik, etc. Information can be searched by merely hovering over the search items, leading to faster retrieval of data.
Oracle Analytics Cloud:
Oracle Analytics Cloud is a unified analytical platform that facilitates users to ask any question against any type of data source. It offers faster access to data sources and enables analytics in the cloud.
It constitutes of a pre-designed set of applications that can fit organizations of all sizes and segments. There are reliable predictions and forecasting through its multi-dimensional analytical engine.
This tool possesses many pre-designed visualizations that consist of the spark chart, customized image maps, etc. Users can get deeper insights with AI and ML-based computations.
Google Analytics:
Google Analytics is a free business analytical tool powered b Google. It helps in calculating and tracking a variety of metrics that can be of great importance in taking business-related decisions.
It offers a great deal of auto-generated reports leading to attractive reporting and data visualization. There is funnel analysis, tag management, data activation, and a variety of integrations.
It also helps in tracking goals, measuring campaigns, audience reports, customized analytical reports, and flow visualization. It enhances online advertising with marketing analytics, SEO, and content marketing.
Business Analytics Tools: Summing It Up
Business intelligence and analytics is the future of the business globe and business analytics tools are the implementers of good analytics. The above leading tools for business analytics have proven their worth in different industry domains and geographies, be it any size of business.
They are all good and popular, so choosing amongst these depends upon the organization and their evaluation criteria. Organizations have discovered the potential of data with the help of smart, comprehensive, and advanced BI analytics software.
Based on different parameters like the cost evaluation, skills required, resource availability, project deadlines, and organizational objectives – the decision of which business analytic software to be chosen can be made by business owners.
SPEC INDIA, as your single stop IT partner has been successfully implementing a bouquet of diverse solutions and services all over the globe, proving its mettle as an ISO 9001:2015 certified IT solutions organization. With efficient project management practices, international standards to comply, flexible engagement models and superior infrastructure, SPEC INDIA is a customer's delight. Our skilled technical resources are apt at putting thoughts in a perspective by offering value-added reads for all.