Business Rules And Predictive Analytics: Extract, Automate, Evaluate
"Every company has big data in its future, and every company will eventually be in the data business." – Thomas H. Davenport
Data drives today's world and it holds great potential to transform the entire globe. Businesses are focusing on optimizing business decisions as it's no longer a competitive advantage but a necessity.
Data-driven decisions help companies:
Create better opportunities
Predict future trends
Generate more revenue generation streams
Identify threats
Optimize efforts
Data-driven decisions require smart decision systems and advanced analytics capabilities to suggest the best course of action at any given time. Decisions management systems follow a well-defined and systematic approach to decision making – these decisions are generally repeatable and consistent in nature. It focuses on automating and improving decisions using business rules along with analytical insights.
In a broad perception, decision management systems combine Predictive Analytics and Business Rules for effective decision-making systems. Before we go further, let's clear the definitions of both: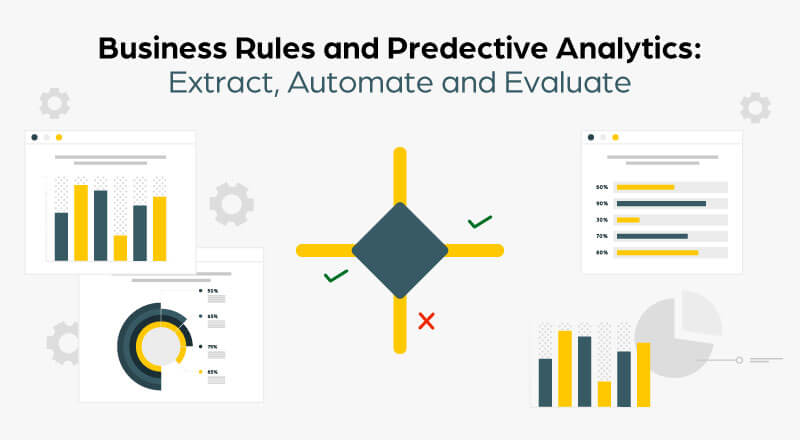 What Is Predictive Analysis?
It is a set of techniques and processes to analyze past events, historical facts, and real-time information to predict future outcomes using data mining, predictive modeling, and machine learning tools.
Good Read: How Predictive Analytics Benefits The Retail Industry?
What Is Business Rule?
In a general sense, rules define specific instructions, constraints, and controls for several aspects of business based on certain conditions. These rules are 'if-then' statements that reflect the company's policies.
For example, if a customer has a cart total worth $1000, then he/she is granted a discount of 5%.
Business rule drives decisions.
Any company can leverage the power of data to decide what, where, when, why, and how something should be done.
Before the evolution of Big Data and Artificial Intelligence, decisions were based on instinct and experience. Over time, technology entered this space and decisions are more timely, effective, and objective with the help of automation and advanced technologies.
There is a legitimate need for big data as the volume, variety, value and velocity of data is increasing day-by-day in a scary amount.
What Are The Current Challenges In Decision-Making Faced By The Organizations?
There is an abundance of data being generated every minute. Having a lot of data and information is difficult to handle and often results in confusion. Also, you can't convert all the data into information. Processing and gaining actionable insights can be overwhelming if you have tons of data. This is one of the main challenges organizations are facing in the decision-making process.
Data Integration Challenges:
Organizations deal with various sources and formats of data. These data are often unstructured and disparate. Due to high volume and diversity, organizations often overlook rich insights hidden in data structures. Collecting, mapping, generalization, aggregation of data are again challenging due to heterogeneity.
There is so much need to be done in little time. Decisions are time-critical in nature. Traditional systems lack resources to utilize data to make decisions. Opposite to this, there are too many options available for different processes used by today's organizations. This results in ambiguity and uncertainty. There must be a single business intelligence tool which collects, integrate, process, and present data in various formats to support decision-making in real-time.
In this dynamic and hyper-connected era, organizations should not only take historical data to predict future events. Real-time data must be integrated to make decision-making meaningful. There are various factors like economy, environment, technology, and customers that impact every decision. The Decision-making system must continuously look for new data and automate refreshes to make real-time decisions.
Let's see how we can overcome these challenges:
Build Effective Decision-Making Systems By Integrating Predictive Analytics And Business Rules
Here is how it works:

This is the simplest architecture of an effective decision-making system.
Every organization has its own set of rules or policies. Organizations can review, remodel, and discover rules through data mining.
These if-then statements are varied in nature and require different actions to perform when conditions are true. There can be many rule sets in an organization – organizational, structural, strategical, and many more.
Management of Business Rules Is Crucial Because:
Effective rule engine results in faster response
Improves decision-making and accuracy
Require less time to make decisions
Can be applied across channels and systems
Cost-effective, timely, and more clarified
Data is useless if you don't observe, analyze, and interpret.
Business Intelligence tools help organizations to know their customers and business operations better. Predictive analytics make predictions about future events based on past and current data and facts.
"For predictive analytics, we need an infrastructure that's much more responsive to human-scale interactivity: What's happening today that may influence what happens tomorrow? A lot of iteration needs to occur on a continual basis for the system to get smart, for the machine to "learn" — explore the data, visualize it, build a model, ask a question, an answer comes back, bring in other data, and repeat the process. The more real-time and granular we can get, the more responsive, and more competitive, we can be."
– Peter Levine, VC and General Partner at Andreessen Horowitz
This should be the aim of every organization that wants to invest in data-driven strategies. An effective decision management system combines business rules and predictive analytics to get better results.
Why Is It Essential To Tie Business Rules And Predictive Analytics?
Mature Predictive Analytics:
Rules help validate predicted events in accordance with long-term or short-term goals. Predictive analytics predict the likelihood of an event and business rules justify how mature predicted measures are.
This is very important for certain scenarios like risk, fraud, and customer retention strategy where rules are used to determine what to do next.
Better Handle Compliance:
By using business rules and predictive models together, the company can quickly check for compliance and regulatory standards.
Predictive analytic models are not decisions — they are just predictions. It is the combination of predictive analytic models with business rules that represents a decision.
– James Taylor, CEO, Decision Management Solutions
With rules in the background, organizations can handle the monitoring of data and actions quickly, resulting in faster, timely, and better decisions.
Convert Prediction Into Action:
Predictive models or algorithms provide the probability of future events. These outcomes must have some adaptive controls to make prediction meaningful. Actions from predictions are often time-critical. Consistent testing, rule execution time, deployment time, and a fresh perspective – everything matters for accurate and real-time decision models.
Effective Tools Utilization:
By integrating these two results in better utilization of tools. Rules are the backbone of the organizational structure and analytics help to strengthen it. BI tools and predictive tools use computational and statistical methods to predict an event. To extract the insights it carries, there must be the right inputs according to the time.
Decision-making happens at every level of business. Deploying more smarter and advanced intelligence and data processing tools along with defined business rules help lead the company to long-term growth and opportunities.
Data Is The Most Important Asset In 21st Century: Evaluate, Automate, And Represent Data-Driven World
Frequent new regulations, constant pressure of data security, changing business models, and intense competition make businesses run for agility and adaptability. To achieve this, Business Analytics is key to identify strength and handle bottlenecks.
Organizations regardless of their size and type must incorporate decision management systems for better results. By using business rules and predictive analytics together, organizations can make sustainable decisions, automate them, and continuously monitor outcomes to drive business growth.
SPEC INDIA, as your single stop IT partner has been successfully implementing a bouquet of diverse solutions and services all over the globe, proving its mettle as an ISO 9001:2015 certified IT solutions organization. With efficient project management practices, international standards to comply, flexible engagement models and superior infrastructure, SPEC INDIA is a customer's delight. Our skilled technical resources are apt at putting thoughts in a perspective by offering value-added reads for all.