Chatbot Developer: Roles & Responsibility, Skills, Salary, And More
The global conversational AI market size is expected to grow from USD 6.8 billion in 2021 to USD 18.4 billion by 2026, at a Compound Annual Growth Rate (CAGR) of 21.8% during the forecast period.
This Markets And Markets study also reported the major factors driving the growth of the conversational AI market include the following:
The increasing demand for AI-powered customer support services
Omnichannel deployment
Increased focus on customer engagement
Reduced chatbot development costs
AI-assisted conversational Chatbots have revolutionized customer services and help desks by utilizing real-time and continuous intelligence to deliver consistent, continuous, and superior user experience. In this hyperconnected and competitive environment, businesses must adopt a customer-centric approach where service and support must be treated equally as products and offerings.
"By 2022, 70% of white-collar workers will interact with conversational platforms on a daily basis."

Source: gartner.com
Modern chatbots do not only help customers solve their common queries but are also able to identify the moods and sentiments of customers and deliver value-added insights. Chatbots have replaced service desks and created a new world of opportunities for businesses to leverage AI in their day-to-day processes. The proliferation of chatbots resulted in more advanced chatbot development that makes use of Artificial Intelligence, NLP, and Machine Learning to mimic human conversations and create a conversational strategy.
We are living in the age of digital customers. Providing customers with immediate, personalized, and 24/7 support is quite difficult for any human workforce. This is something that is realistically achievable through the use of automation and AI-assisted conversational assistance. This lead to the growing usage of chatbots in every website and the online presence of businesses.
Growing usage of chatbots means growing demand for people who develop them. Yes, they are called chatbot developers. If you don't know what does this role means and how this new job title emerged, this article is for you.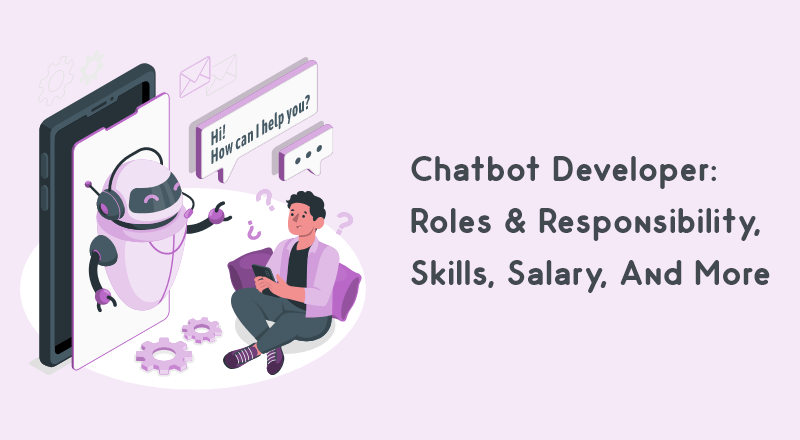 Chatbot Developer: Who Is Chatbot Developer And How To Become One?
A chatbot developer is a person who develops applications that automate communication and customer services. As a chatbot developer, you create software applications that use artificial intelligence and machine learning to communicate with humans (customers) via text or audio.
Developing chatbot programs that mimic human conversations and can handle a vast range of scenarios is a primary responsibility of a chatbot developer.
Now, let's see what are the roles and responsibilities of a chatbot developer.
Chatbot Developer Roles And Responsibilities:
Collaborate with teams and other developers to design, develop, test, deploy, and maintain chatbot (virtual assistant)
Use Artificial Intelligence, NLP technologies, and cognitive machine learning to develop chatbot applications
Maintain and enhance chatbot platform to meet changing needs
Integrate chatbot solutions with multiple platforms
Troubleshoot bots, debug, and deploy chatbots on various channels
Refactor or reengineer chatbot applications as per requirements
Enhance user effectiveness of chatbot with the help of advanced technologies
Involve in all the stages of chatbot development from architecting to implementing
Conduct Chabot demo/training and other activities
Act as an expert on the various AI capabilities and actively participate in future product development opportunities
Continuously monitor performance, report on the progress, and define strategies for enhancements
Manage data coming from chatbot conversations and analyze them
Work closely with innovation labs, researchers, and chatbot team for enhancement and end-to-end development of product
Identify, analyze, and interpret the pattern, trends, and conversational flow in complex data sets
Design and implement processes and strategies to enhance the end-user experience
To become a chatbot developer, you will require a variety of skills and years of experience. This includes software development skills as well as AI capabilities.
Chatbot Developer Skills Or Skills Required For Chatbot Development:
Technical Skills:
Years of experience building AI-powered chatbots from scratch using AI, ML, and NLP technologies
Must have knowledge of Google DialogFlow cognitive service, Rasa, Microsoft Bot, IBM Watson, and other chatbot development platforms
Sound knowledge of AI/chatbot development landscape, tools, and other frameworks
Hands-on experience working with LSTM and Transformer Networks
Familiar with software development lifecycle and different approaches
In-depth knowledge of conversational designs, flow, and automated speech recognition
Strong experience in developing any deep learning/AI products
Experience in algorithms, computer visions, knowledge management, and conversational AI
Familiarity with agile development processes and DevOps approaches
Working knowledge of frontend technologies – HTML, CSS, JavaScript, JSON, and REST APIs
Clean coding skills and best practices
Fundamental knowledge and experience in MySQL, MongoDB, or other databases
Understanding of end-to-end software development processes and business requirements
Strong multi-language background and experience working with programming languages such as Python, PHP, Java, Ruby, and AI languages
Non-technical (General Skills):
Bachelor's degree in information systems, statistics, computer science, or any related field
Real-world experience in building projects from ideation to completion
Strong analytical skills and programming skills
Knowledge of data collection and data management tools
Excellent communication skills and learning mindset
Ability to work with multiple projects at the same time
Ability to drive change and take leadership as required
Identify, analyze, and interpret trends, patterns, and correlations in complex datasets
Sound understanding of chatbot architecture
The customer-first mindset with a positive attitude
Ability to adapt to changes in a fast-paced environment
A keen interest in learning new technologies and exploring new trends
Functional knowledge of relational/non-relational databases
Deployment experience on various platforms and knowledge of version control
Flexible and have excellent time management skills
Attention to detail and self-development skills
Thoroughly know conversational AI and machine learning concepts to build advanced bots
There can be several other skills related to a particular chatbot development platform but in general, this list sums up all the skills that are required to become a chatbot developer.
Let's see how much chatbot developers earn.
Chatbot Developer Salary: How Much Does A Chatbot Developer Make?
According to Glassdoor, the national average salary for a chatbot developer is ₹4,80,226 in India.
The average chatbot developer salary in the USA is $121, 875 per year or $62.50 per hour. Salary for entry-level positions start at $87,750 per year. The most experienced chatbot developers earn somewhere up to $131,625 per year.

Source: Talent.com
Chabot developers require years of experience in AI-related fields along with software engineering skills. They require knowledge of a mixture of technologies and concepts to design chatbots.
Chatbot developer salary may vary based on experience, location, skills, technologies, and knowledge.
There are many certifications courses available from leading organizations that help chatbot developers to sharpen their skills.
Chatbots are widely used in eCommerce, news, entertainment, health, messaging apps, real estate, and many customer feedbacks and surveys. Chatbots are convenient, faster, and efficient in serving customers consistently. With more enhancement in the field of AI and machine learning, bots get smarter and provide a delightful experience to the customer.
If you want to explore your career in the AI and ML field, chatbot development is a great way to kick-start your career. The growth of the conversational market is predicted to rise as there is an increased demand for AI-powered chatbots, virtual assistants, and customer support services.
Here are a few chatbot developer interview questions that help candidates who want to enter this field.
Chatbot Interview Questions
How do we teach the bot?
How do you make sure your bot continues to learn once it is live?
What is the meaning of default intent?
What is an agent?
What is Dialogflow?
Can you explain Entity?
What is a webhook?
What is Default Fallback Intent?
What is Natural Language Processing?
What is context?
Describe knowledge base.
Where can we deploy our chatbot?
What is Training Phrase in Dialogflow?
Can we control the bot once it is deployed and in use?
Describe some applications of conversational AI.
What are the benefits of chatbots for any business?
What is AIML?
Which programming languages have you worked with?
What do you think, will chatbot replace human customer service agent?
Narrate your experience using chatbots or name popular chatbots you have used.
Businesses that have an online presence whether it is a mobile or a website, use chatbots for conducting human-like conversations through text or audio.
The global chatbot market is expected to reach USD 1.25 billion by 2025, growing at a CAGR of 24.3% according to a report by Grand View Research.

Source: markets.businessinsider.com
Conversational, Friendly, And Helpful: Chatbots Are Here To Enhance User Experience
Chatbots are used everywhere.
They attract users and make conversations interesting and fun. They are widely adopted by industry sectors such as eCommerce, finance, hospitality, education, health, and so on. Hire chatbot developers to noticeably improve customer engagement and provide a consistent customer support experience across platforms.
Do you know?
Nearly 40% of internet users worldwide prefer interacting with chatbots than virtual agents.

By 2024, Insider Intelligence predicts that consumer retail spending via chatbots worldwide will reach $142 billion- up from just $2.8 billion in 2019.

Source: Businessinsider
Despite the complexity, AI and ML continue to grow and be used in a variety of ways. A chatbot is one of them. Companies are looking to develop chatbots so that they can provide round-the-clock service to their customers without compromising human touch.
Chatbots are capable to understand users' intent and with each interaction, they become smarter and improve their ability to mimic human agents.
The rise of chatbots and their usage has laid a strong foundation for the increased demand for chatbot developers. You might have used chatbot in your day-to-day transaction. How was your chatbot experience?
SPEC INDIA, as your single stop IT partner has been successfully implementing a bouquet of diverse solutions and services all over the globe, proving its mettle as an ISO 9001:2015 certified IT solutions organization. With efficient project management practices, international standards to comply, flexible engagement models and superior infrastructure, SPEC INDIA is a customer's delight. Our skilled technical resources are apt at putting thoughts in a perspective by offering value-added reads for all.