Top 17 Community Apps to Connect [In Alphabetical Order]
In today's interconnected world, where distances are bridged by technology and social bonds transcend geographical barriers, community building has been elevated to a whole new tier. The rise of community apps has empowered individuals to connect, engage, and collaborate with like-minded people who share their passions, interests, and goals.
From fostering local connections to uniting global enthusiasts, these platforms have revolutionized the way we interact, learn, and grow together. In this exploration of the top community apps, we delve into a curated list of the best community apps that exemplify the power of virtual communities in creating meaningful and impactful connections across a diverse range of endeavors.
Before we do that, let us first understand the basics of these community apps.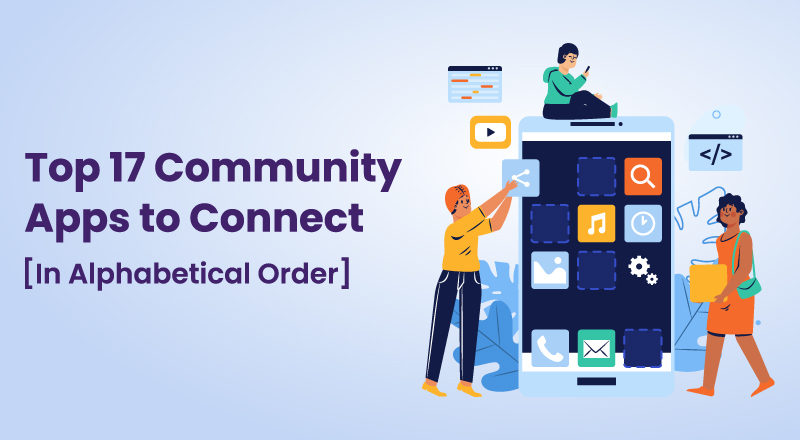 What is Community App?
A community app is a platform that facilitates the end users/like-minded community who share common interests, goals, or affiliations to get involved in interaction, communication, and collaborations.
These powerful mobile apps are used by the community/users to interact with one another in real-time as well as share content, such as photos and videos with people from all around the world. It is these apps that enable the users to discover, build, and grow communities.
Some of the ideal features of the best community apps are:
Discussion forums
Content sharing
Polls and surveys
Gamification elements
Customization options
Moderation tools
Virtual events/webinars
User authentication and security measures
Integration with social media
Whether you're a fervent hobbyist, a relentless learner, or simply someone seeking genuine connections, let us uncover the finest community apps.
Popular Community Apps to Engage with Like-minded Community
BuddyBoss
Circle
Disciple
Discord
Heartbeat
Hivebrite
Mighty Networks
Mighty Pro
PeerBoard
PlushForums
Podia
Raklet
Slack
Top Hat
Tribe
Uscreen
Wild Apricot
Now, let us explore these best community apps individually to gain a comprehensive insight.
BuddyBoss:
This powerful community-building platform seamlessly empowers the social aspects of its host websites. It's a remarkable feature that allows users to infuse gamification elements into their communities, thus significantly enhancing user engagement.
Fabricated by Michael Eisenwasser and Tom Cheddadi, the collaborative app offers an array of advantages, including its exceptional flexibility, seamless integration with third-party applications, provision of branded mobile apps, extensive customization options, and affordability.
While its strengths are evident, it is worth noting that this community app's primary focus remains on web-based applications, which might limit its suitability for other platforms.
Circle:
Founded by Sid Yadav, Rudy Santino, and Andrew Guttormsen, one of the aspects that sets this community app apart is its attractive and intuitive interface that appeals to users. It offers the convenience of effortlessly establishing private spaces for distinct groups, allowing them to remain hidden from other users if desired.
Circle facilitates the seamless integration of widgets onto external websites, expanding its functionality beyond its core platform. Its administrative tools are robust, catering to efficient management. With compatibility across modern desktop and mobile devices, it ensures broad accessibility. Moreover, the Single Sign-On (SSO) integration support enhances user experience. On the downside, the community engagement app has transaction fees, lacks a branded mobile app choice, presents limited customization options, and has membership limits that might affect scalability.
Disciple:
The Disciple community app excels with its balanced and effective moderation tools that maintain order without being overbearing to naïve users. Apart from that, the easy integration with the monetization tools empowers users to translate their interests into earnings.
It offers a white-label app compatible with both iOS and Android platforms. Unlike most community apps, this one offers unlimited live streaming capabilities and easy integration with existing tools like MailChimp, Thinkific, Zapier, Shopify, and more.
However, it's important to note that while Disciple provides unparalleled support and a comprehensive feature set, it might not be the most budget-friendly choice for those who don't require these extensive offerings.
Discord:
Widely recognized within the gaming community, Discord stands out as a prominent platform primarily catering to gamers. Its predominantly free nature positions it as one of the top free community apps available in the mobile app marketplace.
Created by Jason Citron and Stanislav Vishnevskiy, this web-based communication app offers topic-based channels, facilitating efficient collaboration and conversation without the clutter of excessive group chats. The platform allows users to effortlessly initiate private discussions or participate in established public channels, fostering engagement and interaction among like-minded individuals.
With its intuitive interface and customizable features, Discord enables swift and effective communication for everyone involved.
Heartbeat:
At the core of the Heartbeat is committed to robust customization, providing users with tailored experiences. Its potent search and targeting functionalities enhance engagement by pinpointing relevant interactions. The community platform facilitates seamless content management and streamlined event coordination, amplifying organizational efficiency.
Heartbeat excels in cultivating lively communities through collaborative calendars that encourage shared participation, further augmented by effortless social media integration. This multifaceted approach underscores Heartbeat's role in fostering vibrant and interconnected online communities.
Hivebrite:
Hivebrite emerges as a cloud-based community app seamlessly integrating with leading CRM systems such as Salesforce, Pipedrive, and more. Its comprehensive suite of community management tools and built-in monetization tools, empower users to leverage their communities for profit apart from efficient engagement.
Its intuitive interface simplifies navigation and interaction. However, while Hivebrite offers robust functionality, some users may find the pricing plans to be on the higher side, and certain aspects of this community app might pose a steeper learning curve, necessitating a focused approach to master its full potential.
Mighty Networks:
Established in 2017, Mighty Networks has swiftly risen to prominence as a favored community platform owing to its diverse set of features including a course builder, private messaging, live streaming, group chat events, and more. The app extends compatibility across desktop, iOS, and Android devices, ensuring broad accessibility.
Further enhancing its versatility, Mighty Networks supports seamless integration through Zapier. However, it's important to note that the platform applies transaction fees and poses limitations in live streaming. Additionally, while the option for a white-label version exists, it comes at a notably high cost.
Mighty Pro:
Mighty Pro emerges as a top-tier, white-label community app builder, providing the opportunity to showcase your brand on the App Store and Google Play Store. Alongside ongoing VIP support, the platform offers advanced analytics and a customizable dashboard.
Highlighting its feature-rich offerings, Mighty Pro includes live streaming, interactive forums, a custom activity feed, elegant course creation, virtual events, Spaces, and the ability to charge in your preferred currency while selling bundles. Although a premium service, users can initiate their journey with a Mighty Network, showcasing the platform's flexibility in catering to varying needs and budgets.
PeerBoard:
Apart from the primary focus on community engagement rather than heavy monetization, this community app stands out by offering a diverse array of content delivery options, enabling extensive personalization, including the creation of private spaces, all without imposing exorbitant costs.
Founded by Mikhail Larionov, the app places a strong emphasis on reporting and analytics to provide insights. With the added advantage of being embeddable on any WordPress site, PeerBoard also boasts exceptional content management features. However, it lacks a branded mobile app option, its performance relies on the quality of your web host, and there are no built-in tools for direct monetization.
PlushForums:
PlushForums serves as a versatile tool for constructing community forums, enriched with an abundance of features including polls, events, and an integrated blog to elevate community engagement. Its built-in security measures shield against hacking, spam, and bots. The platform is equipped with an array of practical administrative tools, promoting seamless management.
The community app ensures compatibility with mobile devices, enhancing accessibility. However, it's important to note that certain advanced features such as live streaming are absent from its offerings, potentially limiting certain deluxe functionalities.
Podia:
Being the best community app prioritizes mobile accessibility, ensuring engagement on various devices. It encompasses a diverse range of moderation and monetization tools that foster a thriving community environment. The inclusion of analytics enables efficient tracking of community activity. Remarkably compatible across all platforms, Podia ensures consistent performance.
However, it's noteworthy that the absence of mobile apps limits certain functionalities, and the platform lacks the capability to create standalone communities. Additionally, Podia offers some reporting tools which are often criticized for being basic.
Raklet:
Raklet emerges as a comprehensive all-in-one community management platform, encompassing the unique feature of creating application forms to streamline membership processes. With the ability to effectively manage memberships, events, and payments from a single hub, this community app offers exceptional convenience. Its robust CRM system facilitates efficient management of member data, enhancing organizational capabilities.
Available across the Web, iOS, and Android platforms, it ensures broad accessibility to end users. Furthermore, Raklet's strong integrations with various platforms enable it to be one of the top community apps. However, potential challenges might arise in displaying comprehensive member information.
Slack:
Slack is one of the most known community apps among corporate employees as is widely embraced within the corporate sphere. Its extensive adoption in the corporate world is underpinned by its seamless integrations with a plethora of time management tools, including Google Calendar, Google Drive, Evernote, Dropbox, Zoom, and more.
The community tool caters to diverse interactions, ranging from collaborative group projects and efficient file sharing to personal activities like sharing photos, note-taking, content distribution, and even the playful exchange of memes/gifs, reflecting its versatility and widespread utility across various aspects of professional and personal communication.
Top Hat:
The Top Hat app facilitates seamless student connectivity, fostering engagement through interactive class discussions. By presenting dynamic discussion questions, educators can establish connections among students, encouraging them to actively participate when using this community app.
Through the ability to respond to each other's comments, a vibrant learning atmosphere is cultivated among learners. One of the reasons that makes it the best community app for students is its effectiveness in creating an interactive and discussion-rich learning environment that not only enhances the educational experience but also ignites students' enthusiasm for learning.
Tribe:
It is a cloud-based community app and is favored among social media influencers seeking to establish meaningful connections and enhance engagement with their followers. Notable for its seamless integration of product promotions through third-party tools and its intrinsic gamification features, Tribe seamlessly merges content with promotional strategies.
Praised for both its marketing prowess and cost-effectiveness, Tribe offers extensive customization options. However, its learning curve may prove challenging, and while excelling in various aspects, it may not be the optimal choice for hosting educational courses.
Uscreen:
Uscreen operates as a platform akin to YouTube, catering to coaches, trainers, musicians, and various creators, allowing them to establish dedicated communities centered around their video content. Unlike the majority community apps facilitate actions like payment collection, subscription generation, lead acquisition, and business promotion.
Uscreen's model offers both free and subscription-based options for content access offering an added advantage to end users of all sorts. The presence of clickable and searchable tags, along with detailed member profiles, enhances navigation and user engagement.
However, prospective users should be prepared to provide ample video content, as Uscreen's focus revolves around this media format. While not as customizable as some might prefer, and with room for improvement in customer service, Uscreen remains a compelling avenue for community and content building.
Wild Apricot:
Wild Apricot emerges as a specialized membership community app designed to cater to nonprofit organizations and similar entities. With the capability to construct member databases, the platform streamlines membership management. One of its standout features lies in its adept handling of live events, offering mobile event management and ticketing functionalities within the app.
The community app also accommodates the formation of regional chapters and subgroups, enhancing the organizational structure. On the flip side, the platform exhibits very basic forum features, and its interface might appear dated compared to more modern alternatives.
Interesting Read: Top 15 Mobile App Development Tools for Building Optimal Apps
Best Community Apps: Conclusion
Remember that the "best" app for you depends on your interests and goals. Exploring these options can lead you to vibrant communities where you can engage, learn, and share with like-minded individuals.
From exchanging knowledge to sharing passions, seeking advice to offering support, these top community apps have enriched our lives by fostering a sense of belonging in the digital realm.
So, whether you're a fitness enthusiast, an artist, a traveler, or someone seeking companionship, these community apps stand as modern-day catalysts, turning shared interests into meaningful connections and transforming the virtual world into a global tapestry of camaraderie.
SPEC INDIA, as your single stop IT partner has been successfully implementing a bouquet of diverse solutions and services all over the globe, proving its mettle as an ISO 9001:2015 certified IT solutions organization. With efficient project management practices, international standards to comply, flexible engagement models and superior infrastructure, SPEC INDIA is a customer's delight. Our skilled technical resources are apt at putting thoughts in a perspective by offering value-added reads for all.