Top 14 Latest Mobile App Development Trends For 2021
"Mobile is becoming not only the new digital hub, but also the bridge to the physical world." – Thomas Husson
We all are engulfed by the power of the mobile world, isn't it? The below statistics explicitly show the increasing demand and usage of mobile devices and mobile applications in the current times. The year to come is sure to showcase an upsurge in mobile application trends, with innovative technicalities getting value added to it.
By 2022 app store consumer spending is projected to increase by 92 percent and reach $157 billion worldwide

By 2022 annual mobile app downloads are projected to increase by 45 percent and reach 258 billion.

Source: appannie.com
By 2021, there will be roughly 7 billion mobile users worldwide

Source: statista.com
Each year brings its share of trends that attempts to offer a preview of how far these technologies can go, to attain the best of results. Mobile app development trends 2020 showed plenty of technical advancements some of which have already shown their success stories, some of which are on their way to proving their worth.
There are certain technologies that were trending last year and will continue as a trend this year, but with each passing year, they display newer intricacies and developments that show mobile apps in a new light.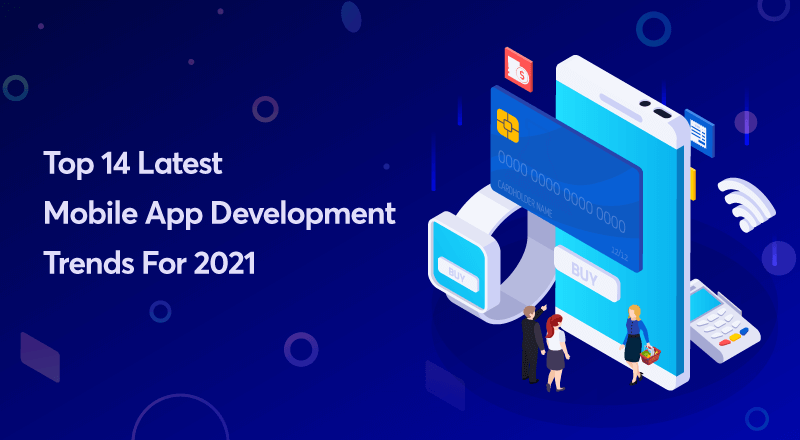 Top Mobile App Development Trends For 2021
Beacons Will Increasingly Be Leveraged For Mobile Apps
AR/VR Expand Their Reach Ahead Of Gaming
Internet of Things Will Be Largely Leveraged
Edge Computing Will Gain Prominence Over The Cloud
Artificial Intelligence Gets Real With Chatbots
5G Shall Gain Importance Along With AI, AR, VR
Use Of Instant Mobile Apps Will Increase
Enterprise Mobile Apps Will Be More In Demand
Emphasis On Security Of Mobile Apps
Increased Demand For mCommerce, Mobile Wallets, Wearable Devices
Biometric Verification Will Be Leveraged More
Folding Smartphones Are Coming Up Soon
On-demand Apps Are In Great Demand
Low Code Development Will Be The Need Of The Hour
Beacons Will Increasingly Be Leveraged For Mobile Apps
Beacons are the latest happening devices today which have proven their worth across the globe. The coming year shall see more integration of beacons application development with mobile apps. As is, the most modern-day mobile app offers seamless integration with beacons. Industries like retail, hotel industry, etc. promote proximity marketing to a large extent. These industries have flourishing businesses owing to the successful implementation of mobile apps that showcase beacon-based features and the list of domains are increasing.
Beacons, with their location-based capabilities, continue to work as indoor positioning systems with their Bluetooth signals. This offers a great deal of personalized customer service, offering satisfaction to clients, and increased revenue in terms of business. There is much more that beacons will continue to offer to the industry segments and clients alike.
AR/VR Expand Their Reach Ahead Of Gaming
For a few years, we have been watching the penetration of AR/VR in the gaming section. There have been many games that are based on this technology and have been garnering a good target audience. Games like Pokemon Go!, Sky Siege, iOnRoad, etc. have been great examples of displaying AR/VR competence.
The year to come shall witness AR/VR moving beyond the boundaries of the gaming section. There will be newer segments that shall witness the potential of this wonderful innovation. Apps showcasing live online entertainment, concerts, and sports are making the rounds, especially during days when viewing it from the comfort of your home means the most. Even eLearning applications are making the most of it by offering interactive and AR/VR led guidelines and training.
Internet of Things Will Be Largely Leveraged
IoT has been revolutionizing digitization world over but post Covid-19, the role of IoT has changed a lot. With the work from home regime and increased demand for IT services sitting at home, the utmost need to leverage IoT devices has risen and is supposed to carry more weightage in the coming year.
Even industry segments like the healthcare industry shall witness more usage of IoT devices since telehealth services will be in higher demand. Visiting patients online and connecting their medical history with relevant health devices will be easier with IoT.
IoT shall also integrate smart home devices well with AI to give out enhanced and faster processes. The coming year shall see smartphones handling smart homes, adjusting thermostats remotely, operating refrigerators, home security solutions, smart lights, and much more.
Edge Computing Will Gain Prominence Over The Cloud
With an increasing number of devices getting connected to the Internet and with IoT holding prominence, Edge computing will be in popular demand. It is difficult for the cloud to manage such a bulk of data. That is where instead of having all the data in the cloud, edge computing processes it at the point of origin.
The point of origin could be edge devices such as mobile, sensor-based devices, edge router, and more. These devices perform the task of processing, storing, and communicating important information. As IoT gains importance, developers have understood the fact that sending all the data to a local device is better than having it all on the cloud. So, the coming year may see your mobile device handling multiple devices – the lighting system, security system, smart TV, voice assistant, etc.
Artificial Intelligence Gets Real With Chatbots
AI has been in vogue for a few years now. Artificial Intelligence and its connected technologies like Machine Learning, Chatbots, Deep Learning, Advanced Analytics, etc. are creating increased demand amongst the industry segments. One prime technology that will see an upsurge in the coming year is Chatbots.
Chatbots have brought around a human-like, real-time interactive experience to users, by responding to queries instantly and accurately. It caters to a variety of service segments like online retail shopping, food delivery, transportation, etc. An increase in usage of voice assistants like Siri, Alexa, Google Assistant is being witnessed widely. With the power of Robotic Process Automation (RPA) gelling well with AI, chatbots are offering precise answers. This also offers a competitive advantage to AI technology experts and those offering effective chatbot applications.
5G Shall Gain Importance Along With AI, AR, VR
As AI, AR, VR increase their spread multi-fold, the network capacity must increase to effectively implement these technologies. 5G technology, which is almost 100 times swifter than its predecessor, will have higher prominence in the coming year, mainly for complicated and demanding technologies.
With 5G becoming more stable, cheaper, and fasters, mobile devices will be developed using this technology. The number of 5G connections will increase and users will have an enhanced experience of demanding content like high-quality videos, 3D objects, heavy AR/VR shows, etc.
Use Of Instant Mobile Apps Will Increase
Since instant mobile apps facilitate users to utilize parts of a native app without installation. They are native containers having access to the hardware, are not installed, and hence do not occupy storage on the device.
Native apps are mainly used while demonstrating applications since they let you get a feel of how the app will be, prior to a complete download. Yet, it persuades the user to install the complete application.
Enterprise Mobile Apps Will Be More In Demand
The expanding horizon of mobile apps has touched upon enterprises of all industry segments. As the new year approaches, the demand for enterprise mobile apps will see a rising high. Mobile apps that meet the demands of the enterprise – streamlining and managing complex business procedures will be implemented by more organizations.
Enterprise apps will suffice a variety of needs – multiple processes together, a defined area of work, integrating different departments seamlessly, smooth transition of information within systems, etc.
Emphasis On Security Of Mobile Apps
Even as mobile apps have increased in demand and usage, sufficient weightage has not been given to the security aspect. This has turned hazardous in terms of leaking of confidential information, cyberthreats, malicious attacks, phishing scams, etc. Mobile apps and their integration with technologies like AI, AR, VR has exposed the data on a large scale.
The year to come shall see service providers taking security as one of the most prioritized processes while designing and implementing a mobile app. Even the end-users have become more aware of having secure guidelines and processes embedded in their mobile apps. Developers are focussed on choosing the best of security algorithms and software while building the mobile app, VPN, antivirus software, mobile device management, being a few of them. The component of security-related training to end-users has also gained importance, to facilitate users to manage and identify security threats themselves.
mCommerce, Mobile Wallets, Wearable Devices Would Be More In Demand
mCommerce is becoming the new normal now, with mobile devices catering to online retail shopping, contactless payment options, and integration with wearable devices. With the pandemic showing its power, there are many, around the globe, who have opted for shopping online with different payment options. The need for such mobile apps has increased big time and almost all retail business owners are going in for a mobile app having these features.
Wearable devices have also increased in usage with a greater number of affordable wear coming into the market. The wearable market is providing a big boom to the mCommerce market and shall continue to do so in the coming year.
Biometric Verification Will Be Leveraged More
Verifying information through biometric methods is gaining momentum. Most mobile devices now come with biometric competencies like fingerprint scanning, face recognition, etc. It will be used to operate the mobile device, unlock the phone, plug into the bank account, or any sensitive information that must be protected.
Along with an increase in biometric processes, the security angle of the same also will gain further importance, since exposing personal information is quite risky. Developers will start including important methods into their code right when the mobile app is being built.
Folding Smartphones Are Coming Up Soon
There has been a good start to folding display in mobile devices already and the coming year shall see increased production and usage of the same. Folding displays will be the new face of mobile devices. Of course, there is a lot that developers and makers will have to consider while doing so, but it surely has a bright future.
The newer set of mobile phones will have a change in screen sizes based on user demand. Even the apps will have to be altered accordingly. Hence, there is a lot of revolution that is being watched for, in the coming year, in the arena of foldable mobile devices.
On-demand Apps Are In Great Demand, Especially In The Pandemic Times
The on-demand economy has grown, and on-demand apps are next-gen technology. Thanks to the Covid-19 times, on-demand apps are a lot sought after. There are various areas where on-demand apps have taken a priority – package delivery, health and wellness, retail online shopping, video streaming channels, food delivery/hospitality, personal transportation, educational, taxi/hotel booking services, home repairing activities, etc.
The year to come shall witness increasing use of such on-demand apps in the above-listed peripheries. There are chances of newer avenues to kick off using on-demand mobile apps. Novel features may get included in on-demand apps such as geo notifications, wish lists, etc.
Low Code Development Will Be The Need Of The Hour
With increased technological complexities, the coding part also needs more effort and increased lines of code. At such times, low code development comes to the rescue. It helps big time in reducing the time and effort involved in coding. Apps can be scaled up/down depending on their requirements.
The market for low code development is widening and since it involves automatic code generation, there are many organizations who are wanting to implement it more. Developers are keen to learn this concept because of its increasing demand
As We Await The Year 2021 To Begin With All Good News
Overall, if we observe the trends, what we observe is mobile apps are getting increasingly integrated with our daily lives and thereby, upsurging our lives technically. Mobile apps are becoming more sophisticated, secure, indispensable to us all – personally and professionally.
Mobile app development is seeing newer ways and means to design and develop niche solutions for a multitude of industry segments. Especially, in the current times, when the world is groping over the pandemic, mobile apps are becoming a fresh breath of air for many, offering convenient and easy means to handle daily activities. As we approach the new year, it will be interesting to experience the power of mobile apps and feel the strength of digital technology evolution!
SPEC INDIA, as your single stop IT partner has been successfully implementing a bouquet of diverse solutions and services all over the globe, proving its mettle as an ISO 9001:2015 certified IT solutions organization. With efficient project management practices, international standards to comply, flexible engagement models and superior infrastructure, SPEC INDIA is a customer's delight. Our skilled technical resources are apt at putting thoughts in a perspective by offering value-added reads for all.