Enterprise Architecture – Building a Robust Business IT Landscape
Posted
September 27, 2019
Updated
January 24th, 2023
"The goal of enterprise architecture is boundary-less information flow where all systems, IT and non-IT, interoperate." – Allen Brown
Today, when technology has proven its supreme power amongst almost all industry segments around the globe, digitalization seems to be having a great influence on Enterprise Architecture (EA). Businesses are expanding beyond enterprise limits and IT solutions are encompassing enterprise, clients, stakeholder, ecologies and more. At such times, it is tough to manage a traditional monolithic framework. Now is the time to have a process that offers enough space for planning and managing the entire digital wave.
With this concept in mind, around the 1960s, began the start of Enterprise Architecture. Initiated by Professor Dewey Walker, taken forward by John Zachmann – his student, Enterprise Architecture found its entry into the tech world. Somewhere in the 1980s, enterprises realized that they would need a perfect planning approach to match pace with the fast-growing technological web. That gave further impetus to Enterprise Architecture, to extend beyond mere IT, trying to encompass all important ingredients of the business. The focus area was large organizations who are already in the digitization mode and need to have a seamless integration of legacy apps and processes.
"We think of enterprise architecture as the process we use for fully describing and mapping business functionality and business requirements and relating them to information systems requirements." – Tony Scott
Enterprise And Architecture – Understanding the Fusion
The terminology 'Enterprise' needs no detailed explanation. It is, basically, an organization or a group of organizations that focus towards a common set of goals to offer certain products/services to clients. The term considers all types of organizations, irrespective of their segment, location, size and includes all responsible entities like people, procedures, technologies, data, etc.
The terminology 'Architecture' talks about the basic perceptions of any system with respect to its environment, infrastructure, the interrelationship between elements, their design principles, and implementation.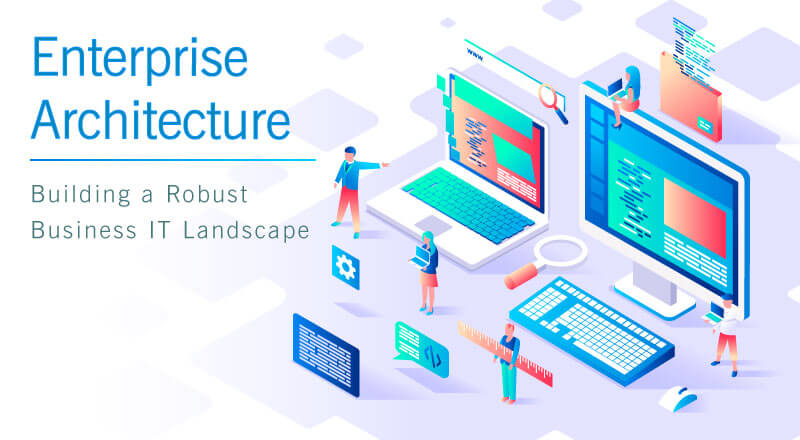 Enterprise Architecture – An Introduction
Some of the well-known definitions:
"Enterprise architecture (EA) is "a well-defined practice for conducting enterprise analysis, design, planning, and implementation, using a comprehensive approach at all times, for the successful development and execution of strategy. Enterprise architecture applies architecture principles and practices to guide organizations through the business, information, process, and technology changes necessary to execute their strategies. These practices utilize the various aspects of an enterprise to identify, motivate, and achieve these changes." – Wikipedia
"An enterprise architecture (EA) is a conceptual blueprint that defines the structure and operation of an organization. The intent of an enterprise architecture is to determine how an organization can most effectively achieve its current and future objectives." – TechTarget
"Enterprise architecture (EA) is a discipline for proactively and holistically leading enterprise responses to disruptive forces by identifying and analyzing the execution of change toward desired business vision and outcomes. EA delivers value by presenting business and IT leaders with signature-ready recommendations for adjusting policies and projects to achieve target business outcomes that capitalize on relevant business disruptions. EA is used to steer decision making toward the evolution of the future state architecture." – Gartner
The above three definitions say it all. EA is not only involved in the IT-related business. It caters to the entire business landscape. Basically, enterprise architects are involved in selecting basic priorities and offering their specialized knowledge to build agile, flexible and robust solutions. EA is involved right from the inception of the project till its implementation and beyond.
Here Is A Sneak Peek Into The Impact Of EA On The SDLC: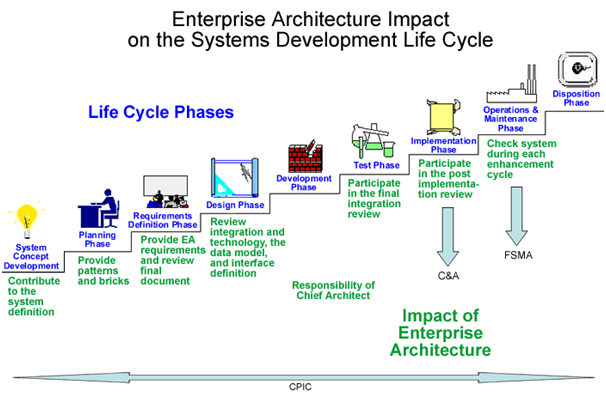 Some Of The Popular Enterprise Architecture Planning Methodologies Are
Federal Enterprise Architecture Framework (FEAF)
The Open Group Architectural Framework (TOGAF)
The Zachman Framework for Enterprise Architecture
Federal Enterprise Architecture Framework (FEAF)
A Federal Enterprise Architecture is the Enterprise Architecture of the federal government. It provides a common approach for the integration of strategic, business, and technology management as a part of organization design and performance management.
The goal is to organize and promote the sharing of federal information for the entire Federal Government.
The Open Group Architectural Framework (TOGAF)
TOGAF provides principles for designing, planning, implementing and governing enterprise IT architecture. It helps to organize the development process through a systematic approach and aims at reducing errors, staying on budget and aligning IT with business units to produce quality results.
It came into existence in 1995 and by 2016 80% of world-leading enterprise adopted this framework.
The Zachman Enterprise Architecture
The Zachman framework is a logical structure intended to provide a comprehensive representation of the enterprise. It helps to view an enterprise and its information systems from different perspectives and shows how the components of the enterprise are related.
It acts as a proactive business tool, which can be used to model an organization's existing functions, elements, and processes – and help the business to manage the change.
Goals Of Enterprise Architecture
To facilitate the seamless flow of information, business and technology together
To combine people, data and technology offering a combined view of internal relationships between stakeholders
To adopt best business practices to ensure enhanced efficiency, appropriateness, and accuracy
To have an integrated IT environment across the enterprise with a strong association with the business side
To endorse configuration, standardization, reprocessing of current IT assets and allotment of common project management methods
To prepare a map of IT resources and business procedures with an integrated set of leading ideologies
Why Is Enterprise Architecture Beneficial – In Long Term And Short Term?
EA affects all important departments in any organizations. Here are certain key reasons that call for the need of EA:
Unification of Procedures – It helps in enhancing the interoperability between different solutions and applications.
Reduction in Operational Costs – Because it can modernize all systems, there is sure to be a marked reduction in the cost factors associated.
Increased Transparency – Since all processes are well laid and involve all stakeholders, there working is quite known to one and all.
Abiding by New Regulations – EA can help the entire organization in adapting to the latest rules and regulations.
Simplified Collaboration – It helps in effective communication between departments and thereby helps HR implement processes effectively.
Effective Project Management – Since all departments and processes are well laid and followed, project management becomes an easier task.
Improvised Decision Making – Helps in coming to right and accurate decisions by the entire enterprise
Enhanced Flexibility to Fluctuating Market Demands – With change being the only constant, EA helps in adjusting to changing market conditions
Lesser Inefficiency – With departments, processes, infrastructure talking well with each other, ineffectiveness is bound to reduce by a large margin
Maximized RoI – with optimum use of enterprise-level assets and resources, return on investment is bound to enhance
Evaluation of Existing Setup Against Long Term Goals – It does help in a detailed evaluation of the current architecture as against organizational objectives
The Four Perspectives Of Enterprise Architecture
For EA, the fundamental architecture encompasses four basic areas of architecture that are a routine to all business segments. Here are they:
Defines procedures and methods of operating business on a daily basis
Defines communication within procedures and methods utilized by the enterprise
Divides the basic information so that the enterprise can leverage the maximum
Defines the infrastructure, architecture, OS, hardware, programming and networking solutions being used by the enterprise
The Role Of An Enterprise Architect
When we talk about EA in a big way, the first question that comes to our mind is who will be the responsible one performing the task of Enterprise Architecture. The obvious answer is an Enterprise architect.
Who is an enterprise architect? What do they do? What are their responsibilities?
An enterprise architect plays a pivotal role in EA. The role includes analysis of business information and procedures to accurately match them up with organizational objectives, with ease and effectiveness. It also includes getting in enhanced agility and durability to face any big hurdles coming up.
Engineering architects could be at the post of a chief technical officer or a software engineering head or a chief information officer or so. They need to have a confirmed education in the IT industry with at least ten years of proficiency in a variety of technologies like Java, cloud computing, BI, Big Data, system architecture, project management, service-oriented architecture and many more.
EAs need to have hands-on experience developing soft skills like collaborative skills, critical analysis, teamwork, leadership, etc.
Roles And Responsibilities That An Enterprise Architect Takes Care Of, Are:
Setting up architecture strategies and resolving problems
Handling complex development projects
Taking care of business process analysis and design
Development and process implementation of EA related activities
Maintaining key EA deliverables
Helping business management groups to enhance business delivery
Grasping further technologies and business plans
As We See Enterprise Architecture Take on The World
As we see technology take over the world, enterprises plunging into the technology pool and businesses getting heavily affected, it feels interesting to see how Enterprise Architecture has revolutionized the business landscape. The impact is big, profiting and has a long effect. Wait and watch to see how big the impact is!
SPEC INDIA, as your single stop IT partner has been successfully implementing a bouquet of diverse solutions and services all over the globe, proving its mettle as an ISO 9001:2015 certified IT solutions organization. With efficient project management practices, international standards to comply, flexible engagement models and superior infrastructure, SPEC INDIA is a customer's delight. Our skilled technical resources are apt at putting thoughts in a perspective by offering value-added reads for all.