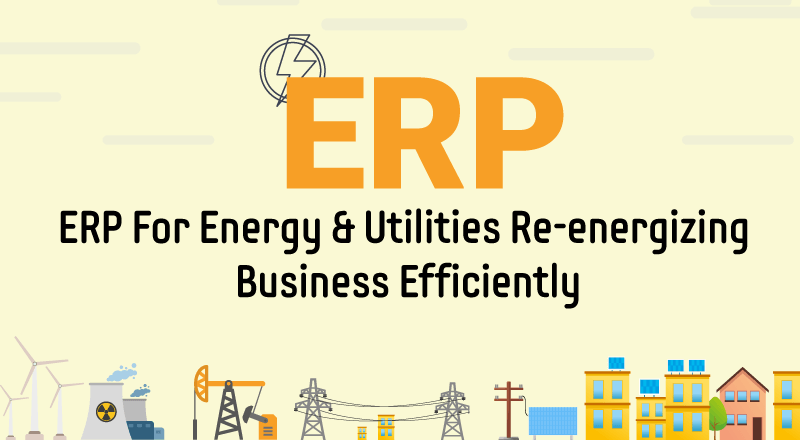 A challenging but electrifying industry segment today – the Energy & Utilities domain has been on a growing spree and is having a bright future. Multiple requirements that never cease to reduce like meeting natural resources demand, management and maintenance of assets, enhance productivity and profitability, fulfill market needs, abide by standardized rules etc. It is a tough job to handle all these comprehensively and the one single stop solution that can do it is an innovative ERP for Energy and Utilities. With a focus to align with organizational objectives, the ERP solution targets to be cost effective, swift in implementation, tailormade to suit business needs and modernized in nature.
81% of organizations are either in the process of implementing ERP software or have completed implementation. (Panorama's 2017 ERP report)
Gone are those days of a typical traditional solution setup for this industry. There are many energy driven solutions and utility management systems that are being implemented since years but time and technology not ready to stop, these systems are unable to offer the output that the organization looks for. Highly robust and scalable ERP software solutions are in vogue since they look the enterprise a whole, attempting to fulfil workflows of all nooks and corners in the organization. After all, that is what is the beauty of a Custom ERP Software Solution for Energy & Utilities sector. Functionalities like CRM, Business intelligence & reporting, LBS, service management, repair management and what not get covered under a single roof. Not that these solutions do not exist independently but now with ERP coming into picture, there is high-end optimization of all these solutions with seamless integration with each other.
Why Is ERP For Energy & Utilities Industries A Top Priority For Business Owners?
There are many enterprises who are yet not able to understand the significance of moving over from individual software solutions to ERP solutions. Yes, ERP does it have its set of challenges but not the ones which are unsolvable. In contrast to that, there are umpteen reasons why an ERP software is needed for such enterprising industries, some of which are listed herewith:
ERP solution is the competent answer to all business needs of the Energy & Utilities industry
Enables organization to streamline each activity with utmost efficacy
Helps in increasing profitability and productivity
Simplifies business angles understanding the intricacies of this industry
Integrates and smoothens functioning of each business module
Aligns business objectives with the ERP solution garnering maximum RoI
Integrates well with cutting-edge technologies like cloud computing, enterprise mobility, BI, Big Data, Beacons, LBS, integrated data systems etc.
Modern ERP systems can increase on-time deliveries by 24% due to improved productivity, order tracking, and decision making (Aberdeen Group)
How Can Custom ERP Solutions Help Energy & Utilities Industry Perform At Its Best?
With the globe moving at a fast pace, dependency on this industry zone is increasing by leaps and bounds. Along with its progress, there are certain key challenges that pose before the enterprises and which need to be solved to attain business efficiency.
Certain pain areas that can be resolved with ERP for Energy & Utilities:
Constant pressure to attain optimum performance
Reduce costs and increase operational performance
Meet competent demands of the industry and peers
Issues of environment and sustenance
Taking care of resource and inventory
Updating supply chain management
Prominent benefits with ERP Implementation are:
Enhanced customer relationship management
Effective resource planning as per project needs
Thorough collaboration, workflow and document management
Timely delivery of services and proper project management
Accurate and fast invoice generation with swifter payment cycles
Efficient inventory control and management
Performance betterment with time and cost savings
10 Key Industry Specific Areas in Energy & Utilities Sector That Need Focus
With assets, geographical spread, mobile workforce being the primary areas of working, managing work orders is given high importance. The work orders have to be interconnected in such a way that it binds all necessary modules together.
Right from meter to cash, the entire utility billing procedure needs to be taken care of. Certain contractual agreements with different types of customers need to be catered. A variety of rate tariffs must be managed and monitored prior to charging it to the customers.
This integrated solution assists in decreasing unintended supply interruptions and turnaround time for the water plants and treatment areas of waste water.
Solutions especially catering to the oil and gas sector maximize operational efficacy by increasing asset up-time and consumption of parts. It also sees to it that standards are followed, and productivity is maximized.
As with many industries, energy and utility sector is quite concentrated with asset management. And hence, the ERP solution must be heavily strong in terms of managing and monitoring assets instantly within a few clicks.
Georeferenced Information
Since the industry is geographically spread, there is a large amount of simple information which needs geo-referencing. This increases the complexity level of the ERP solution since it has to cater to spread out information like assets, inventory etc.
For any energy company, managing and monitoring outages is a hurdle always which need to be catered to in the ERP solutions. Management of tickets registering outages and handling assets spread out geographically play a crucial role.
ERP solutions for the Energy sector assist in maximizing availability of fuel supply garnering less cost. It manages and maintains assets in a comprehensive manner offering a variety of MIS reports and dashboard for in-depth analysis. It looks at fuel / power procurement and managing transport of resources.
The ERP solution helps enhance asset dependability and reduces further losses, increases billing efficiency and thereby increases speed of execution. It also takes care of customer billing cycles in a timely and effective manner.
Servicing and Handling Customers during Exceptional Situations
Like any other enterprise, this one needs customer relationship management to its finest but there is one area that need special attention for the customer. Outages are not welcomed by the customer but are bound to happen. Hence, that is a periphery that the solution needs to monitor effectively.
Do's and Don'ts During ERP implementation For Energy & Utility Companies
A certain set of Do's and Don'ts if followed carefully, surely ensure a smooth and seamless implementation. Especially because the energy and utilities sector have a few typicality of its own that need to be taken care of:
DO's
Do align your business objectives to the ERP product roadmap
Do define business requirements in accordance with customer needs
Do have a thorough line of sponsorship defined from start till finish
Do set your design standards right, in terms of system performance and hardware needs
Do check data records well ahead in time with proper data profiling and validation
As a business owner, do get involved at each stage of the project
Do have a thorough security mechanism in place from beginning
Include only necessary data while data migration and integration
Have a perfectly planned training schedule in place
DON'Ts
Don't delay archiving data till later, start right away
Don't plan to communicate with end users at a later stage of project, do it in advance
Don't let the customization scope let loose, have a stringent eye on it
Don't let each phase of the project go without proper documentation
Don't take existing reports as the base, define new ones based on organizational KPIs
Don't test your components at the completion phase, start testing right from beginning
Don't let the users see the system directly at the time of acceptance, make them familiar in advance
Don't implement all together – take it one at a time, modules as well as locations